Cranberry Baked Meatballs
When entertaining during the holidays, these Cranberry Baked Meatballs are an appetizer that will fly off the table. Be prepared to give out the recipe!! I had to share before our Christmas party was even over!!
Cocktail Meatballs are a mainstay appetizer, but shaking things up with a can of jellied cranberry sauce made for a festive, seasonal twist on this classic!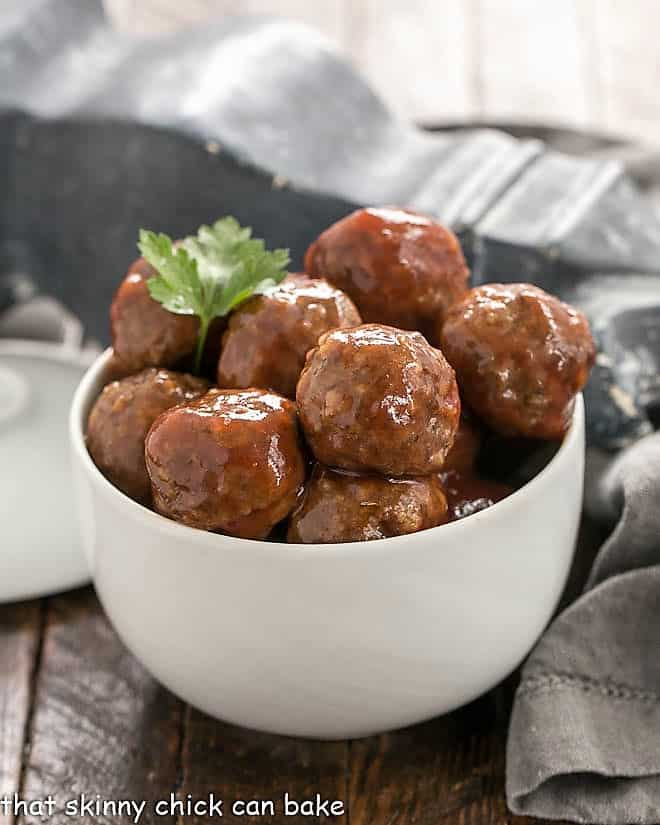 Cranberry Baked Meatballs
One of our holiday traditions is to gather with a group of friends with whom I volunteered for years and their husbands. I offered to host but was encouraged to have our dinner catered instead of our usual pitch-in meal.
Well, the food blogger in me had to make a few dishes, including these festive homemade meatballs with a jellied cranberry sauce base. Adding some ketchup, brown sugar and lemon juice gave the perfect balance for a saucy sweet and sour meatballs recipe!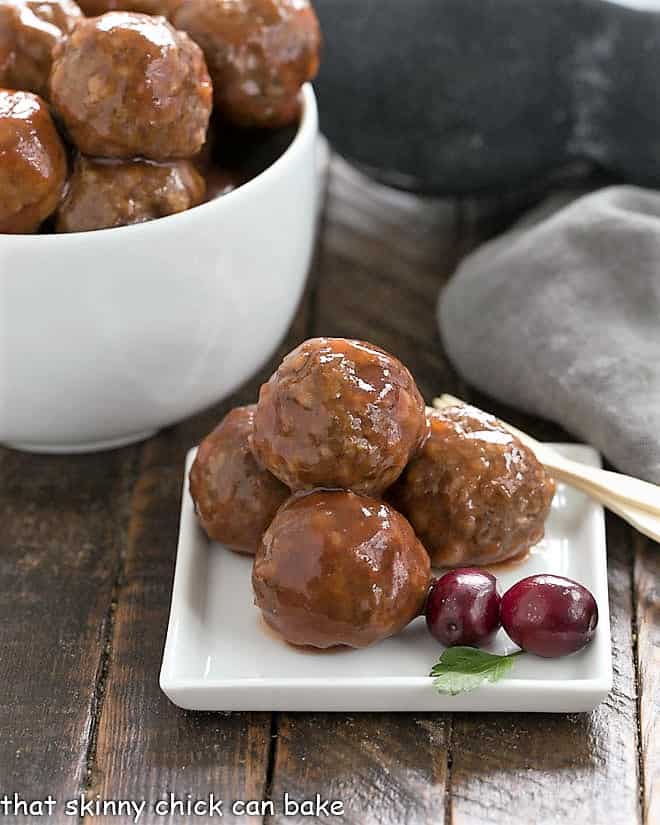 How to Make Meatballs
If you choose to make your meatballs from scratch, feel free to use any favorite classic meatball recipe. I used ground beef, fresh bread crumbs, dried onions, eggs and soy sauce (for some delicious umami).
I like to mix all the ingredients together with my fingers when making meatballs or meatloaf to ensure all ingredients are well incorporated.
Make sure not to overwork the meatball mixture, though.
Ground pork or dark meat chicken works well if you prefer those over beef.
Use a medium cookie disher for good-sized cocktail meatballs. Gently shape as needed.
The right balance of flavors in the cocktail meatball sauce will make a memorable recipe. The brown sugar and cranberry sauce provide the sweet element, soy the salty, lemon the sour. The easiest meatball sauce is a jar of grape jelly for sweet and a jar or two of chili sauce for the savory.
These cocktail meatballs need to be cooked before serving. Sauteing them is a possibility, although it can get messy. I prefer baking as it helps render some of the fat from the meatballs.
Placing the meatballs on a wire rack over a sheet pan allows the grease to drip away from the meat.
Tips for making Baked Meatballs
Note that you can use your favorite frozen meatballs to make this an even easier recipe, but there are a few tips if you prefer homemade meatballs.
PRO-Tip: Do not use super lean beef or your meatballs will be dry. Since the meatballs are baked on a rack a lot of the fat will drip off onto the sheet pan below.
Line your sheet pan with aluminum foil for easy cleanup. Make sure your rack is oven-safe, too.
Do not compress your meatballs too much when forming as they won't be as tender.
I like using a medium cookie disher to make all the meatballs a similar size.
The original recipe called for small meatballs (72 1-inch meatballs), but I knew my crowd would prefer them a more substantial.
Add some heat with Sriracha or your favorite hot sauce, if desired.
These can be kept warm in a low cooker or chafing dish if needed.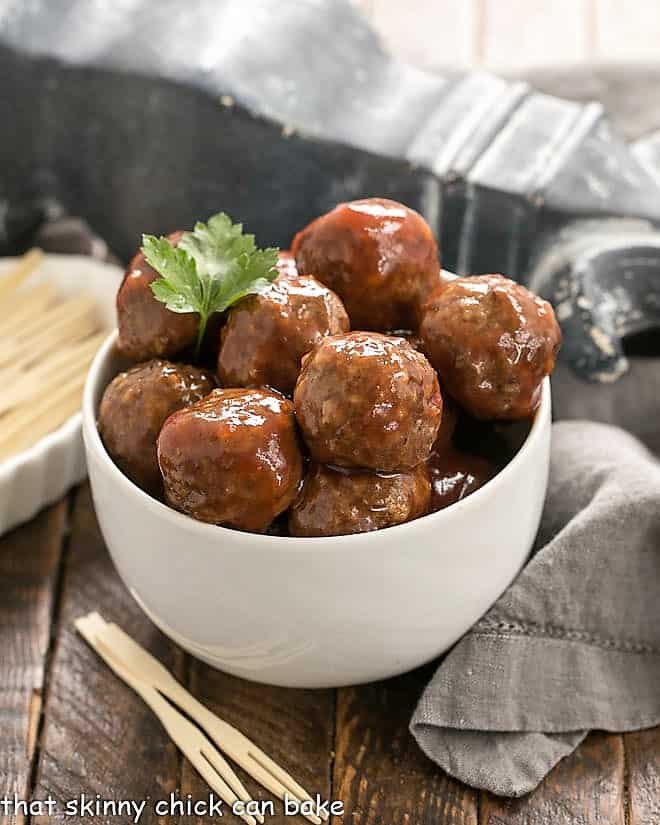 More Appetizers You'll Love:
Whether for the Super Bowl, tailgating, a cocktail party, or dinner party, tried and true appetizers are necessary for a host or hostess' recipe arsenal. Add these Cranberry Baked Meatballs to your next party menu!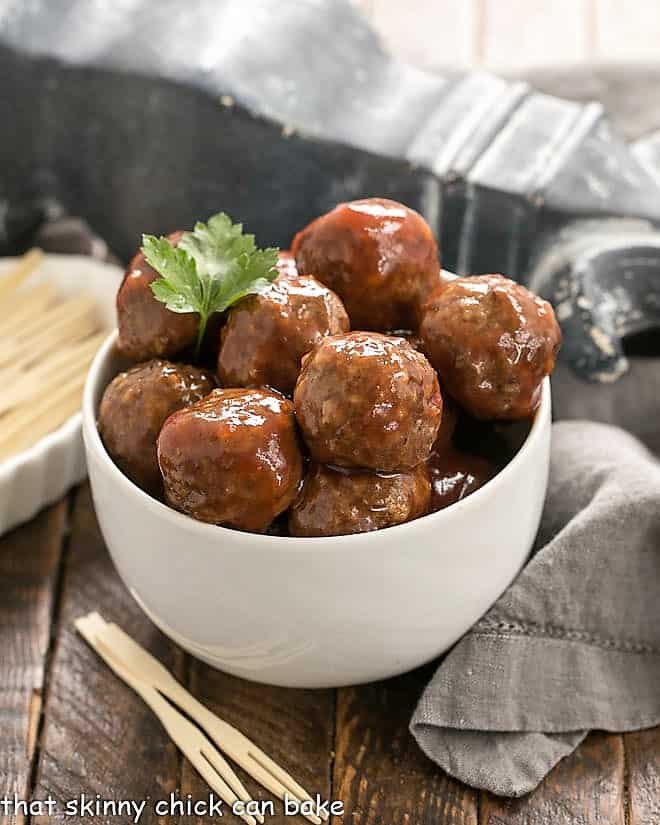 The Recipe:
Cranberry Baked Meatballs
Prep Time 30 minutes
Cook Time 40 minutes
Total Time 1 hour 10 minutes
Yield 40 meatballs
Delicious, festive beef cocktail meatballs made with a can of cranberry sauce!
Ingredients
Meatballs:
2 eggs, lightly beaten
1 cup fresh bread crumbs
1/3 cup ketchup
2 tablespoons dried minced onion
2 tablespoons soy sauce
1/2 teaspoon salt
1/4 teaspoon pepper
2 pounds extra-lean ground beef
Sauce:
1 can jellied cranberry sauce (14 ounces)
1 cup ketchup
3 tablespoons brown sugar
1 tablespoon lemon juice (freshly squeezed)
Instructions
Preheat oven to 350°.
Preheat oven to 350 degrees. Mix together all the meatball ingredients except for the beef, then add beef and mix gently until well combined. I use my hands.
Using a medium cookie disher, scoop out 1 tablespoon-sized meatballs. Roll into rounds and place on an oven-safe rack over a baking sheet.
Shape into 1-in. meatballs. Place on a greased rack in a 15x10x1-in. pan. Bake for about 30 minutes or until cooked through.
In a large saucepan, add the sauce ingredients and whisk to combine. Cook, stirring occasionally until mixture starts to simmer and is heated through. Add meatballs and gently cook to warm meatballs.
Serve hot. May place in a chafing dish or slow cooker to keep warm.
Notes
Adapted from Taste of Home
Nutrition Information:
Yield:
12
Serving Size:
3 meatballs
Amount Per Serving:
Calories: 257
Total Fat: 5g
Saturated Fat: 2g
Trans Fat: 0g
Unsaturated Fat: 3g
Cholesterol: 98mg
Sodium: 2646mg
Carbohydrates: 26g
Fiber: 1g
Sugar: 16g
Protein: 25g
Note: This post may contain affiliate links; view
my Disclosure Policy
for details. I earn a small percentage from any purchase you make by clicking on these links at no extra cost to you.