One Layer Mocha Cake
I remade our favorite One Layer Mocha Cake for a family birthday. The mocha lover needed a rich cake flavored with chocolate and coffee! Last time I split the batter into two pans and filled the middle with mousse, but making one layer, icing it with an exquisite Chocolate Swiss Meringue Buttercream, made for a fabulous, celebratory cake!
I attempted to sample only a sliver of this Mocha Cake, but it was more like one sliver after another. The birthday boy devoured his slice too.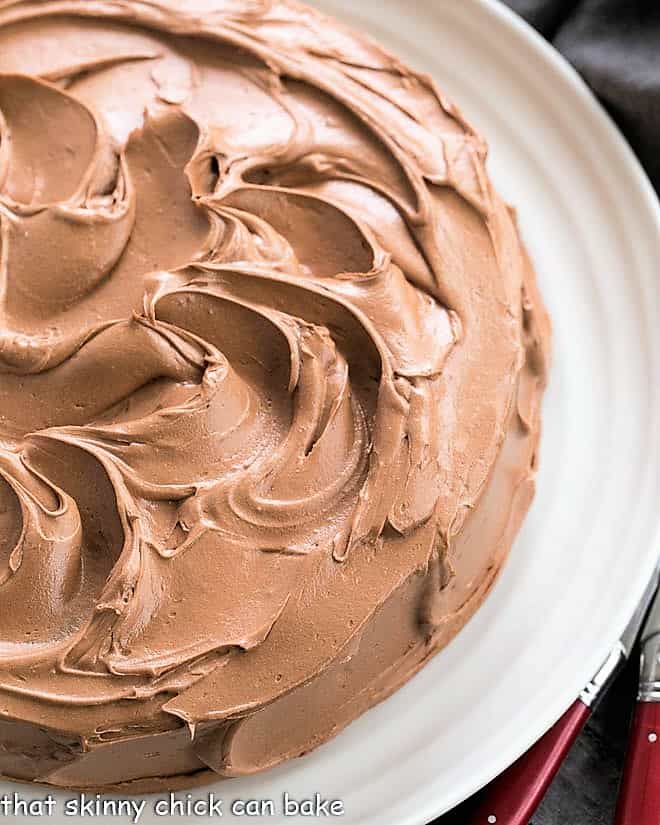 Why You Must Make
Just LOOK at that frosting! That should be reason enough!
It's just one layer, so it's perfect when you need a smaller dessert.
If you love everything coffee, this is an ideal cake to try.
It was my oldest's birthday and he is a coffee lover. The picky hubby, on the other hand, is not. So I had to keep the mocha twist to this chocolate cake recipe rather subtle. Though I am a fan of the coffee-chocolate combo, the hubby can only take mini doses of anything coffee-related.
So a bit of instant coffee went into the cake. 1 1/2 teaspoons to be exact. Enough to enhance the chocolate flavor, without an overwhelming coffee flavor. If not for the dear hubby, I'd have used one full tablespoon to ensure an obvious mocha flavor. Depending on who will be sampling this cake, the mocha flavor can be adjusted according to preference. But I made sure the exquisite Swiss Meringue buttercream was pure chocolate bliss.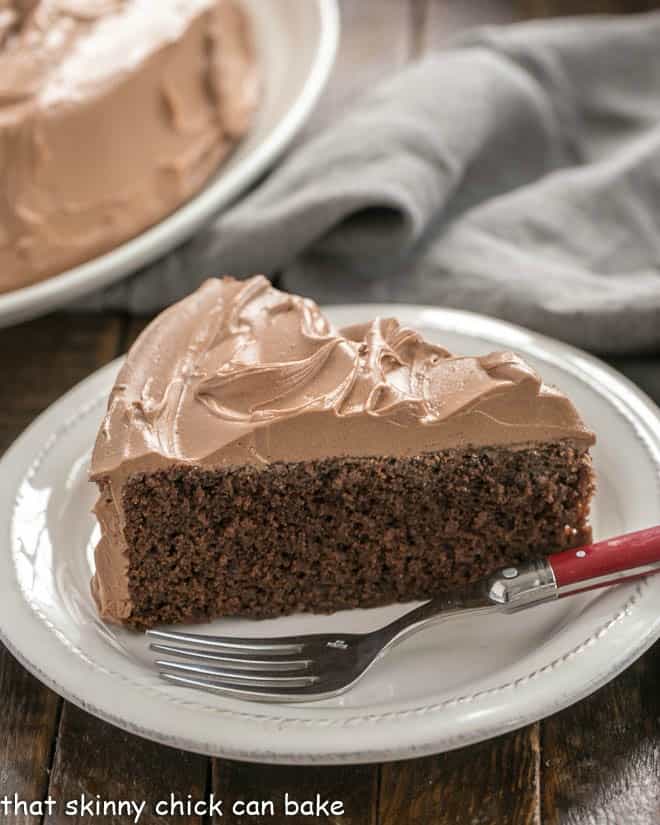 How to Make Swiss Meringue Buttercream
I frequently make an outstanding vanilla Swiss meringue buttercream for my White Chocolate Cupcakes, so I was undaunted when I read the directions for this chocolate version. Here is the procedure:
Heat egg whites and sugar over a double boiler until the sugar dissolves, stirring constantly. This ensures the eggs are gently heated, not cooked, and the sugar melts.
Next, with a mixer, whip the warmed mixture until glossy peaks form, then add room temperature butter about 1 tablespoon at a time until each addition is incorporated.
Finally, mix in the melted chocolate. Voila, an amazing Swiss meringue buttercream!
I sampled myself silly, by sneaking swipes of excess frosting from the mixing bowl. This homemade meringue buttercream was a heavenly addition to this mocha cake.
Expert Tips
This cake recipe has a lot of steps and it's important to carefully follow them. For example, half the oil is slowly emulsified into the batter, then the other half. Emulsification is how an oil can be incorporated into a second liquid instead of floating on top. Just think of mayonnaise or a creamy salad dressing as examples of emulsified liquids.
Prep your baking pan properly. PRO-Tip: Using a flour cocoa mixture instead of all flour helps avoid a white floury coating on the exterior of the cake as would occur when using all flour.
PRO-Tip: Avoid getting any yolk or grease into your egg whites. Make sure your mixing bowl and beaters have been washed in the dishwasher for the best results (and better grease removal). Grease inhibits the whipping capacity of egg whites.
PRO-Tip: Have your eggs, buttermilk, and butter at room temperature. You can hurry this along by placing the eggs in warm, not super hot water. The buttermilk and butter can be placed in separate measuring cups, then set in bowls of warm water as well. This is key for the best incorporation into the batter or frosting.
You may gently melt the chocolate in the microwave, stopping to stir at 20-30 second intervals until the mostly melted. The residual heat helps finish the melting process. You can also melt using a heat-safe bowl and place over simmering water.
The baking time is just a suggestion. All ovens and pans bake differently, so it's key to use a toothpick to test the center of the cake in more than one spot. If it comes out clean, your cake is done. If there is batter on the toothpick, bake for 5 more minutes and recheck. Repeat until the cake tests as done.
I used a (affiliate link) Fabric Bake Even Cake Pan Strip to wrap around the perimeter of my pan. This baking tool helps the cake rise and bake more evenly and results in a flatter top. The baking strip was moistened then pinned to secure. This step is totally optional.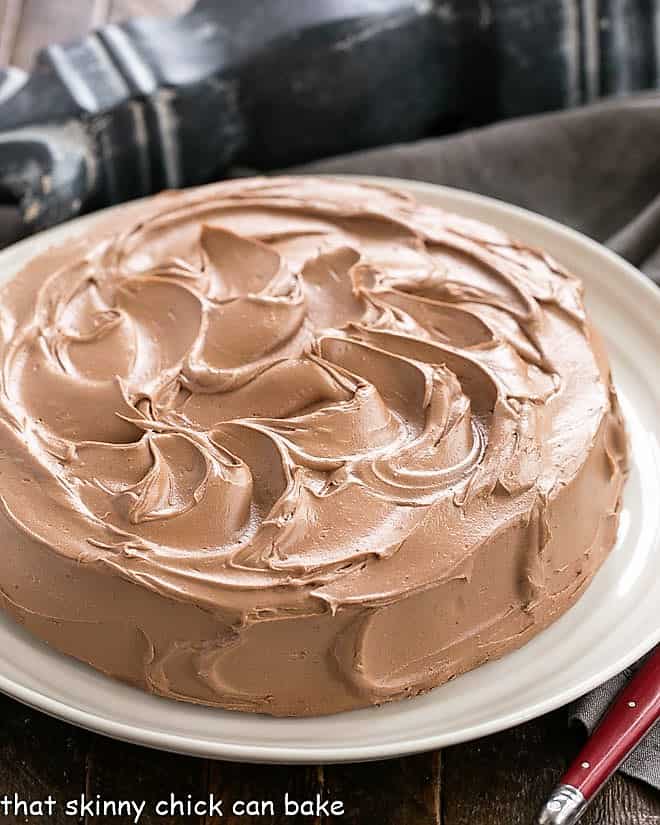 Frequently Asked Questions
What Is Mocha?
The word Mocha comes from an Arabic port in Yemen. This is the area where the first coffee plants were cultivated. Fast forward to the present and a caffè mocha or mochaccino is a coffee drink made of espresso, hot milk, and chocolate. In the culinary world, a mocha dessert has both chocolate and coffee flavors.
What Are The Three Types of Meringue?
This frosting starts with a Swiss meringue, which is one of the 3 types of meringue. The others are French and Italian. But what differentiates them? It's when and how the sugar is added to the egg whites.
Swiss Meringue is made by stirring/whisking the sugar and egg whites in a bowl over simmering water until the sugar is dissolved. This technique prevents the egg white mixture from expanding as much as other meringues and makes for a fine texture. It's ideal for topping pies. Swiss meringue can be used for buttercream frosting by slowly mixing in room temperature butter.
French Meringue is what most are familiar with and what I use to make my egg white cookies (meringues), souffles, and pavlova. The egg whites are beaten to soft peaks, then the sugar is added and the mixture is beaten to stiff peaks. This is the least stable, but lightest meringue.
Italian Meringue is made with a sugar syrup heated to the soft-ball stage of candy making (240 degrees) the whipped to stiff, glossy peaks. This results in a very stable, smooth meringue which is ideal for mousse and also buttercream. I made this meringue for a Chocolate Cream Torte.
You May Also Like:
Stay in touch through social media @ Instagram, Facebook, and Pinterest. Don't forget to tag me when you try one of my recipes! And if you love the results, please give it a 5-star rating in the recipe card. Note: As an Amazon Associate, I earn from qualifying purchases. Visit my Amazon Store for my favorite products.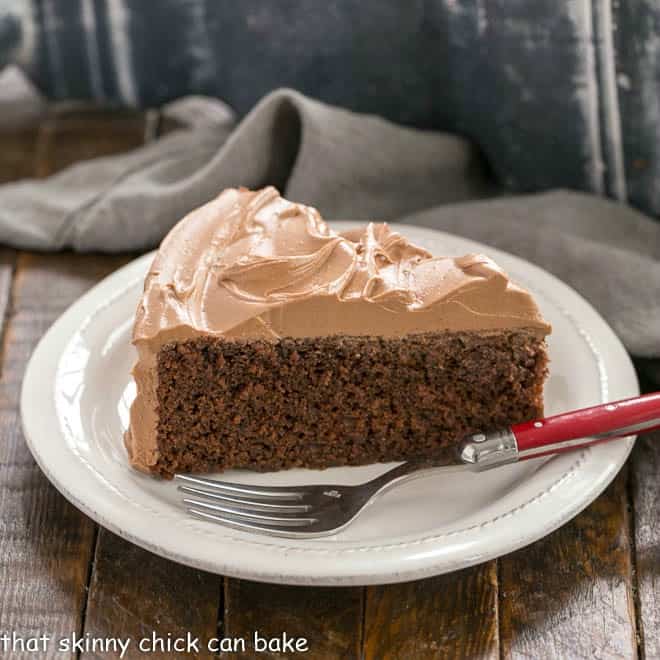 The Recipe:
Mocha Layer Cake
Prep Time 1 hour
Cook Time 25 minutes
Total Time 1 hour 25 minutes
Yield 12 servings
An exquisite, moist and tender mocha cake adapted from Tom Douglas
Ingredients
Cake:
Softened butter, to grease the cake pan
2 cups flour (plus 2 tablespoons to dust the baking pan)
¼ cup unsweetened cocoa powder (plus 2 tablespoons to dust the baking pan)
1 cup plus 1 tablespoon granulated sugar, divided
½ teaspoon baking powder
½ teaspoon baking soda
½ teaspoon salt
2 eggs, at room temperature
⅓ cup dark brown sugar
1 cup vegetable oil
2 ½ ounces bittersweet chocolate, chopped and melted
1 cup buttermilk, at room temperature
1-3 teaspoons instant coffee
2 teaspoons vanilla extract
Chocolate Swiss Meringue Buttercream:
1 cup sugar, processed in a food processor until powdery
3 large egg whites
¼ teaspoon salt
½ teaspoon pure vanilla extract
1 cup plus 2 tablespoons butter (9 ounces), cut into tablespoons, at room temperature
4 ounces bittersweet or semisweet chocolate, melted and cooled until slightly warm, not hot
Instructions
Preheat the oven to 350°.
Coat a 9-inch round cake pan with softened butter, then dust with a mixture 2 tablespoons each, flour and cocoa powder, tapping out the excess to reuse. Line the bottom with parchment paper and butter and coat as well.
Whisk together the flour and cocoa powder with ½ cup of the granulated sugar, and the baking powder, baking soda, and salt. Set aside.
In your stand mixer fitted with the whisk, beat the eggs with the brown sugar and the remaining ½ cup plus 1 tablespoon of granulated sugar at medium-high speed until thick, about 5 minutes, until tripled in bulk. Scrape down the sides of the bowl as needed.
At medium speed, gradually add ½ cup of the oil and beat for 3 minutes until the oil is absorbed. Beat in the melted chocolate, then slowly add the rest of the oil, until thoroughly blended, scraping the side and bottom of the bowl. You are emulsifying the oil into the batter, like when making mayonnaise or salad dressing.
Whisk the instant coffee (use 1 ½ teaspoons for a subtle coffee boost and 1 tablespoon or more for a more obvious mocha flavor) and vanilla into the buttermilk. At low speed, beat in the buttermilk. Remove the bowl from the mixer and gently fold in the dry ingredients in 3 additions with a rubber spatula.
Pour the cake batter into the prepared pan and bake for about 50-60 minutes, until a toothpick inserted in the cakes comes out with only a few moist crumbs. Cool the cake in the pan for 10 minutes, then remove from the pans to a rack to finish cooling. Peel off the parchment paper.
To make the frosting, put the sugar in a medium heatproof bowl ( I used my metal stand mixer bowl) and whisk in the egg whites and salt. Set the bowl over a saucepan of simmering water and whisk gently until the sugar is completely dissolved, about 5 minutes.
Transfer the egg white mixture to the bowl of a stand mixer fitted with the whisk. Add the vanilla and beat at medium-high speed until stiff and glossy, about 8 minutes.
Beat in the butter a few pieces at a time, making sure it is fully incorporated before adding more. If the mixture ever appears runny, place it in the refrigerator to thicken up, then continue.
Beat in the melted chocolate until fully incorporated, scraping down the bowl as needed. Chill the frosting until needed. If it gets too firm to spread, let it warm up at room temperature.
Set the cake on a platter. Frost the cake with the buttercream. Refrigerate the cake until the frosting is firm.
Notes
Make sure the bowl and beaters used to beat the egg whites are free of grease, oil, and even egg yolk or they won't whip properly.
Recommended Products
As an Amazon Associate and member of other affiliate programs, I earn from qualifying purchases.
Nutrition Information:
Yield:
12
Serving Size:
1
Amount Per Serving:
Calories: 578
Total Fat: 35g
Saturated Fat: 11g
Trans Fat: 1g
Unsaturated Fat: 22g
Cholesterol: 81mg
Sodium: 312mg
Carbohydrates: 58g
Fiber: 3g
Sugar: 38g
Protein: 8g
Note: This post may contain affiliate links; view
my Disclosure Policy
for details. I earn a small percentage from any purchase you make by clicking on these links at no extra cost to you.