Frosted Chocolate Mocha Cupcakes
Mocha desserts are hit or miss around here, but these easy Frosted Chocolate Mocha Cupcakes were a home run! Just a touch of coffee in the cupcakes and frosting intensified the chocolate flavor without screaming coffee.
Frosted Chocolate Mocha Cupcakes
The hubby, unlike his wife and oldest child, does not like coffee nor coffee-flavored anything. So I have to be judicious about how I add it to my chocolate desserts. Although the aroma of coffee was obvious when around these mocha cupcakes, the hubby did not balk and ate his fair share!
There's a fine balance between just enough coffee flavor to enhance the chocolate in a dessert and too much where you start to think they are coffee, not chocolate cupcakes! Said oldest child was over for dinner and he was willing to sample and offer his critique. We both could detect a coffee aroma, but not a coffee flavor. That made for an intensified chocolate flavor without any overt evidence that could scare away the coffee avoiders.
Mocha Cupcakes for Progressive Eats
Welcome to Progressive Eats, our virtual version of a Progressive Dinner Party. Each recipe in our menu this month features coffee in some form: espresso granules, coffee grounds, brewed coffee, coffee extract, etc. Our host this month is Coleen from The Redhead Baker.
If you're unfamiliar with the concept, a progressive dinner involves going from house to house, enjoying a different course at each location. With Progressive Eats, a theme is chosen each month, members share recipes suitable for a delicious meal or party, and you can hop from blog to blog to check them out.

Coffee Recipes:
Appetizers
BBQ Chicken Tamale Corn Pancakes with Coffee BBQ Sauce from The Heritage Cook
Drinks
White Chocolate Espresso Martini from SpiceRoots
Bread
Main Course
Side Dishes
Desserts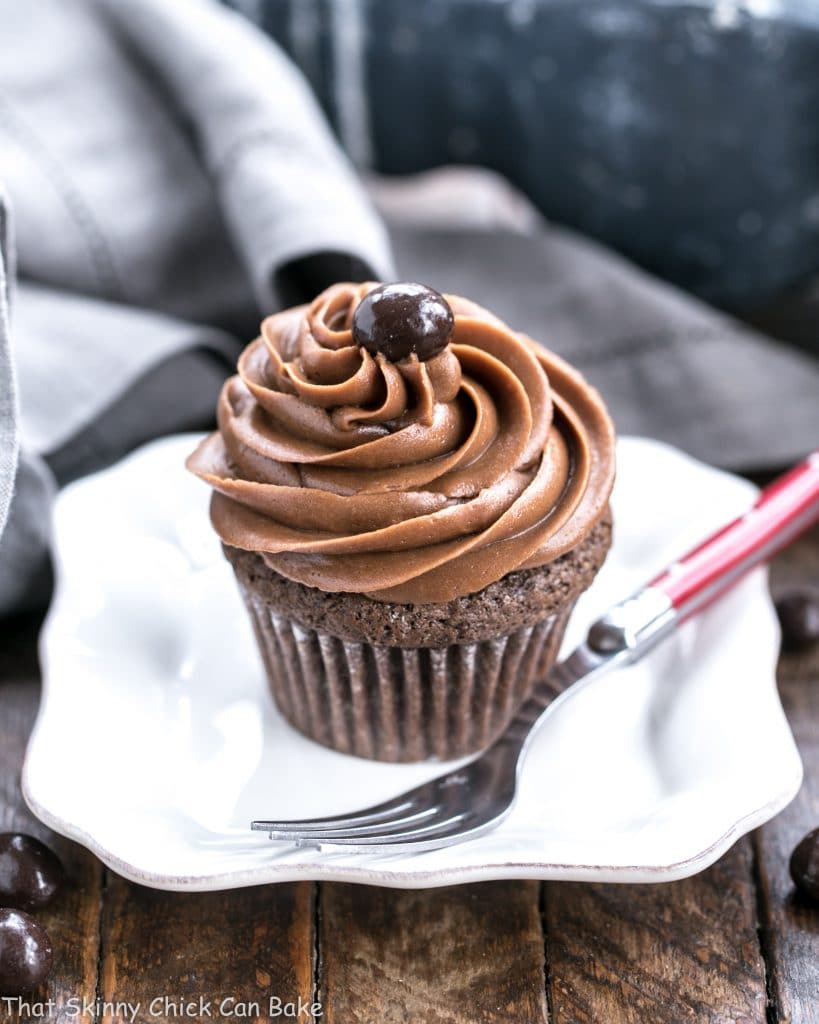 More Mocha Recipes You'll Love:
Used in This Recipe: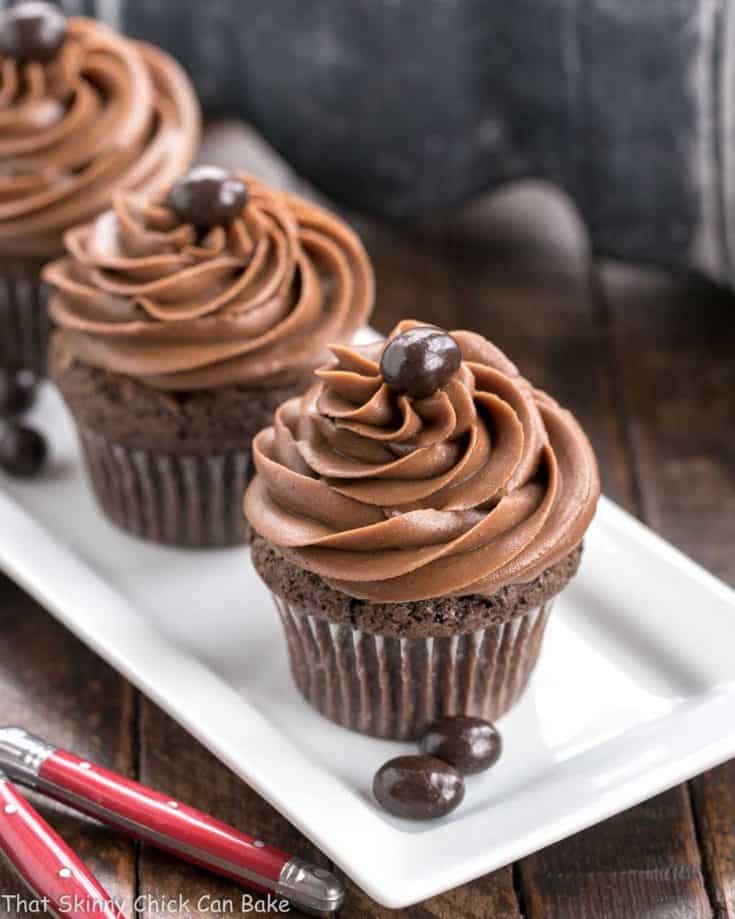 The Recipe:
Frosted Chocolate Mocha Cupcakes
Prep Time 30 minutes
Cook Time 20 minutes
Total Time 50 minutes
Yield 12
These easy Frosted Chocolate Mocha Cupcakes were a home run! Just a touch of coffee in the cupcakes and frosting intensified the chocolate flavor without screaming coffee.
Ingredients
Cupcakes:
1 1/2 cups flour
1 cup sugar
1/3 cup cocoa powder
1 teaspoon baking soda
1/2 teaspoon salt
2 eggs
1/2 cup cold coffee
1/2 cup vegetable oil (I used canola oil)
1 tablespoon vinegar (I used cider vinegar)
1 tablespoon vanilla
Mocha Frosting:
1 12 cups (3 sticks butter), at room temperature
3 cups powdered sugar
4 tablespoons cocoa powder
2 teaspoons vanilla
1 tablespoon instant coffee, dissolve in about 2 teaspoons hot water
12 chocolate covered espresso beans, to garnish (optional)
Instructions
Line a 12-cup muffin tin with paper liners. Set aside. Preheat oven to 350°.
In a small mixing bowl, whisk together the flour, sugar, cocoa, baking soda and salt. Set aside.
In a small bowl, whisk the eggs, coffee, oil, vinegar and vanilla. Add to dry ingredients; mix well.
Fill paper-lined muffin cups three-fourths full. Bake for 20-25 minutes or until a toothpick inserted into the center of the cupcakes comes out clean.
Cool for 10 minutes before removing from pan to a wire rack to cool. Frost when cooled to room temperature.
To make frosting, in your stand mixer fit with the paddle attachment, beat the softened butter with the powdered sugar until it is creamy.
Add the cocoa powder, vanilla and coffee. Beat for 2 minutes until fluffy. Pipe onto cupcakes. Top each cupcakewith a chocolate covered espresso bean if desired.
Nutrition Information:
Yield:
12
Serving Size:
1 cupcake
Amount Per Serving:
Calories: 558
Total Fat: 22g
Saturated Fat: 7g
Trans Fat: 0g
Unsaturated Fat: 9g
Cholesterol: 36mg
Sodium: 216mg
Carbohydrates: 83g
Fiber: 4g
Sugar: 61g
Protein: 6g
Note: This post may contain affiliate links; view
my Disclosure Policy
for details. I earn a small percentage from any purchase you make by clicking on these links at no extra cost to you.