Buffalo Chicken Meatballs with Blue Cheese Sauce
Move over chicken wings, these Buffalo Chicken Meatballs with Blue Cheese Sauce are a flavorful, mildly spicy appetizer that's perfect for game day, tailgating or any gathering of friends!
Less messy than their namesake, who doesn't love a spicy meatball? Even my hubby, who has a tender palate, didn't complain about the heat as the dipping sauce calmed the intensity.
Buffalo Chicken Meatballs with Blue Cheese Sauce
So have you eaten Buffalo chicken wings? They're deep-fried wings that are bathed in a combination of cayenne pepper hot sauce, butter, vinegar, and a few spices. Typically served with celery sticks and blue cheese dressing, these Buffalo chicken meatballs echo the classic flavors of the wings.
I've made Buffalo Chicken Dip numerous times, but have never made nor eaten those famous wings. Served with a fork or toothpicks, these meatballs are less messy to eat and just as tasty!
Appetizers for Book Club
I love trying out new recipes on my book club. My friends are always extremely receptive. Unlike my family, they will try anything. We read and discussed a marvelous book about the assassination of President Garfield. When researching him, I found that Garfield's favorite dish was squirrel.
I had plenty of offers to drop off some roadkill so I could make my "squirrel meatballs." Only one skeptical friend thought I actually used squirrel in these meatballs. Nope, ground chicken is more my style! I have a feeling these Buffalo Chicken Meatballs with Blue Cheese Sauce might taste a wee bit better than a squirrel version.
I've been in the same book club since 1996 and, if you're interested, here are the books we have read over the years. As far as the food goes, I tend to go overboard. A number of recipes I've made for my book club have also been shared on the blog including: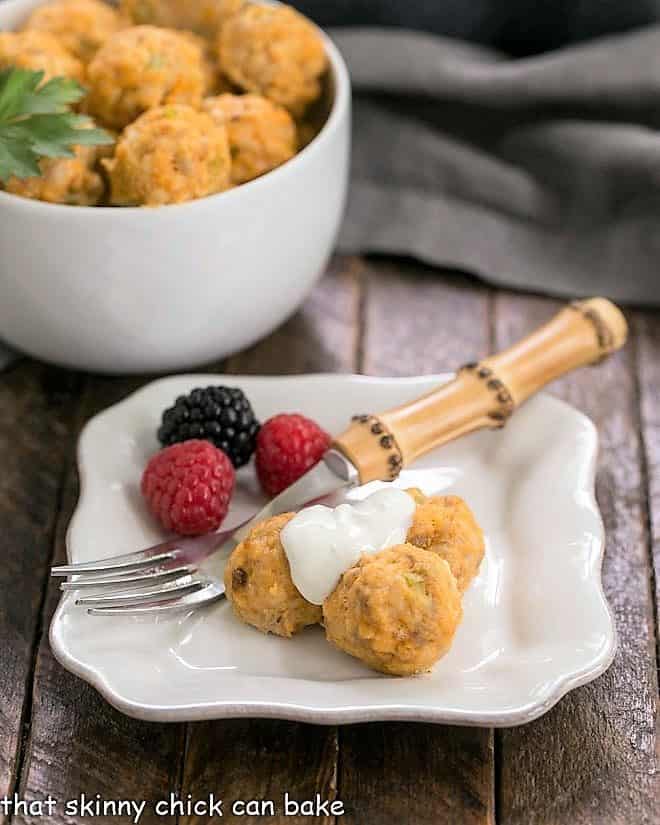 How to Make Buffalo Chicken Meatballs
These mini meatballs are flavored with hot sauce and a generous amount of butter, but they are baked not fried if that makes you feel any better.
Roll the meatball mixture into tightly packed 3/4-inch balls before laying them out across a rimmed sheet pan. You'll get about 40 small meatballs.
Since the wings are served with celery, these meatballs needed a little celery, too. Make sure to mince it well as you don't want to bite into big pieces of celery.
These cocktail meatballs are served with a lovely blue cheese dressing.. If you are not a fan of blue cheese, Ranch dressing is a nice alternative.
Perfect for football gatherings, book club or any cocktail party, these have a lovely kick but not overly spicy. And the blue cheese is the perfect complement. Next time you're hosting a party, give these Buffalo Chicken Meatballs with Blue Cheese Sauce a try!
Add to Your Shopping List:
Kitchen Staples: Vegetable Oil, Salt, Butter, Eggs
Frank's Red Hot Sauce
Ground Chicken
Celery
Bread Crumbs (you can make your own by processing a couple of slices of fresh bread in a food processor)
Sour Cream
Blue Cheese
Mayonnaise
Red Wine Vinegar
This post was originally posted in December 2012. Photos and text were updated in 2019.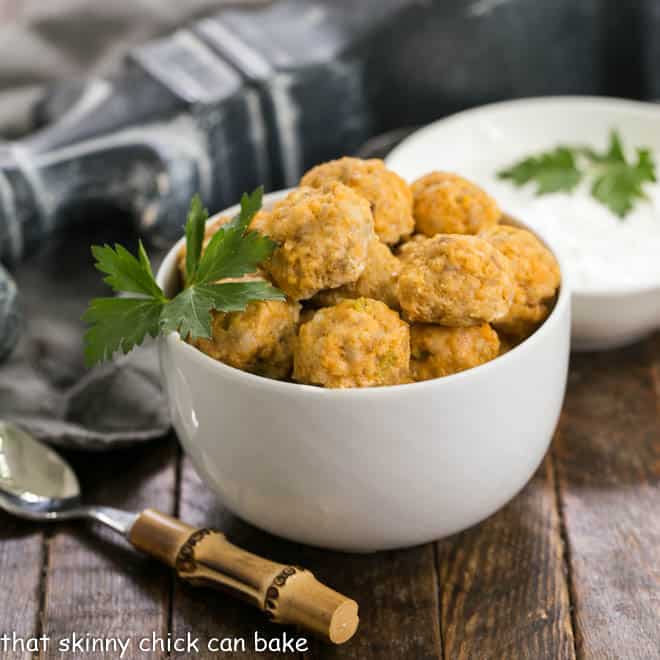 The Recipe:
Buffalo Chicken Meatballs with Blue Cheese Sauce
Prep Time 30 minutes
Cook Time 20 minutes
Total Time 50 minutes
Yield 40 meatballs
Spicy chicken meatballs served with a fabulous blue cheese sauce!
Ingredients
Meatballs:
2 tablespoons vegetable oil
4 tablespoons 1/2 stick unsalted butter
1/3 cup Frank's RedHot Sauce or any other favorite hot sauce
1 pound ground chicken (preferably thigh meat)
1 large egg
1/2 celery stalk (minced)
3/4 cup bread crumbs
1 teaspoon salt
Blue Cheese Sauce:
3/4 cup sour cream
1/3 cup crumbled Blue Cheese
1/3 cup whole milk
1/3 cup mayonnaise
1 teaspoon salt or more to taste
1 tablespoon red wine vinegar
Instructions
To make the meatballs, preheat the oven to 450°F. Drizzle the vegetable oil into a 9×13-inch baking dish and use your hand to evenly coat the entire surface. Set aside.
Combine the butter and hot sauce in a small saucepan, and cook over low heat, whisking until the butter is melted and fully incorporated. Remove from the heat and allow the mixture to cool for 10 minutes.
Combine the hot sauce mixture, ground chicken, egg, celery, bread crumbs, and salt in a large mixing bowl and mix by hand until thoroughly incorporated.
Roll the mixture into round, 3/4 -inch balls, making sure to pack the meat firmly. Place the balls in the prepared baking dish, being careful to line them up snugly and in even rows vertically and horizontally to form a grid. The meatballs should be touching one another.
Roast for 15 to 20 minutes, or until the meatballs are firm and cooked through. A meat thermometer inserted into the center of a meatball should read 165°F.
Allow the meatballs to cool for 5 minutes in the baking dish before serving. Serve with blue cheese sauce.
To make the blue cheese sauce, place the sour cream, blue cheese, milk, mayonnaise, salt, and vinegar in a medium bowl and whisk thoroughly until completely combined. Taste and adjust the seasoning, if needed.
Notes
Adapted from Epicurious and The Meatball Shop Cookbook
Nutrition Information:
Yield:
12
Serving Size:
3 meatballs
Amount Per Serving:
Calories: 246
Total Fat: 20g
Saturated Fat: 7g
Trans Fat: 0g
Unsaturated Fat: 11g
Cholesterol: 81mg
Sodium: 703mg
Carbohydrates: 6g
Fiber: 0g
Sugar: 1g
Protein: 12g
Note: This post may contain affiliate links; view
my Disclosure Policy
for details. I earn a small percentage from any purchase you make by clicking on these links at no extra cost to you.