French 75 Champagne Cocktail
Sweet, tart and bubbly, this French 75 Champagne Cocktail is a perfect addition to any celebration. Simple to make, it will set the tone beautifully for cocktail parties, holiday parties, or a special intimate dinner!
A French 75 Drink is easy and elegant with bubbles from sparkling wine plus sweet and herbaceous undertones.
Why You'll Love a French 75
On Bastille Day, we were treated to an amazing French meal as part of our quarterly dinner club circuit. All the courses were scrumptious, but it was a lovely French 75 cocktail that left a lasting impression.
Simple syrup, lemon juice, and gin work their magic in a cocktail shaker before being topped off with some bubbly and a twist of lemon. Pure bliss.
Then I served this champagne cocktail to my book club friends, many of whom hadn't heard of this cocktail either. I'm glad I could spread the word!
It's easy to make and the bubbly makes it celebratory!
Ingredient Notes
Kitchen Staples – Ice
Gin – Use your favorite gin. We usually have Hendricks or Bombay Saphire on hand.
Fresh Lemon Juice – Don't use the bottled version on the store shelves. Fresh tastes better.
Simple Syrup – Made with equal parts sugar and water (see how below in the expert tips) or purchase when you purchase your liquor.
Champagne – Use your favorite brand. Cava or Prosecco can be substituted for a less expensive option.
Lemon Slices or Twists -To Serve. It's always nice to use an ingredient in the cocktail to garnish.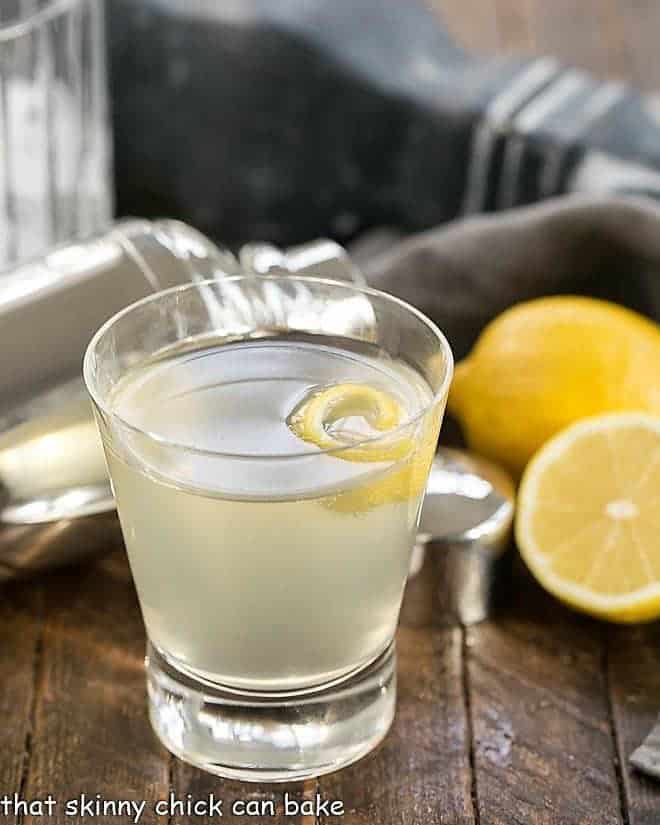 Expert Tips for a Perfect French 75
As with most cocktails, the procedure is quite simple. But having all the ingredients set and ready to go will make the process of mixing and serving go smoothly.
Make your own simple syrup by heating equal parts sugar and water until the sugar is dissolved. Don't allow it to boil or your ratio will not be equal when excess water evaporates.
Simple syrup can be made well ahead of time and is perfectly safe to use if refrigerated for up to a month.
You can also purchase a bottle of simple syrup in a liquor store or in the area of the grocery store where you'd find alcohol.
Fresh lemon juice can be squeezed early in the day and stored in the refrigerator. I like to (affiliate link) strain the lemon juice to remove any teeny seeds.
PRO-Tip: Never use bottled lemon juice in your French 75 as the flavor of fresh is far superior.
Using a (affiliate link) cocktail shaker helps chill and combine the ingredients. Top with champagne and garnish before serving.
For an added bit of glitz, dip the rim of your glass in some lemon juice, then into a shallow bowl of sugar.
PRO-Tip: Did you know experts recommend shaking your cocktail shaker a full 30 seconds for the best results? 30 seconds will feel like an eternity, but give it a try!
You can easily substitute some less expensive Cava or Prosecco for the Champagne.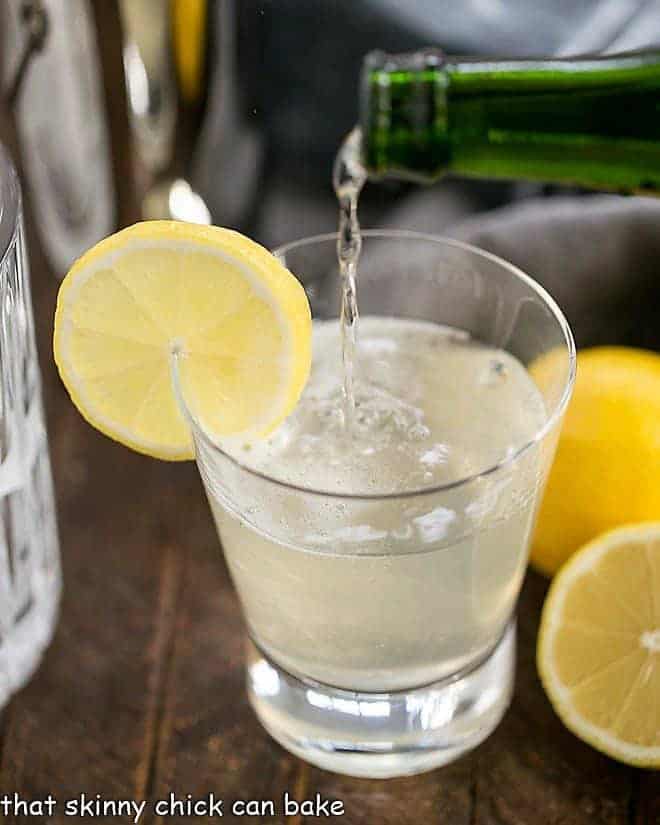 Frequently Asked Questions
What Does a French 75 Taste Like?
A French 75 cocktail has herbaceous undertones from the gin, sweetness from the simple syrup, plus a pucker of citrus from the lemon juice. You'll also have the bubbly experience with every sip due to the champagne.
What is the Origin of the Name, French 75?
One thought was that the mix of gin and champagne packed a powerful punch, like the French 75 mm field gun used by the Allies in WWI. The first written account of the recipe came after the war in Harry's ABC of Mixing Cocktails, published in 1922. Except the ingredients didn't jibe with today's version, containing no champagne with additions such as Calvados and absinthe instead. So there's no definitive answer.
No matter where or how the name came to be, this is one tasty champagne cocktail! I hope you'll give this refreshing sparkler a try. Cheers!
You May Also Like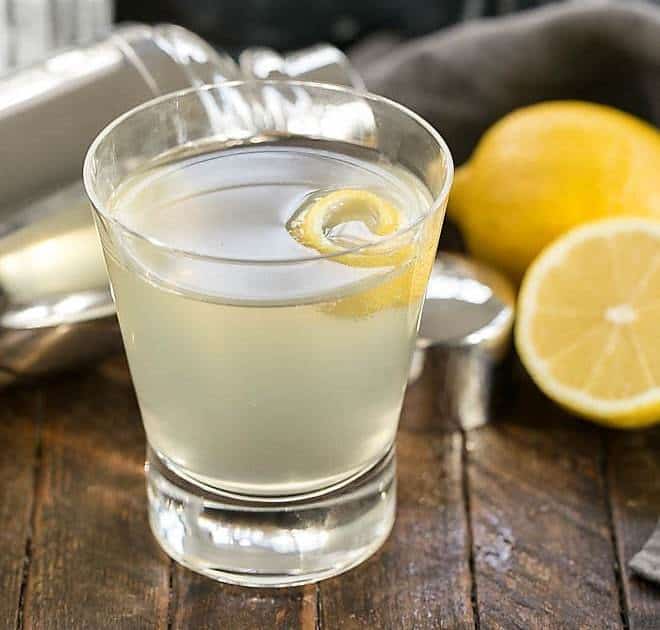 The Recipe:
French 75 Champagne Cocktail
Prep Time 2 minutes
Total Time 2 minutes
Yield 1 serving
A sparkling citrus cocktail with lemon juice, simple syrup, gin and Champagne!
Ingredients
1 ½ ounces gin*
¾ ounce fresh lemon juice
½ ounce simple syrup (made with equal parts sugar and water)**
2 ounces Champagne or other dry sparkling wine
Ice
Lemon slices or twists, to serve
Instructions
Combine gin, lemon juice, and simple syrup in a cocktail shaker filled ¾ of the way with ice cubes.
Shake well for 15-20 seconds.
Strain into a champagne flute or cocktail glass, top with Champagne and serve with a slice of lemon or a lemon twist.
Notes
*I used Hendrick's gin.
**Simmer equal parts sugar and water just until sugar dissolves. Store in refrigerator up to 1 month.
Recommended Products
As an Amazon Associate and member of other affiliate programs, I earn from qualifying purchases.
Nutrition Information:
Yield:
1
Serving Size:
1
Amount Per Serving:
Calories: 297
Total Fat: 0g
Saturated Fat: 0g
Trans Fat: 0g
Unsaturated Fat: 0g
Cholesterol: 0mg
Sodium: 12mg
Carbohydrates: 14g
Fiber: 0g
Sugar: 9g
Protein: 0g
Note: This post may contain affiliate links; view
my Disclosure Policy
for details. I earn a small percentage from any purchase you make by clicking on these links at no extra cost to you.