Book Club Menu
I love hosting my book club each year as it gives me an opportunity to test recipes that might not appeal to my family. This year's Book Club Menu featured 5 appetizers and 4 desserts. I hope there's one or two you'd like to try!
Book Club Snacks are an integral part of our meetings. We like to socialize before our meeting and having a nice offering of appetizers and beverages is key.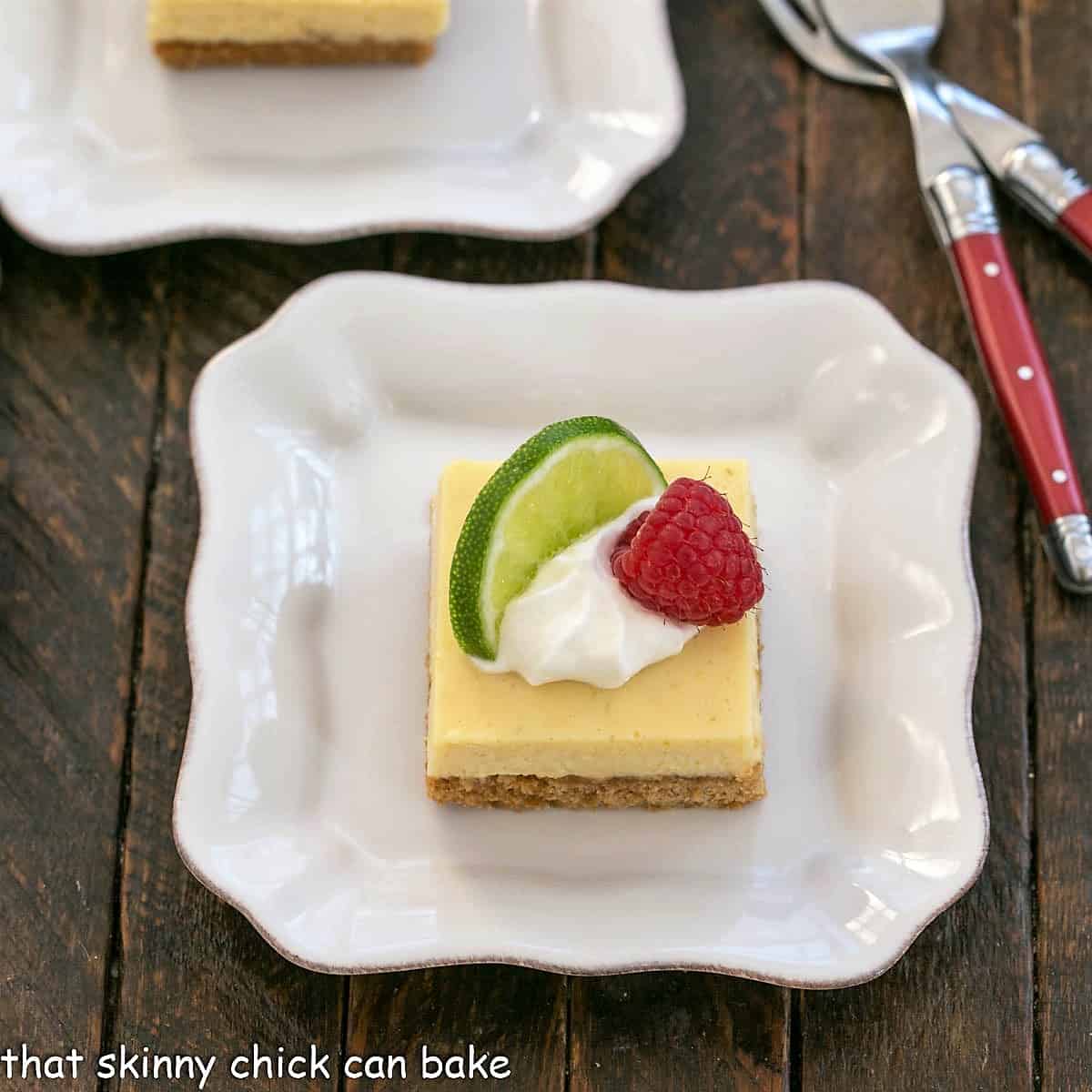 Book Club Menu
Life as a food blogger awards many incredible perks. For example, last Thursday evening I hosted a book club gathering at my house. That morning, I opened the side door to see a huge package from Ghirardelli, full to the brim with their Holiday Squares for Easter.
I was thrilled to be able to add these to my array of sweets and treats. I cooked, styled, and photographed a slew of new recipes to add to my book club menu, and many were tasty enough to deserve their own posts.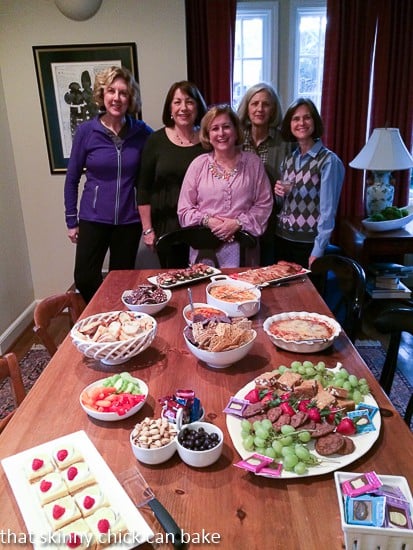 Tips for Planning a Book Club Menu
PRO-Tip: It's best to have finger food, like dips, small cookies or bars for your book club spread. First, we gab and snack while sipping on glasses of wine, then we move into the living room for the book discussion.
Have an assortment of beverages available. Red wine, chilled white wine, a signature cocktail if appropriate, Pellegrino, and/or soft drinks work well.
PRO-Tip: Balancing a plate of food along with a Kindle or book takes some finesse, so a dish needing a fork and knife could be troublesome.
There are exceptions, of course, as I like to make recipes that relate to the theme of the book, but in general, I aim for bite-sized treats.
I like to make a seasonal signature drink if there's an obvious theme in the book, a locale known for its cuisine, or if our book club is set near a holiday. I've made a Pimm's Cup and a Pear Cosmopolitan in the past.
My menus have included Italian, Middle Eastern, Big Apple, Indian, and even Maine fare, matching up with where the novel was set. A theme helps to select the menu.
Frequently Asked Questions
How Do You Choose Book Club Members?
It's best to ask friends with whom you've discussed reading and books you enjoy. If your friend reads all romance novels and you prefer historical fiction, he or she might not be a good fit. Find those who really love to read and like similar books.
How Do You Structure a Book Club Meeting?
Our book club allots some time at the beginning of our gathering to visit with each other and enjoy some wine and snacks. Then we sit down in a room large enough for all of us to gather to start our discussion. We rotate who hosts the book club and who selects the book for the month and leads the discussion.
How Often Should a Book Club Meet?
It's up to your book club to determine the frequency of your meetings. We meet monthly and take the summer off due to all the travel conflicts.
How Does One Lead a Discussion?
Many books come with discussion questions in the back, plus there are often reading guides online. It's also nice to research the author's history and inspiration for writing the book.
How Do You Ensure a Successful Book Club?
You need to be serious and read the book. Of course, life gets in the way and not finishing is fine now and then. Have someone who keeps track of all the dates, books, hosts, and who leads the discussions. I send out a monthly reminder to my book club. We've been meeting since 1996.
What Are Some of the Best Book Club Discussion Books?
We rate our books on a scale of 1-10. The rating is determined by how much we liked the book and if it was good for discussion. We have all shared our book list with our friends who love to read—> Tri-B Book Club Books
Menu Suggestions
The Recipe:
Book Club Menu Recipes
Recipes for finger food including savory appetizers, bite-sized desserts and more that would be perfect for your book club gathering!
Photo Credit: www.thatskinnychickcanbake.com
Cheese Stuffed Jalapeno Peppers Wrapped in Bacon
Photo Credit: www.thatskinnychickcanbake.com
Skewered Antipasto Ingredients arranged on a platter for the holidays.
Photo Credit: www.thatskinnychickcanbake.com
Use Puff pastry or Cresent Roll Dough to layer with Italian meats and cheeses to make a yummy, hearty appetizer.
Photo Credit: www.thatskinnychickcanbake.com
A sour cream dip with smoked salmon that tastes wonderful with potato chips, veggies or crackers.
Photo Credit: www.thatskinnychickcanbake.com
Greek Spanikopita-inspired puff pastry pinwheels.
Photo Credit: www.thatskinnychickcanbake.com
With toffee chunks and walnuts, these chocolate cookies are fabulous!
Photo Credit: www.thatskinnychickcanbake.com
If you love Key lime pie, these bars will not disappoint!
Photo Credit: www.thatskinnychickcanbake.com
With a touch of coffee to accentuate the chocolate flavor, these rich brownies will rock your taste buds!
Photo Credit: www.thatskinnychickcanbake.com
These Butterscotch Bars are chock full of white chocolate chips! So yummy!
Photo Credit: www.thatskinnychickcanbake.com
Mini Vanilla Cheesecakes can be garnished however you'd like! These are topped with caramel sauce and a beautiful ripe raspberry.
Book Club Snacks
I hope you will find inspiration in my book club menu for your next gathering. As a foodie, I always prepare WAY too much and made a point to offer doggy bags to my guests at the end of the evening.
One of the husbands requested a few sweet nibbles when his wife informed him of her plans for the night…he knew quite well that I'm never hesitant to share my treats or my recipes. He was the lucky recipient of chocolate cookies and matzoh crack.
Certainly, a couple of savory appetizers and one or two sweets would be plenty for a typical gathering. Add some nuts and Ghirardelli Holiday Squares and you're set. Ghirardelli Holiday Squares are the perfect choice for your Easter baskets…even if your children are grown like mine, they always love some Easter chocolates.
And for those of you who are avid readers, here is a list of the books my book club has read over the past 17 years.
Disclosure: Ghirardelli supplied me with their Ghirardelli Holiday Squares. I was not compensated for writing this post and the opinions expressed herein are those of the author, and are not indicative of the opinions or positions of Ghirardelli.
Note: This post may contain affiliate links; view
my Disclosure Policy
for details. I earn a small percentage from any purchase you make by clicking on these links at no extra cost to you.