Glazed Leg of Lamb with Garlic and Rosemary
Studded with garlic and rosemary, this Glazed Leg of Lamb with marmalade is the perfect Easter entree! Dry brining the meat with salt the night before helps keep the meat tender and flavorful!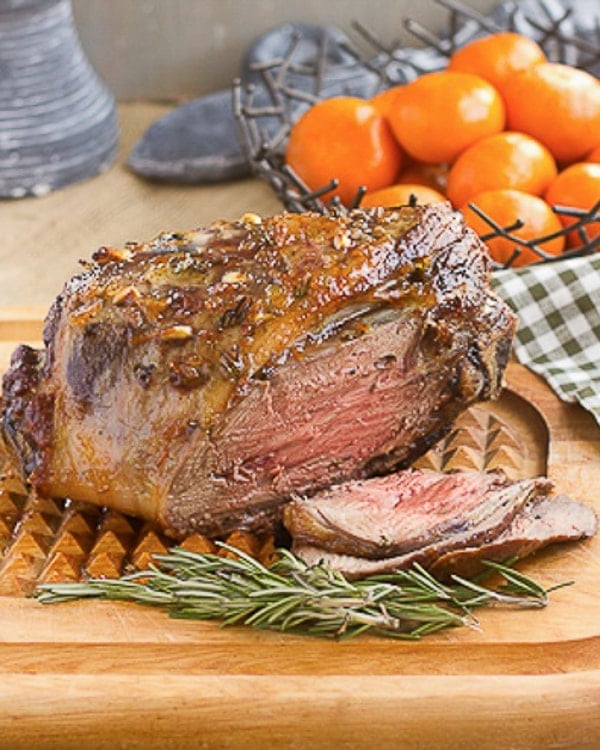 Marmalade Glazed Leg of Lamb for Easter
Growing up, we had no extended family in town to gather with for the holidays. Instead, we hung out and celebrated with close family friends on Easter, Thanksgiving and Christmas. The entree was always turkey, and we enjoyed every morsel. Sides were shaken up a bit as were desserts, but there was never a ham or leg of lamb on Easter.
Rather odd for two Catholic families, but a huge turkey always provided dinner and plenty of leftovers for the 13 of us. Decades later we have developed our own traditions and we tend to go with ham on Easter. Except now and again, we'll roast a traditional leg of lamb. Last year, the star of the show was this Glazed Leg of Lamb with Garlic and Rosemary. Simple to prepare, with amazing results.
Temperatures for Roasting Lamb
The FDA recommends all lamb be cooked to an internal temperature of 145º. My family prefers their lamb medium-rare. Here are the internal temperatures to look for before a 10-minute resting time.
Rare: 115 to 120°F
Medium-rare: 120 to 125°F
Medium: 130 to 135°F
Medium-well: 140 to 145°F
Well-done: 150 to 155°F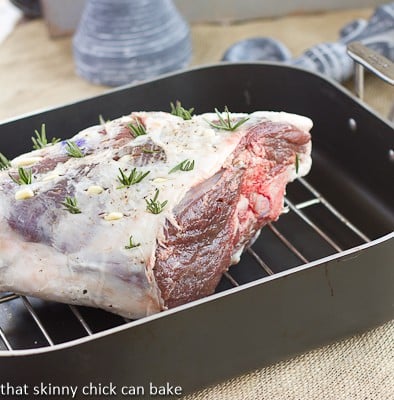 Tips for Making Leg of Lamb
Planning ahead will add the most flavor to your roast lamb. Here are a few pointers for making the tastiest leg of lamb.
Seasoning a day in advance, or dry brining, allows for the salt mixture to infuse into the meat. I do this with my Dry Brined Turkey, too.
The night before, rub the lamb well with salt and pepper to start the flavor infusion process early.

Set your lamb out on the counter about a half hour before roasting. This will get the chill off and allow for more even cooking.
Roast on a rack so that air can circulate on all sides of your roast lamb.
The glaze couldn't be easier. Pick up a lovely jar of orange marmalade from the market and you're set. Don't start basting with the glaze immediately or it could burn.

Roast to a perfect medium-rare. This will take about 25 minutes per pound, but use a meat thermometer to ensure it's cooked to your liking.
Tent the roast with foil for 10 minutes after you pull it out of the oven. The internal temperature will rise about 10 more degrees so keep this in mind when monitoring the temperature in the oven.
If you've never roasted lamb at home, this is a terrific recipe to try. It's definitely a special occasion dish (be prepared for sticker shop when pricing out lamb at the butcher shop). I hope your family will love it as much as mine. Happy Easter to all who celebrate!
More Lamb Recipes You'll Love: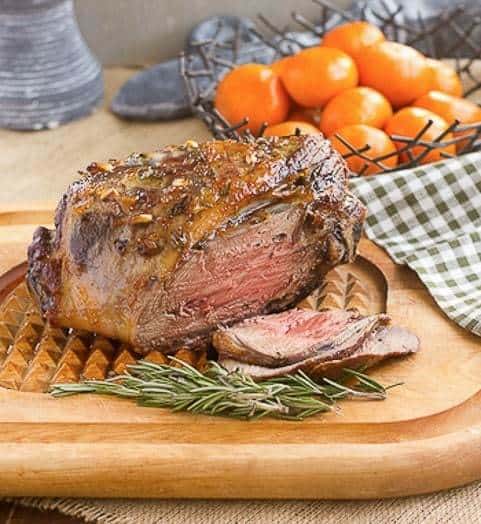 The Recipe:
Glazed Leg of Lamb with Garlic and Rosemary
Prep Time 10 minutes
Cook Time 1 hour 20 minutes
Total Time 1 hour 30 minutes
Yield 8 servings
Herbed leg of lamb with a marmalade glaze. Perfect for Easter.
Ingredients
6 pound leg of lamb, bone-in
4 garlic cloves, each cut into slivers
2 sprigs fresh rosemary
2 tablespoons kosher salt
Freshly ground black pepper
½ cup orange marmalade
Instructions
The night before serving, trim any excess fat and cut slits into fat pad on top of roast at 1½ inch intervals. Rub roast with 2 tablespoons of salt, trying to get some into the slits, then sprinkle with pepper. Cover and refrigerate overnight.
An hour before roasting, remove from refrigerator and insert garlic slivers and rosemary pieces into each slit. Allow roast to sit at room temperature. Preheat oven to 425º.
Roast for 20 minutes, then decrease temperature to 300º. Brush exposed roast with orange marmalade. Baste with more marmalade about every 20 minutes. Remove from oven when a thermometer inserted into the center of roast reaches 125º for rare, about another hour.
Cover with foil and allow to rest for 20-30 minutes before carving.
Notes
Cooking time varies depending on size of roast.
Total time does not include dry brining time.
Nutrition Information:
Yield:
8
Serving Size:
1
Amount Per Serving:
Calories: 930
Total Fat: 56g
Saturated Fat: 23g
Trans Fat: 0g
Unsaturated Fat: 28g
Cholesterol: 316mg
Sodium: 1822mg
Carbohydrates: 14g
Fiber: 0g
Sugar: 12g
Protein: 87g
Note: This post may contain affiliate links; view
my Disclosure Policy
for details. I earn a small percentage from any purchase you make by clicking on these links at no extra cost to you.