Apricot Glazed Cocktail Meatballs
These sweet and sour Apricot Glazed Cocktail Meatballs were a hit at my recent book club gathering. Homemade meatballs were cooked in a sassy sauce with loads of flavor! They flew off the table!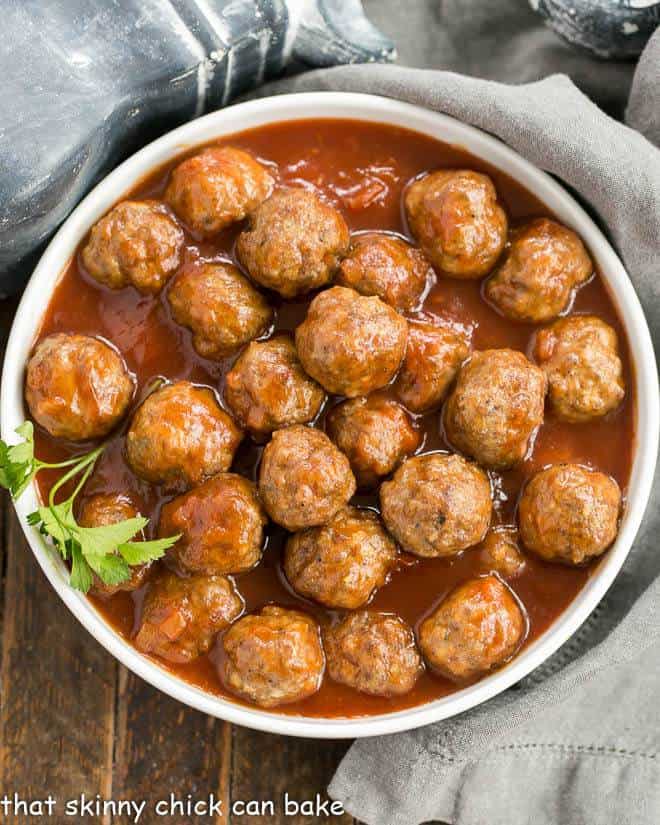 Apricot Glazed Cocktail Meatballs
When any appetizer buffet has cocktail meatballs, the picky hubby is certain to pile a few on his plate. I don't know why it took so long for me to make a batch. It was time to host my book club and I needed a variety of hearty offerings since it was dinner for most of the group. These saucy numbers fit the bill!
Both my book club and husband gave these rave reviews. I made just half a batch and though I've tried many cocktail meatballs throughout the years, this sauce stood out!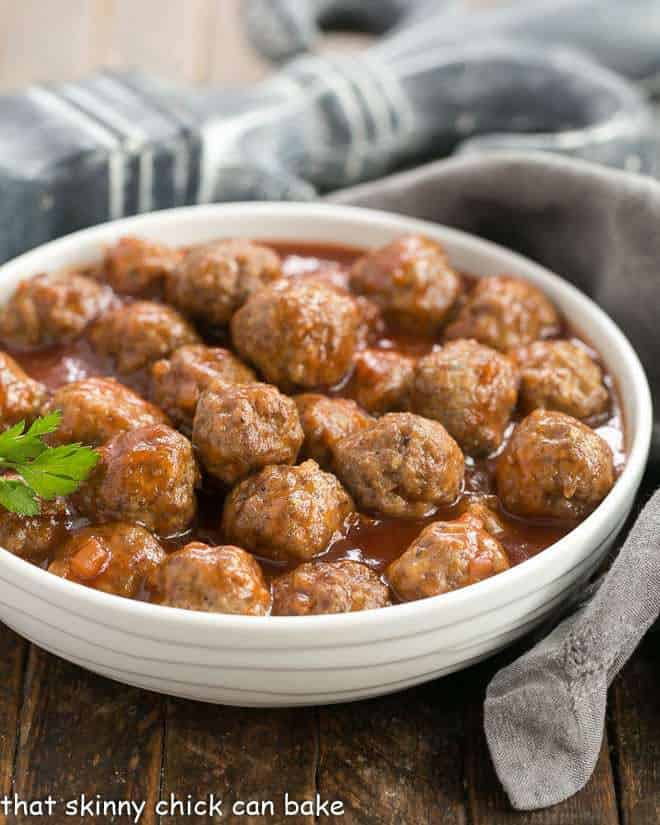 Tips for Making Cocktail Meatballs
If you're like me and want to make homemade meatballs, I have a few tips for streamlining the process. Since a full batch makes about 80 meatballs, feel free to cut this recipe in half.
You can use store-bought meatballs or make them from scratch. If you make them from scratch, do it days ahead of time and keep them in a freezer-safe Ziploc bag. Let them defrost in the fridge the night before your event.
I baked them up on a rimmed baking sheet, allowed them to cool, then placed them in a freezer bag, removed the excess air and popped them in the freezer.
PRO-Tip: To keep the meatballs a consistent size, use a cookie disher/scoop. Then roll between your palms to make them into nicely shaped spheres.
The sauce can also be made ahead of time and stored in the refrigerator for a couple of days (or the freezer for up to a month). Just gently reheat them together before serving.
You could also reheat the cocktail meatballs in a crockpot, but that will most likely take a couple of hours. It's hands-off time, though.
To warm and serve, you can use your slow cooker or crockpot. Putting a bowl on a warming tray also helps keep these apricot glazed cocktail meatballs toasty hot.
If you can't find apricot preserves, any sweet jam or jelly works well. The sweetness balances the savory ingredients for the most delicious experience.
Other dishes I served my book club include sliders made with my pulled pork and topped with coleslaw, homemade queso dip, ginger cookies, flourless brownies, a Kahlua caramel baked Brie, plus a cheese tray. And during the holidays, if you have an extra can of jellied cranberry sauce, try these tasty Cranberry Baked Meatballs.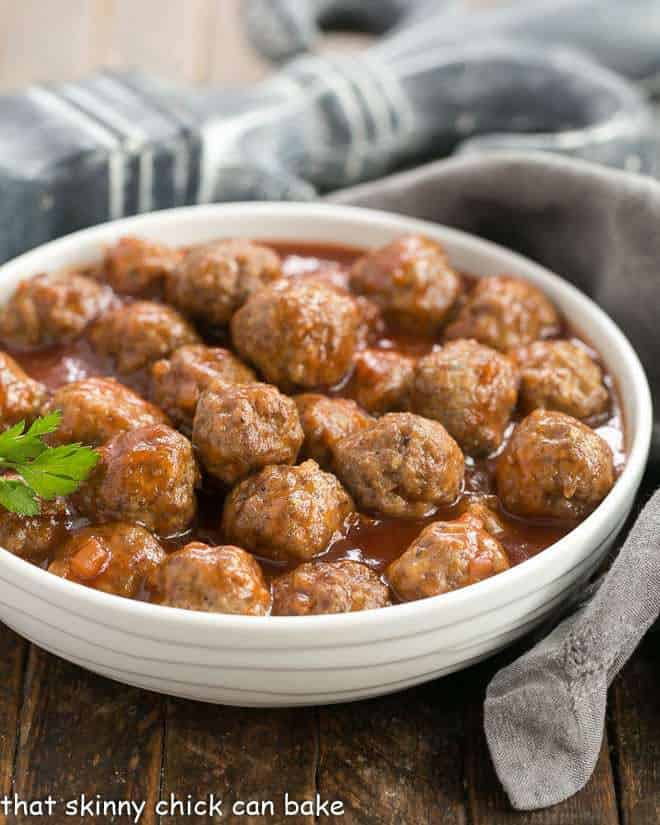 The Recipe:
Apricot Glazed Cocktail Meatballs
Prep Time 30 minutes
Cook Time 30 minutes
Total Time 1 hour
Yield 20 servings
Apricot Glazed Cocktail Meatballs! Delicious meatballs in a sweet and tangy sauce, perfect for all your entertaining needs.
Ingredients
For the Meatballs:
4 slices white sandwich bread, ground into crumbs
1/2 cup milk
2 egg yolks
3 pounds meatloaf mix (equal parts ground beef, ground pork and ground veal)
4 garlic cloves, minced
2 teaspoons freshly ground black pepper
1 teaspoon salt
For the Sauce:
1 tablespoon olive oil
1 cup finely chopped onion
28 ounces canned tomato sauce
2 1/2 cup apricot preserves (I used Bonne Maman)
1/4 cup dark brown sugar
3 tablespoons Worcestershire sauce
2 tablespoons Dijon mustard
1/4 teaspoon crushed red pepper flakes
Instructions
Preheat oven to 450 degrees.
To make the meatballs, mix the bread crumbs, milk, and egg yolks in a large bowl with a fork until well combined. Add the meat mixture, garlic, pepper, and salt. Mix until incorporated.
Form the mixture into 1 1/4 inch meatballs. Bake meatballs on 2 rimmed cookie sheets until cooked through, 12-15 minutes. Switch and rotate the sheets halfway through.
Let the meatballs cool to room temperature, then refrigerate until firm. If freezing, throw meatballs into a large Ziploc bag and freeze for up to 1 month.
To make the sauce, heat the oil in a large pan. Add the onion and cook until softened, about 5 minutes. Whisk in the tomato sauce, preserves, sugar, Worcestershire sauce, mustard, and red pepper flakes. Bring to boil.
Reduce heat to med-low and simmer until the sauce is thickened, about 15 minutes. Let cool to room temperature. If freezing, transfer to a large airtight container and freeze for up to one month.
If meatballs and sauce are frozen, defrost meatballs and sauce in the fridge overnight before you want to serve them.
Add sauce and meatballs to a large saucepan and gently reheat until hot. You can also place them in a crockpot on low for 2 hours to heat.
Notes
Adapted from ATK.
You can also use 3+ pounds of premade/frozen meatballs. Yields 80 meatballs
Nutrition Information:
Yield:
20
Serving Size:
1
Amount Per Serving:
Calories: 279
Total Fat: 9g
Saturated Fat: 3g
Trans Fat: 0g
Unsaturated Fat: 5g
Cholesterol: 65mg
Sodium: 740mg
Carbohydrates: 41g
Fiber: 2g
Sugar: 25g
Protein: 12g
Note: This post may contain affiliate links; view
my Disclosure Policy
for details. I earn a small percentage from any purchase you make by clicking on these links at no extra cost to you.