Prosciutto Wrapped Asparagus with Boursin
This tasty Prosciutto Wrapped Asparagus with Boursin is my go-to appetizer recipe when I need an easy, impressive starter! There are just three ingredients in this show-stopping, incredibly delicious recipe.
Asparagus Wrapped with Prosciutto needs no recipe and is always a hit!
Why You Should Make this Appetizer
There are just three ingredients in this scrumptious recipe for prosciutto-wrapped asparagus.
Once you make these, you'll never need a shopping list or recipe for an encore batch. They're just that easy!
You'll get all sorts of compliments and requests for this recipe once you share this appetizer with friends. I always DO!
They're EASY and DELICIOUS!!
How to Wrap Asparagus with Prosciutto
It does take some time to roll up these beauties, but they will disappear fast. Cooking the asparagus is a breeze, but the rolling is a little fiddly since it involves spreading a soft cheese on paper-thin prosciutto slices.
The last packages of prosciutto I bought was ultra thin, and prosciutto is already very thing as a rule. It must be cut in half lengthwise, then before removing it from the plastic that separates the slices, it's smeared with creamy Boursin cheese.
Next peel one slice of prosciutto off the plastic and at a slight diagonal, carefully wrap the prosciutto around the spear, keeping it as tightly adhered as possible. The nice thing about prosciutto is that it sticks to itself very nicely.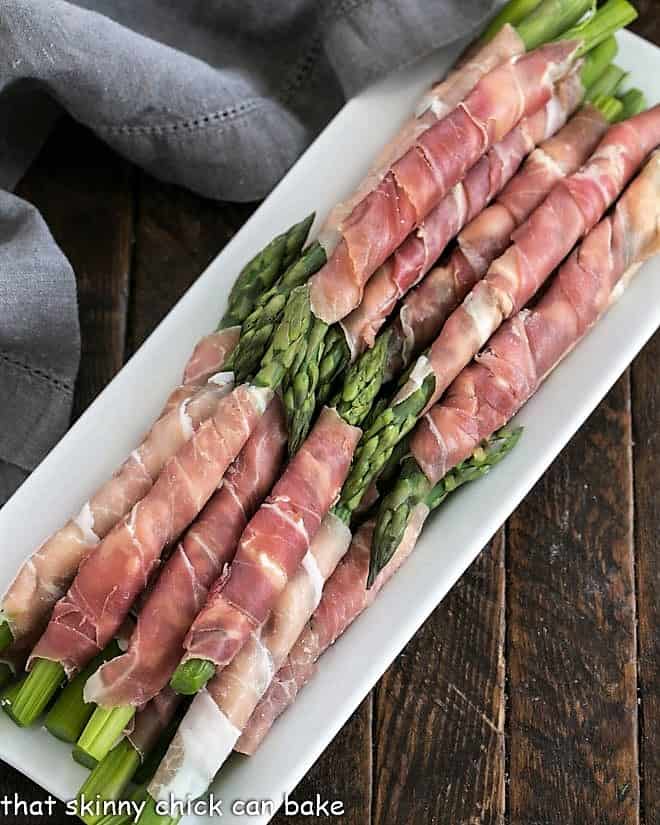 Tips for Making Asparagus with Boursin and Prosciutto
The key is not to overcook the asparagus. You want it to be bright green, bendable, but still slightly crisp. The timing will vary depending on the thickness of your stalks.
Make sure to cut off the woody ends of your asparagus before blanching.
Use slightly thicker asparagus spears as they will be a sturdier base for the ham and cheese.
If you're making these for a crowd, allow enough time to smear on the Boursin, soft cheese spread with garlic and herbs, and roll these up.
Don't add too much Boursin or it will make it tough to roll up without having the cheese ooze out. Just a thin smear along the prosciutto will do.
These can be made early in the day for an evening gathering. Just cover well with plastic wrap and keep refrigerated.
Note that prosciutto typically comes in packages of 6, so that's enough for 12 spears of asparagus. Buy 2 packs for 24, 3 packs for 36, etc. You should have enough Boursin for at least 36 spears.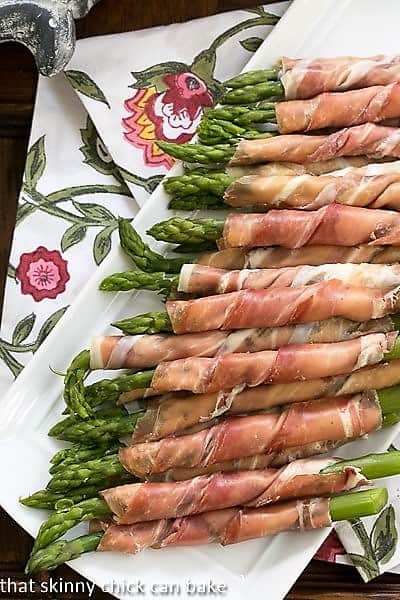 Frequently Asked Questions
How Do You Precook the Asparagus?
The asparagus must be cooked briefly to soften it and eliminate the raw flavor. It can be steamed or boiled for just a few minutes until it's bright green and bendable. The time will vary depending on the thickness of your spears, from 1-5 minutes.

Once it's reached the bendable stage, plunge all the spears into a bowl of ice water to stop the cooking. The asparagus must be dried before continuing on with the recipes.
How Do You Trim the Woody Ends of the Asparagus Stalks?
If you take a spear and bend the bottom half, it generally breaks off where the woody section ends and the more tender stem begins. This will give you a general idea of how much to remove from all the spears. Feel free to reserve the broken off ends for soup.
How Should Leftovers Be Stored?
These leftovers will stay fresh in the refrigerator for up to 3 days as long as they weren't left out at room temperature longer than 2 hours. Keep in an airtight container or covered with plastic wrap.
What Exactly is Prosciutto?
Prosciutto is Italian for ham, and it is seasoned and salt cured, but not smoked, and air dried. It's also pressed, making it firm and dense. Prosciutto di Parma is the true prosciutto, though there are now tasty versions made in the U.S. and elsewhere.*
*From the Food Lover's Companion.
How to Serve This Elegant 3-Ingredient Appetizer
Asparagus with Prosciutto is an ideal addition to a crudite platter, and perfect in the spring and summer when asparagus is at its peak and inexpensive. A container of Boursin will most likely be enough for 36 or more spears. I've updated some old photos as this appetizer was posted in the first few months of my blogging career over 10 years ago. I thought it was worth pinning and resharing. I bet you'll be glad I did!
I'm also a huge fan of having a Cheat Sheet for Entertaining to help with those last-minute details before your guests arrive. By the way, I love serving this Asparagus Wrapped Prosciutto along with other fresh, vibrant vegetables and Ina's Sun-dried Tomato Dip for dipping. Both are perfect for your next gathering!
More Asparagus Recipes You'll Love:
Don't Forget to Subscribe!
Have you subscribed to my weekly newsletter? You'll get the latest blog recipes plus some seasonal favorites delivered to your inbox every Saturday morning! And as a bonus, you'll receive a series of 5 Tips & Recipes for Leveling Up Your Desserts! Of course, you can unsubscribe at any time!!
SUBSCRIBE HERE—> https://bit.ly/3tLQIcL
This recipe was first shared in June 2010. Photos and text were updated in 2021.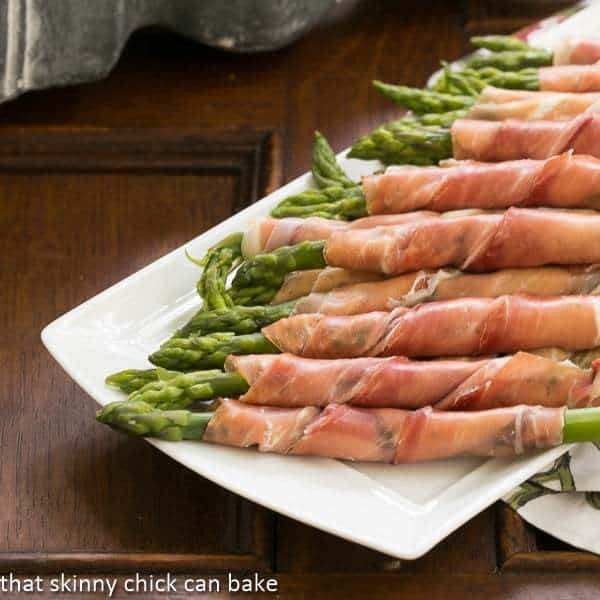 The Recipe:
Prosciutto Wrapped Asparagus with Boursin
Prep Time 30 minutes
Cook Time 3 minutes
Total Time 33 minutes
Yield 12
This Prosciutto Wrapped Asparagus with Boursin is my go-to appetizer recipe when I need an easy, impressive starter! Just three ingredients in this show stopping, incredibly delicious recipe.
Ingredients
24 spears asparagus, stems trimmed (12 needed for each package of prosciutto)
12 slices prosciutto (my grocery carries packages of 6 paper-thin slices)
1 package Boursin cheese, garlic and fine herbs
Instructions
Steam asparagus until just bendable, 3-5 minutes depending on your spear size. Cool quickly in an ice bath. Once cool, set on paper towels to drain and dry.
Open prosciutto package, and cut through the 6 slices lengthwise. Before separating one slice from the others, smear the first prosciutto slice with a couple of teaspoons of Boursin.
Peel from plastic slice separators and wrap prosciutto around an asparagus spear. Continue until all the prosciutto is used.
Recommended Products
As an Amazon Associate and member of other affiliate programs, I earn from qualifying purchases.
Nutrition Information:
Yield:
12
Serving Size:
2 asparagus spears
Amount Per Serving:
Calories: 393
Total Fat: 19g
Saturated Fat: 8g
Trans Fat: 0g
Cholesterol: 133mg
Sodium: 4598mg
Carbohydrates: 1g
Fiber: 0g
Sugar: 0g
Protein: 50g
Note: This post may contain affiliate links; view
my Disclosure Policy
for details. I earn a small percentage from any purchase you make by clicking on these links at no extra cost to you.