Korean Grilled Flank Steak
Cooked to medium-rare on the BBQ, this Korean Grilled Flank Steak, with an Asian marinade, will immediately become a family favorite!
Terrific flavors from the Asian ingredients permeate the meat and made this Korean Beef Recipe absolutely irresistible.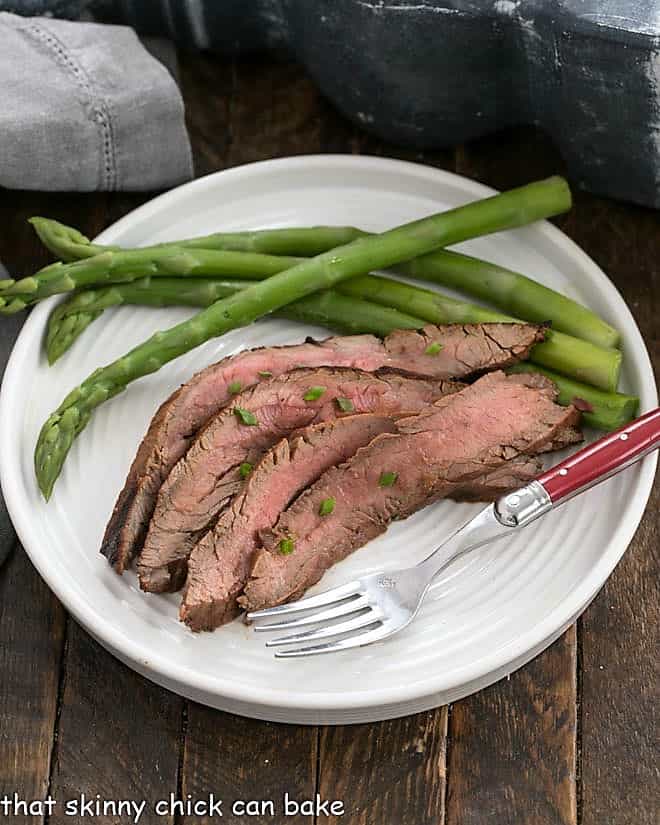 Why You Must Make
Our grill gets a major workout in the summer, but my husband loves to grill in any season. Burgers, chicken, chops…anything is fair game. Once, when I was out of town, he and my youngest brought our extremely heavy Big Green Egg into the house when the lid was frozen to the top of the grill.
Flank steak is a family favorite, but it's pretty boring without a marinade.
A good marinade infuses flavor into the meat and makes for a spectacular entree.
The Asian flavors of this marinade work beautifully with beef!
The marinade recipe provided such a marvelous punch of flavor with the freshly grated ginger, soy, and sriracha. You can tone down or amp up the spiciness by adjusting the hot sauce amount. Either way, it's a perfect entree for your summer BBQ.
Expert Tips:
Flank steak comes from the abdominal muscles of the cow and is quite lean, and therefore can be very chewy if not prepared correctly.
PRO-Tip: Since beef is sturdier than fish or chicken, it can easily handle overnight marinating.
Place the marinade ingredients in a gallon Ziploc bag, agitate it to mix, then add the beef. Remove any excess air, place the bag on a plate, and refrigerate up to overnight.
PRO-Tip: Cutting thin slices across the grain allows for this flavorful cut to be quite tender.
Look for the "lines" running from one side of the flank steak to the other. Do not cut following these lines, but instead, cut perpendicular to the lines, from one of the long sides across to the other long side. It makes a huge difference!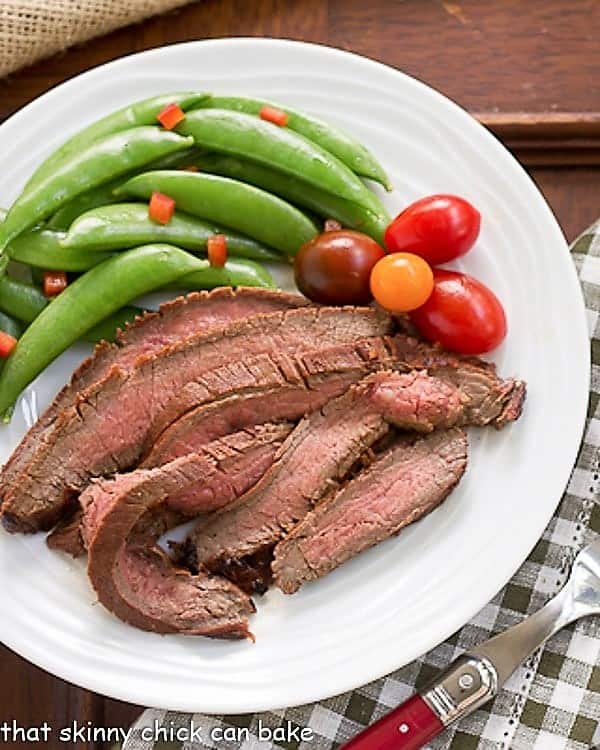 Serving Suggestions
When a flank steak is marinated, the flavorful beef does not need a lot of competition from the side dishes. I like a crisp green salad, a fresh seasonal vegetable and rice or potatoes.
We all loved this Korean beef. There was nary a word about the heat from the sriracha, the Asian chile-laced condiment. Take my word for it, this is one of the best flank steak marinades! P.S. I have a friend who uses this versatile marinade on chicken and steelhead trout. I'm going to try it with salmon next.
Times for Marinating Meat
The marinating times vary for different meat and seafood. Small shrimp take less time than a flank steak. Make sure to marinate in a sturdy Zip-loc bag or glass container as the acid can react with metals. If the marinade has acid, like vinegar or citrus juice, it will also break down the meat more quickly.
Beef, like this grilled flank steak, can be marinated overnight. Steaks can be marinated for a shorter time, 2-3 hours.
Pork chops, tenderloins – 6 hours or overnight
Chicken – 1 1/2-2 hours (though I've done bone-in chicken breasts overnight
Lamb – 6 hours or overnight
Shelled Shrimp – 30-60 minutes
Salmon – 30-60 minutes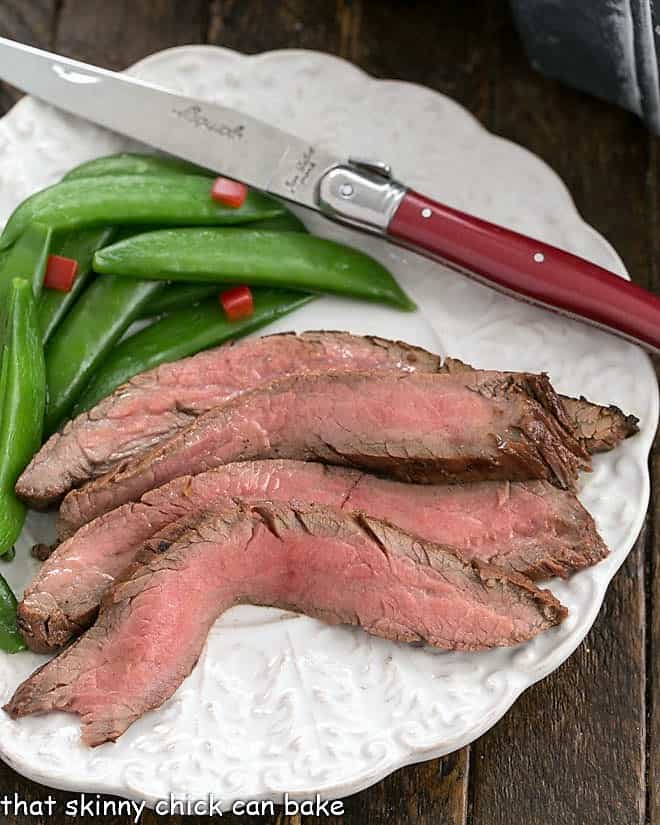 Frequently Asked Questions
How Long Do You Grill Flank Steak?
There are numerous factors when grilling meat. First, consider the weight and thickness of the meat. The next variant is the heat of the grill, especially with charcoal since it's harder to make quick adjustments. Also, the temperature of the meat. It may be fresh out of the refrigerator or left on the countertop at room temperature for an hour before grilling to take the chill off. I recommend the latter for more even grilling. And last, it will vary depending on whether you like your beef rare, medium rare, medium, or well done.
Typically, it takes about 4-5 minutes per side or until an instant-read thermometer reads your desired temperature. PRO-Tip: Rest your beef, covered with foil, for about 10 minutes before serving. This will give the beef a chance to reabsorb its juices and it will also add up to 10 degrees of carryover cooking. For this reason, it's good to pull your beef off the grill when it's about 5-10 degrees under your goal.
What Are the Internal Temperatures for Grilled Beef?
Rare – Cool red center. 125° F 
Medium Rare – Warm red center. 135° F 
Medium – Warm pink center – 145° F
Medium Well – Slightly pink center – 150° F
Well Done – Little or no pink – 160° F
You May Also Like:
Stay in touch through social media @ Instagram, Facebook, and Pinterest. Don't forget to tag me when you try one of my recipes! And if you love the results, please give it a 5-star rating in the recipe card. Note: As an Amazon Associate, I earn from qualifying purchases. Visit my Amazon Store for my favorite products.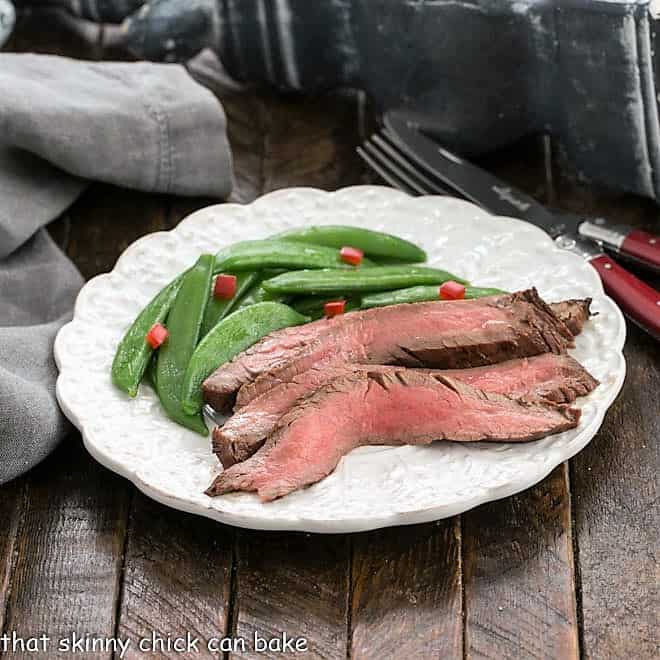 The Recipe:
Korean Grilled Flank Steak
Prep Time 5 minutes
Cook Time 10 minutes
Total Time 15 minutes
Yield 4 servings
A simple Asian marinade transforms a flank steak into a fabulous entree!
Ingredients
1/2 cup soy sauce
1/4 cup rice wine vinegar
1/2 bunch green onions (finely chopped)
2 tablespoons grated fresh ginger
1 tablespoon toasted sesame oil
1 1/2 teaspoons sriracha chili paste or sauce
1 flank steak, 2 pounds
Freshly ground black pepper to taste
Instructions
Combine all marinade ingredients, and mix well. Pour into a large ziploc bag and add flank steak. Seal and marinate at least 2 hours and up to overnight. Store in refrigerator.
Prepare grill. Remove steak from marinade and pat dry. Sprinkle with black pepper to taste. Grill to desired doneness (medium rare preferred), about 3-4 minutes per side.
Let meat rest about 10 minutes before slicing across the grain to serve.
Notes
Adapted from Amerianprofile.com. Total time does not reflect marinating time.
Recommended Products
As an Amazon Associate and member of other affiliate programs, I earn from qualifying purchases.
Nutrition Information:
Yield:
4
Serving Size:
1
Amount Per Serving:
Calories: 112
Total Fat: 5g
Saturated Fat: 1g
Trans Fat: 0g
Unsaturated Fat: 4g
Cholesterol: 17mg
Sodium: 2039mg
Carbohydrates: 7g
Fiber: 1g
Sugar: 3g
Protein: 9g
Note: This post may contain affiliate links; view
my Disclosure Policy
for details. I earn a small percentage from any purchase you make by clicking on these links at no extra cost to you.