Texan Roll Beefshi: Beef Sushi Rolls
Beefshi AKA Beef Sushi Rolls are a new gourmet innovation using sushi making techniques to make beef rolls. My sushi wary family all adored the Texan Roll Beefshi with roast beef, sushi rice, cojita cheese, jalapenos, scallions, lime and cumin seed! Beef for the win!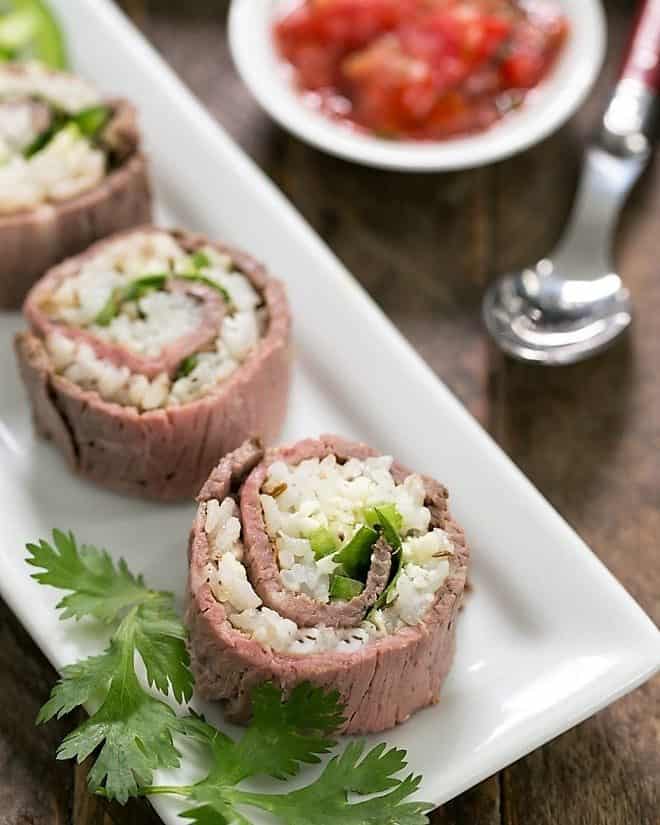 Beefshi AKA Beef Sushi Rolls
My family moved to Vancouver, British Columbia, for my junior year of high school, AKA grade 11 in Canada. Besides snow skiing on Grouse Mountain every weekend through the winter, and sailing English Bay with my dad in the summer, we were exposed to the fabulous world of ethnic foods. One evening, our family dined at Aoki's on East Hastings, where we got our first taste of sushi. Pretty exotic for kids from Ames, Iowa!
Though I've eaten traditional sushi with my sisters and parents many times since then, I could never get the hubby on board. Sigh. But Beefshi, or Beef Sushi Rolls, is another story. And that's what got me to attempt my first "sushi" with beef!
My initial foray into beefshi was a complete success. Now THIS was the kind of sushi my family will ask for again and again.
The Texan Roll Beefshi
I've included the recipe for The Texan Roll, and you can find the recipes for the other two Beefshi versions I created, The New York Deli Roll and the Reuben Roll, on the Guide to Beefshi site, maintained by The North American Meat Institute, a contractor to the Beef Checkoff. Despite the jalapenos in the Texan rolls, Bill, the picky hubby, was a fan. The boys, with their more adventuresome palates, were over for Sunday night dinner and were delighted with their beef sushi samples, too. I enjoyed all three, but the Reuben Roll was my favorite. No surprise as I love a good Reuben sandwich.
Since I had never made sushi before, I needed to buy some simple supplies, a sushi mat, rice wine vinegar, nori sheets, and some other odds and ends of ingredients. I learned a lot making these Beefshi recipes, like how to make sushi rice. And my rolling technique got better with a little practice. Next time will be even better, when I have a working kitchen. Yes, remodeling is still going on. 3 more weeks until my counters are installed and then the end will be in sight!
Tips for Making Beefshi
As a sushi/beefshi novice here are a few things I learned along the way.
Sushi rice is not just short grain rice cooked like regular rice. It's cooked on the stove top, then spread out on a sheet pan and dressed with a mixture of rice vinegar, sugar and salt.
A mixture of water and rice vinegar is used as a "hand" vinegar which makes it easier to spread the sticky rice over the beef with your fingers.
Plastic wrap is used to cover the sushi mat. This helps prevent the ingredients from sticking to the mat and also makes clean up a heck of a lot easier!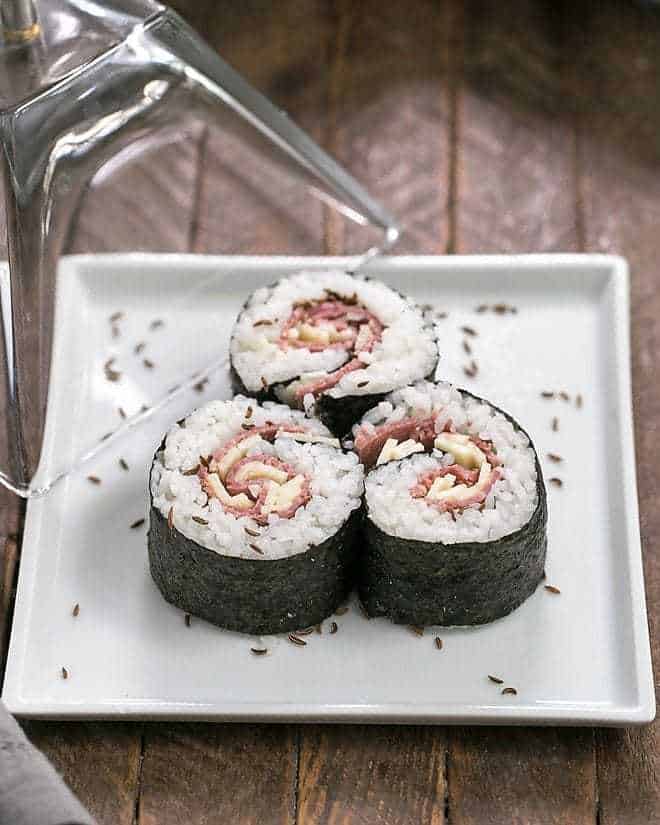 Adding just the right amount of rice, using the optimal thickness of sliced beef, and rolling into perfect rounds takes practice. But even imperfect beefshi tastes delicious!!
A very sharp knife is imperative for cutting nice neat rounds of beefshi. I found my bird's beak knife was well honed and worked better than the serrated knifes I tried.
Plus since you're using cooked beef instead of raw seafood, this "sushi" has a more universal appeal and is safe for children, elderly or those who are immune compromised to enjoy!
More Marvelous Beef Appetizers to Try:
I hope these recipes will inspire you to add some Beefshi to your menu. Beef is always a draw when serving a variety of appetizers. My Beef Crostini with Blue Cheese Spread are addicting and these cheesy Corned Beef Sliders are perfect for game day! I could make a meal out of this gooey Beef Enchilada Dip and this Beef Taco Ring is super easy, not to mention delicious!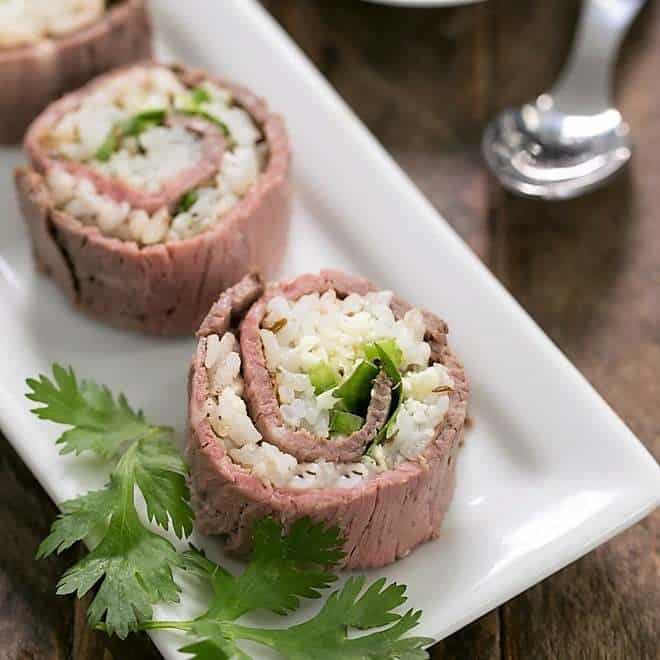 The Recipe:
Beefshi: The Texan Roll
Prep Time 40 minutes
Cook Time 30 minutes
Total Time 1 hour 10 minutes
Yield 8 servings
Delicious beef appetizers inspired by traditional sushi
Ingredients
Sushi Rice and Dressing
4 cups short grain rice (you will only need 1/3 of this recipe or 4 cups of cooked rice)
4 ½ cups water
1 3-inch square piece of kombu
½ cup rice wine vinegar
¼ cup sugar
1 teaspoon salt
Hand vinegar
1 cup water
¼ cup rice vinegar
Rolls
8 thin slices roast beef
1 teaspoon chili powder
4 cloves garlic, mashed to a paste
4 cups sushi rice
2–3 limes
2 teaspoon cumin seeds
2 jalapenos, cut into thin strips
2 scallions, cut into thin strips
8 sprigs cilantro
½ cup cotija cheese crumbles, or feta
Pico de gallo or salsa, for serving
Instructions
Put the rice into a large mixing bowl and cover it with cold water. Stir the rice with your hands, massaging it to release the starch. Strain the rice through a sieve and put it back into the bowl. Swirl the rice thoroughly and strain it again. Repeat once more. Now your rice is ready for cooking.
Put the rice into a rice cooker or large saucepan. Add the water and kombu. If using a rice cooker, turn it on. If using a saucepan, cover tightly and set over high heat. When the water boils, reduce heat to very low. Let cook until all the water is absorbed. Turn off heat and let sit, covered, for 15 minutes. Remove the kombu from the cooked rice.
While the rice is cooking, make the dressing. Put the vinegar into a medium saucepan and set it over low heat. Stir in the sugar and salt until dissolved. Remove from heat and let cool.
Spoon the hot rice onto a sheet pan and immediately drizzle the dressing over it. Use a rice paddle or wooden spoon to gently stir the rice to coat it. Be careful not to mash or break the rice.
Let the rice cool until it is just barely warm to the touch. Put the rice into a bowl and cover with a damp towel to keep it moist.
To refresh leftover rice that has been refrigerated, sprinkle it with water, cover with a damp towel and microwave until hot and tender.
In a small bowl, stir together the hand vinegar.
Lay a sushi mat on a clean surface and cover it with plastic wrap.
Moisten hands with hand vinegar and shake off excess.
Lay 2 pieces of roast beef on the mat to cover it. Sprinkle with some chili powder and ¼ of the garlic, rubbing both into the beef with your fingers.
Cover the beef with 1 cup of sushi rice, leaving 1 inch empty at the end farthest from you.
Zest the limes and sprinkle ¼ of the zest over the rice. Squeeze a little lime juice over the rice as well. Sprinkle the rice with cumin seeds.
Arrange one-quarter of the jalapeno and scallion strips, two cilantro sprigs, and a sprinkling of cheese along the center of the rice, crosswise, covering the half of the rice that is closest to you.
Securing the jalapeno, scallion, and cilantro with your fingers, use your thumbs to push the end of the mat up and over the filling until one edge of the rice meets the other side. Press firmly on the roll to seal and shape.
Lift up the top of the mat and roll firmly until tight and round. Squeeze gently to shape the roll. Press the ends in carefully to secure any loose rice. Remove the bamboo mat, peel off the plastic, and set the roll aside.
Repeat with the remaining ingredients to make four rolls. Slice each roll into six rounds, arrange on a sushi platter, and serve with pico de gallo or salsa.
Nutrition Information:
Yield:
8
Serving Size:
1
Amount Per Serving:
Calories: 370
Total Fat: 5g
Saturated Fat: 2g
Trans Fat: 0g
Unsaturated Fat: 2g
Cholesterol: 17mg
Sodium: 733mg
Carbohydrates: 77g
Fiber: 6g
Sugar: 14g
Protein: 10g
Note: This post may contain affiliate links; view
my Disclosure Policy
for details. I earn a small percentage from any purchase you make by clicking on these links at no extra cost to you.