Ricotta Cheesecake with Homemade Ricotta
If you love to play in the kitchen, this luscious Ricotta Cheesecake with Homemade Ricotta is just your style. Silky smooth and delicious!
Or take a short cut and make with store bought ricotta; you'll love this Italian Cheesecake either way!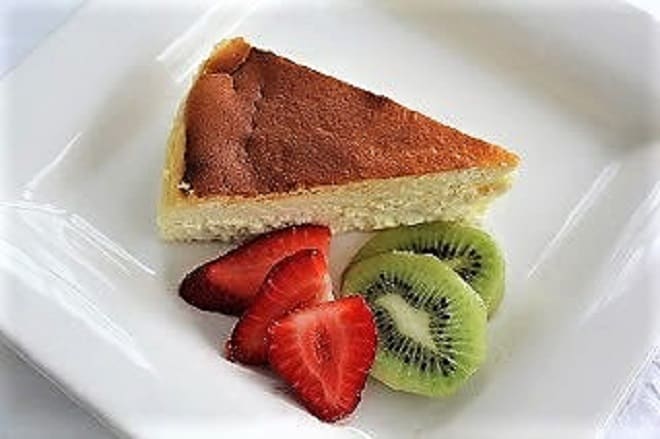 Ricotta Cheesecake with Homemade Ricotta
I have three younger sisters, and we all love to cook AND eat. Our rare get-togethers always revolve around our next meal and those many trips to the grocery store. Maddy does everything without a recipe…and it always works. I'm still dreaming of her gnocchi with a mushroom cream sauce…unbelievable. Katie is the healthiest of the bunch…magically turning lentils into a dish so delicious I craved second and third helpings.
Mary is the one who first used leaf lard for her pie crust. I was drooling at her photos of a berry-filled pastry. Like me, she loves to entertain and has an adventuresome palate. As children of an English major/artist/musician mother and a slightly nutty physics professor father, we are all a little quirky. But at least we can laugh about it! Mary was the one who inspired me to make this Ricotta Cheesecake with Homemade Ricotta.
I've asked them all to guest post…and Mary said she had blogged about her ricotta cheesecake years ago on a friend's blog. I'm reposting it with her permission. You can see her original photos here. I've added my photos as I had to try this!! The results are an extremely creamy, lemony Italian cheesecake…I didn't even miss the crust.

With my 3 sisters in Seattle–full of sushi!

My sister, Mary.
If you'd like to try a twist on the ordinary cheesecake made with cream cheese and sour cream, try this exquisite ricotta cheesecake. And if you're even more adventuresome, make your ricotta from scratch. I know you'll love this!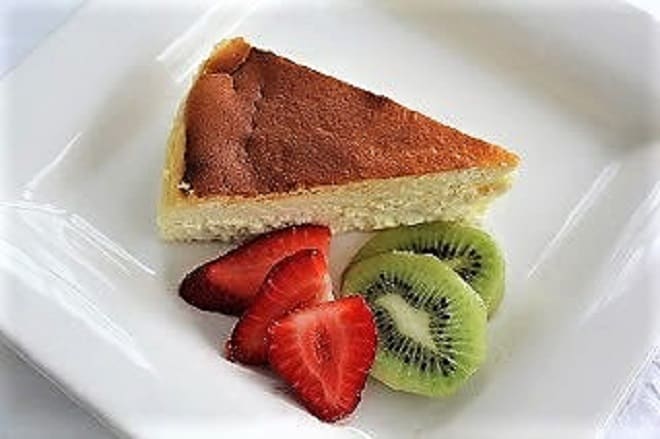 The Recipe:
Ricotta Cheesecake with Homemade Ricotta
Prep Time 30 minutes
Cook Time 1 hour 10 minutes
Total Time 1 hour 40 minutes
Yield 12 servings
Homemade ricotta makes one incredible cheesecake
Ingredients
For ricotta:
½ gallon whole milk
1 cup heavy cream
7 tablespoons fresh lemon juice
¼ t salt
For the Cheesecake:
16 ounces fresh whole milk ricotta, drained
12 ounces cream cheese, room temperature (use full fat, not reduced or fat-free cream cheese)
1 cup (200 grams) granulated white sugar
1 tablespoon cornstarch
4 large eggs, room temperature
1½ teaspoons of vanilla
Instructions
Squeeze the lemons. It took 3 small lemons to make 7 Tablespoons. (2 large for me)
Put all the ingredients into a pan over medium-low heat. Allow mixture to heat for 45 to 50 minutes until temperature reaches 165 to 170 degrees. Stir the mixture once or twice
to avoid sticking. But don't stir too much otherwise the ricotta curds will be too small.
Increase heat slightly for another 7 to 8 minutes or until it reaches 200 to 205 degrees on the edges and in the middle.
Remove ricotta from the heat and allow it to rest for 15 minutes. Line a colander with a double thickness of damp cheesecloth. Pour the curds into the colander.
Allow the ricotta to drain for 20 minutes.
Makes 16 ounces of yummy light slightly lemony ricotta. Perfect for pasta, salads or even cheesecake.
I mixed the ricotta and cream cheese until smooth and then added the sugar and beat it for another 2-3 minutes. Scrape down the sides of the bowl while beating to make sure everything is incorporated. (I used the paddle attachment on my KitchenAid...be careful not to overmix or incorporate air into the batter).
Add the eggs and beat in one at a time. I forgot to let the eggs come to room temperature. I have no idea how this affected the final product.
Double wrap the bottom of a 9-inch springform pan with aluminum foil and place it in a bain marie with the water (hot) coming about ½ way up the pan. Pour the batter in. At this point you may ask yourself where is the nasty graham cracker crust? That gritty vile stuff that totally messes up a perfectly good cheesecake? Yes, it's totally unnecessary and so it will come nowhere near my awesome cheesecake. (Gosh, that's my favorite part of the cheesecake!! Are you sure we're related?).
Place the cheesecake in the 350-degree preheated oven for about 1 hour and 10 minutes. Then take it out and marvel at the weird souffle-ness of your creation and wonder what the heck is up with that.
Then be mildly sad when it settles back down. But don't worry. You will forget it all once you taste it and realize you just made one awesome cheesecake.
Nutrition Information:
Yield:
12
Serving Size:
1
Amount Per Serving:
Calories: 362
Total Fat: 29g
Saturated Fat: 17g
Trans Fat: 0g
Unsaturated Fat: 9g
Cholesterol: 149mg
Sodium: 268mg
Carbohydrates: 13g
Fiber: 0g
Sugar: 11g
Protein: 14g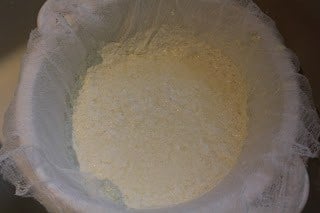 Note: This post may contain affiliate links; view
my Disclosure Policy
for details. I earn a small percentage from any purchase you make by clicking on these links at no extra cost to you.