Straw and Hay Pasta with Prosciutto
This simple Straw and Hay Pasta with Prosciutto is as pretty as it is delicious! As a bonus, it's also super quick and easy.
Italian in origin, this Paglia e Fieno is a traditional Italian dish from Siena with a melange of spinach and plain pasta, peas, and prosciutto tossed in a delectable Parmesan cream sauce.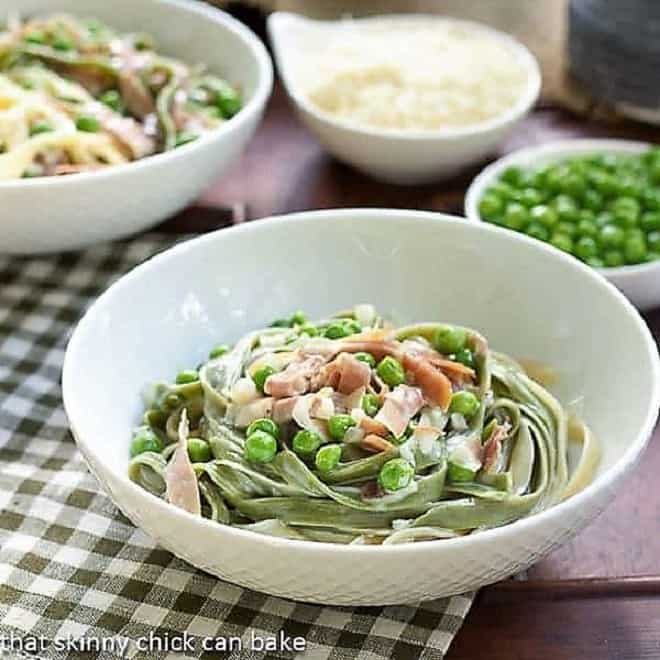 Why You Must Make
This Straw and Hay Pasta recipe, AKA Paglia e Fieno, is from my mom, and I know exactly why she liked it. The commingling of the green and cream fettuccine noodles has a lovely aesthetic appeal. As an artist, she always wanted our plates to be as beautiful as they were tasty. She served our meals on solid color plates and we sat around our dining room table covered with a rich deep-hued tablecloth.
It comes together quickly so is ideal for a weeknight dinner!
Add a green salad and some crusty bread and you're set.
Our family dinners started at 6 PM, right after the 5:30 national news. When I was in high school, my mom went back to college to get her MFA and easy pasta dinners appeared more frequently on our table. They came together quickly but were never dull. Adding different veggies, meats, and cheeses prevented any monotony. With its al dente pasta, garlic and onions, salty prosciutto, plus peas in a creamy sauce, this paglia e fieno recipe met those criteria.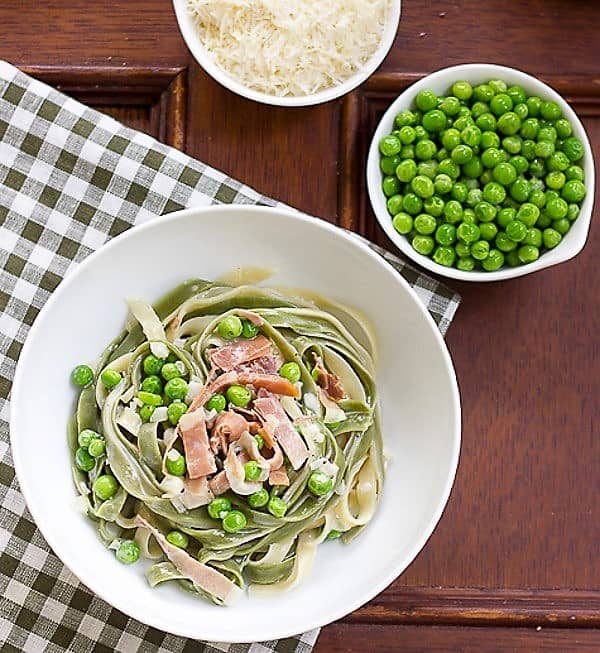 How to Make
I used fresh pasta as I had trouble finding dried spinach fettuccine or tagliatelle. You are welcome to use fresh or dried pasta, two colors, or just one. If you're not a fan of peas, add another veggie (just cook it first). This dish goes from stovetop to plate in no time at all and allows for more family time around the table. After all, isn't that what weekday meals are all about?
And make sure to invite your children to be a part of the meal-making process. With supervision, even a young child can pour a handful of salt into the pasta water, stir the pasta, and measure out the peas. They are much more likely to try new foods when they participate in the preparation. And this pasta is such an easy dinner recipe. Now if only I could backtrack and work with my picky husband!
Cook the onions in the butter and oil until translucent.
Then briefly saute the garlic and prosciutto.
Add the cream and simmer until it starts to thicken.
Taste and add salt and/or pepper if needed.
Add the peas and remove from the heat.
Cook pasta in well-salted water according to package directions.
Return the sauce to the heat. Add the drained pasta to the sauce, and toss till well combined.
Add the Parmesan, toss again, and serve.
Ingredient Notes
You may have most of these ingredients on hand. Though the green and yellow pasta combination makes a lovely presentation, this classic Italian dish will be just as delicious using plain old egg noodles.
Kitchen Staples – Olive Oil, Butter
Onion – Yellow or White Onions
Garlic – Make sure the cloves are plump and not dehydrated
Prosciutto – May substitute with pancetta or even sliced or diced ham in a pinch
Heavy Cream – 36% butterfat. Will help make a rich, creamy sauce.
Frozen Peas – No need to defrost as the heat of the noodles, etc, will do that.
Regular Fettuccine and Spinach Fettuccine, though you may substitute with tagliatelle or even just plain egg noodles if desired. If you cannot find green pasta, this will still be delicious with all regular fettuccine. Cook your pasta like the Italians, "to the tooth" or al dente, meaning it's cooked only until it "offers a slight resistance" when bitten into. You will see a line in the middle of the pasta noodle that is not fully cooked—take a strand of pasta to test before straining it.
Grated Parmesan – Find fresh parmesan (already grated) in the deli or cheese department of your grocery store. Do not use the green can found on the store shelves.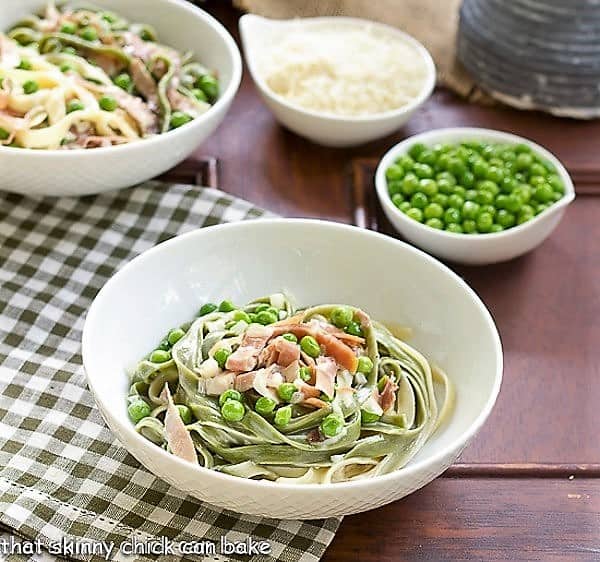 Recipe Notes
If you can't find green fettuccine, you can use all regular fettuccine.
And if you can't find any variety of fettuccine, use any pasta shape you like. I've made this with farfalle, also known as bowtie pasta.
If your family doesn't like peas, add another vegetable instead. Make sure to cook it first if necessary.
And if Prosciutto is unavailable, you can substitute other ham varieties like pancetta, or deli ham like Black Forest or Virginia Ham, or even bacon in a pinch.
If you want to cut calories a bit, you could try using half and half instead of heavy cream, but the sauce will not be as creamy nor as thick.
Always taste before serving and add more salt and even some freshly ground black pepper if needed. But note that the Prosciutto is salty so you may not need additional salt.
Frequently Asked Questions
What does Paglia e Fieno mean in Italian?
Paglia e Fieno translates to Straw and Hay referring to the light yellow and light green colors of the long strands of fettuccine used in this recipe.
Can You Use Other Pasta Shapes in this Recipe?
Yes, any of your favorite types of pasta will work. Farfalle also known as bow-tie pasta is one of my favorite substitutions. The sauce won't have the same surface area on which to adhere when using some types of pasta, like spaghetti (though it will still be tasty), so keep that in mind. 
Can You Use Fresh Peas?
Yes, but since frozen peas are fully cooked, make sure to cook your fresh peas first as they won't spend enough time in the pan to get tender. You can also use other vegetables like green beans or broccoli, just make sure they're cooked and in bite-sized pieces.
You May Also Like
Stay in touch through social media @ Instagram, Facebook, and Pinterest. Don't forget to tag me when you try one of my recipes! And if you love the results, please give it a 5-star rating in the recipe card. Note: As an Amazon Associate, I earn from qualifying purchases. Visit my Amazon Store for my favorite products.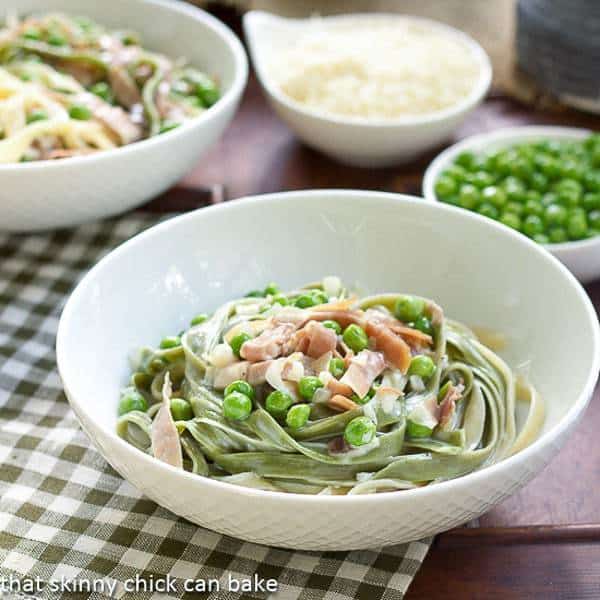 The Recipe:
Straw and Hay Pasta
Prep Time 10 minutes
Cook Time 20 minutes
Total Time 30 minutes
Yield 4 servings
Adapted from Wolfgang Puck
Ingredients
1 tablespoon olive oil
1 tablespoon butter
½ cup finely minced onion
2 cloves garlic, minced
4 ounces prosciutto, julienned
1 cup heavy cream
Salt
Freshly ground black pepper
1 cup frozen peas, defrosted
6 ounces fettuccine
6 ounces spinach fettuccine
½ cup grated Parmesan
Instructions
Heat the butter and oil in a large saute pan, then add the onions and cook till translucent.
Next, add garlic and prosciutto and cook for about a minute more while stirring.
Add the cream and bring to a simmer and cook till slightly thickened.
Season to taste with pepper and salt if only if needed as the prosciutto adds saltiness.
Add the peas and remove from the heat.
Cook the pasta in well-salted water according to package directions.
Return the sauce to the heat. Add the drained pasta and toss till well combined.
Add the Parmesan, toss, and serve.
Notes
The pasta water should taste like the sea so add plenty of salt as it's needed to infuse into the pasta.
Use other types of ham like pancetta or even bacon if prosciutto is not available.
Nutrition Information:
Yield:
4
Serving Size:
1
Amount Per Serving:
Calories: 539
Total Fat: 34g
Saturated Fat: 19g
Trans Fat: 1g
Unsaturated Fat: 13g
Cholesterol: 105mg
Sodium: 1236mg
Carbohydrates: 38g
Fiber: 4g
Sugar: 6g
Protein: 21g
Note: This post may contain affiliate links; view
my Disclosure Policy
for details. I earn a small percentage from any purchase you make by clicking on these links at no extra cost to you.