Homemade Pasta Sauce Recipe
Layers of flavor make a to die for Pasta Sauce Recipe! A long simmer plus delicious ingredients create a Homemade Pasta Sauce you'll adore (and make again and again!).!
Red wine, Italian sausages, aromatics, and spices transform into the best spaghetti sauce and all from your own kitchen!
Why You'll Love this Homemade Pasta Sauce
Making a homemade pasta sauce only takes a little hands-on time, then a slow simmer to allow all the flavors to meld.
Once you find out how easy it is to make a delicious pasta sauce, you'll never buy jarred sauce again.
When you know the quality of all your ingredients, it's no surprise that the results will be the best spaghetti sauce you've ever tasted. Let's go through the ingredients.
How to Make Spaghetti Sauce
First, you need to know your ingredients and why they're important. The order you add them plays a crucial role in developing the best flavors.
The Ingredients in this Homemade Pasta Sauce:
Aromatics include vegetables, herbs, and spices. Basically those foods that help build flavor, like the onion, garlic, bell pepper, mushrooms, bay leaves.
Olive oil. Oil helps extract the flavor from the onions, garlic, and sausage during the cooking process.
Tomatoes and tomato paste are classic spaghetti sauce ingredients, but they also provide umami, that taste profile that has been added to sweet, salty, bitter and sour. Umami is the savory taste that comes from natural glutamates. You may be familiar with the word glutamate as it's part of MSG or monosodium glutamate. But natural glutamates only provide deliciousness!
Worchestershire sauce and Italian sausage also provide umami. Though Worcestershire sauce is not in most spaghetti sauce recipes, give it a try!!! The spices in the sausage also contribute flavor via the glutamates in meat.
Angostura bitters is a mystery ingredient made of 40 herbs, including gentian, and spices. The exact formula is top secret. Though most commonly used as an ingredient in an Old Fashioned cocktail, it can provide "depth and complexity" to many dishes according to vinepair.com. It is another unusual ingredient to add to spaghetti sauce. If you don't have this on hand, just leave it out.
Red wine, like salt and all alcohol, is a flavor enhancer. Adding it early in the 2 1/2-3 hour cooking time ensures that the alcohol is cooked off, but the flavor remains.
Making this Pasta Sauce Recipe
Knowing that olive oil helps extract flavor from oil-soluble ingredients, it's no surprise that the first step in making a pasta sauce is heating oil in a large, heavy pan. Then add the onions and garlic until soft, followed by the sausage, cooking until browned. Finally, add the red wine which helps pick up the bits browned flavorful bits called fond while stirring.
Then the rest of the sauce ingredients are added and the pot of sauce is simmered over very low heat for 2 1/2-3 hours. Water can be added if the sauce gets too thick.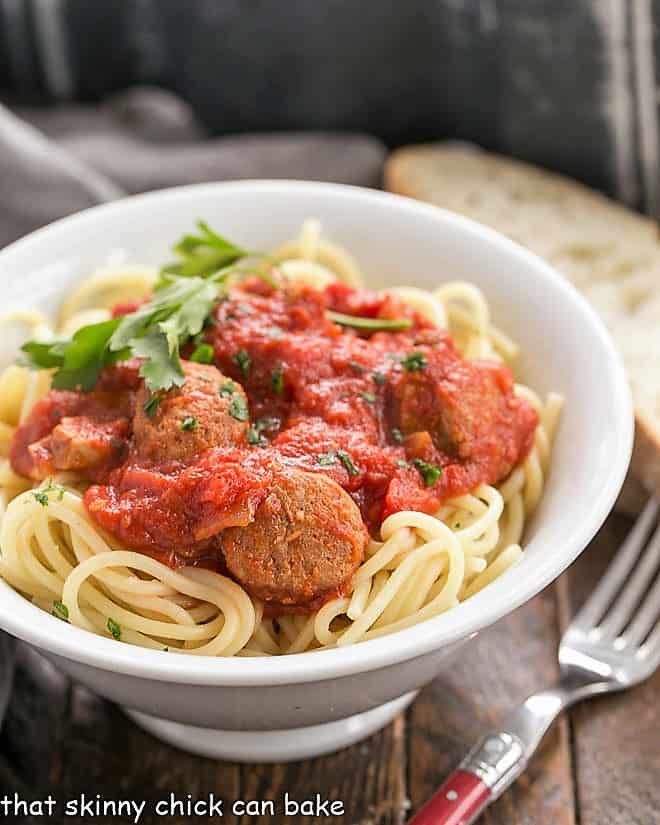 Frequently Asked Questions
What is the Difference Between Spaghetti Sauce and Marinara?
Marinara is a very simple pasta sauce made with tomatoes, aromatics like onion and/or garlic, and herbs. It originated in Naples, Italy. Besides spaghetti alla marinara, spaghetti aglio e olio, spaghetti alla puttanesca, and spaghetti alla carbonara also have Italian roots.
American spaghetti sauces contain those same ingredients found in a marinara, plus they may include meat like meatballs, sausage or ribs, and vegetables.
Can Spaghetti Sauce Be Frozen?
Yes, place cooled spaghetti sauce in a freezer-safe container and freeze for up to 3-4 months. Keep leftovers in the refrigerator for 3-4 days.
Can You Make This Spaghetti Sauce in a Slow Cooker?
Yes, this spaghetti sauce recipe can be cooked in a crockpot or slow cooker. But first, the garlic, onion, and sausage must be browned in a skillet, deglazed with wine, then added to the slow cooker with the rest of the ingredients. Cook on low for about 8 hours or on high for 4 hours.
Tips for Making Homemade Spaghetti Sauce
When adding tomato paste, remove both ends of the can. Remove one lid, then press down on the remaining lid to push the paste into the sauce. The lid essentially scrapes out the inside of the can removing every last bit.
Also, if you ever have a dinner party and have leftover wine, place in a small freezer-grade Ziploc bag and freeze. Then you'll have small amounts available for recipes. Make sure to seal the bags tightly and add them to a larger bag. This prevents leaks (I know from experience!).
Or you can pour it into an ice cube tray, then when frozen, remove the wine cubes to a freezer Ziploc bag and store in the freezer.
If your Italian sausage links are frozen, don't completely defrost before slicing. It's much easier to slice when they're only partially frozen.
You can also add a Baked Meatball Recipe to your sauce for a change of pace!
More Pasta Dishes You'll Love:
The Recipe:
Homemade Pasta Sauce Recipe with Sausage
Prep Time 20 minutes
Cook Time 2 hours 30 minutes
Total Time 2 hours 50 minutes
Yield 8
The Best Homemade Pasta Sauce with layers of flavors!
Ingredients
1/2 cup onion, diced
2 cloves garlic, minced
1/4 cup olive oil
1 pound mild sweet or spicy Italian sausage links, cut into slices
1/2 cup dry red wine
1 ⁄2 red bell pepper, diced
8 ounces fresh mushroom, diced
1 6-ounce can tomato paste
2 28-ounce cans plum tomatoes
1 1/2 teaspoons Worcestershire sauce
3-5 dashes Angostura bitters, optional
1 tablespoon sugar
1/2 teaspoon salt
1/4 teaspoon fresh ground black pepper
1/2 teaspoon celery salt
2 bay leaves
Instructions
In a Dutch oven or similar-sized heavy pan, saute onion and garlic in oil until transparent. Add sausage and brown over medium heat.
Deglaze with red wine, stirring for a minute before adding the rest of the ingredients.
Add peppers, mushrooms, tomato paste, tomatoes, Worcestershire, bitters, sugar, salt, pepper, celery salt, and bay leaves.
Simmer over low heat for 2 1/2 to 3 hours.
Serve with warm spaghetti, cooked al dente in well-salted water, and a sprinkling of freshly grated Parmesan cheese if desired.
Notes
Adapted from Creme de Colorado Cookbook
Nutrition Information:
Yield:
8
Serving Size:
1
Amount Per Serving:
Calories: 352
Total Fat: 23g
Saturated Fat: 7g
Trans Fat: 0g
Unsaturated Fat: 18g
Cholesterol: 32mg
Sodium: 666mg
Carbohydrates: 22g
Fiber: 5g
Sugar: 13g
Protein: 15g
Nutritional content is for the pasta sauce alone. Calories will vary depending on amount and kind of pasta used.
Note: This post may contain affiliate links; view
my Disclosure Policy
for details. I earn a small percentage from any purchase you make by clicking on these links at no extra cost to you.