Cheesy Baked Pasta with Prosciutto
Cheesy baked pasta is a family favorite pasta dinner, made with 3 types of cheese, fresh basil, and prosciutto! With both boys home for dinner, I made this Cheesy Baked Pasta recipe to appease their voracious appetites as well as the daughter's picky palate.
Homemade Pasta Recipes are family-friendly and comforting. Who can resist creamy, cheesy pasta with bits of salty prosciutto? Definitely not my family!
Cheesy Baked Pasta
It was winter break and Sunday is one of the few nights our family of five all eats together. I was inspired by one of Sara Moulton's recipes in our local paper but added my own twist. This Cheesy Baked Prosciutto Pasta was born!
In Sara's recipe, the dried penne was soaked in water then baked with a good deal of liquid. I went back to the old fashioned method and boiled my pasta, then tossed it with the rest of the ingredients before baking it up in a casserole dish. Gooey with cheese and flavored with basil, red pepper flakes, minced garlic, and salty prosciutto, this was one splendid mac and cheese!
Homemade Pasta Bake
Nick, whose favorite phrase is "I'm always hungry," loaded, and I mean really loaded his plate up with this pasta. A sign that this would fit in my recipe file of best pasta recipes. I was hoping there'd be enough left for the rest of the family. Thank goodness there was.
Bill balked a bit at my generous hand with the minced garlic so I've cut it back a bit to appease his delicate sensibilities. With a cup of cream and loads of cheese, this Easy Pasta Recipe definitely qualifies as comfort food, so put this one on your menu when the next arctic plunge, polar vortex or deep freeze hits your hometown. Or when you need a hearty, stick to your bones dinner.
Helpful Tools:
More Family Favorite Pasta Recipes:
The best pasta recipes make a repeat appearance on our dinner menu. This Cheesy Baked Pasta was a winner!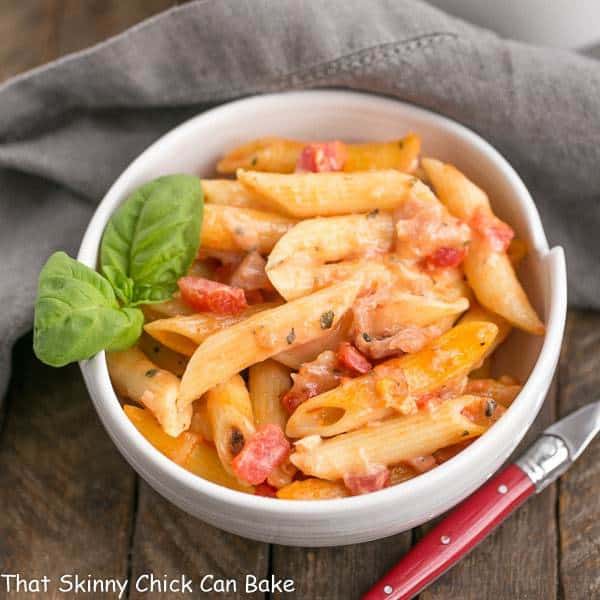 The Recipe:
Cheesy Baked Pasta
Prep Time 20 minutes
Cook Time 25 minutes
Total Time 45 minutes
Yield 6 servings
An easy baked pasta full of cheese, pasta, prosciutto and more!
Ingredients
1 pound penne, cooked al dente in well salted water, and drained
2 teaspoons minced garlic
1 14.5-ounce can crushed tomatoes
1 teaspoon dried basil
1 scant teaspoon crushed red pepper flakes, more or less to taste
1 cup heavy cream
1 cup shredded Fontina cheese
1 cup shredded Mozzarella
2 tablespoons grated Parmesan
3 ounces Prosciutto, chopped
Salt and freshly ground pepper, to taste.
Instructions
Grease a 9 x 13-inch casserole dish. Set aside.
Preheat oven to 350º.
In a large bowl, toss together all the ingredients. Taste for seasoning and add salt and pepper to taste, if needed.
Pour into prepared dish. With a spatula, gently press down on the pasta to level it out.
Cover with foil.
Bake for about 15 minutes. Uncover and bake for 10 more minutes. Serve hot.
Nutrition Information:
Yield:
6
Serving Size:
1
Amount Per Serving:
Calories: 437
Total Fat: 26g
Saturated Fat: 15g
Trans Fat: 1g
Unsaturated Fat: 8g
Cholesterol: 89mg
Sodium: 872mg
Carbohydrates: 32g
Fiber: 3g
Sugar: 5g
Protein: 20g
Note: This post may contain affiliate links; view
my Disclosure Policy
for details. I earn a small percentage from any purchase you make by clicking on these links at no extra cost to you.