Chocolate Chip Meringues
Chocolate Chip Meringues are perfect for leftover egg whites. These sweet, crisp cookies with chewy centers are always a hit!
Chocolate Egg White Cookies melt in your mouth and have little rich pockets of semisweet chocolate. With cocoa powder and chocolate chips, they'll dazzle any chocolate fan!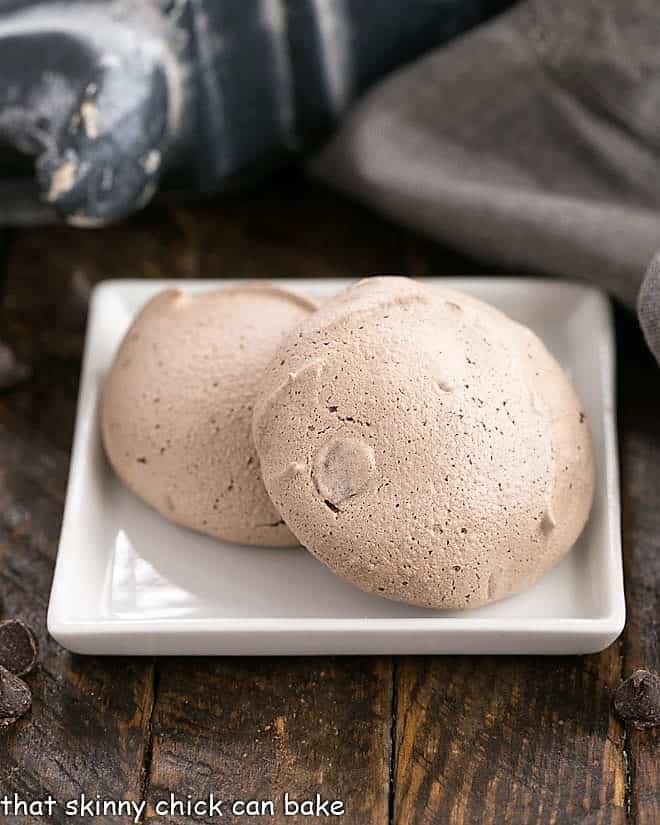 Why You Must Make
They're a delicious way to use up leftover egg whites.
Meringues are healthier than most other cookies!
Plus, they taste amazing!
Compared to my typical baked goods, these little gems give you a chocolate punch without excess fat or too many calories. I must admit, I added a few extra chocolate chips, but they've got to be healthier than most of my cookie recipes! After making creme brulee yesterday, I had 7 leftover egg whites. Adding cocoa powder and chocolate chips to a meringue batter made for a delicious treat. These crisp chocolate chip meringue cookies with a squidgy center were just the ticket. The boys both smiled and commented, "not bad, can I have another?"
Reader Endorsement:
From Anna: O.M.G. Utterly amazing. I made the full batch but made the cookies a bit bigger. Also made 1 large disk to top with fruit. I will make this every time I make fresh pasta as I use the yolks for pasta and wanted to do something different besides quiches with the egg whites.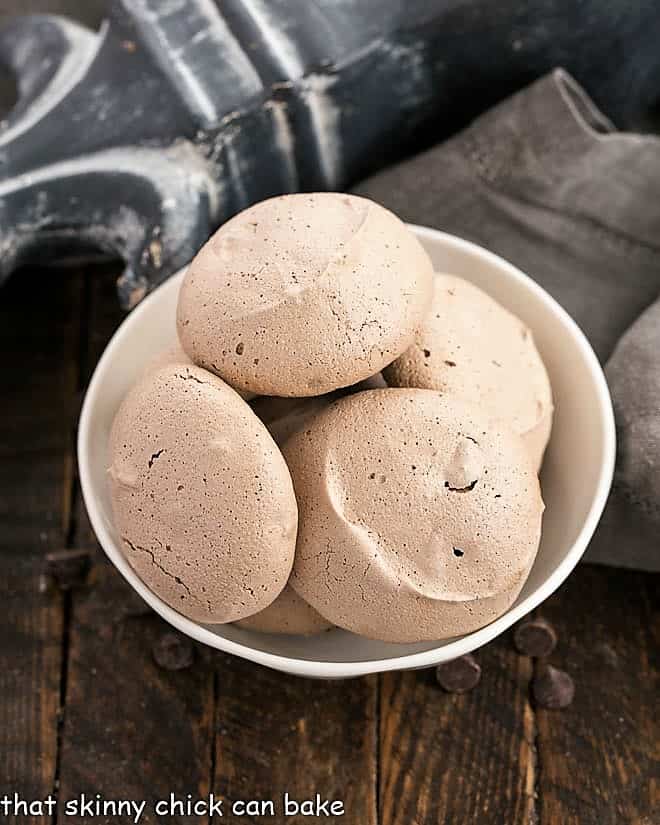 Expert Tips
Egg whites beat best at room temperature. To hurry this along, you can set your bowl of egg whites into another bowl partially full of hot (not boiling as you don't want the eggs to cook) water for a few minutes. Just make sure not to slosh any water into the egg whites.
PRO-Tip: The bowls and beaters must be scrupulously clean. Any trace of oil (including egg yolk) will prevent the egg whites from forming firm peaks.
PRO-Tip: Eggs separate best when cold and whip best at room temperature.
Make sure to add the cream of tartar as it helps stabilize the egg whites.
If you have access to superfine sugar, it will dissolve more easily when whipped with the egg whites.
If you'd like to try vanilla meringues, try these Simple Meringue Cookies, too. And check out all my Best Cookies Recipes.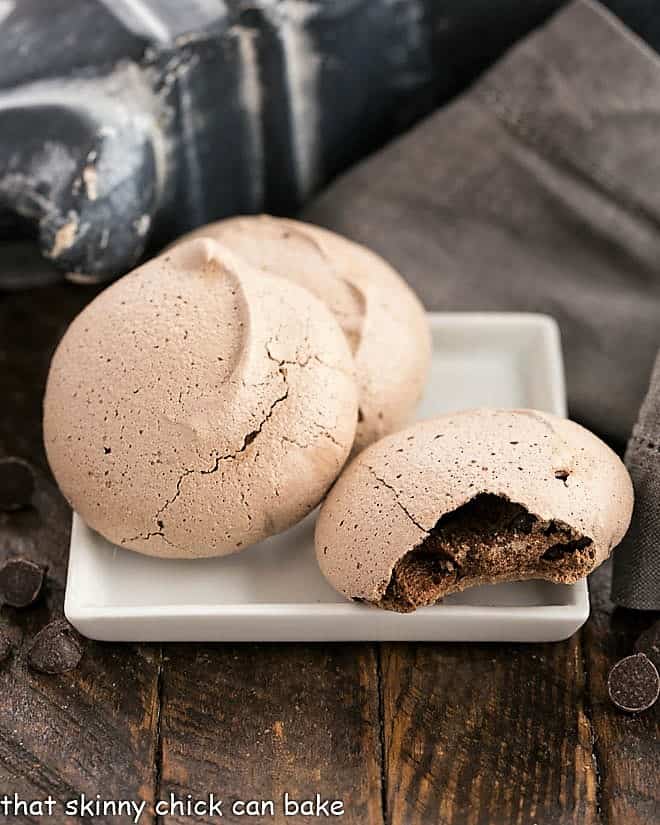 Frequently Asked Questions
What are Meringues?
The simple definition of meringue is a mixture of stiffly beaten egg whites and sugar. A meringue can be baked on top of a pie, formed into a large round, and baked into a pavlova, made into meringue cookies, and more.
Many times meringues are baked at a low temperature for a longer period compared with other baked goods to make a crisp exterior.
Why are my Meringues Chewy?
There are two main reasons that meringues are not crisp. The first is humidity. It is best not to make meringues on a very humid day. If they are chewy you can place them in a 200-degree oven for 10 minutes to help re-crisp them.
Underbaking can be another cause, so make sure to leave the meringues in the oven to cool after they're done baking so any excess moisture will evaporate. Make sure to turn the oven off during this drying time.
How do you store meringues?
These chocolate meringue cookies can be stored at room temperature. PRO-Tip: Since meringues are hygroscopic or a substance that likes to absorb water from their surroundings, they must be stored in a cool, dry, airtight container. Otherwise, they will soften and lose their desired crispness. If stored properly, they'll be stable for up to 2 weeks.
They also freeze well, stored in an airtight container, for 3 months or longer.
Can You Make Meringues without Cream of Tartar?
Cream of tartar plays an important role in baking meringues as a stabilizer, so it's best not to omit it. But, if you don't have any on hand, you can substitute with the same amount of white vinegar or twice the amount of lemon juice. Cream of tartar is acidic (made with tartaric acid) and both vinegar and lemon juice are acidic as well.
You May Also Like:
Stay in touch through social media @ Instagram, Facebook, and Pinterest. Don't forget to tag me when you try one of my recipes! And if you love the results, please give it a 5-star rating in the recipe card. Note: As an Amazon Associate, I earn from qualifying purchases. Visit my Amazon Store for my favorite products.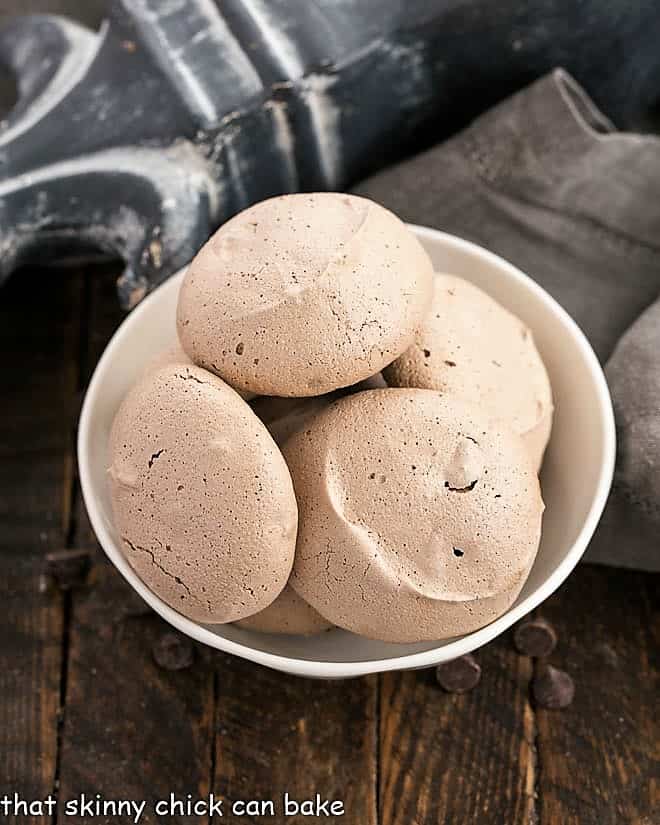 The Recipe:
Chocolate Chip Meringues
Prep Time 20 minutes
Cook Time 40 minutes
Total Time 1 hour
Yield Varies
A delicious way to use up leftover egg whites
Ingredients
6-7 egg whites at room temperature
½ teaspoon cream of tartar
½ teaspoon salt
2 cups sugar
1 tablespoon vanilla
½ cup unsweetened cocoa
1 ½ cups chocolate chips
Instructions
Preheat oven to 300º.
Beat egg whites, cream of tartar, and salt in a mixer on high until soft peaks form.
Then add sugar, one tablespoon at a time, while the mixer continues to beat till firm peaks form.
Add vanilla, then sift cocoa into the bowl and mix on low till combined. Fold in chocolate chips.
Line baking sheets with parchment. Scoop out rounded tablespoons of batter onto prepared sheets.
Bake for 40 minutes if you like the centers to be chewy, and longer if you prefer a crisp meringue.
Cool. Store in an airtight container.
Notes
Yield varies depending on size of cookies,  but this recipe will make a lot of meringues. I'd estimate about 100!
You can easily cut this recipe in half, using just 3 egg whites.
Recommended Products
As an Amazon Associate and member of other affiliate programs, I earn from qualifying purchases.
Nutrition Information:
Yield:
50
Serving Size:
2 cookies
Amount Per Serving:
Calories: 63
Total Fat: 2g
Saturated Fat: 1g
Trans Fat: 0g
Unsaturated Fat: 1g
Cholesterol: 0mg
Sodium: 30mg
Carbohydrates: 12g
Fiber: 0g
Sugar: 11g
Protein: 1g
Note: This post may contain affiliate links; view
my Disclosure Policy
for details. I earn a small percentage from any purchase you make by clicking on these links at no extra cost to you.