Mini Vanilla Flans
These Mini Vanilla Flans are creamy vanilla custards coated with homemade caramel. It's a luscious dessert for your next fiesta!
These are a delicious way to end a Tex-Mex, Spanish, or Cinco de Mayo-themed meal! Everyone loves having their own dessert, especially when it's an Easy Flan Recipe!!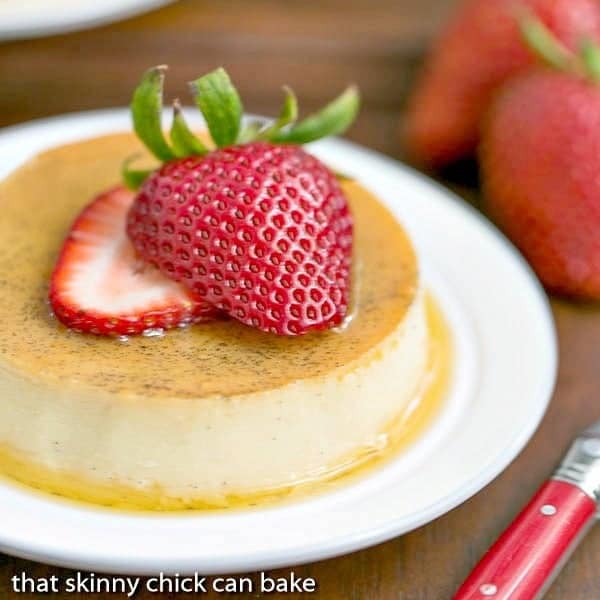 Why You Must Make
If you love custard and caramel, this dessert was made for you!
Individual desserts are so fun! And you don't have to share. Perfect for a tapas party!
This dessert is beloved by both the Spanish and the French and I bet you'll adore it, too.
Our oldest pops by most Sunday nights to have dinner with the family. A month or so ago, he raved about a flan he had tasted at a nearby bistro.
He may have been in college the last time I made one, so I added flan to the list of must-make recipes. I had my excuse to whip up Spain's version of crème caramel, these mini vanilla flans.
Ingredient Notes:
What is in flan? Nothing exotic, though the results are!
Granulated Sugar – Regular white sugar.
Light corn syrup – Helps keep the caramel from crystallizing.
Eggs – Large eggs are standard in my recipes unless otherwise noted.
Sweetened Condensed Milk – Keep a can or two in your pantry.
Evaporated Milk – Again, this is a great pantry item (I use it for my holiday fudge recipe).
Vanilla Bean Paste – This leaves little specks of vanilla seeds throughout the flan. You may use vanilla extract if you don't want to invest in a jar of vanilla bean paste or fresh vanilla beans.

Expert Tips
It took me a few times to get this recipe just right. The first caramel I used was just plain sugar and water and got too hard for my liking, so I went back to a tried and true version with a touch of corn syrup. I know many folks prefer to avoid this ingredient, but it does serve a purpose.
This addition of corn syrup prevents the recrystallization of the sugar once the caramel cools. I also use corn syrup in my English Toffee Recipe for the same reason.
PRO-Tip: You'll need one egg yolk along with some whole eggs to make this Spanish custard. Separate your egg when it's cold as the yolk is less likely to break.
I also thought these custards could benefit by being baked in a water bath like my favorite creme brulee. Yes, perfection! The custard was tender and creamy. But I've also baked them without a ban marie, so it's not essential to use one.
Releasing the vanilla custard from the molds can be a bit daunting. You can dip the ramekins in a bit of hot water just to allow the caramel to soften, and carefully run a knife around the perimeter of the custards before inverting them onto a serving plate.
Place a rimmed dessert plate on top of the ramekin (serving side down), hold the combo together then flip them over. A little gentle shaking releases the leche flan custard onto the plate and allows the caramel to cascade over the surface. Heavenly.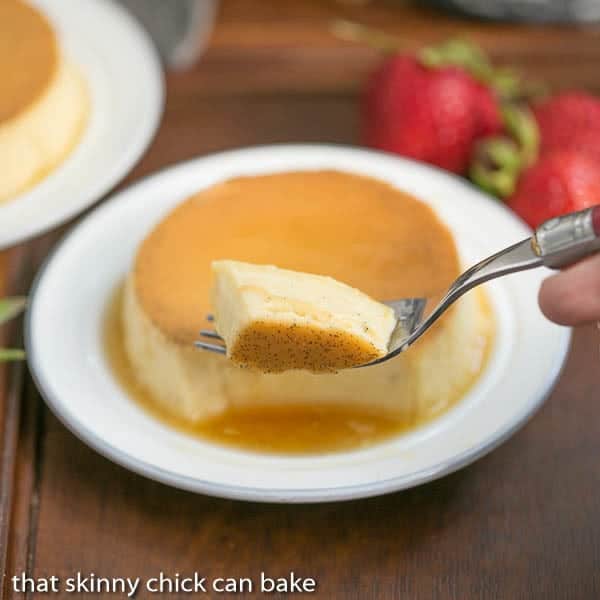 Frequently Asked Questions
What are Tapas?
The word tapas refers to an appetizer or snack featuring Spanish dishes. Over a decade ago, tapas restaurants started popping up in the US, serving only small plates that combined to form a meal. Tapas can be served hot or cold and the word tapas actually translates to "lid" in Spanish.
One thought of the origin of tapas involved placing a slice of bread or charcuterie (the lid) over a glass of wine or beer to prevent flies from getting into the alcohol. From there, the patrons expected a little something to nosh on while they sipped their beverages.
What is Flan?
Flan is a famous Spanish dessert made of baked custard and coated with caramel.
What's the Difference Between Flan and Crème Caramel?
Crème Caramel is the French version of this cool and creamy dessert; Flan is Spanish. Both are vanilla custards that are bathed in a caramel sauce once plated. Who wouldn't go for that?
You May Also Like:
Stay in touch through social media @ Instagram, Facebook, and Pinterest. Don't forget to tag me when you try one of my recipes! And if you love the results, please give it a 5-star rating in the recipe card. Note: As an Amazon Associate, I earn from qualifying purchases. Visit my Amazon Store for my favorite products.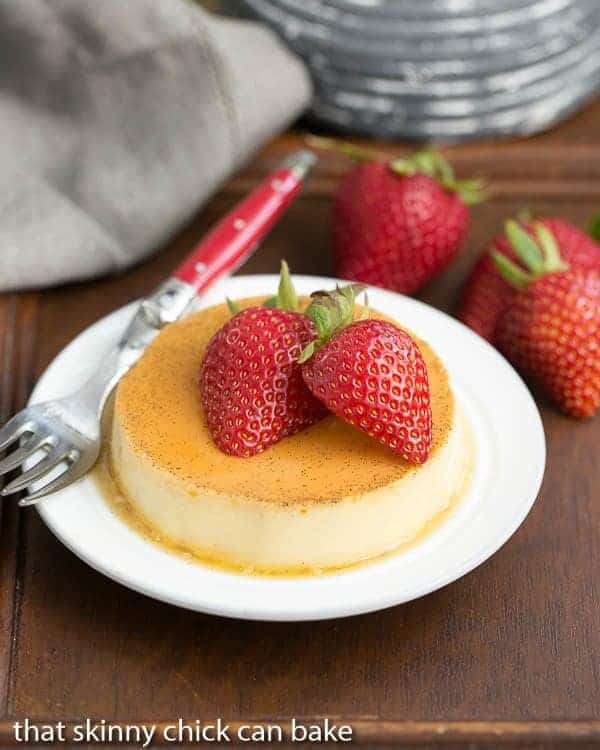 The Recipe:
Mini Flans Recipe
Prep Time 30 minutes
Cook Time 50 minutes
Total Time 1 hour 20 minutes
Yield 6 servings
The classic Spanish custard and caramel dessert made in individual ramekins.
Ingredients
Caramel:
1 cup sugar
⅓ cup water
1 tablespoon light corn syrup
Custard:
3 eggs plus 1 egg yolk
14 ounces sweetened condensed milk (1 can)
12 ounces evaporated milk
1 tablespoon vanilla paste (may substitute vanilla extract or the seeds of 3 vanilla beans)
To garnish:
Fresh sliced strawberries
Instructions
Preheat the oven to 325º. Set 6 8-ounce ramekins into a roaster or large baking pan and set aside.
Make the caramel by combining sugar, water, and corn syrup in a heavy saucepan.
Heat over low heat, stirring until sugar is dissolved. Increase heat to medium-high and cook, without stirring, only swirling on occasion, till caramel turns amber, about 10 minutes.
Watch carefully so the caramel does not burn. When amber, divide the caramel between the ramekins to coat the bottoms.
In a large bowl, whisk eggs. Beat in condensed milk, evaporated milk, and vanilla bean paste until smooth.
Divide egg mixture between ramekins. Pour hot water into the pan avoiding splashing any into ramekins. Water should come up about halfway up the sides of ramekins.
Cover with aluminum foil.
Bake in preheated oven for about 40 minutes. Uncover and check to see if the custard is set by jiggling (middles can wiggle just a bit). If needed bake for 10 more minutes uncovered.
Let cool completely on a wire rack then refrigerate for a few hours or overnight.
To serve, carefully invert on serving plates with edges when completely cool. See the notes below for a couple of tips.
Garnish with berries if desired.
Notes
I dipped the bottoms into a bowl of very hot water for a few seconds and also ran a knife around the perimeter to help release them before flipping.
Recommended Products
As an Amazon Associate and member of other affiliate programs, I earn from qualifying purchases.
Nutrition Information:
Yield:
6
Serving Size:
1
Amount Per Serving:
Calories: 566
Total Fat: 16g
Saturated Fat: 9g
Trans Fat: 0g
Unsaturated Fat: 6g
Cholesterol: 172mg
Sodium: 220mg
Carbohydrates: 93g
Fiber: 0g
Sugar: 92g
Protein: 15g
Note: This post may contain affiliate links; view
my Disclosure Policy
for details. I earn a small percentage from any purchase you make by clicking on these links at no extra cost to you.