Antipasto Squares
If you're looking for a hearty, man-friendly appetizer, these Antipasto Squares, filled with Italian meat and cheeses are the answer! This twist on Antipasto disappeared at a cocktail party a couple of weeks ago.
Perfect for game day, too, these squares make a delicious, out-of-the-ordinary Antipasto Platter!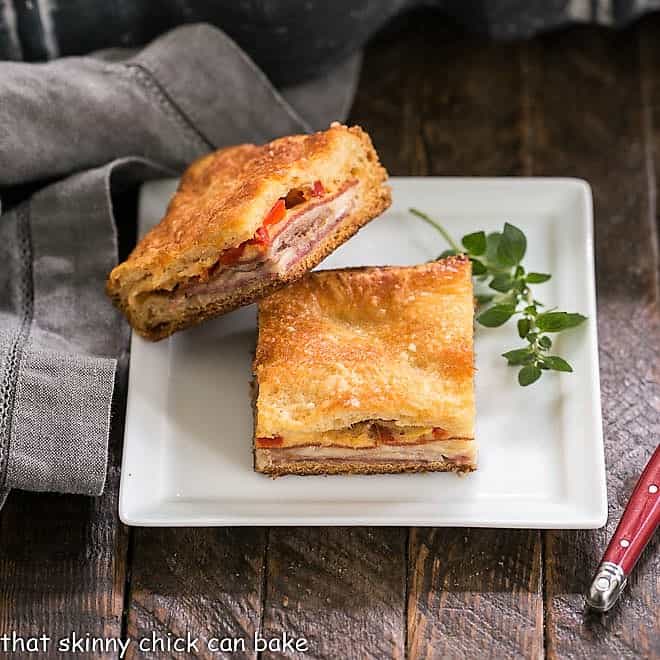 Why You Must Make
Most of the ingredients can be found prepackaged in the deli department of your grocery store, plus two packages of Pillsbury Crescent rolls in the refrigerator aisle.
The protein-heavy appetizer is filling and great for gatherings of men and women!
Using crescent rolls and deli ingredients makes it super easy to throw together.
It isn't the same old appetizer brought to every gathering. Plus, they are delicious!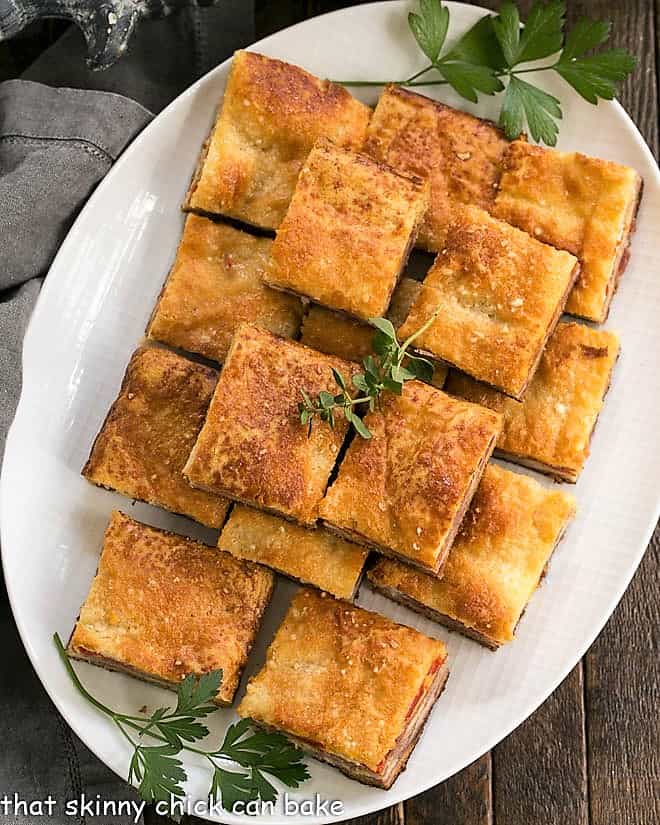 Antipasto Platter
While I'm a huge fan of Antipasto Skewers, they aren't heavy enough for a cocktail party over the dinner hour. Our hosts had yummy beef tenderloin sandwiches, but from my experience, I knew the hubby would want another substantial appetizer.
This recipe for Antipasto Squares is super easy with the aid of a shortcut, Pillsbury Crescent Rolls. Though I prefer to make recipes from scratch, I knew this appetizer recipe would be a hit even if it was semi-homemade. We came home with an empty platter if that tells you anything!
Recipe Tips
You can certainly tweak these antipasto squares to your liking, adding the cold cuts and cheeses of your choice. I've also made a version with puff pastry, but the layers are much more visible in this antipasto recipe. Besides being beautiful this "antipasto" incorporates all those wonderful flavors in every bite.
PRO-Tip: Line the pan with non-stick foil. This makes for easy removal of the squares for cutting and easy cleanup.
Cool before slicing, but serve at room temperature.
Start by placing one roll of crescent roll dough over the bottom of the pan, without separating the triangles. Press together the seams.
Some lightly beaten eggs help glue this appetizer together. Reserve a bit to paint over the top layer of crescent rolls to provide a nice sheen.
PRO-Tip: To remove the seams in the top sheet of dough, place the remaining sheet of crescent roll dough on a floured surface and gently press the seams together. Use light pressure with a floured rolling pin to smooth out the dough.
Sprinkle with grated Parmesan for a boost of flavor on the crust.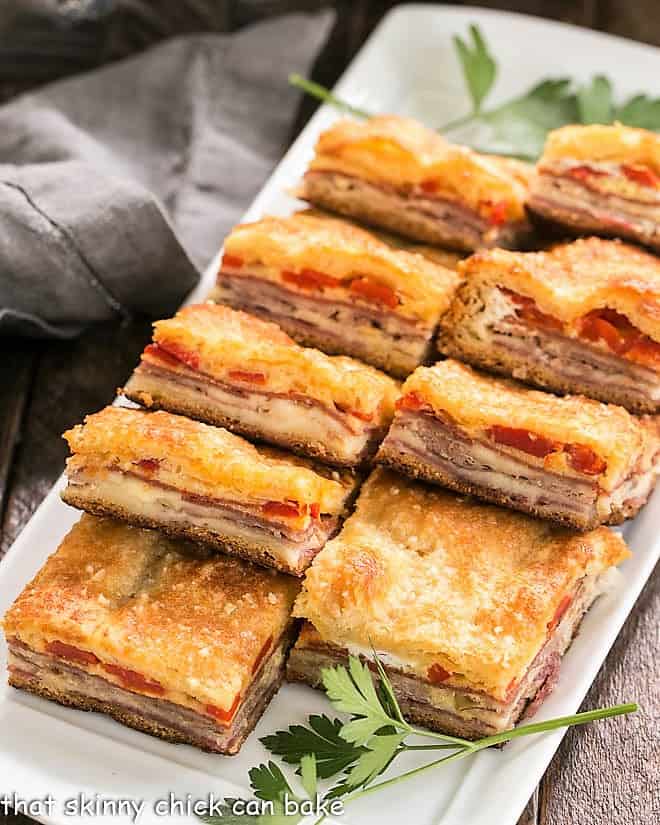 These Antipasto Squares would be a perfect appetizer for the Super Bowl or at any game day gathering; the menfolk would scarf this down in an instant. Hope you enjoy it!!
Frequently Asked Questions
What is Antipasto?
When you think of antipasto, your mind drifts to Italian cuisine. The word antipasto is derived from the Latin root words, "anti" meaning before and "pasto" meaning meal. So antipasto is anything served before a meal. Antipasto (singular) or Antipasti (plural) isn't traditionally served in Italian home unless it's a special meal.
What is Served on an Antipasto Platter?
The typical American Antipasto Platter contains meats, cheeses, and vegetables. For meats, select Prosciutto, hard salami, mortadella, or whatever Italian meats you find in the deli case. Cheeses should reflect a variety of textures and flavors, not necessarily limited to Italian cheeses. I like blue cheese, Swiss, cheddar and a double or triple creme cheese, like a Brie. Vegetables help round out this easy appetizer with olives, sun-dried tomatoes, marinated artichoke hearts, and roasted peppers being favorites.

Bread is also necessary to accompany the meats and cheeses. Break sticks, slices of a baguette, crostini, and/or crackers are all delicious options. Arranging all the components in a beautiful, artistic way is what makes antipasti so appealing. We eat with our eyes first!
You May Also Like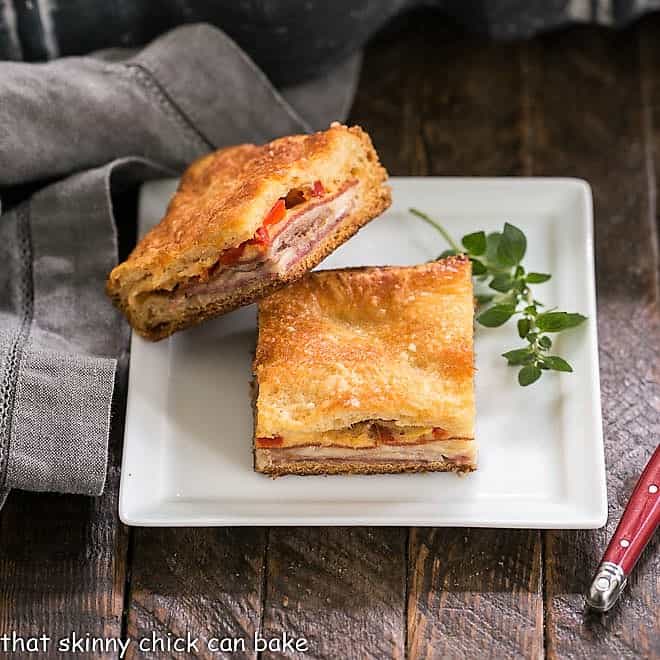 The Recipe:
Antipasto Squares
Prep Time 20 minutes
Cook Time 1 hour
Total Time 1 hour 20 minutes
Yield 12 servings
The classic ingredients of antipasto encased in pastry for a delicious appetizer!
Ingredients
Antipasto Squares
2 packages Pillsbury Crescent rolls
1/4 lb Swiss cheese, sliced
1/4 lb Provolone cheese, sliced
1/4 lb Genoa salami, sliced
1/4 lb Prosciutto
1/4 lb sliced pepperoni
About 1/2 cup grated Parmesan cheese
Small jar of roasted red bell peppers, drained and chopped
2 eggs, slightly beaten
Instructions
Preheat oven to 350 degrees. Line a 9 x 13-inch pan with non-stick foil or spray with Pam.
Layer one package of the crescent rolls on the bottom of the pan. Pat the seams to fuse.
Then layer salami, provolone, prosciutto, Swiss, pepperoni, and Parmesan.
Sprinkle with the chopped red peppers.
Pour about 3/4 of the egg mixture on top. Cover with the remaining package of crescent rolls. Brush top with remaining egg.
Sprinkle with Parmesan cheese if desired. Cover with foil and bake for 30 minutes. Uncover and bake an additional 15-30 minutes until top is browned.
Cool and slice into squares.
Nutrition Information:
Yield:
12
Serving Size:
2 squares
Amount Per Serving:
Calories: 228
Total Fat: 17g
Saturated Fat: 8g
Trans Fat: 0g
Unsaturated Fat: 8g
Cholesterol: 76mg
Sodium: 790mg
Carbohydrates: 4g
Fiber: 0g
Sugar: 1g
Protein: 14g
Perfectly polished toes of our volunteer friends! This post was first shared in June, 2010. Text and photos were updated in 2019.
Note: This post may contain affiliate links; view
my Disclosure Policy
for details. I earn a small percentage from any purchase you make by clicking on these links at no extra cost to you.