Make Ahead Crème Brûlée French Toast
Make-Ahead Crème Brûlée French Toast: An exquisite, caramelly overnight breakfast casserole that will thrill even the pickiest palate!
Anytime you need to make a good impression, serve this gooey Overnight French Toast Casserole. It's a breeze to prepare and everyone will be begging you for the recipe!!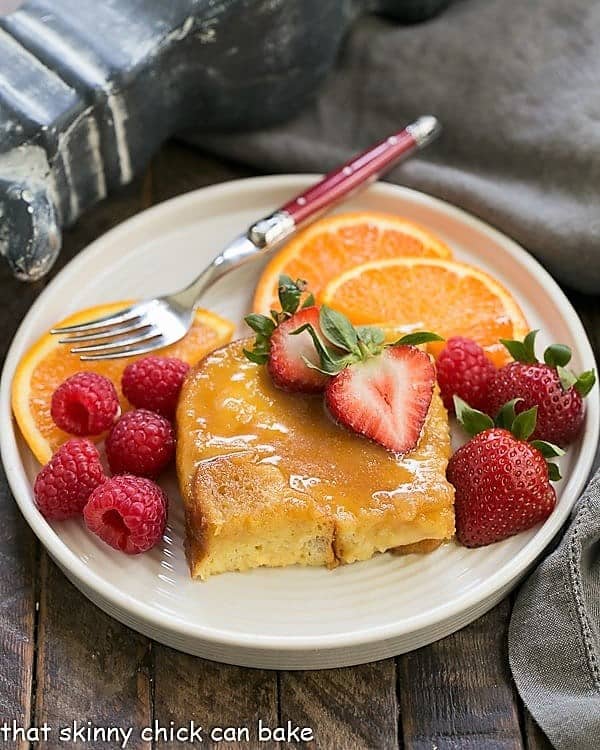 Why You Must Make
Breakfast for dinner is nothing new, so why not expand beyond the usual eggs, pancakes, and waffles to an elegant French toast casserole.
This make-ahead creme brulee French toast has been one of my go-to brunch recipes for over a decade. I've made it for birthday gatherings, teacher breakfasts, and when out-of-town family comes for a visit.
If you love creme brulee, give this exquisite, make-ahead breakfast recipe a try!
Like with many tasty, make-ahead breakfast casseroles, the prep is done the day before, all you need to do in the morning is brew the coffee and fry up some bacon and, voilà, you have a splendid, inexpensive meal. It's perfect for breakfast, brunch and/or dinner, and as a bonus, it's an entrée and dessert all in one!

Expert Tips
This is a super simple make-ahead breakfast casserole, but a couple of tips will help make it perfect!
PRO-Tip: Choose a sturdy bread. If it's too delicate, it will turn to mush when the custard is absorbed.
I like buying brioche or challah. Grainy or whole wheat bread would work, but I don't recommend them as the presentation and mouthfeel won't be as lovely.
Refrigerating the casserole overnight before baking is recommended, but if you're short on time, a couple of hours will probably be OK. You want to make sure the bread soaks up as much custard as possible.
PRO-Tip: I like to add some Grand Marnier to the custard for a boost of flavor. Did you know that alcohol is a flavor enhancer? It will evaporate during the baking process so it's OK to serve this dish to children.
Offer the options of berries and a dusting of powdered sugar along with warm maple syrup to top the french toast.
PRO-Tip: Make sure to flip over the slices to serve so the caramelly sauce is on top!
This poofs up magically in the oven but falls almost immediately. But, no worries as that is normal.
Frequently Asked Questions
What is an Overnight Casserole?
An overnight breakfast casserole is a breakfast or brunch dish that is assembled the night (or day) before, kept covered in the refrigerator, then baked the next day. It's a great shortcut for making breakfast for overnight guests.
How Long Can You Keep Overnight Casserole Before Baking?
It should be made the night before. Any longer and ingredients like bread or croutons can get too mushy and the custard could separate.
How Long Can You Keep Leftover Overnight Casserole?
If not left out at room temperature for more than 2 hours, it will be safe to eat for 2-3 days after baking if kept covered/airtight in the refrigerator. Gently reheat in the microwave.
You May Also Like:
Whether it's an ordinary Sunday breakfast or Mother's Day or Easter brunch, a make-ahead breakfast casserole recipe comes in very handy. The prep work is done the night before so the special day can be enjoyed!
The Recipe:
Crème Brûlée French Toast
Prep Time 20 minutes
Cook Time 35 minutes
Total Time 55 minutes
Yield 4 servings
An exquisite, caramelly breakfast casserole! Adapted from Epicurious. I found this recipe when my youngest was in kindergarten. And now he's in grad school. It is a classic!
Ingredients
1/2 stick butter
1/2 cup brown sugar
1 tablespoon corn syrup
A half loaf of brioche or challah bread
3 eggs
3/4 cup half and half
1 teaspoon vanilla
2 teaspoons Grand Marnier, optional (just add another teaspoon of vanilla if you omit the Grand Marnier)
Pinch of salt
Instructions
In a saucepan, melt the butter with brown sugar and corn syrup, stirring till smooth and sugar is dissolved. Pour into a 9 x 9-inch baking dish.
Cut one-inch slices of bread and arrange in one layer over caramel, cutting a slice if needed to cover completely.
Whisk together eggs, then add half and half, vanilla, Grand Marnier (if using), and a pinch of salt. Pour over bread, then cover and refrigerate overnight.
The next morning, bring French toast out of the fridge and allow it to sit at room temperature for about an hour. Preheat the oven to 350º.
Bake, covered, till puffed and golden, about 25-30 minutes.
To serve, flip slices so the caramel layer is on top. Serve with berries and real maple syrup if desired.
Notes
Easily doubles. Use a 9 x 13 dish and bake for 35-40 minutes.
Leftovers keep for 2-days if not left out at room temperature for more than 2 hours.
Nutrition Information:
Yield:
4
Serving Size:
1
Amount Per Serving:
Calories: 492
Total Fat: 28g
Saturated Fat: 16g
Trans Fat: 1g
Unsaturated Fat: 10g
Cholesterol: 250mg
Sodium: 415mg
Carbohydrates: 51g
Fiber: 1g
Sugar: 32g
Protein: 11g
Note: This post may contain affiliate links; view
my Disclosure Policy
for details. I earn a small percentage from any purchase you make by clicking on these links at no extra cost to you.