We grill all summer long, and for those special occasions when the whole family gathers, I often select Certified Angus Beef® brand tenderloin steaks to toss on the barbecue. Wrapped in bacon and topped with garlic herb butter, this exquisite Grilled Tenderloin with Garlic Herb Butter will become your go-to recipe for company.
Plus, scroll down to see my Tips for Grilling the Perfect Steak. This post is sponsored by Certified Angus Beef® brand. See details below.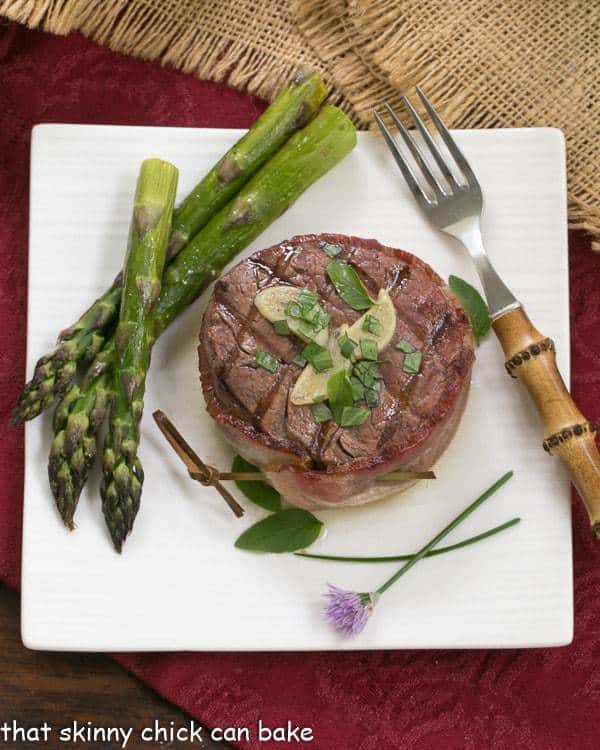 Grilled Tenderloin with Garlic Herb Butter
My youngest is home from college for the summer, and when I ask what he'd like for dinner, he invariably answers "steak" with a sheepish grin. So since his time at home is limited, I've indulged him on more than one occasion. His carnivore father has no complaints, either, especially when I  prepare this family favorite, grilled tenderloin with garlic herb butter.
We love the flavor imparted by wrapping bacon around the steaks, plus topping with garlic butter and herbs only pushes the flavor of these divine fillets even further over the top. And for Father's Day, I'm going to swap out the tenderloin for another cut of Certified Angus Beef® brand—I can't think of a one that wouldn't be amazing smothered in garlic butter!
How to Grill a Perfect Steak
Buy the best beef you can afford. Good marbling (fat distribution) makes for a tender, juicy steak. Look for Certified Angus Beef® brand to be assured of a quality product; it is well known for marbling and therefore, outstanding flavor.
Certified Angus Beef® brand is the BEST Angus beef on the market. Only one in four Angus cattle have the right attributes to be Certified Angus Beef® brand. Each cut must meet very specific standards for quality.
The cut of steak is important, too. My husband prefers rib-eyes and New York strips. Although I love a great fillet, the leanness of this cut is not always ideal for grilling unless you select a brand that's known for marbling. Plus look for a recipe that adds some needed fat. Wrapping your fillet in bacon and finishing with garlic butter will do the trick.
Season early. I like the first salting up to 3 hours before grilling, then again right before cooking. I prefer to use kosher salt over table salt.
Bring your steaks out of the fridge about 1/2 hour before grilling so they don't go on the grill cold. This allows for more even cooking.
Use charcoal if available and make a hot fire. The smokiness from the charcoal adds wonderful flavoring
Move only 2-4 times during the cooking process, twice if just flipping but twice per side to make cross-hatch marks.
Use an instant read thermometer to check the internal temperature. My husband and sons prefer a very rare steak, but I'd rather have mine a little more well done.
Allow the beef to rest at least 5 minutes before serving. Just cover the serving platter with foil and finish getting all the other dishes to the table. This additional time gives the meat juices a bit of time to redistribute.
More Terrific Grilled Beef Recipes Featuring Certified Angus Beef® brand
Appealing Appetizers:
Marvelous Main Dishes:
Handy Information:
How do you like your beef cooked? I'm a medium rare girl, but the guys in the family love very rare beef! Let me know in the comments.
Print
Grilled Tenderloin with Garlic Herb Butter
A company worthy grilled steak recipe!
Author:
Prep Time: 10 minutes
Cook Time: 5 minutes
Total Time: 15 minutes
Yield: 4 servings 1x
Category: Entree, Beef
Method: Grilled
Cuisine: American
Ingredients
4 6-8 ounce beef tenderloin steaks
Salt and pepper to taste
½ cup (one stick) butter
6 garlic cloves, thinly sliced
4 slices good quality bacon
¼ cup oregano, chopped
¼ cup basil, chopped
1½ teaspoons Cognac, optional
Instructions
A few hours before grilling, sprinkle steaks with kosher salt and return to refrigerator. Melt butter in a small saucepan. Add the garlic, then remove from heat. Set aside for a couple hours.
A half hour before grilling, remove steaks from the refrigerator, re-season with salt and add a bit of freshly ground pepper to taste. Grill to desired internal temperature, about 4 minutes per side for medium rare. Rewarm the garlic butter, and add Cognac if desired.
Plate steaks. Drizzle with garlic butter, then sprinkle with herbs.
Notes
Cooking time varies depending on how thick and how well done you like your beef cooked
Follow the Certified Angus Beef® brand Pinterest board for more fabulous recipes.
Plus check out their website and social media sites: Certified Angus Beef® brand Website – Twitter – Facebook – Pinterest – Instagram – YouTube
Unsure of where to find Certified Angus Beef® brand in your area? Find retailers near you on their website.
Disclosure: This post is sponsored by Certified Angus Beef® brand in conjunction with a social media campaign through Sunday Supper LLC. All opinions are my own.
Note: This post may contain affiliate links; view
my Disclosure Policy
for details. I earn a small percentage from any purchase you make by clicking on these links at no extra cost to you.