Teriyaki Beef Kabobs
Fire up your grill and enjoy these terrific Asian-inspired Teriyaki Beef Kabobs. The sweet and salty marinade pairs perfectly with beef, and makes the most irresistible kabobs.
As a bonus, these grilled Steak Kabobs provide the necessary protein that's imperative for a healthy lifestyle. And the flavors are outrageously delicious! A must-make summer entree.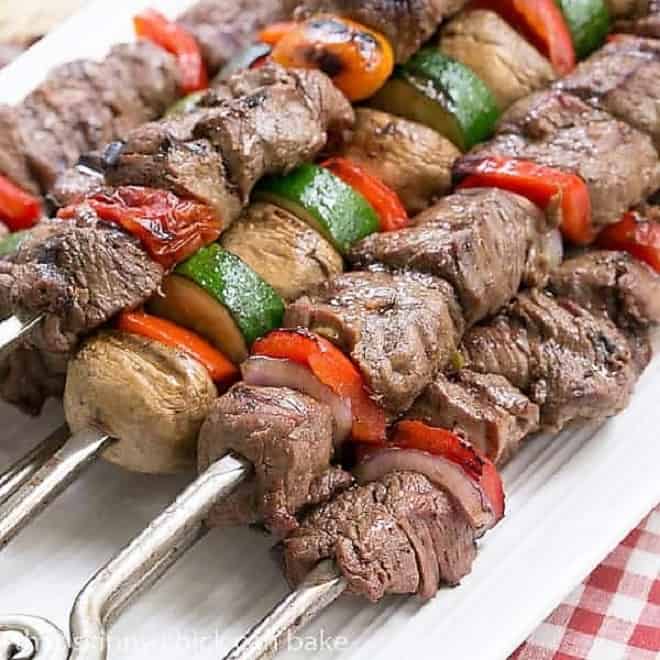 Why You'll Love Teriyaki Beef
If your family loves beef as much as mine does, this recipe is perfect for summer grilling.
The Asian flavors found in teriyaki sauce pair beautifully with beef.
Since the beef picks up the most flavor when marinated overnight, this is a perfect entree to make ahead of time.
It's no secret that my family loves beef. They are carnivores through and through. Steaks are a given for birthday celebrations, a rib roast dons our Christmas table, and we grill burgers many weekends throughout the summer. I love marinating beef to shake it up a bit and these beef teriyaki kabobs are easy and impressive.
Expert Tips
A marinade is beneficial in two ways. First, the acids in the marinade mixture will tenderize your beef. But it also imparts a magnificent flavor. Through the process of osmosis, given enough time, the salty liquid will work its way into the meat.
PRO-Tip: Beef can be marinated overnight. More tender proteins like seafood will break down if immersed in a marinade overnight, but beef can definitely handle it. If you forget to start the process the night before, 6-8 hours will definitely allow for delicious flavor development.
Select a tender cut of beef (sirloin, flat iron, NY strip, or tenderloin are good options)
I like using a gallon Ziploc bag to marinate. Seal tightly, then flip every couple of hours to make sure each piece of beef is well exposed to the marinade.
Mix the marinade in the bag. Insert it into a 4-cup Pyrex measuring cup to stabilize it, then pour in the ingredients, seal and agitate to mix, open, and add the cubed beef.
Watch your cooking time as over-cooking will make your beef less tender. We prefer our beef kabobs medium rare, but if you want them well done, that's your prerogative.
PRO-Tip: A meat thermometer is the best way to gauge doneness.
PRO-Tip: The vegetables often take longer than the beef to cook. It's a better idea to skewer the vegetables separately so they can stay on the grill a little longer. I did not do this because they make a prettier presentation interspersed among the meat. But I would definitely do this if I was serving to company. I prefer mushrooms and zucchini fully cooked!
Note: I do like keeping the onion with the beef to add another element of flavor as they cook together.
How to Make Beef Kabobs
Mix up a marinade the night before, and pour most of it into a zip-top bag along with some cubed beef tenderloin to marinate. Reserve the leftover marinade for the vegetables.
The next day chop your favorite vegetables for grilling (should be about the size of your cubed meat) and drench them in the remaining marinade.
When dinner time rolls around, fire up the grill, skewer your shish kebabs and let the charcoal work its magic.
Check the internal temperature and pull them off the grill a few degrees less than your goal. This will prevent overcooking.
Let the meat rest on a platter under a sheet of foil to keep it warm. This helps the meat juices redistribute and the meat to come up to temperature.
Let me tell you, this was one delicious way to incorporate good-quality protein into my diet. Plus there's the bonus of having both your meat and vegetables in one recipe!!
What to Serve with a Beef Kabobs
Frequently Asked Questions
What Are Shish Kebabs?
Shish Kebabs or Shish Kebobs are skewered and grilled cubes of meat. The term shish is Turkish for Skewer and Kebab comes from the word for Grilling.
What Kind of Beef is Best for Kabobs?
Look for a tender cut of beef like tenderloin, sirloin, or strip steaks. Stay away from cuts of beef like stew meat that take long, slow cooking times to tenderize.
How Long Does Beef Need to Marinate?
Beef should be marinated for a minimum of 3 hours but longer is better. Most cuts of beef are sturdy enough to be marinated for up to 24 hours. I like making the marinade the night before and letting the flavors infuse overnight.
How Long Do You Grill Beef Kebabs?
The timing will vary depending on the size of your beef cubes and the temperature of your grill. Typically, it will take about 10 minutes. It's best to use a meat thermometer and pull your beef off 10 degrees before it reaches the goal temperature to allow for carryover cooking time.
You May Also Like:
The Recipe:
Beef Teriyaki Kabobs Recipe
Prep Time 15 minutes
Cook Time 10 minutes
Total Time 25 minutes
Yield 8 servings
Inspired from the Winners cookbook
Ingredients
For marinade:
1/2 cup soy sauce
1 cup sherry
1/2 cup honey
5 cloves garlic, minced
2 tablespoons freshly grated ginger
1/4 cup sesame oil
1/2 cup sliced scallions
1/4 teaspoon cayenne pepper
1 tablespoon red wine vinegar
For kabobs:
3 lbs beef tenderloin, cut into cubes
fresh mushrooms
zucchini, sliced
2 red bell peppers, cut into large pieces
Large red onion, cut into wedges
Instructions
Combine all sauce ingredients in a gallon ziplock bag. Mix together well. Remove about a cup of marinade to a second ziplock bag.
Marinate beef in first ziplock one hour at room temperature or overnight in the refrigerator. Do the same with the vegetables with the smaller amount of marinade.
Spear meat on skewers. Spear veggies on separate skewers. Grill to desired doneness.
Notes
Total time does not include marinating time.
Feel free to use the vegetables of your choice.
Nutrition Information:
Yield:
8
Serving Size:
1
Amount Per Serving:
Calories: 725
Total Fat: 49g
Saturated Fat: 18g
Trans Fat: 0g
Unsaturated Fat: 25g
Cholesterol: 145mg
Sodium: 1159mg
Carbohydrates: 26g
Fiber: 1g
Sugar: 21g
Protein: 43g
Note: This post may contain affiliate links; view
my Disclosure Policy
for details. I earn a small percentage from any purchase you make by clicking on these links at no extra cost to you.