Fire up your grill and enjoy these terrific Asian inspired Beef Teriyaki Kabobs. As a bonus, they provide the necessary protein that's imperative for a healthy lifestyle. This post is sponsored by The Beef Checkoff. Details can be found below.
Health Challenges
I've been making a concerted effort to add protein to every meal for the last month or two. My thyroid conked out last fall; and when I complained to my endocrinologist about my post prandial drowsiness, he sent me home with a blood glucose monitor. I had already figured my blood sugar was taking a nosedive when I ate too many carbs, but little did I know that it was peaking at an elevated level. Well, after lots of testing, my labs looked good, so I'm not diabetic nor even pre-diabetic, but I do need to watch my diet.
Before I had my test results, I was a nervous Nelly and  googled what I'd need to do if pre-diabetic. First up, lose weight. Uh, no way. This Skinny Chick would disappear. Exercise more. I run, practice power yoga, can do push-ups. No, thank you to more. So what was left was tweaking my diet. And what do you know, incorporating more protein into my meals worked. It was key to improving my quality of life, lessening the fog which enveloped my brain after meals, and keeping me satisfied after a meal.
Make Every Meal Count
If you need to lose some weight, improve your metabolism or just age beautifully, research suggests that adding quality, protein-rich foods can help. Why not challenge yourself to 30 days of eating protein at every meal and see if you feel the difference? I bet you will. Protein rich meals satisfy you longer as they take longer to digest, so you won't be hungry an hour after you eat. Protein also provides essential amino acids needed for cell repair and reproduction. To start, I recommend joining the Beef Checkoff's 30 Day Challenge to receive daily emails, goals, tips and inspiration. Just click on the link below and get started!
The Beef Checkoff has some terrific tools to help with this 30 Day Protein Challenge plus we've started a Protein Packed Pinterest board for recipe ideas:
The Sunday Supper Protein-Packed Recipes Pinterest Board

Teriyaki Beef Kabobs
It's no secret that my family loves beef. They are carnivores through and through. Steaks are a given for birthday celebrations, a rib roast dons our Christmas table and we grill burgers nearly every weekend throughout the summer. I love marinating beef to shake it up a bit and these beef teriyaki kabobs are easy and impressive. I mixed up a marinade the night before, poured most of it in a zip top bag along with some cubed beef tenderloin to marinate. The next day I chopped my favorite vegetables and drenched them in the remaining marinade. When dinner time rolled around, we fired up the grill, skewered the kabobs and let the charcoal work its magic. Let me tell you, this was one delicious way to incorporate good quality protein into my diet.
More Protein Rich Beef Recipes from My Sunday Supper Friends:
Start your day deliciously:
Power up at lunch:
Make a fantastically satisfying Sunday Supper:
Get your knife supply ready:
Beef, It's What's for Dinner!
Make sure to follow The Beef Checkoff's social media sites for more recipes and inspiration:
Website – Twitter – Facebook – Pinterest
Print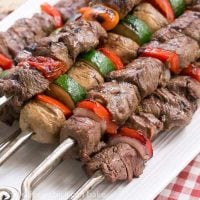 Beef Teriyaki Kabobs #SundaySupper
Inspired from the Winners cookbook
Author:
Prep Time: 15 mins
Cook Time: 10 mins
Total Time: 25 minutes
Yield: 8 servings
Ingredients
For marinade::
1/2 cup soy sauce
1 cup sherry
1/2 cup honey
5 cloves garlic, minced
2 tablespoons freshly grated ginger
1/4 cup sesame oil
1/2 cup sliced scallions
1/4 teaspoon cayenne pepper
1 tablespoon red wine vinegar
For kabobs::
3-4 lbs beef tenderloin, cut into cubes
fresh mushrooms
zucchini, sliced
2 red bell peppers, cut into large pieces
Large red onion, cut into wedges
Instructions
Combine all sauce ingredients in a gallon ziplock bag. Mix together well. Remove about a cup of marinade to a second ziplock bag. Marinate beef in first ziplock one hour at room temperature or overnight in the refrigerator. Do the same with the vegetables with the smaller amount of marinade.
Spear meat on skewers. Spear veggies on separate skewers. Grill to desired doneness.
Notes
Inspired from the Winners cookbook
Total time does not include marinating time.
Feel free to use the vegetables of your choice.
Join the #SundaySupper conversation on twitter on Sunday! We tweet throughout the day and share recipes from all over the world. Our weekly chat starts at 7:00 pm ET. Follow the #SundaySupper hashtag and remember to include it in your tweets to join in the chat. To get more great Sunday Supper Recipes, visit our website or check out our Pinterest board.
Would you like to join the Sunday Supper Movement? It's easy. You can sign up by clicking here: Sunday Supper Movement.
Disclosure: This post is sponsored by The Beef Checkoff in conjunction with a social media campaign through Sunday Supper LLC. All opinions are my own.
Note: This post may contain affiliate links; view my Disclosure Policy for details. I earn a small percentage from any purchase you make by clicking on these links at no extra cost to you.