This make ahead Overnight Cinnamon Bread French Toast is perfect with berries and maple syrup. Plus it will garner rave reviews from everyone who partakes!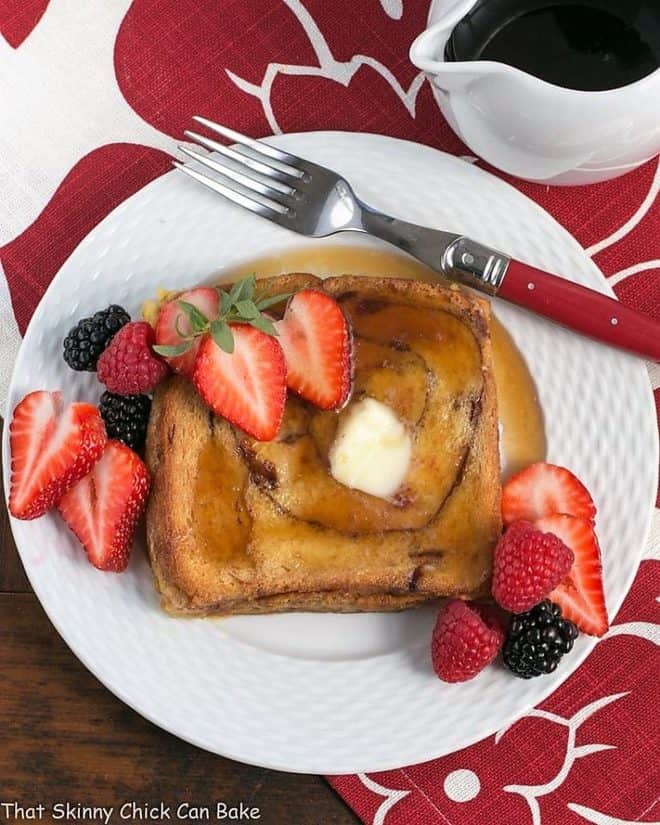 Overnight Cinnamon Bread French Toast
First up, I'm sharing this old brunch favorite, Overnight Cinnamon Bread French Toast. When my youngest, a college junior, was home for spring break, he spent two full days volunteering to fulfill his EMT class requirement. One day was in a hospital ER and the other was to ride along with paramedics (where he had to perform CPR on his first run!). I knew he'd need a hearty breakfast.
If you're looking for other sweet breakfast casseroles, my family adores this caramel bottomed Creme Brulee French Toast as well as this berry laden Raspberry Mascarpone French Toast Casserole.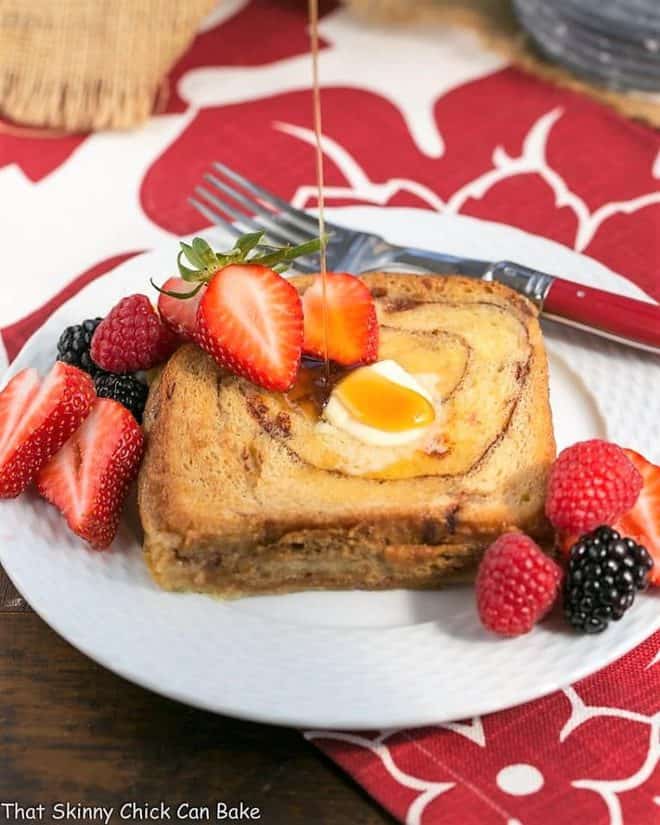 Make Ahead Casserole
Stratas and French toast casseroles that are assembled the night before and baked right from the fridge are a dream for any hostess. This recipe has the option to bake right away or to park, covered, in the refrigerator and bake off the next morning. A very rich custard of milk, cream, whole eggs and egg yolks soaks into layers of cinnamon bread and puffs up as it bakes. If chilled, it will take an extended cooking time to be thoroughly set. Served with berries and maple syrup or just a dusting of powdered sugar and a few strawberry slices, it will be a brunch dish you'll want to make again and again.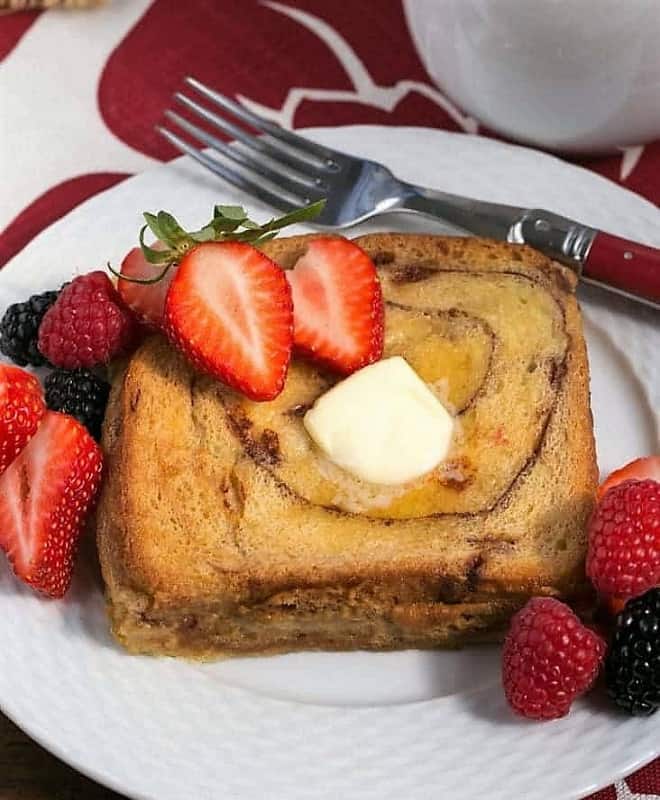 A Few More Brunch Recipes:
Crab Cake Eggs Benedict from The Redhead Baker.
Savory Pancetta and Cheddar Waffles from The Little Ferraro Kitchen.
Cherry Vanilla Almond Granola from Cupcakes & Kale Chips.
Breakfast Wraps from Big Bear's Wife.
Lemon Bars from Chelsea's Messy Apron.
Chocolate Walnut Macarons with Salted Caramel from Baking a Moment.
Print
Overnight Cinnamon Bread French Toast
A terrific make ahead breakfast casserole that's delicious topped with syrup and berries!
Author:
Prep Time: 15 mins
Cook Time: 45 mins
Total Time: 1 hour
Yield: 6 servings 1x
Category: Breakfast, Brunch
Method: Mixing, Baking
Cuisine: American
Ingredients
Cinnamon Bread French Toast with Berries…adapted from a recipe by Bradley Ogden
12 slices Pepperidge Farm Cinnamon bread (if you have a great bakery cinnamon bread, by all means use that!)
1 stick of butter, melted
4 eggs
2 egg yolks
3/4 cup sugar, I used Dixie Crystals
3 cups milk
1 cup heavy cream
1 tablespoon vanilla, I used Nielsen-Massey
Powdered sugar
Fresh berries
Maple syrup (use the real McCoy)
Instructions
Preheat oven to 350 degrees. Spray 9 x 13 pan with non-stick cooking spray. Brush both sides of bread slices with melted butter and place in pan (I made 2 layers of 6 slices).
In a large bowl, whisk eggs and egg yolks. Whisk in sugar, milk, cream and vanilla. Strain the mixture over the bread making sure to saturate all the slices.
Bake for 45 minutes or till the top is lightly browned and the custard is set. Allow to cool about 10 minutes before serving. Sprinkle each slice with powdered sugar. Serve with maple syrup and berries.
Notes
You may cover this dish with plastic wrap after assembling and refrigerate overnight. Let sit out at room temperature for a half hour before baking. Add about 30 minutes to baking time, checking after the hour mark. The top with be browned and puffed and the custard will be set.
Adapted from a recipe by Bradley Ogden.
Brunch Week, Our Amazing Sponsors and Giveaway:


Prize #1: Bob's Red Mill is giving one winner a Pie Plate, Gluten-Free Oats, Gluten-Free Pie Crust Mix, Gluten-Free 1-to-1 Baking Flour and a Bob's Red Mill Flour Sack Towel.
About Bob's Red Mill: Trust, honesty and integrity. The three principles their business is built on. Their packaging is a great example of this commitment: clear bags that let you see the high quality of every one of their products. By producing the very best in whole grain foods, they are able to fulfill their commitment to help look after more and more people through better nutrition.
Prize #2: Cabot Cheese is giving one winner a Gift Box with a selection of Cabot Cheeses as well as a Cheese Board and Knife.
About Cabot Cheese: Cabot blends state-of-the-art facilities and a savvy entrepreneurial spirit, with the timeless values a personal commitment to quality that comes from being 100% owned by their farm families. Cabot is a cooperative owned and operated by their members, dairy farmers and their families throughout New England and Upstate New York. Cabot products include Cheese, Yogurt, Dips, Butter and Whipped Cream.
Prize #3: Dixie Crystals is giving one winner a Wilton Master Tip Decorating Kit along with a 4lb bag of Granulated Sugar, 2lb bag of Powdered Sugar and 2lb bag of Light Brown Sugar.
About Dixie Crystals: Since 1917, Dixie Crystals® has been the South's choice for high-quality sugar and sweeteners. Our pure cane sugar products are all natural, non-GMO and provide consistently delicious results.
Prize #4: California Walnuts is giving one winner a Classic Series 4.5-Quart Tilt-Head Stand Mixer in white.
About California Walnuts: The California Walnut Board was established in 1948 to represent the walnut growers and handlers of California. The board is funded by mandatory assessment of the handers and the California Walnut Commission, established in 1987 is funded by mandatory assessments of the growers. More than 99% of the walnuts in U.S. are grown in the fertile soils of California's Central Valley. Internationally, California walnuts supply three-quarters of the world's walnut trade. Sustainability is important to the California walnut industry. The California Walnut Board has supported sustainable growing practices through its production research program for over 20 years.
Prize #5: Le Creuset is giving one winner a set of their new Revolution® Bi-Material Utensils. The pliable combination of flexible silicone and rigid glass-filled nylon allows Revolution cooking utensils to conform to the edges of pots and pans, making it easy to stir, scoop and serve your favorite chili recipe to family and friends.
About Le Creuset: Respect for tradition and authenticity has been Le Creuset's guiding principle since 1925, yet our innovative designs and exceptional quality ensure that we remain relevant today. The Le Creuset signature color, Flame, was born in this first piece. With their new ability to pigment the enamel glaze, Desaegher and Aubecq modeled their first color after the intense orange hue of molten cast iron inside a cauldron ("creuset" in French). We still manufacture our cast iron in the original foundry, with each piece passing through the hands of 15 skilled artisans to ensure flawless perfection. With the consistent qualities of authenticity, originality and innovation, Le Creuset maintains a connection to both heritage and modernity.
Prize #6: KitchenAid is giving one winner a Maximum Extraction Juicer. The KitchenAid® Maximum Extraction Juicer (slow juicer) gives you more juice with less prep work, featuring a patented two-stage blade and auger system and wide chute. This juicer also comes with 3 pulp screens for low pulp, high pulp and sauces. Perfect for hard, soft or leafy fruits and vegetables.
About KitchenAid: In 1919 our iconic Stand Mixer was born. And from that stemmed an entire kitchen of high-performance appliances-all created with the same attention to detail, quality craftsmanship, versatile technology and timeless design. As the only appliance brand that only makes things for the kitchen, we continue to keep pushing the limits with our products so you can keep doing the same with everything you create. So, here's to you, your kitchen and the delicious world that surrounds us all.
Prize #7: Nielsen-Massey is giving one winner 2-oz bottles of their entire line of flavor extracts: Pure Almond Extract, Pure Lemon Extract, Pure Orange Extract, Pure Chocolate Extract, Pure Coffee Extract, Pure Peppermint Extract, Rose Water and Orange Blossom Water
About Nielsen-Massey: Nielsen-Massey has been crafting world-class vanillas and flavors since 1907. It is still a family owned business today and focuses on quality and its customers. Nielsen-Massey uses a cold extraction process for making its vanillas, which preserves more than 300 distinctive flavor compounds present in vanilla beans. Nielsen-Massey product can be purchased at Williams-Sonoma and all of their products are gluten-free, allergen-free, GMO-free and Kosher. Nielsen-Massey also has a line of organic vanillas available as well.
Prize #8: Pacari Premium Organic Chocolate is giving one winner a gift box which includes: 8 bars (3 Single Region Bars, 1 Raw 70% (multi-award winner), 4 Andean Flavors Collection Bars (Salt and Nibs, Lemongrass (award winner), Merken and Andean Blueberry, 2 chocolate covered boxes: 1 Banana and 1 Goldenberries (award winner), and Dry Cacao Beans.
Prize #9: Stonyfield Organic is giving one winner a Shirt, $40 in coupons, Cookbook, Mason Jar and Measuring Cups.
About Stonyfield Organic: Back in 1983, our co-founders Samuel Kaymen and Gary Hirshberg were running a nonprofit organic farming school on a small New Hampshire farm. They were on a mission to help family farms survive, keep food and food production healthy, and help protect the environment. They began selling yogurt made without the use of toxic persistent pesticides or chemical fertilizers. The yogurt was a hit and Samuel and Gary realized that a successful organic company could make a bigger difference for family farms, people and the planet than their school could. Today, our organic yogurts, smoothies, soy yogurts, frozen yogurts, milk and cream are sold in supermarkets, natural food stores and colleges across the country. And we make all of it without the use of toxic persistent pesticides, artificial hormones, antibiotics or GMOs. We're still located right here in New Hampshire—about 30 miles east of the old farm—but now our organic ingredient purchases support a huge network of food producers made up of hundreds of organic family farms, thousands of organic cows, and over 200,000 organic acres. We've also pioneered planet-friendly business practices—from offsetting our yogurt works' emissions, to making yogurt cups from plants instead of petroleum, to making our own renewable energy, and much more. Our old organic farming school is just a memory. But the thought and passion that started it in the first place have only grown stronger, and we've never stopped working for healthy food, healthy people and a healthy planet.
Prize #10: Woot Froot is giving one winner a Cuisinart Griddle Panini and Sandwich Maker, a Hamilton Beach Smoothie Blender and fresh Woot Froot. Peaches, pears, nectarines and grapes are the perfect addition to almost any meal to help jazz up your routine dishes and flavors—whether it's in a pear, ham and grilled cheese Panini, nectarine margarita or grilled peaches or just a plain old snack. But to get you cooking these kitchen appliances will help you get a head start on your dinner menus! We'll even throw in some Woot Froot packages too! #WootWoot
About Woot Froot: The story of Woot Froot began 25 years ago, when owner Kim Gaarde (Mama Woot) was growing and selling nearly every variety of peach and nectarine to places near and far. But that all changed when 10 years ago, she wondered why no one had started selling fresh cut peaches and nectarines. After many years of research, trial and error – not to mention naysayers, Woot Froot freshly sliced peaches and nectarines was finally created! Over 500 varieties of peaches were tested for flavor and texture to ensure that you received that "bite right flavor"! In fact, many people believe the softness equates ripeness. Not true at all. We have a special formula that is just the right firmness and brix (sugar) to get great consistent flavor without getting puree in a bag. Woot Froot is a woman-owned, family business. Along with peaches and nectarines, Woot Froot also offers freshly sliced pears and de-stemmed red grapes year round! Peaches and nectarines are available June – October while in season. Woot Froot sliced peaches and nectarines will stay ready to eat for a whopping 21 days in your fridge! And even better, they use all natural ingredients and preservatives to ensure that your fruit stays flavorful and fresh from day 1 to day 18.
Prize #11: Grimmway Farms, Cal-Organic and True Juice is giving one winner a Ninja Professional Blender with food processor and single serve blender, assortment of True Organic Juice Blends, and a package of Grimmway Carrots and Cal-Organic veggies. Grimmway carrots and Cal-Organic veggies are enjoyed fresh and whole, or as part of a delicious smoothie – which is why we thought you'd love the Ninja blender to help you make some! Don't trust your own culinary skills to make your own juices and smoothies?! We decided to throw in some of our own True Juices for you to try as well!
About Grimmway Farms, Cal-Organic & True Juice: The story of Grimmway began in 1968, when brothers Rod and Bob Grimm set up a roadside produce stand and planted the seed that would blossom into today's Grimmway Farms. Grimmway Farms began growing carrots back in 1971! Today, Grimmway Farms has become the largest grower, producer and shipper of carrots in the world! Not only does Grimmway Farms play a part in every meal—breakfast, lunch, dinner and snacks—but they also play an essential part in the health of growing children and active adults. Bringing Grimmway home to your family means bringing home the best in produce and the best for their health! Join Grimmway's Twitter parties and conversations by following the hashtag #JustCrunchEm! Sustainability is in our DNA. From using all parts of the carrot, having a full organic line and using our own veggies to make juice, we believe taking care of the environment is part of taking care of you. Cal-Organic Farms is a large part of our farm where we grow over 40 fruits and veggies from kale and potatoes to blueberries and watermelons. True Juice is just that – juice that's truly organic, sustainably grown, and delicious with products from our own farms. Although the flavor names might be hard to pronounce, they're full of simple ingredients – like Bananaberry Crush with strawberries, kiwi, banana, beets, carrots and apples! Try all of our great flavors – BananaBerry Crush, Pure Carrot, Wild Berry Blend, Bunched Greens, Blended Blue and Tropical Mango.
Prize #12: Vidalia Onions is giving one winner an OXO SoftWorks Handheld Mandoline Slicer, Vidalia Sweet Onion Cookers, Vollrath 8″ Stainless Steel Non-stick Fry Pan, Weber Style Grill Vegetable Basket and fresh Vidalia Onions. Since Vidalia onions are such a versatile item to cook with, we thought setting you up with a few appliances to help explore different cooking styles would be a perfect way to introduce you to Vidalia onions! Slice them, dice them, cook them, sauté them or grill them – any way is delicious! We'll even throw in a bag of Vidalia's for you to get cooking with!
About Vidalia Onions: Vidalia onions are unique to a very small region. In fact, they only grow in 13 counties in Georgia! Vidalia onions were discovered back in 1930's, and just like back then, they are still planted, transplanted and harvested all by hand! Vidalia onions are grown during the winter months, and are only available in stores between April and September, making them a true seasonal specialty! In 1990, Vidalia onions became the official state vegetable of Georgia! Vidalia onions are a great source of Vitamin C, and are also fat free, cholesterol free and sodium free! In order to grow great tasting Vidalias, and to give them their characteristic sweetness, they must be grown in a sandy soil mixture that is low in sulfur (sulfur in soil is what gives onions their hotness). Each year, approximately 5-million, 40-pound boxes are shipped out around the country. Now that's a lot of onions!
Disclaimer: Thank you to #BrunchWeek Sponsors: Bob's Red Mill, Cabot Creamery Cooperative, California Walnuts, Dixie Crystals, Grimmway Farms/Cal-Organic/True Juice, KitchenAid, Le Creuset, Nielsen-Massey Vanillas, Pacari Chocolate, Stonyfield Organic, Vidalia Onions, and Woot Froot for providing the prizes free of charge. These companies also provided the bloggers with samples and product to use for #BrunchWeek. All opinions are my own.
Disclaimer: The #BrunchWeek giveaway is open to U.S. residents, age 18 & up only. All entries for the winner will be checked and verified. By entering you give the right to use your name and likeness. The number of entries received determines the odds of winning. Twelve winners will be selected. The prize packages will be sent directly from the giveaway sponsors. The #BrunchWeek Bloggers are not responsible for the fulfillment or delivery of the prize packages. Bloggers hosting this giveaway and their immediate family members in their household cannot enter or win the giveaway. No purchase necessary. Void where prohibited by law.
Note: This post may contain affiliate links; view
my Disclosure Policy
for details. I earn a small percentage from any purchase you make by clicking on these links at no extra cost to you.