Overnight Cinnamon Bread French Toast
This make-ahead Overnight Cinnamon Bread French Toast is perfect with berries and maple syrup. Plus it will garner rave reviews from everyone who partakes!
Starting with cinnamon bread gives this easy brunch casserole a delicious head start, plus it can be prepped the night before for an easy, elegant breakfast treat.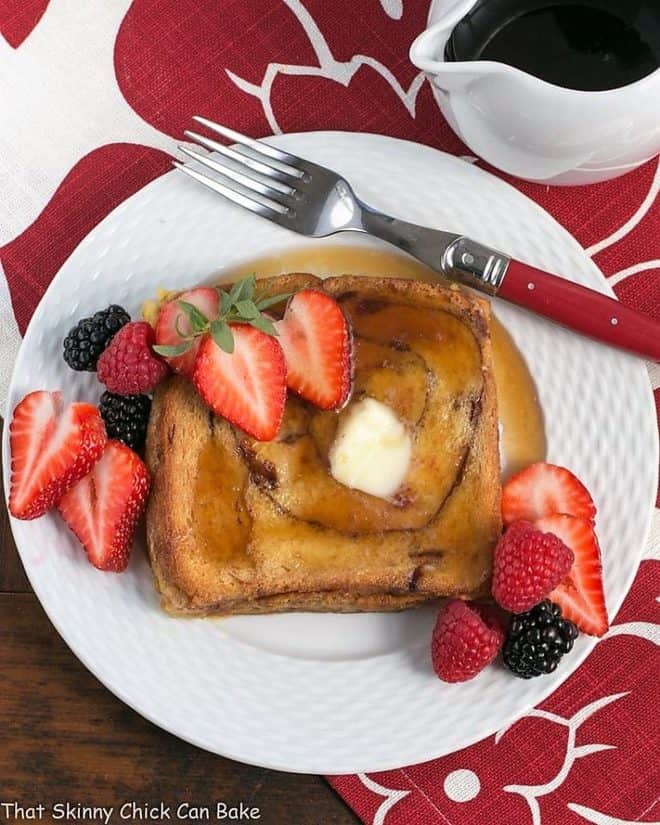 Why You Must Make
Mornings can be hectic, so putting this breakfast casserole together before you go to bed will save you precious time!
It's a simple, well-received breakfast that is great for overnight company.
Who doesn't love cinnamon bread???!!!
First up, I'm sharing this old brunch favorite, Overnight Cinnamon Bread French Toast. When my youngest, a college junior, was home for spring break, he spent two full days volunteering to fulfill his EMT class requirement. One day was in a hospital ER and the other was to ride along with paramedics (where he had to perform CPR on his first run!). I knew he'd need a hearty breakfast.
If you're looking for other sweet breakfast casseroles, my family adores this caramel-bottomed Creme Brulee French Toast as well as this berry-laden Raspberry Mascarpone French Toast Casserole.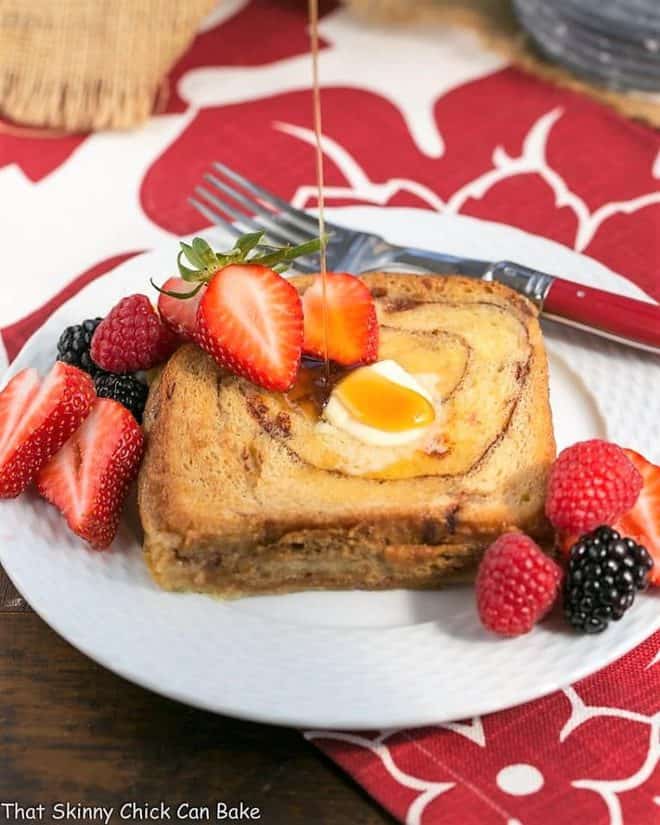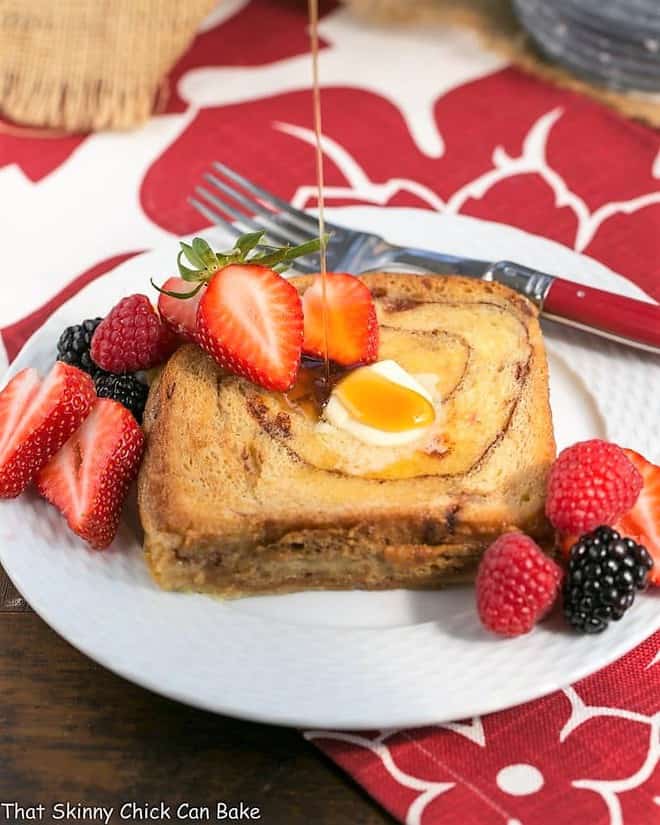 How to Make
Stratas and French toast casseroles that are assembled the night before and baked right from the fridge are a dream for any hostess. This recipe has the option to bake right away or to park, covered, in the refrigerator, and bake off the next morning.
First, whisk together a very rich custard of milk, cream, whole eggs, and egg yolks.
Pour over layers of cinnamon bread arranged in a casserole dish.
Allow it to soak into the bread.
Bake immediately or cover and refrigerate to bake and serve the next morning.
Watch it puff up as it bakes. If chilled, it will take an extended cooking time to be thoroughly set.
Served with berries and maple syrup or just a dusting of powdered sugar and a few strawberry slices, it will be a brunch dish you'll want to make again and again.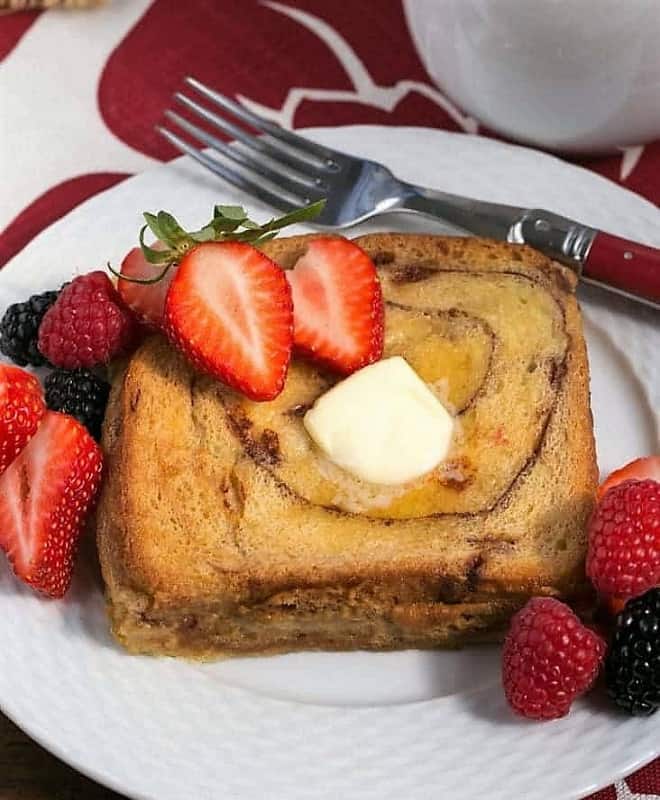 Expert Tips
Use your favorite cinnamon bread. If you like cinnamon raisin bread, use that instead!
PRO-Tip: Straining the custard before soaking the bread will get rid of the chalazae, or the rope-like protein structure you see in an egg white. It won't hurt to skip this step.
If you don't bake after assembling it, make sure to bring it out of the refrigerator for 30+ minutes to let it warm up before baking.
Remove the plastic wrap or foil you used while refrigerating before baking.
Serve it with fresh berries and a sprinkling of powdered sugar, maple syrup, or both. And don't forget the butter!
Frequently Asked Questions
Can You Make This Breakfast Casserole Ahead of Time?
Yes, this casserole can be made the night before you bake it. Cover the dish with plastic wrap after assembling it and refrigerate overnight. Let sit out at room temperature for a half-hour before baking to take the chill off. Remove the plastic before placing it in the oven. Add about 30 minutes to baking time, checking after the hour mark.
Why Is My Overnight French Toast Soggy?
There are a number of reasons you can have soggy overnight French toast. You may have added too much soaking liquid or there may be too much milk or cream in your mixture. Your bread may not be sturdy enough It also may not be fully cooked.
You May Also Like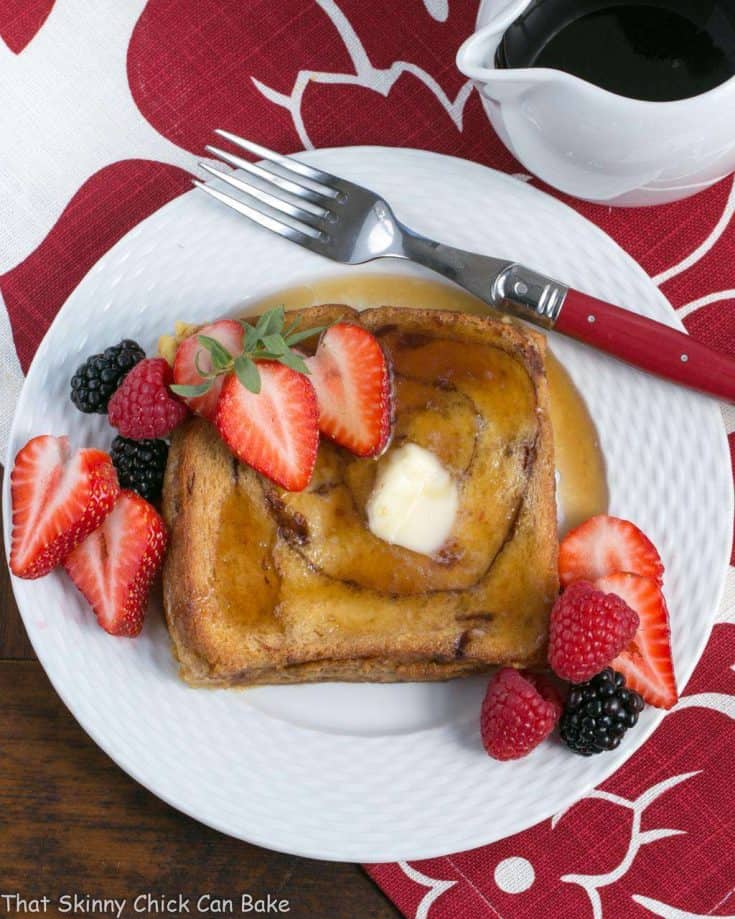 The Recipe:
Overnight Cinnamon Bread French Toast
Prep Time 15 minutes
Cook Time 45 minutes
Total Time 1 hour
Yield 6 servings
A terrific make ahead breakfast casserole that's delicious topped with syrup and berries! Adapted from a recipe by Bradley Ogden.
Ingredients
12 slices cinnamon bread (Pepperidge Farm brand or good bakery cinnamon bread)
½ cup butter, melted
4 eggs
2 egg yolks
¾ cup sugar
3 cups milk
1 cup heavy cream
1 tablespoon vanilla
Powdered sugar
Fresh berries
Maple syrup (use the real McCoy)
Instructions
Preheat oven to 350 degrees.
Spray 9 x 13 pan with non-stick cooking spray.
Brush both sides of the bread slices with melted butter and place in pan (I made 2 layers of 6 slices).
In a large bowl, whisk eggs and egg yolks. Whisk in sugar, milk, cream, and vanilla.
Strain the mixture over the bread making sure to saturate all the slices.
Bake for 45 minutes or till the top is lightly browned and the custard is set.
Allow it to cool for about 10 minutes before serving.
Sprinkle each slice with powdered sugar. Serve with maple syrup and berries.
Notes
You can make this french toast the night before, then bring it out of the refrigerator in the morning, let it rest for about 30 minutes to take the chill off, and bake as directed. It will need some additional baking time if the pan still feels cold when you place it in the oven.
Nutrition Information:
Yield:
6
Serving Size:
1
Amount Per Serving:
Calories: 903
Total Fat: 46g
Saturated Fat: 27g
Trans Fat: 1g
Unsaturated Fat: 16g
Cholesterol: 301mg
Sodium: 554mg
Carbohydrates: 109g
Fiber: 4g
Sugar: 77g
Protein: 15g
Note: This post may contain affiliate links; view
my Disclosure Policy
for details. I earn a small percentage from any purchase you make by clicking on these links at no extra cost to you.