Cinnamon Bread Pudding with Whiskey Sauce
Last month, I headed to Kansas on a whirlwind adventure in the Flint Hills cattle country. One night we were treated to a gourmet chuckwagon supper with an incredible Cinnamon Bread Pudding!
A drizzle of Whiskey Vanilla Sauce completed this spectacular grand finale!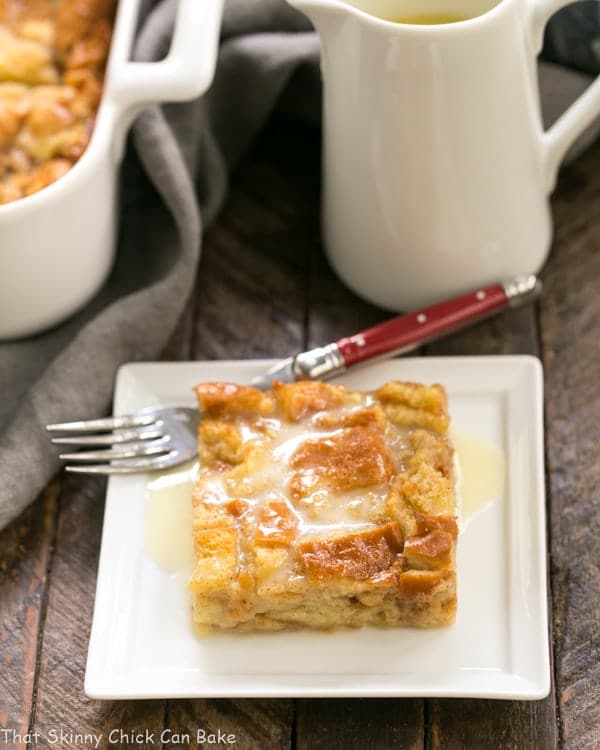 Why You Must Make
This recipe comes from the rancher, Food Network star, and cookbook author, Kent Rollins.
He cooked dinner for a group of bloggers when we were in Oklahoma.
Our incredible meal included grilled Certified Angus Beef® Brand tomahawk ribeye steaks, grilled corn, hominy with green chiles, the best darn baked beans I've ever tasted, and a light, luscious Cinnamon Bread Pudding drizzled with an extraordinary whiskey sauce!
Watch Kent and his adorable wife whip up this amazing dessert in this VIDEO from our Kansas trip!
Expert Tips
I was with over a dozen blogger friends and we all moaned with glee as we tasted this out-of-this-world bread pudding. It was so light; we couldn't figure out why! But then one smart cookie looked up the recipe in Rollins' cookbook, A Taste of Cowboy (affiliate link), that we each had received, and found the answer.
PRO-Tip: Use Hamburger buns instead of stale, leftover bread for a terrific bread pudding that's light and delicious!
The amount of cinnamon and nutmeg are just suggestions. You may want more cinnamon if you like a pronounced flavor. Don't mess with the nutmeg as too much can be overpowering.
PRO-Tip: You must make delicious bread pudding sauce. A combination of whiskey and vanilla extract along with a generous dose of heavy cream, make a rich topping to drizzle over every serving.
PRO-Tip: This dessert can be made in a cast iron skillet over a well-controlled campfire. We would have ended up with a charred bottom had I tried this at our house, but it can be done!
Frequently Asked Questions
What is Bread Pudding?
Bread pudding is a simple baked dessert made with cubes of bread soaked in a mixture of milk, eggs, sugar, vanilla, and spices. Sometimes fruit and nuts are added.
How Do You Make a Half Batch of Bread Pudding?
Usually, looking at the number of eggs helps determine whether it's easy enough to cut a recipe in half. But even with an odd number, knowing a large egg has about 3 tablespoons in volume, it's not to difficult to whisk the egg and measure out 1 1/2 tablespoons. It worked just fine and I didn't have 12 servings for the 3 of us.
What Else Can Be Added to this Bread Pudding Recipe?
Toasted nuts like pecans or cubed and sauteed apples or raisins would be delicious additions to add before baking.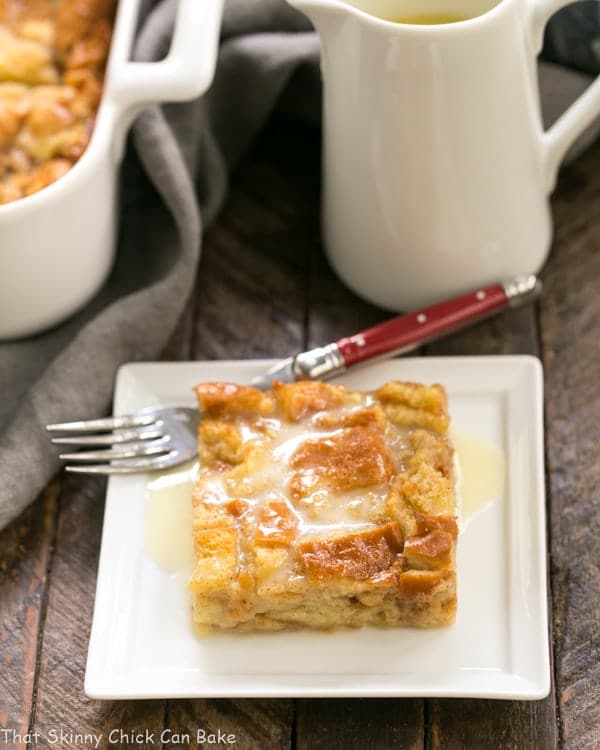 We were blessed to be treated to a chuckwagon dinner featuring some amazing recipes from Kent Rollins. He was gracious enough to share a cookbook with us all!

You May Also Like:
The Recipe:
Cinnamon Bread Pudding with Whiskey Sauce
Prep Time 15 minutes
Cook Time 45 minutes
Total Time 1 hour
Yield 12 servings
A light textured bread pudding drizzled with whiskey sauce. Recipe adapted from Kent Rollins, A Taste of Cowboy Ranch Recipes and Tales from the Trail
Ingredients
Bread Pudding:
2 cups milk
1 1/2 cups sugar
3 eggs
1/2 cup butter, melted
2 teaspoons vanilla
1 teaspoon cinnamon
1/2 teaspoon freshly grated nutmeg
8-10 hamburger buns (I used 8 as they were larger brioche buns)
Whiskey Sauce:
1 cup sugar
1/2 cup butter, melted
2 cups heavy cream
4-6 tablespoons whiskey
1 teaspoon vanilla
Instructions
Preheat the oven to 350°. Lightly butter 8 x 11-inch baking dish.
Whisk together the milk, sugar, and eggs until smooth. Slowly whisk in the butter, vanilla, cinnamon, and nutmeg.
Tear half the buns (2½ of them) into 1-inch pieces and add to the wet mixture.Immerse the buns until moist. Tear the remaining buns, add to the mixture but don't mash. The second batch of bread pieces should be moistened, but still retain their shape.
Pour the mixture into the baking pan.
Bake for about 35 minutes, or until the pudding is sponge-like and springs back when touched in the middle. Do not over bake.
Make whiskey sauce by combining all the ingredients in a small saucepan. Bring to a boil and cook for 1 minute.
Drizzle warm sauce over slices of bread pudding.
Notes
I made half of Kent Rollins' recipe. Just whisk the second egg and add about half of it. I baked in a 7 x 7-inch casserole dish for about 35 minutes.
Recommended Products
As an Amazon Associate and member of other affiliate programs, I earn from qualifying purchases.
Nutrition Information:
Yield:
12
Serving Size:
1
Amount Per Serving:
Calories: 594
Total Fat: 33g
Saturated Fat: 20g
Trans Fat: 1g
Unsaturated Fat: 11g
Cholesterol: 135mg
Sodium: 361mg
Carbohydrates: 64g
Fiber: 1g
Sugar: 46g
Protein: 8g
Certified Angus Beef® Brand
Certified Angus Beef has been my go-to beef for the last few years. I knew it was the highest quality beef available, but after this sojourn, I finally understood why! Certified Angus beef cattle are raised with the highest standards which ensures the best marbling and therefore the most tender, flavorful product. Many of these ranchers have been raising beef for generations and now utilize modern technology, like DNA testing, to make sure the best of the best goes from farm to table! If you haven't tried Certified Angus Beef, make sure you do! Plus, you can check this restaurant locator to find out where you can find this amazing beef in your hometown. I recently dined at Red, the Steakhouse in downtown Indianapolis and had a magnificent steak. Maybe the best ever!!
We enjoyed a fabulous chuck wagon supper! This Cinnamon Bread Pudding was a sublime way to end our meal. The company and dishes were unforgettable!! Thank you, Certified Angus Beef® Brand for sharing why your beef IS the best. I was already of this mindset and now I understand why! Indianapolis friends, find the best selection at Market District in Carmel.
Also, a very special thanks to rancher and blogger, Debbie Lyons-Blythe, of Kids, Cows and Grass, who hosted an elegant luncheon on her deck with a mesmerizing view of the Flint Hills of Kansas. She and her family generously opened their home to this group of bloggers and dazzled us with their warmth and hospitality.
Note: This post may contain affiliate links; view
my Disclosure Policy
for details. I earn a small percentage from any purchase you make by clicking on these links at no extra cost to you.