Bacon Wrapped Hot Dogs with Fruit Salsa
These Bacon Wrapped Hot Dogs are a gourmet, sweet, and salty picnic treat! No ordinary dog will do when gathering friends together for a summer gathering! This out-of-the-ordinary recipe will be a major hit!
One hot dog a year is the max for this skinny chick. But after making this sumptuous, upscale hot dog recipe topped with fruit salsa, my tune has changed! Learn How to Make Bacon Wrapped Street Hot Dogs in a skillet!
Why You Must Make these Hot Dogs
Lately, I've seen a few jazzed-up hot dogs, like these Fajita Hot Dogs, that made me look at this American phenomenon in a new light! When I mentioned that hot dogs were on the menu to the hubby, the silence was palpable. I knew he was thinking a dog from the grocery store tucked in a mushy, mass-produced bun that he'd have to douse in ketchup.
With his first bite of this bacon encased, butcher shop hot dog, the picky hubby declared them a hit. I had planned on grilling but turned to my non-stick skillet when storms rolled through our area as I prepped dinner.
The smoky flavor from the bacon kicks these up more than one notch! They were spectacular!
Plus the fresh salsa makes for a restaurant-worthy dish by contributing a fresh, sweetness to these hot dogs to balance the savory and salty components.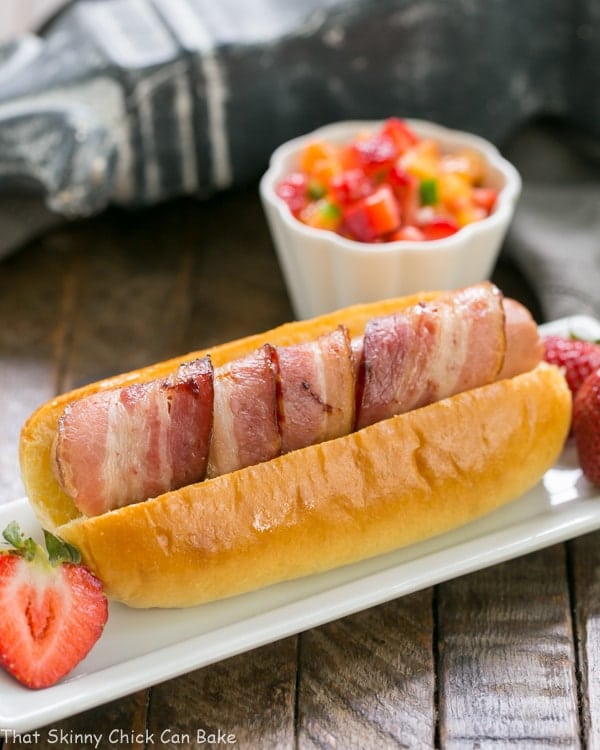 How to Make Bacon Wrapped Hot Dogs
I was overly optimistic, thinking the bacon would be self-sticking like the thin Italian prosciutto in my Asparagus Wrapped in Prosciutto. Nope. So I turned to the trusty toothpick.
I inserted one toothpick on each end to anchor the bacon as well as to make the picks nearly impossible to ignore. There were rumors that my dad accidentally ate a candle on his birthday cake when we were kids. Not sure if martinis were involved or not!
Use the toothpick to pierce a slice of bacon on one end of the hot dog. Then wind the slice around the dog making a single layer spiral. Insert the second toothpick to hold the other end of the slice in place.
Cook the hot dog in a skillet, turning to ensure all the bacon is cooked thoroughly and the hot dog is hot.
PRO-Tip: I worried that my hubby might need some sort of throat extraction if he fell to the same fate as my dad and bit into a toothpick! My advice is to pull them out as you load the buns. Between the spicy flavorful dogs, the salty bacon, and the sweet and spicy fruit salsa, I was in heaven with every bite.
Make sure to buy the best quality hot dogs you can find plus good bulk bacon and these bacon-wrapped hot dogs will become a summer tradition! I like to purchase mine from my local butcher shop.
Tips for Making Street Hot Dogs
Buy premium hot dogs and bacon if they're in your budget. I got mine at our local meat market, but they'll still be tasty with grocery store meat.
Use a toothpick to secure the bacon so it doesn't slide off.
Make sure to remove any toothpicks before serving.
If you can find lobster roll style buns with a vertical opening, they will make it easier to layer your dogs.
You can also make these hot dogs in the oven. Place on a sheet pan and rotate so all the bacon is browned and the hotdog is hot, at 400 degrees for about 30 minutes.
More Summer Entrees
The Recipe:
Bacon Wrapped Hot Dogs with Fruit Salsa
Prep Time 15 minutes
Cook Time 10 minutes
Total Time 25 minutes
Yield 4 servings
A simple way to turn the ordinary hot dog into a gourmet summer entree!
Ingredients
4 Hot Dogs (I purchased from our nearby butcher shop)
4-6 slices thick bacon
4 hot dog buns
Salsa:
1 medium peach, peeled and diced (about 1/2 cup)
1/2 cup diced strawberries
1 medium jalapeno, seeds removed, diced
1 tablespoon minced red onion
pinch of kosher salt
1 tablespoon fresh lime juice
1 1/2 teaspoons olive oil
Instructions
Wrap a slice of bacon around each hot dog (you can add another ½ slice if you want more coverage, but I had to use toothpicks to help the extra slice adhere).
Place in a skillet and cook, turning as needed until bacon is cooked and hot dog is heated through.
While hot dogs are cooking, make salsa. Add all ingredients to a bowl and toss to combine.
Serve hot dogs in buns with your favorite condiments and top with salsa.
Notes
Use good quality hot dogs and bacon for the best results.
You can also make these in the oven at 400° for about 30 minutes, turning occasionally.
Recommended Products
As an Amazon Associate and member of other affiliate programs, I earn from qualifying purchases.
Nutrition Information:
Yield:
4
Serving Size:
1
Amount Per Serving:
Calories: 420
Total Fat: 24g
Saturated Fat: 8g
Trans Fat: 0g
Unsaturated Fat: 13g
Cholesterol: 45mg
Sodium: 990mg
Carbohydrates: 34g
Fiber: 2g
Sugar: 9g
Protein: 17g
Note: This post may contain affiliate links; view
my Disclosure Policy
for details. I earn a small percentage from any purchase you make by clicking on these links at no extra cost to you.