Homemade Macaroni and Cheese
This Homemade Macaroni and Cheese is made with a mix of cheddar, Monterey Jack, and pasta topped with buttery bread crumbs. Pure comfort food!
The whole family adored my Baked Macaroni & Cheese. Cheesy and flavorful, it will feed a crowd.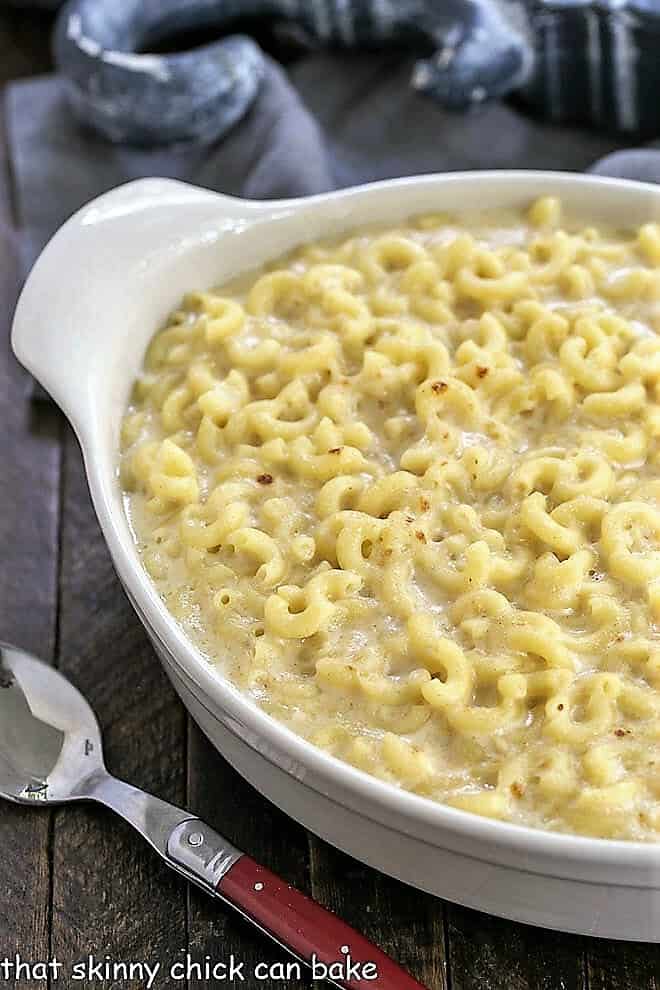 Why You Must Make
Cook's Illustrated does not disappoint and their recipe for mac and cheese is a winner!
Using both sharp cheddar and Monterey Jack make it flavorful and creamy.
If you've only been eating boxed mac and cheese, you will be swooning with your first bite of the best macaroni and cheese recipe.
I tend to be fearless in the kitchen. At 25 years old, I remember being tired, pregnant, and nauseated and painting filo dough with melted butter to make my first baklava for a neighborhood cookout. But I also have clear memories of a couple of flops from that same time period. One notable dish was a beef stroganoff when I attempted to make a more upscale version by replacing the ground beef with strips of some mystery cut of meat. We spent more time chewing than chatting during that meal. 
The hubby still reminds me of that disastrous entree from time to time. And then there was the homemade macaroni and cheese I made for our first Lent as a married couple. It was so bland and pasty. I should have stuck with the box of Kraft Deluxe! So fast forward a couple of decades. I still get nervous when I am about to make homemade macaroni and cheese. Would there be enough flavor? Would it be gluey? lumpy? or creamy? I turned to Cook's Illustrated for a tried and true Classic Macaroni and Cheese recipe.
Ingredient Notes
Kitchen Staples – Butter, Milk, Salt
Elbow Macaroni – You may use other pasta shapes. Make sure to cook in well-salted water for the best-tasting results.
Sandwich Bread – White Bread to make optional crumb topping
Wondra Flour – A granular flour that doesn't lump. AP flour can be used instead.
Dry Mustard Powder – I have both Colman's and Penzey's brands in my kitchen.
Cayenne Pepper – Adjust the amount to suit your taste.
Monterey Jack Cheese – Buy grated or grate yourself.
Sharp Cheddar Cheese – Buy grated or grate yourself.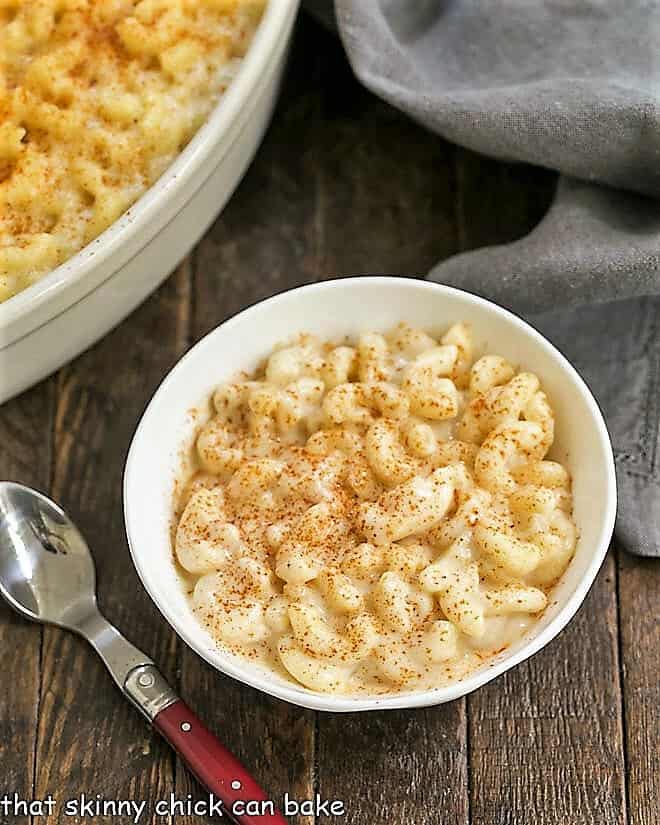 Recipe Tips
The family LOVED this homemade macaroni and cheese. Here are a few tips for making macaroni and cheese:
PRO-Tip: Cook's Illustrated cautions against leaving your noodles al dente, meaning "to the tooth" or slightly underdone, as it will make your end result grainy. So cook the pasta until it's completely cooked through and your sauce will be creamy and lip-smackin' good.
Use your favorite pasta shape. I used elbow macaroni, but shells or other small pasta shapes work well, too.
PRO-Tip: Cook your pasta in well-salted water. This allows some salt to infuse into the pasta making it more flavorful. Adding the salt at a later time will only add salt to the surface. The water should taste like the ocean!
My pasta tends to stick together while waiting in the colander while the cheese sauce is cooking.
To prevent a mass of pasta instead of individual pieces of macaroni, run some cool water over the pasta and use your clean hands to separate the noodles a time or two while the sauce is thickening.
The combination of sharp cheddar and creamy Monterey Jack provides both flavor and creaminess.
PRO-Tip: Use blocks of cheese instead of buying pre-shredded cheese. The quality is better, but if you're short of time, packaged shredded cheese will work just fine.
Note that your baked mac n cheese will have more of an orange hue if you use an orange sharp cheddar versus a white cheddar.
A roux, or mixture of cooked flour and butter, is the thickening agent for the cheese sauce.
PRO-Tip: I like using Wondra flour, a granulated flour from Gold Medal, that doesn't get lumpy when you add the milk.
PRO-Tip: Using cold milk or room temperature milk also helps prevent a lumpy sauce.
PRO-Tip: To make sure your sauce is the correct consistency, use your finger and run it down the back of your mixing spoon. If the line does not fill back in with sauce, it has thickened properly. Otherwise, continue cooking until it gets to the proper consistency.
A decent dose of dried mustard and a touch of cayenne boost the flavor, not flat and boring like my first attempt.
There can be trouble if you walk away from the broiler and the topping turns black. Lesson learned! If that should happen to you, just scrape off the burnt crumbs, add a few more, and monitor the broiling process.
If you don't want the crumb topping, a sprinkle of paprika adds a nice finishing touch.
If you have a family member, like one of mine, who likes Kraft Deluxe and does not like a crumb topping, just leave it off and sprinkle with some paprika to finish off the casserole.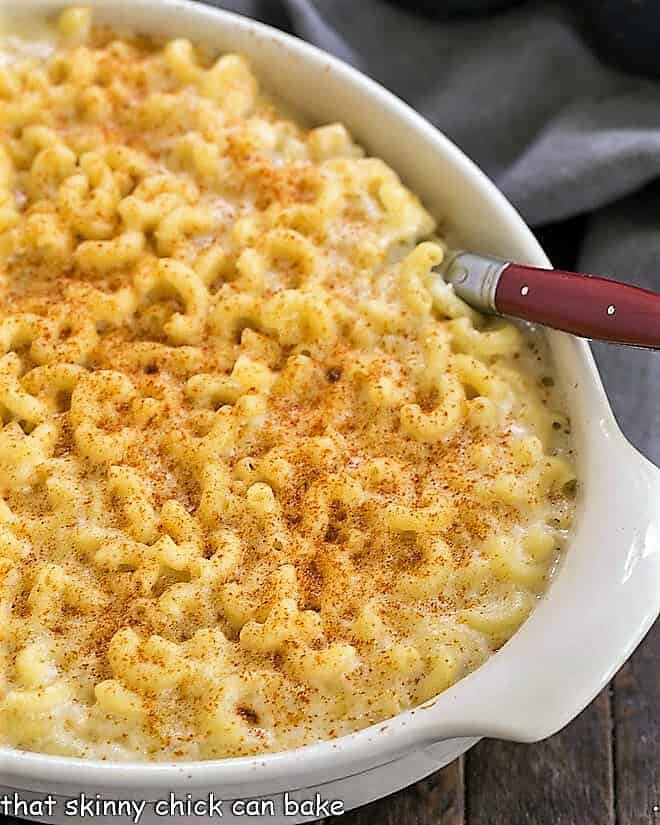 Frequently Asked Questions
What is the Best Cheese for Macaroni and Cheese?
Many cheeses work well, but Cheddar is always an excellent choice. It can be paired with nutty Gruyere, Parmesan, Fontina, Havarti, or Monterey Jack. Using two varieties of cheese adds a better depth of flavor.
How Do You Ensure a Creamy Mac and Cheese?
Whisk constantly when making the sauce so no lumps form. Also, using Wondra brand flour will minimize lumping. Shredding your own cheese and making sure the sauce is fully thickened (using the back of the spoon check mentioned above) will help. Also, choosing whole or 2% milk is better than using skim milk due to the added fat.
What Should You Serve with Macaroni and Cheese?
Mac and cheese can be a side dish or a main dish. As a side dish, it can be served with burgers, meatloaf, fried chicken, and much more. As an entree, round out your meal with vegetable sides and a green salad.
You May Also Like:
Stay in touch through social media @ Instagram, Facebook, and Pinterest. Don't forget to tag me when you try one of my recipes! And if you love the results, please give it a 5-star rating in the recipe card. Note: As an Amazon Associate, I earn from qualifying purchases. Visit my Amazon Store for my favorite products.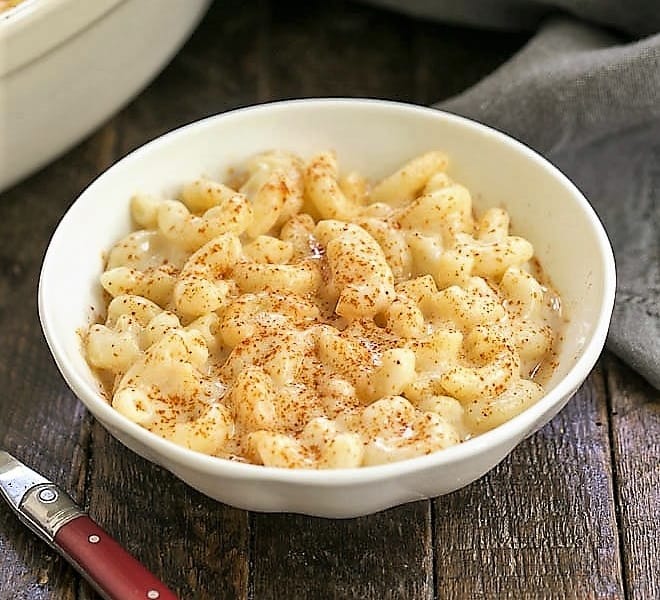 The Recipe:
Classic Macaroni and Cheese
Prep Time 20 minutes
Cook Time 20 minutes
Total Time 40 minutes
Yield 8 servings
A lovely blend of cheeses and pasta topped with buttery bread crumbs
Ingredients
For Optional Topping:
6 slices white sandwich bread, torn into pieces
3 tablespoons cold butter, cut into 6 pieces
For Mac and Cheese:
1 pound elbow macaroni (or favorite pasta shape)
1 tablespoon plus 1 teaspoon table salt
5 tablespoons butter
6 tablespoons flour (I prefer Wondra brand which helps prevent lumps)
1 ½ teaspoons dry mustard
¼ teaspoon cayenne pepper
5 cups milk
8 ounces Monterey jack cheese, shredded
8 ounces sharp cheddar cheese, shredded
Paprika, to garnish, optional
Instructions
Pulse bread and butter in the food processor till crumbs form, about 10-15 pulses. Set aside.
Add macaroni and 1 tablespoon salt to a large pot of boiling water. Cook until pasta is tender (not al dente; it should be fully cooked). Drain pasta and set aside.
In the same pot you used to boil the pasta, heat butter till it gets foamy.
Add flour, mustard, and cayenne and whisk well to combine.
Continue whisking until the flour mixture browns slightly, about 1 minute.
Slowly whisk in milk and bring the mixture to a boil, whisking constantly until the sauce starts to thicken. Reduce heat and whisk occasionally, and let the sauce thicken to the consistency of heavy cream. Remove from heat and whisk in cheese along with the 1 teaspoon salt. When cheese is melted, stir in pasta and cook till the mixture is fully heated through about 5 minutes.
Add the pasta mixture to greased 9 x 13-inch baking dish, and sprinkle with bread crumbs if using. Broil until the topping is golden brown, about 3-4 minutes. If not using the topping, place the casserole under the broiler until the top browns slightly.
Sprinkle with paprika for color. Cool for about 5 minutes before serving.
Notes
Adapted from Cook's Illustrated.
Alternatively, you can saute the bread crumbs in butter until browned to top the macaroni and cheese. Place in a 350º oven to heat for 10 minutes before serving.
Nutrition Information:
Yield:
8
Serving Size:
1
Amount Per Serving:
Calories: 578
Total Fat: 34g
Saturated Fat: 20g
Trans Fat: 1g
Unsaturated Fat: 11g
Cholesterol: 96mg
Sodium: 903mg
Carbohydrates: 42g
Fiber: 2g
Sugar: 2g
Protein: 25g
Note: This post may contain affiliate links; view
my Disclosure Policy
for details. I earn a small percentage from any purchase you make by clicking on these links at no extra cost to you.