Samoa Cheesecake with a Coconut Caramel Topping
The luscious topping makes this Samoa Cheesecake with a Coconut Caramel Topping a dessert you soon won't forget!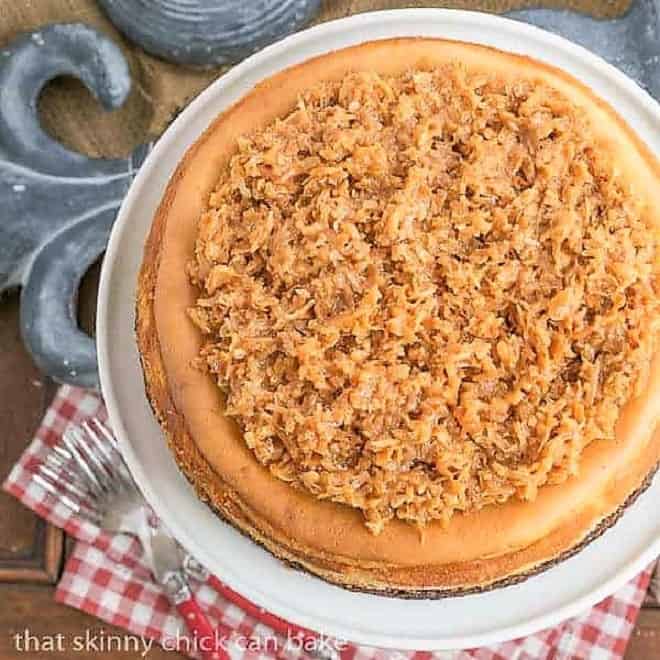 Samoa Cheesecake with a Coconut Caramel Topping
My absolute favorite Girl Scout cookie is the Samoa. They have a cookie base topped with chocolate, then caramel and coconut. My idea of dreamy.
So any dessert labeled "Samoa," like this samoa cheesecake with a coconut caramel topping, gets my attention! On the second Monday of the month, Danielle, of the sweetest blog, Hugs and Cookies, and I whip up something from each others' posts. I could not look away when I saw her recipe for Samoa Cookie Brownie Cheesecake!!! Could you?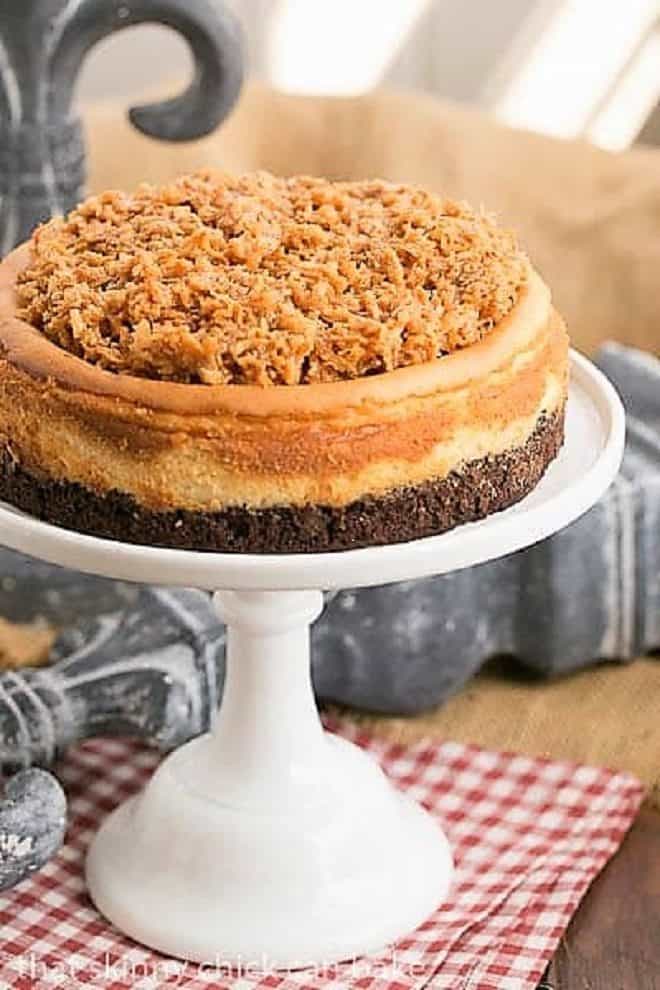 Tips for Making This Samoa Cheesecake
One bonus of this recipe is that it contains no gluten. The brownie base is flourless and the cheesecake is thickened with a bit of cornstarch. So as an added perk, you can serve this decadent dessert to your friends with gluten issues.
And the texture of this samoa cheesecake is smooth, dreamy and absolutely luscious. I made this dessert ahead of time and popped it in the freezer. The topping got brick hard and I practically had to chisel through it to cut slices. I'd advise to add the topping just before serving, as it will get pretty stiff even from refrigeration.
I may have microwaved the caramels and cream a wee bit too long making the end result a bear to slice. But the combo of caramel and coconut is such a sublime finishing touch, and imperative to making this a true Samoa dessert!
For general tips for making cheesecake like to use a paddle attachment, not a whisk, to mix the batter, and to use room temperature eggs and cream cheese, check out my post on making cheesecakes. You might also like this Apple Crisp Cheesecake!
Two Sweetie Pies
Thanks again to my lovely friend, Danielle for this magnificent Samoa Cheesecake with a Coconut Caramel Topping recipe!
Check out Danielle's take on this recipeas well as her social media sites!
Hugs & Cookies XOXO
Facebook
Twitter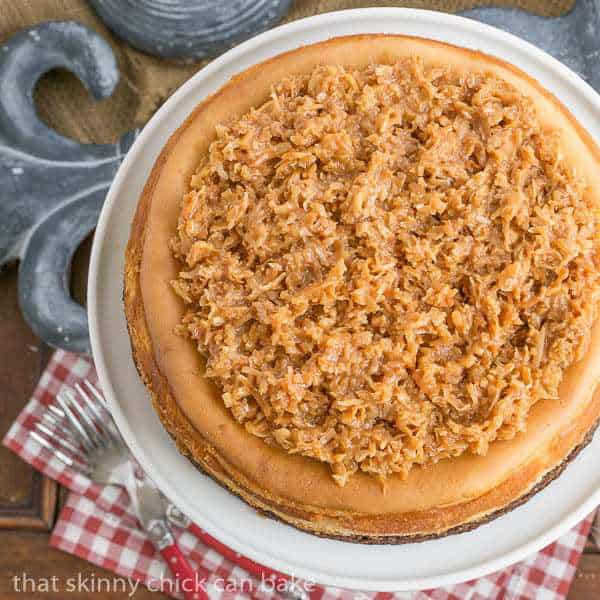 The Recipe:
Samoa Cheesecake with a Coconut Caramel Topping
Prep Time 40 minutes
Cook Time 1 hour 20 minutes
Total Time 2 hours
Yield 16 servings
A decadent cheesecake with a brownie base topped with caramelized coconut. Adapted from Hugs and Cookies
Ingredients
Brownie Bottom:
4 ounces semisweet chocolate, chopped
1 stick butter (8 tablespoons)
¾ cup sugar
3 eggs
½ cup unsweetened cocoa powder
Cheesecake Batter:
Four 8-ounce packages cream cheese, at room temperature
1⅔ cups sugar
¼ cup cornstarch
1 tablespoon vanilla
2 eggs
¾ cup heavy whipping cream
Topping:
3 cups coconut
1 bag Kraft caramels
4-5 tablespoonsheavy cream (you want the mixture to be soft enough to cut)
Instructions
Brownie Bottom:
Melt butter and chocolate together in the microwave.
Whisk in sugar.
Whisk in eggs.
Gently stir in cocoa.
Grease 9 inch springform pan.
Pour in batter and set aside while preparing the cheesecake batter (brownie and cheesecake will bake together).
Cheesecake:
In a large bowl, using a mixer fitted with the paddle attachment, beat 1 package of the cream cheese, ⅓ cup of the sugar, and the cornstarch together on low until creamy, about 3 minutes, scraping down the bowl several times.
Blend in the remaining cream cheese, one package at a time, beating well and scraping down the bowl after each.
Increase the mixer speed to medium and beat in the remaining sugar, then the vanilla.
Blend in the eggs, one at a time, beating well after each.
Beat in the cream just until completely blended.
The filling will look light and creamy. Do not overmix. Gently spoon the batter over the brownie crust.
Bake the cake at 325º for 70-80 minutes or until only slightly jiggly in the middle. Any cracks will be covered by topping. Let cool completely and chill.
Topping:
Place coconut on baking sheet and bake at 350º for about 15-20 mins until toasted. Keep tossing it while it cooks. Melt caramels in a microwave safe bowl with cream. Pour coconut into the bowl and stir to coat. Lay on top of the cheesecake. Add a drizzle of caramel sauce and melted chocolate chips. Cut slices before chilling to make it easier. I found a serrated knife worked best to cut through the coconut. Coconut will get hard in fridge so be sure to let sit at room temp before serving.
Alternatively, I'd make the topping an hour or so before serving. Top chilled cheesecake and leave out on counter to let cake come to room temperature. This will help avoid the difficulty of cutting through chilled topping which gets pretty firm.
Notes
There is additional cooling and chilling time in this recipe.
Nutrition Information:
Yield:
16
Serving Size:
1 slice
Amount Per Serving:
Calories: 587
Total Fat: 41g
Saturated Fat: 26g
Trans Fat: 0g
Unsaturated Fat: 12g
Cholesterol: 154mg
Sodium: 299mg
Carbohydrates: 51g
Fiber: 3g
Sugar: 43g
Protein: 7g
Note: This post may contain affiliate links; view
my Disclosure Policy
for details. I earn a small percentage from any purchase you make by clicking on these links at no extra cost to you.