Chicken Pesto Grilled Cheese
This ooey, gooey Chicken Pesto Grilled Cheese was a heavenly meal that got rave reviews from the pickiest husband around!
Shake up the classic grilled cheese sandwich by adding pesto, roast chicken and peppers to your favorite melty cheeses.
Chicken Pesto Grilled Cheese
Who doesn't love grilled cheese? It's my go-to dinner when Bill is out of town, though hardly gourmet as it's usually just a grainy bread and cheddar cheese. When we visited my high school friend in LA after Christmas, she pulled out her panini maker and treated us to a lunch of pesto, chicken and Gruyere sandwiches.
The whole family gobbled down those delicious chicken pesto grilled cheese sandwiches. I knew it was a winning combination with my first bite.
Reader Endorsement:
From Facebook: My family thanks you for your Chicken pesto grilled sandwich recipe! Beth said, "The red peppers really added a lot of flavor!" Even the pickiest of my girls ate it up.
Recipe Tips
I wanted to recreate those marvelous upscale grilled cheese sandwiches we ate with such abandon. Plus I couldn't resist giving them my own twist. I added some Monterey Jack to the Gruyere plus roasted bell pepper slices for a pop of color.
Use your favorite cheeses or try this with thin slices of roasted ham instead of chicken.
Having no panini maker, I dug out my grill pan and impatiently waited for the cheeses to melt. Boy was the aroma intoxicating as the pesto warmed and the cheese oozed. The hubby asked for an encore, a sure sign these chicken pesto grilled cheese sandwiches were a home run hit.
If you like pesto, check out this Italian Pesto Burger and this Pesto Pasta Salad
And you might like to take a gander at this Mediterranean Grilled Cheese that I whipped up for last year's grilled cheese month!
National Grilled Cheese Month
Did you know April is National Grilled Cheese Month? Such a wonderful excuse to make loads of gooey, toasted, cheesy sandwiches. I selected a Pinot Grigio to accompany my spectacular chicken pesto grilled cheese. I adore the fruity undertones of this varietal with hints of citrus, tart apple, and white peaches. Besides grilled cheese, this wine is lovely with salads, rich seafood, grilled poultry, and dishes featuring acidic ingredients like lemon and tomatoes.
For the red wine lovers in your house, a Pinot Noir is another winner. It's berry nuances and subtle earthy flavors which pair well with roast chicken (it would also be perfectly delightful with my chicken grilled cheese), meaty fish and mushrooms. A medium-bodied dry wine with a smooth finish, it's a terrific red to have on hand for that unexpected company.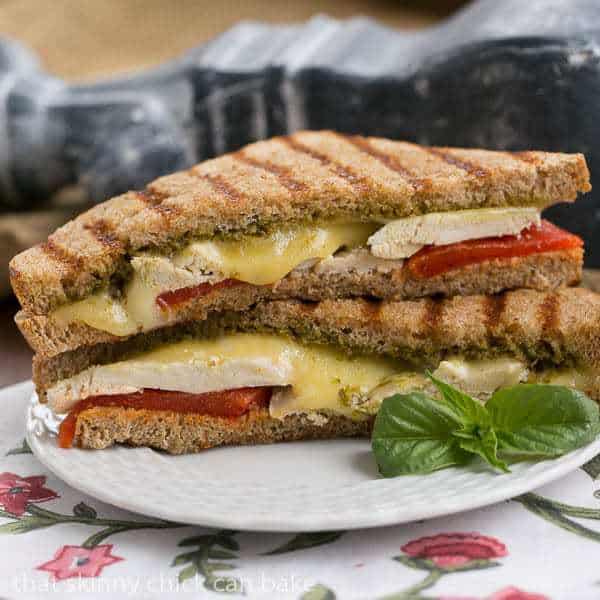 The Recipe:
Chicken Pesto Grilled Cheese
Prep Time 10 minutes
Cook Time 5 minutes
Total Time 15 minutes
Yield 1 sandwich
An  out of this world grilled cheese sandwich with chicken, pesto, peppers and two cheeses!
Ingredients
For each sandwich:
Two slices bread, hearty whole-grain preferred
1 tablespoon butter, at room temperature
1 ½ teaspoons prepared or homemade pesto (more or less) depending on size of bread slices)
¼ cup shredded Gruyere cheese
¼ cup shredded Monterey Jack cheese
3 slices cooked chicken (rotisserie chicken is a terrific shortcut)
2 slices of roasted red bell pepper, optional
Salt and freshly ground pepper to taste
Instructions
Butter one slice of bread and place it butter-side down on a grill pan or saute pan.
Spread pesto over the other side, then layer with cheeses, chicken (sprinkled with salt and pepper to taste), and peppers, if using.
Butter the second slice of bread and top the sandwich with the butter side up.
Cook over medium heat till the bottom slice of bread is browned and the cheese is beginning to melt. Carefully flip and cook till the second side is browned and the cheese is completely melted, adjusting the burner temperature as needed.
Slice in half and serve.
Nutrition Information:
Yield:
1
Serving Size:
1 sandwich
Amount Per Serving:
Calories: 1172
Total Fat: 74g
Saturated Fat: 33g
Trans Fat: 1g
Unsaturated Fat: 35g
Cholesterol: 354mg
Sodium: 1430mg
Carbohydrates: 33g
Fiber: 2g
Sugar: 4g
Protein: 89g
Note: This post may contain affiliate links; view
my Disclosure Policy
for details. I earn a small percentage from any purchase you make by clicking on these links at no extra cost to you.