Christmas Sugar Cookies
This Christmas Sugar Cookies recipe makes perfect cut-out sugar cookies for the holidays! They're tender, delicious, and keep their shape!! When my friend, Kaye, shared her recipe for these Easy Sugar Cookies, I knew I had found a keeper.
Decorated Sugar Cookies are perfect for the holidays, as the shapes and frosting colors can be adjusted as needed. And don't forget the sprinkles to make your Frosted Cookies extra festive.
Why You Must Make
My family goes nuts for the sweet, buttery cookies that bake up using this recipe.
No need for piping bags or any specialty items to frost these. Just use a small knife or an offset spatula. It makes cookie decorating stress-free.
These holiday cookies keep their shape after they're baked.
Adding cream cheese to the dough contributes extra fat which makes for soft, tender cookies.
They can be used for any holiday and any occasion. I've decorated them to look like basketballs, pink hearts, shamrocks, and more.
How to Decorate
My decorating skills are a bit limited, but I like to tint this Christmas cookie icing and spread it on with an offset spatula. A few sprinkles make them extra festive.
You can also make a batch of royal icing, and use that to pipe an outline along the edge of the cookie, and flood" the middle with more icing that is thin enough to easily spread across the surface. But I prefer the easier for these frosted Christmas cookies.
Before the frosting has a chance to dry (no matter what recipe you use), add your favorite sprinkles or colored sugars to decorate.
I like using a basic Christmas tree cookie cutter as it's a simple shape to decorate.
These easy sugar cookies are beloved by the whole family—and that doesn't happen too often around here!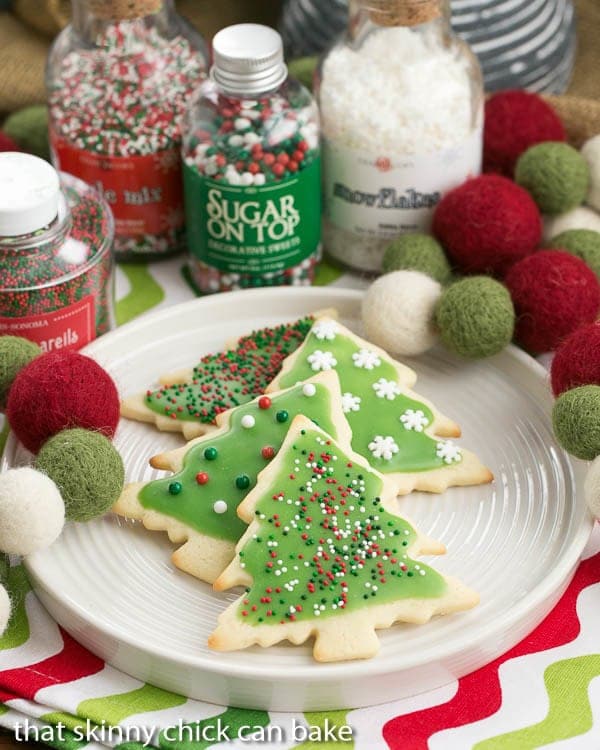 Expert Tips:
This won a sugar cookie taste test among my girlfriends. We even tasted the dough and the better-tasting dough didn't make the best sugar cookies.
Use the best quality ingredients for the best results. Brand name butter or even European butter, Philadelphia cream cheese, and real vanilla extract are key. Watch for sales around the holidays and stock up.
PRO-Tip: Note that generic and store-brand butter often have a higher percentage of water than the more expensive brands and tend to spread more when baked.
PRO-Tip: Have your butter, eggs, and cream cheese at room temperature for easier incorporation.
Roll your cookies out with a minimal amount of flour so your cookies don't get tough.
Alternatively, use powdered sugar to roll out your cookies to avoid adding extra gluten.
Use a large Silpat Roul'Pat to roll out your dough for easy clean up.
PRO-Tip: Roll cookies to a thickness of approximately ⅛ inch. You can make them thinner for a crisper cookie or thicker for a chewier cookie (you can also use a thicker cookie for a Christmas tree ornament. Just make a good-sized hole at the top of your cookie before baking and reopen as needed when they come out of the oven).
Baking for a little longer will give you a crispy cookie and underbaking slightly will give you a softer cookie.
Bake your cookies on Parchment Paper Baking Sheets for easy clean up. You can reuse your parchment for a number of batches.
PRO-Tip: If your dough starts sticking to your cookie cutter, dip the cutter in a bit of flour before using it. Re-chilling the dough will also help.
PRO-Tip: Keep dough cold so your cookies keep their shape. Refrigerate any leftover dough before reusing. You may also put your baking sheet full of unbaked cookies in the fridge to rechill the dough for about 10 minutes if needed before baking.
Cool the sugar cookies completely before frosting them.
The icing is a riff on royal icing. It's shiny but doesn't involve either egg whites or piping (which is far from my strong suit!). It does contain corn syrup which makes the icing glossy.
PRO-Tip: If you don't like to use corn syrup, go ahead and add a little more milk or even some heavy cream to thin the frosting. The results won't be as glossy, but they'll still be delicious!!
Dust with sprinkles while the frosting is still wet so they adhere. Place on a rack to dry until the frosting hardens.
Place the newly frosted sugar cookies on a cooling rack over a baking sheet, then garnish with sprinkles. The excess sprinkles will fall through the rack onto the baking sheet. Collect and reuse the leftover sprinkles if desired.

Frequently Asked Questions
What's the Key to Soft Sugar Cookies?
Adding extra fat, like an egg yolk, or as in this recipe, some cream cheese, will help make softer cookies. Not over-baking is key as well.
How Do You Make Sugar Cookies More Flavorful?
Use real butter, not shortening or margarine. Add a good quality vanilla extract, but you can also add a small amount of almond or lemon extract in addition for a flavor boost.
Can You Freeze Sugar Cookies?
Yes, they freeze well. It's best to freeze unfrosted sugar cookies in an airtight container for up to 3 months. Defrost, frost, and decorate close to the holidays.
If you freeze frosted cookies, you risk the sprinkles bleeding when the cookies defrost. To minimize that, freeze frosted cookies in a single layer on a rimmed baking sheet. When frozen, stack them in an airtight container with parchment paper separating the layers. Defrost in the refrigerator.
How Far in Advance Can You Make Sugar Cookies?
Freshly baked sugar cookies taste best if eaten within 3-4 days. Unfrosted cookies, when stored properly, will freeze well for up to 3 months.
Why Is There Corn Syrup in the Frosting?
Besides adding sweetness, corn syrup gives a shiny finish to the frosting without making royal icing.
Do You Add Sprinkles Before or After You Bake?
If your homemade sugar cookies are going to be frosted, add the sprinkles to the freshly frosted cookies. If you'd like to add sprinkles before baking, sprinkle them on top of each unbaked cookie on the cookie sheet, and apply gentle pressure to help them adhere.
Do Sprinkles Expire?
Sprinkles do have expiration dates and can taste rancid if they're well past their prime. So if you have sprinkles that have been lingering in your kitchen, give them a sniff and then taste if you suspect they may be old.
Rancid sprinkles will ruin a cookie recipe. Thanks to my friend, Sue, the blogger behind The View from Great Island, for alerting me to this.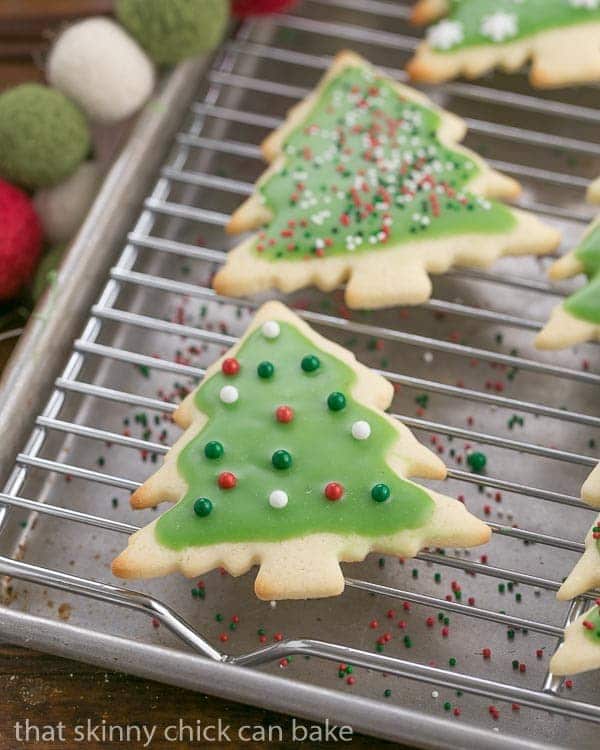 You May Also Like: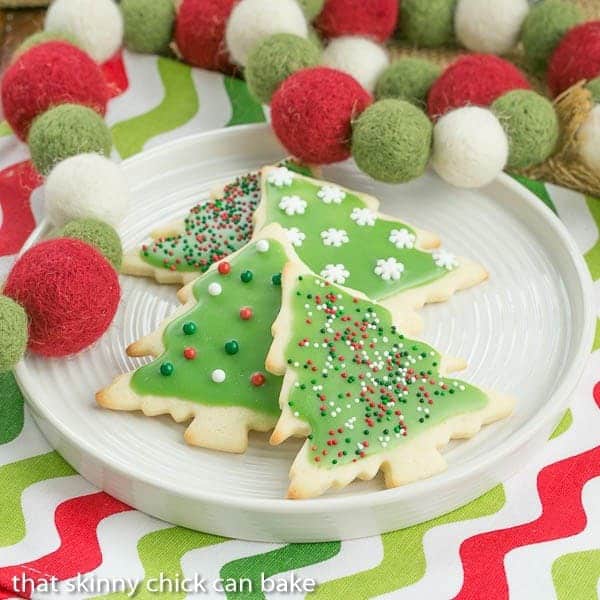 The Recipe:
Best Sugar Cookies Recipe
Prep Time 30 minutes
Cook Time 9 minutes
Total Time 39 minutes
Yield 36
The best iced sugar cookies! Perfect for the holidays. Recipe courtesy of my friend, Kaye.
Ingredients
Cookie Dough:
½ cup butter, at room temperature
3 ounces of cream cheese, at room temperature
1 cup sugar
1 egg
½ teaspoon vanilla
2 cups flour
½ teaspoon baking powder
Frosting (I usually double this):
1 cup powdered sugar
1-2 tablespoons milk
1 tablespoon corn syrup (makes the frosting glossy)
¼ teaspoon almond extract
Food coloring of your choice
Instructions
Cream the butter, cream cheese, and sugar in a large bowl until light and fluffy.
Beat in the egg and vanilla. Add flour and baking powder and stir till combined.
Put dough on a large piece of plastic wrap and flatten it into a disk. Wrap well and chill for at least an hour.
Preheat the oven to 375º.
On a floured surface, roll out half of the dough to ⅛-¼ inch thickness. Keep the other half refrigerated until needed.
Using cookie cutters of your choice, cut and place on a parchment-lined cookie sheet at least an inch apart.
Bake for 7-9 minutes till cookies start to brown on the edges and are firm.
Cool for a couple of minutes, then remove the cookies to a cooling rack.
To make the frosting, whisk together all ingredients. Start with a tablespoon of milk and add a bit more milk and/or corn syrup to thin it if needed.
Notes
Total time does not include chilling time.
Recommended Products
As an Amazon Associate and member of other affiliate programs, I earn from qualifying purchases.
Nutrition Information:
Yield:
36
Serving Size:
1 cookie
Amount Per Serving:
Calories: 94
Total Fat: 4g
Saturated Fat: 2g
Trans Fat: 0g
Unsaturated Fat: 1g
Cholesterol: 14mg
Sodium: 37mg
Carbohydrates: 15g
Fiber: 0g
Sugar: 9g
Protein: 1g
Note: This post may contain affiliate links; view
my Disclosure Policy
for details. I earn a small percentage from any purchase you make by clicking on these links at no extra cost to you.