Whole Wheat Challah
Whole wheat challah is a loaf of egg-based, tender wheat bread. Three strands of dough are braided to make the classic challah loaf!
Eating a warm, chewy slice of whole wheat challah bread with a pat of butter is truly a delightful experience. The taste is nothing short of sensational. This challah recipe is easy to make, too!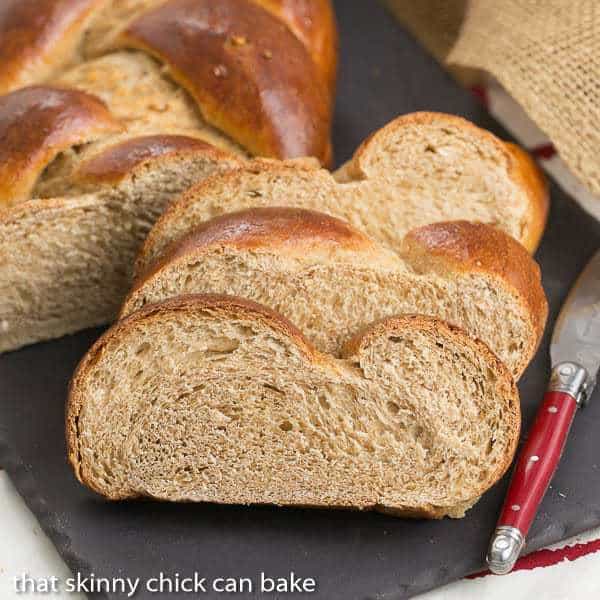 Whole Wheat Challah
Challah wasn't commonplace in Ames, Iowa, where I grew up. But long after I left home, my mom, inspired by her neighbor, started baking these lovely braided loaves.
One month, during his cardiology fellowship, Bill was assigned a rotation in nearby Des Moines. We were living only 30 miles from my childhood home. We'd often visit my parents' house to give them their grandson fix and enjoy some home cooking.
This is where I fell for her rich, slightly sweet, eggy bread. But I've been depriving myself for years as I try to avoid white flour. Not attempting to make a whole wheat challah recipe was a huge oversight! I printed out a few recipes and gave it a go.
What Is Challah?
Challah, Hallah, or Challa is a bread served on the Sabbath and other Jewish holidays. It's a rich, traditional Jewish yeast bread made with eggs and most often braided into a loaf or round. In biblical Hebrew, the word challa means loaf or cake.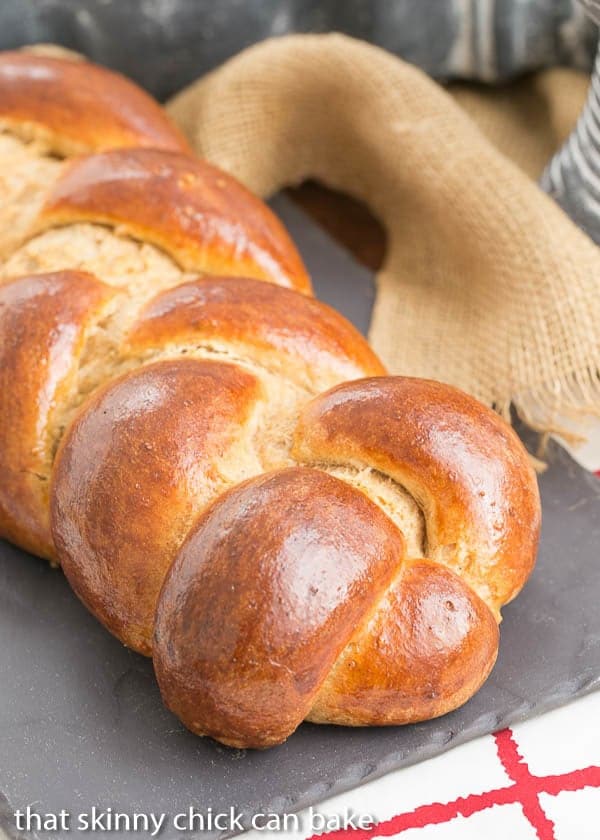 How to Braid a 3-Strand Bread
I'm a huge fan of braided breads. Once you get the rhythm of plaiting, it's a cinch. Growing up with 3 sisters in the age of long straight hair, I had plenty of practice.
I have made a six stranded challah, but there's no way I could explain that without leaving you utterly confused. I stick to 3 stranded versions for the most part. Start by rolling out 3 ropes, a little thicker in the middles and tapered at the ends.

Lay them out on a lightly floured surface lined up side by side with one set of small ends facing you. Pinch the strands together at the end furthest from you.
Take the strand on the far right and cross it over the middle strand. Next, take the far left strand and cross it over the new middle strand. Then go back to the far right strand and cross it over the middle strand, and so on.

When the loaf is fully braided, pinch together the loose strands at the end closest to you and tuck them under. Repinch the ends at the far end and tuck those under the loaf as well. Your loaf is now ready for the final proofing.
If you need visual cues, there are plenty of YouTube videos to help with the process. Tori Avery has terrific braiding tutorials on her blog.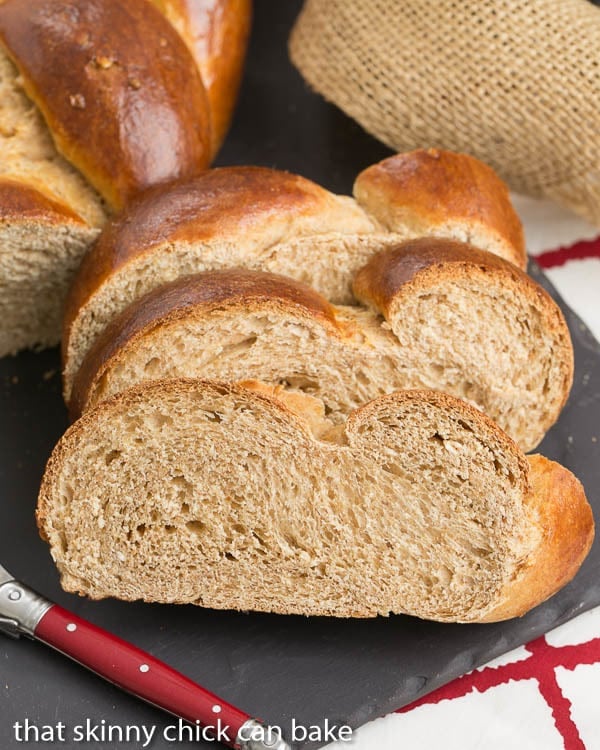 A Couple of Tips for Making Challah
Challah is known for its glossy surface. This is a result of brushing the loaves with an egg wash before baking. I like to use a silicone brush for the job.
A trick I learned from Dorie Greenspan is to glaze once before baking, then reglaze after the loaf has baked for about 15 minutes. Since the loaves expand and rise from the heat of the oven, a second application of the glaze will ensure full coverage. I hope this recipe will inspire you to try a braided loaf of whole wheat challah!
More Braided Bread You'll Love: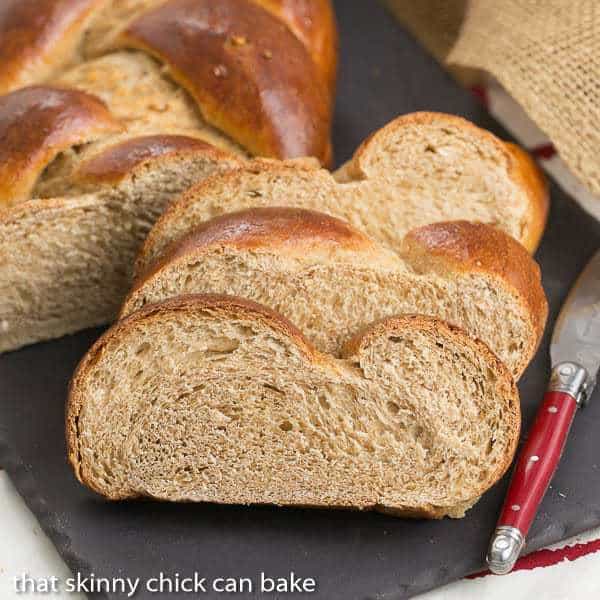 The Recipe:
Whole Wheat Challah Recipe
Prep Time 20 minutes
Cook Time 30 minutes
Total Time 50 minutes
Yield 2 loaves
A rich egg bread made with whole wheat.
Ingredients
2 (.25 ounce) packages instant yeast, I use Red Star Platinum
1 cup warm water
1/2 cup brown sugar
1/2 cup butter at room temperature
2 teaspoons salt
3 eggs
2 cups whole wheat flour
2 cups all-purpose flour (may add up to 1/2 cup more)
1/2 cup old-fashioned rolled oats
1 egg, beaten with 1 teaspoon water
Instructions
Mix the yeast and water together in the bowl of a stand mixer, and let stand for about 5 minutes. With the paddle attachment, mix in 3 eggs, sugar, butter, salt, the whole wheat flour, 2 cups of the all-purpose flour, and oatmeal. Switch out the paddle attachment for the dough hook and knead until smooth and elastic, 5 to 10 minutes, adding more all-purpose flour as needed.
Shape the dough into a ball, and place in an oiled bowl, flipping it around to oil the surface of the dough. Cover the bowl loosely with plastic wrap and let rise in a warm area until doubled in size, about 2 hours.
Punch down the dough, cover and let rise again till doubled, about an hour.
Punch down dough again, then the dough in half. Cut one-half into 3 equal pieces and roll each piece into a rope, about 12 inches long. Pinch 3 ropes together at the top and braid them. Place on a parchment lined baking sheet. Repeat with the other half of the dough.
Place the braided challah on a baking sheet lined with parchment paper. Cover the loaf with a dry cloth, and let rise in a warm spot until doubled, about 1 hour.
Preheat oven to 350º.
Brush the loaf with the egg beaten with water, and bake in the preheated oven until golden brown, 20-30 minutes, brushing loaves with egg wash again at the 15-minute mark.
Cool before slicing.
Recommended Products
As an Amazon Associate and member of other affiliate programs, I earn from qualifying purchases.
Nutrition Information:
Yield:
24
Amount Per Serving:
Calories: 1657
Total Fat: 58g
Saturated Fat: 32g
Trans Fat: 2g
Cholesterol: 362mg
Sodium: 1317mg
Carbohydrates: 246g
Fiber: 21g
Sugar: 37g
Protein: 45g
Note: This post may contain affiliate links; view
my Disclosure Policy
for details. I earn a small percentage from any purchase you make by clicking on these links at no extra cost to you.