Enchiladas Suizas or Chicken Enchiladas
Enchiladas Suizas or Chicken Enchiladas with a creamy tomatillo sauce – an authentic, tasty Mexican dinner recipe with a "Swiss" twist!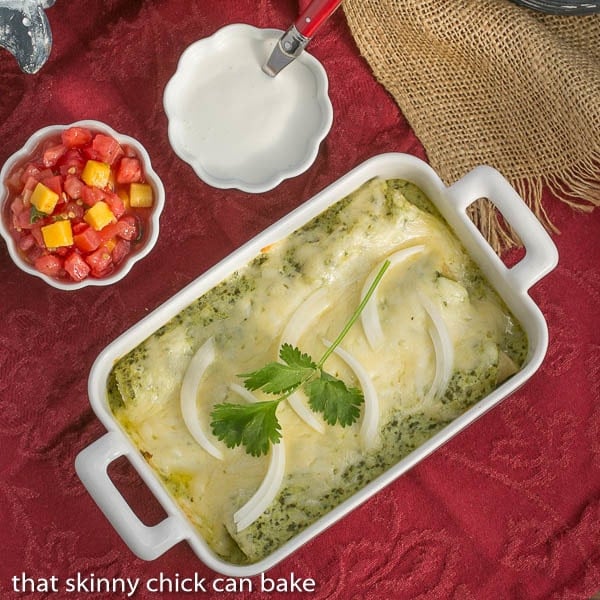 Enchiladas Suizas
The addition of cream and cheese contributed to the Suizas or Swiss reference in the name of these enchiladas. The only green sauce I've cooked with came from a can, so I was eager to try to make my own.
I added only one serrano chile so as not to disturb my hubby's sensitive palate and followed the recipe as directed. A swipe of my finger across my mixing spoon reassured me that this sauce and then, therefore, these enchiladas were going to be quite delicious!
Enchiladas: Aztec to Tex-Mex by Cappy Lawton and Chris Waters
I was given the opportunity to cook from this just-released cookbook, Enchiladas: Aztec to Tex Mex, and zeroed in on the chicken enchiladas to make for my family. Most of the Mexican food that comes out of my kitchen is far from authentic, but this recipe looked quite approachable. In fact, the most difficult part was tracking down the cheeses! The sauce was exquisite and was lovely with the chicken and melty cheese.
Nick was home from college and gave this dish his approval as well. The picky guy I married would have preferred these with flour tortillas–guess corn tortillas were too exotic for him??? If I'd tweak this recipe to make the hubby happy, I'd also add a little of the yummy sauce and cheese to the filling to make these gooey on the inside as well as the outside. If you're tired of the same ol' enchiladas, I know you'd love this cookbook!
And if you're like me and can't find fresh tortillas in your market, try this marvelous recipe for homemade corn tortillas. Plus you may also like my Cheesy Chicken Enchiladas!
The Recipe:
Enchiladas Suizas or Chicken Enchiladas
Prep Time 20 minutes
Cook Time 20 minutes
Total Time 40 minutes
Yield 12 enchiladas
Chicken Enchiladas with a creamy tomatillo sauce.
Ingredients
For the sauce:
1 pound (454 grams) tomatillos, husks removed, cored
1–2 serrano chiles, destemmed
1⁄2 medium white onion, peeled, coarsely chopped, and root end removed
3 cloves garlic, peeled
3⁄4 bunch cilantro
Chicken broth as needed for thinning sauce
1 tablespoon (15 ml) vegetable oil
1 cup (237 ml) crema Mexicana
Kosher salt to taste
For the filling:
2 cups (260 grams) poached and shredded chicken
For the assembly:
12 white corn tortillas
Vegetable oil as needed for softening tortillas
2 cups (240 grams) queso asadero, queso Chihuahua, or Emmentaler Swiss, grated
For the garnish:
1 cup (237 ml) crema Mexicana, or to taste
1 medium white onion, peeled and thinly sliced
Cilantro leaves to taste
Instructions
Start with the sauce:
Place the tomatillos, chiles, onion, and garlic in a saucepan, cover with water, and bring to a boil. Reduce heat to a simmer and gently cook until the tomatillos change color but do not burst.
Using a slotted spoon, transfer vegetables to a blender.
Blend the vegetables until smooth, adding chicken broth as needed to achieve a medium sauce consistency. Add cilantro and process for a few seconds more.
In a saucepan over medium heat, place 1 tablespoon (15 ml) oil.
When it is hot, add the sauce and cook for a few minutes until warmed through and slightly thickened. Reduce to a bare simmer and stir in crema Mexicana. Heat the sauce through, but do not let it boil.
Remove from heat and season with salt to taste. Cover, set aside and keep warm.
Assemble the enchiladas:
Preheat the oven to 350°F (177°C).
Pour oil to a depth of 1⁄2 inch (12 mm) in a heavy skillet over medium-high heat.
Heat to low frying temperature, about 300°F (150°C).
Place each tortilla in the oil and fry for a few seconds, just long enough to soften.
Drain on paper towels.
Fill the lower third of a tortilla with 2 tablespoons shredded chicken, roll, and
place seam side down in an ovenproof baking dish large enough to accommodate
the enchiladas in a single layer.
Repeat with the remaining tortillas.
Generously cover with the sauce, making sure the edges of the enchiladas are well covered.
Sprinkle queso asadero or queso Chihuahua on top.
Bake in a preheated oven until the enchiladas are heated through and the cheese is melted and brown in spots, about 15 minutes.
Garnish with crema Mexicana, onion slices, and cilantro leaves.
Note: These enchiladas are intended to be flavorful but not spicy hot, so use chiles accordingly.
Notes
Reprinted from Enchiladas: Aztec to Tex-Mex Copyright © 2015 by Cappy Lawton and Chris Waters Dunn. published by Trinity University Press.
Nutrition Information:
Yield:
6
Serving Size:
2 enchiladas
Amount Per Serving:
Calories: 394
Total Fat: 19g
Saturated Fat: 7g
Trans Fat: 0g
Unsaturated Fat: 10g
Cholesterol: 62mg
Sodium: 621mg
Carbohydrates: 34g
Fiber: 5g
Sugar: 4g
Protein: 24g
Buy your copy of this terrific cookbook, Enchiladas: Aztec to Tex Mex, from Amazon so you can make these Enchiladas Suiza and more.
Note: This post may contain affiliate links; view
my Disclosure Policy
for details. I earn a small percentage from any purchase you make by clicking on these links at no extra cost to you.