Tomato and Boursin Tartlets
These elegant Tomato and Boursin Tartlets are layered with deliciousness including buttery puff pastry, Boursin cheese, caramelized onions, and fresh tomatoes!
Giving the illusion you slaved all day to make these, using store-bought puff pastry and creamy Boursin make these Puff Pastry Tarts a breeze to prepare!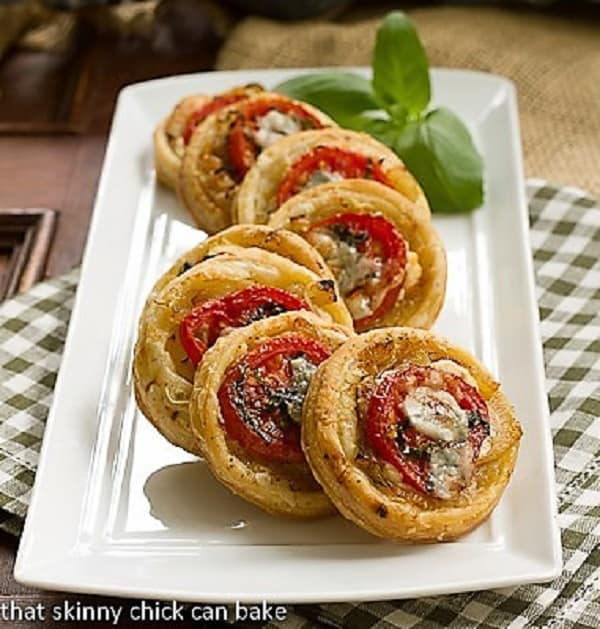 Why You Must Make
Bill and I were invited to have cocktails and a nibble with some friends at their tres chic home. Katherina claimed to mess up most things she cooked, a gross exaggeration I'm sure, as she made us some amazing tomato and goat cheese tarts. With a few tweaks, I made a smaller version for bite-sized appetizers and substituted some soft garlic and fine herbs Boursin for the goat cheese.
Made with store-bought puff pastry, they're easy to make!
With caramelized onions and Boursin cheese, there are lots of delicious flavors.
They aren't your ordinary appetizer, but both beautiful and irresistible!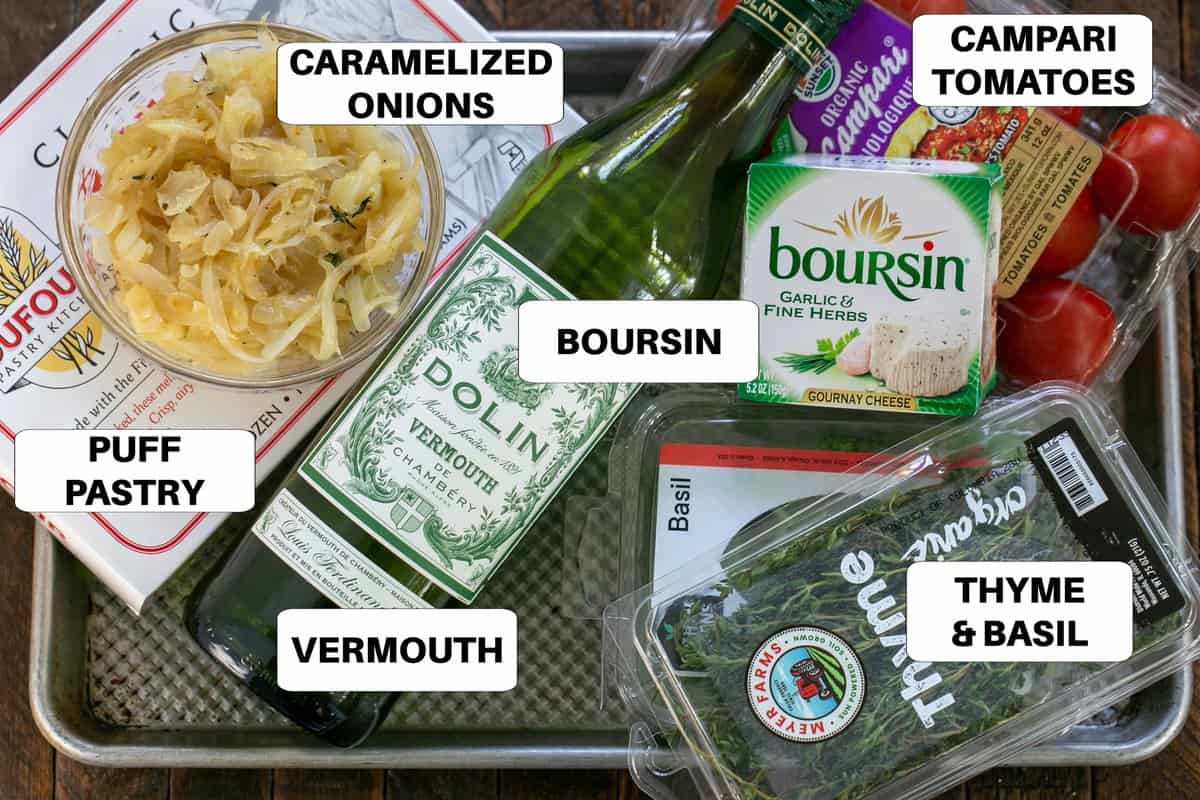 Ingredient Notes
Kitchen Staples – Olive Oil, Kosher Salt, Freshly Ground Black Pepper
Puff Pastry – Look for an all butter brand for the best puff with baked.
Yellow Onion – Slightly sweet for caramelizing.
Garlic – Cut into slivers.
White Wine – I use a bottle of Vermouth for cooking and store in the refrigerator.
Fresh Thyme, Fresh Basil
Grated Parmesan – Look for real Parmegiano Reggiano
Garlic and Fine Herbs Boursin Cheese – A soft, triple cream cheese flavored with herbs and spices. Find with other cheeses.
Campari Tomatoes – Medium-sized, very round tomatoes.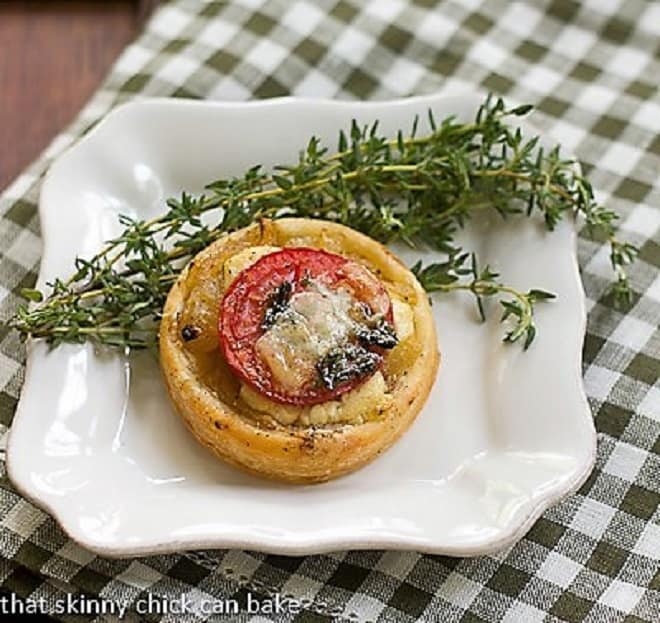 How to Make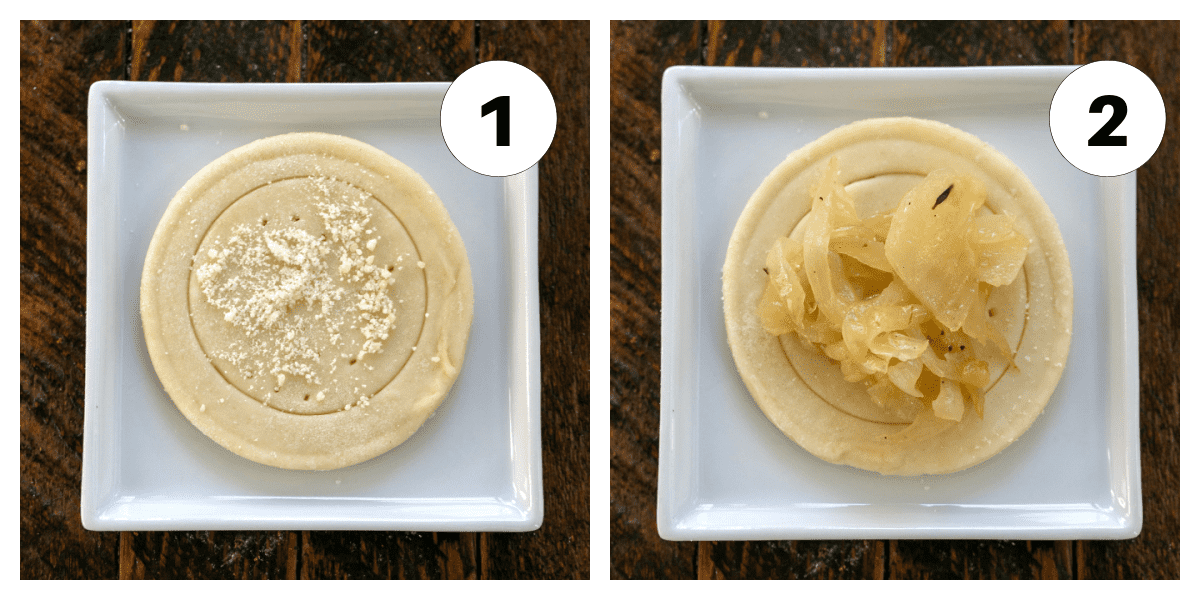 Cut rounds of puff pastry, score with a smaller biscuit cutter, dock the middle section with a fork and sprinkle with Parmesan cheese.
Top center with sauteed yellow onion mixture.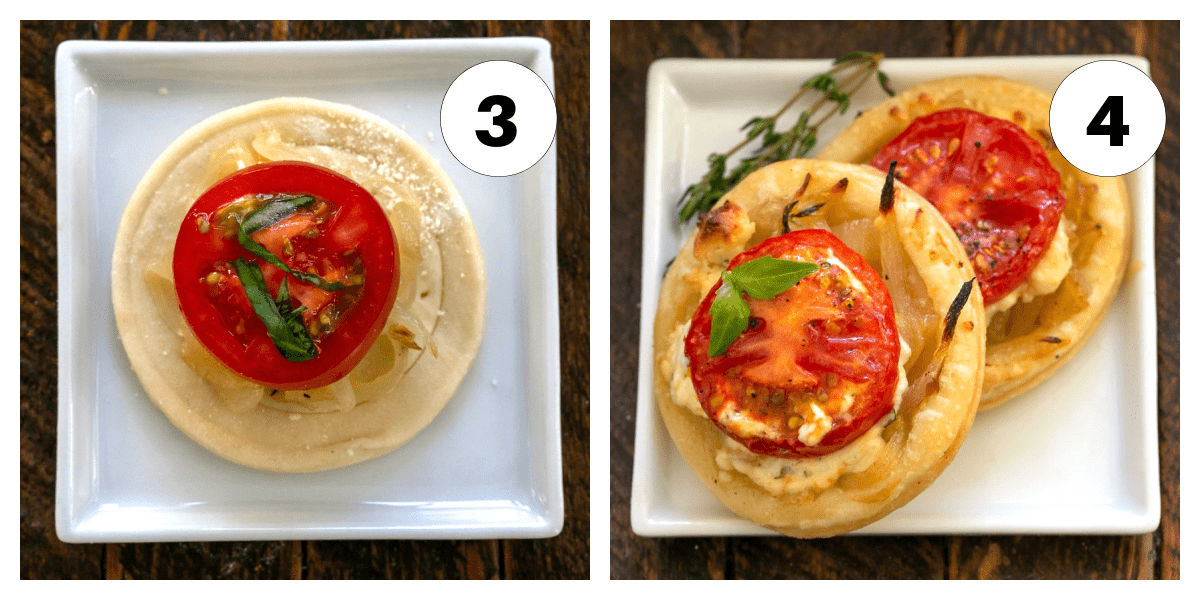 Top with Boursin cheese crumbles, a slice of Campari tomato, brush with olive oil, season and sprinkle with salt and pepper.
Bake as directed.
These gems are perfect for any gathering. Layers upon layers of deliciousness were piled on top of buttery puff pastry rounds. Caramelized onions with thyme, crumbled Boursin cheese, a tomato slice, basil, and Parmesan combine for a delicious appetizer. Who wouldn't want to shovel these in as fast as one can chew????
Frequently Asked Questions
How Do You Make Sure Puff Pastry Rises?
The rule of thumb is to bake when your puff pastry is cold and use a hot oven. The water in the puff pastry will turn to steam when exposed to heat and the steam causes the puff pastry to rise.
How Bad is Puff Pastry for You?
Puff pastry is made with butter and flour. Butter is high in saturated fats, so not exactly healthy food. There are a few nutrients in both main ingredients, but they cannot be considered healthy. Eaten in moderation, it's OK to have puff pastry dishes on occasion.
How Do You Keep a Puff Pastry Tart from Getting Soggy?
If you add a barrier, like the Parmesan in this recipe, it will minimize any moisture from the other ingredients from making the pastry soggy.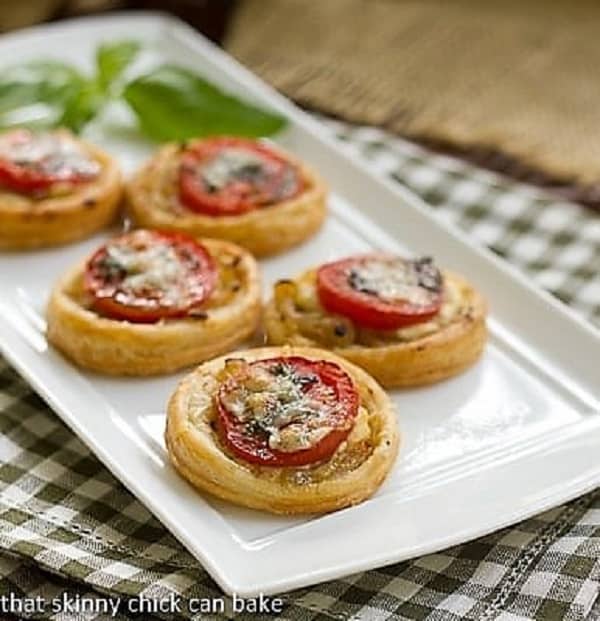 You May Also Like:
Stay in touch through social media @ Instagram, Facebook, and Pinterest. Don't forget to tag me when you try one of my recipes! And if you love the results, please give it a 5-star rating in the recipe card. Note: As an Amazon Associate, I earn from qualifying purchases. Visit my Amazon Store for my favorite products.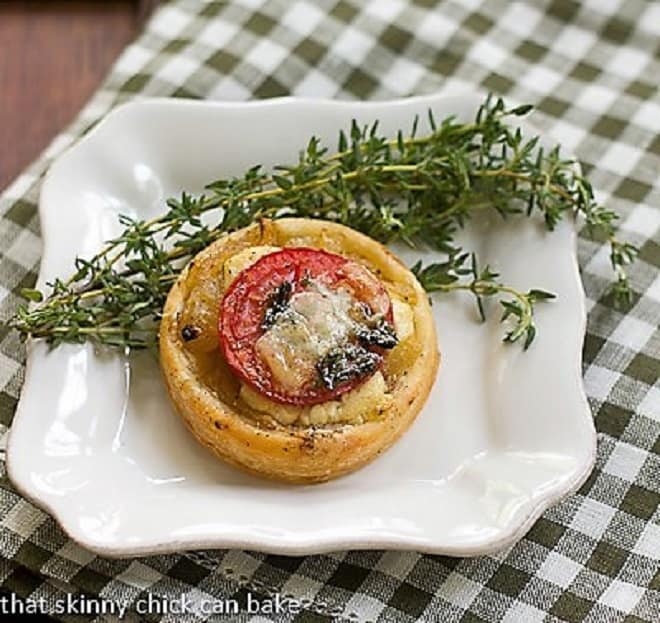 The Recipe:
Tomato and Boursin Tartlets
Prep Time 20 minutes
Cook Time 45 minutes
Total Time 1 hour 5 minutes
Yield 12 tartlets
Elegant Tomato and Boursin Tartlets are perfect for all your entertaining!
Ingredients
14 ounce package of puff pastry (look for butter in the ingredients), defrosted
Olive oil
2 cups thinly sliced yellow onions ( a large onion)
2 medium-sized garlic cloves, cut into thin slivers
Kosher salt and freshly ground black pepper
1 1/2 tablespoons dry white wine (I used dry Vermouth)
1 teaspoon fresh thyme leaves
A couple of tablespoons freshly grated Parmesan, plus slices shaved with a vegetable peeler
Garlic and Fine Herbs Boursin cheese
Campari tomatoes, sliced into 1/4 inch slices (larger than cherry tomatoes, but smaller than standard-sized tomatoes)
1 1/2 tablespoons julienned basil leaves
Instructions
Unfold a sheet of puff pastry on a lightly floured surface and roll it lightly. Using a 2 3/4 inch biscuit cutter, cut as many rounds as you can from your pastry sheet. Place on a parchment-lined baking sheet. Score the rounds with a slightly smaller biscuit cutter (I used a 2 1/2-inch cutter) without cutting all the way through. Refrigerate the pastry while preparing the rest of the ingredients.
Preheat the oven to 425º.
Heat about a generous tablespoon of olive oil in a skillet over medium to low heat and add the onions and garlic. Saute for 15 to 20 minutes, stirring frequently, until the onions are soft and the liquid has evaporated.
Add 1/4 teaspoon salt, freshly ground black pepper, the wine, and thyme and continue to cook for another 10 minutes, until the onions are lightly browned. Remove from the heat.
Using a sharp paring knife, score a 1/4-inch-wide border around each pastry circle. Prick the pastry inside the score lines with the tines of a fork and sprinkle some grated Parmesan on each round, staying inside the scored border.
Divide the onion mixture among your tartlets, again staying within the scored edge. Crumble 1-1 1/2 teaspoons Boursin on top of the onions.
Place a slice of tomato in the center of each tart. Brush the tomato lightly with olive oil and sprinkle with basil, salt, and pepper.
Bake for 20 to 25 minutes, until the pastry is golden brown. Serve hot or warm.
Nutrition Information:
Yield:
12
Serving Size:
1
Amount Per Serving:
Calories: 232
Total Fat: 15g
Saturated Fat: 3g
Trans Fat: 0g
Unsaturated Fat: 12g
Cholesterol: 3mg
Sodium: 146mg
Carbohydrates: 20g
Fiber: 1g
Sugar: 2g
Protein: 4g
Note: This post may contain affiliate links; view
my Disclosure Policy
for details. I earn a small percentage from any purchase you make by clicking on these links at no extra cost to you.