Irish Soda Bread
A simple loaf of Irish Soda Bread is quick, comforting and the perfect addition to your St. Patrick's Day feast. But feel free to make it ALL year long!
This Easy Soda Bread is leavened without yeast, but instead baking soda (occasionally baking powder, too, but the name comes from soda). These are also called quick bread. Adding buttermilk enhances the rising potential with the chemical reaction between the alkaline soda and acidic buttermilk.
Why You Must Make
I had only made Irish brown bread before, so I followed this recipe pretty closely except for adding a few tablespoons of sugar. There were only 4 ingredients in this recipe: flour, soda, salt, and buttermilk. I didn't even need to make out a shopping list.
This easy bread recipe only needs 4 Ingredients: Flour, baking soda, salt and buttermilk.
A lovely dense loaf with a perfectly chewy crust came out of my oven after the 50-minute baking time.
Despite its rustic look, this is a fabulous bread for such minimal effort. I got the "this is really, really good" response when I cut Bill a slice.
This soda bread recipe comes from Marion Cunningham, cookbook author and food writer.
Soda Bread Ingredients
Flour – All-purpose flour
Baking Soda
Salt – Table salt is fine
Sugar – Not traditional, so it's an optional ingredient.
Buttermilk – You can make a buttermilk substitute with milk and an acid like lemon juice or vinegar. Real buttermilk is always preferred.
Dried Fruit – Currants are classic, but any dried fruit like cherries or cranberries will be a delicious addition. Chop if needed.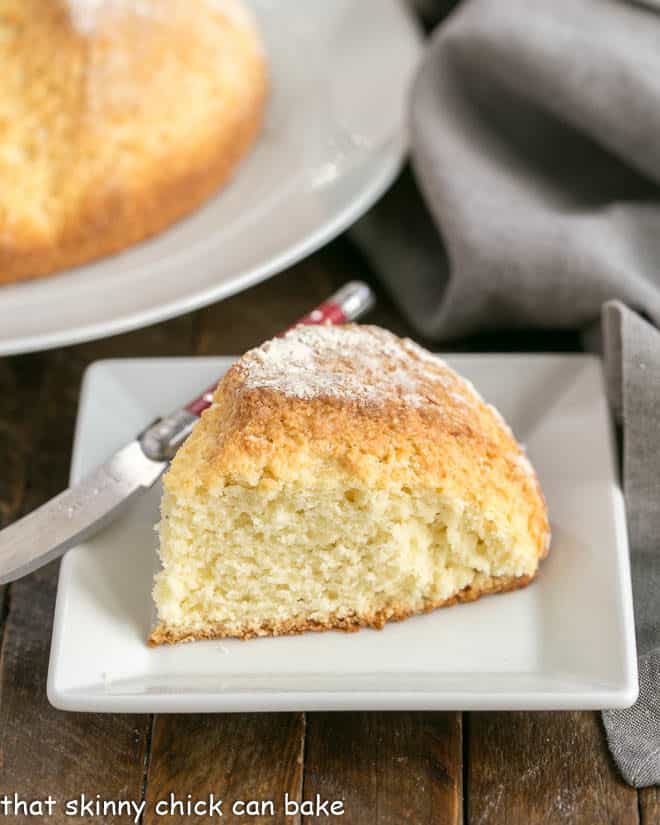 How to Make
Preheat the oven, grease the baking dish, then measure all the dry ingredients in a mixing bowl.
Whisk the ingredients together until they're well combined.
Add the buttermilk and mix until combined.
Knead the dough on a floured surface for just a minute or so. Shape into a 6-inch ball, slice an X across the surface, then bake as directed.
Recipe Tips
My Italian friend, Ann, recommends mixing the dough with your hands to give the bread a light and airy consistency. Her version also has a stick of butter and is quite tasty! Using a whisk is perfectly acceptable, too.
The dough should be well-blended, but not overworked. As with all quick bread (those using baking powder and/or baking soda), they will develop tunnels if over-mixed.
The dough should be heavy, but not too wet. If it seems too dry you can add a bit more buttermilk.
I like to dust my hands with flour to shape the bread into round loaves.
Ann uses the wrong end of a fork to cut a deep X into the loaf. I used a sharp knife instead. This provides the classic look of homemade soda bread. It also helps the loaf to bake evenly.
Dusting the top with flour before making the cut will make the X stand out.
Adding raisins is a traditional option, though one my family would not appreciate.
I've added dried cherries in the past, but I'm the only fan of those around here! Raisins are more traditional.
Bake in a cake pan or cast iron skillet (the skillet will give a better rise).
Inserting a knife into the bread at the end of the baking time will tell you if your bread is done. It should come out clean if the bread is fully cooked.
Later, I made a second loaf, a half batch with the addition of 1/3 cup of dried cherries. Soda Bread with Raisins is a more traditional option, but I prefer cherries. This smaller Irish soda bread loaf was baked for 35 minutes. I hope you all had a marvelous St. Patrick's Day. Erin Go Bragh!!!
Frequently Asked Questions
Why Do You Cut a Cross on Top of the Bread Dough?
In the 1800s, the cross on this Irish bread was thought to let the Devil escape from the bread as it baked. It's also a symbol of giving thanks and protection of the home.
How Do You Know When Soda Bread is Done?
Use the recipe's baking time for guidance. But also watch for the slash to expand and the loaf to be golden brown.
How Do You Serve Soda Bread?
Wait until it cools completely before serving. Serve plain, with butter, or with butter and jam or marmalade.
How Do You Store Soda Bread?
Wrap it well and store it at room temperature. This is a bread that is best on the day it is made as its lack of fat makes it dry out quickly.
You May Also Like
Stay in touch through social media @ Instagram, Facebook, and Pinterest. Don't forget to tag me when you try one of my recipes! And if you love the results, please give it a 5-star rating in the recipe card. Note: As an Amazon Associate, I earn from qualifying purchases. Visit my Amazon Store for my favorite products.
The Recipe:
Irish Soda Bread Recipe
Prep Time 15 minutes
Cook Time 50 minutes
Total Time 1 hour 5 minutes
Yield 6
A classic loaf of Irish soda bread!
Ingredients
4 cups flour
1 teaspoon baking soda
1 1/2 teaspoons salt
2 tablespoons sugar (my addition, optional)
2 cups buttermilk*
1 cup dried cherries, optional
Instructions
Position a rack in the center of the oven and preheat to 375 degrees. Grease an 8-inch pie plate or baking sheet.
In a large bowl, whisk together the flour, baking soda, and salt (and sugar if using). Whisk in the buttermilk until the dough comes together. Add dried cherries or other dried fruit, if using.
Turn the dough out onto a lightly floured surface and knead gently for a minute. It should be soft and malleable but not overworked.
Pat it into a 6-inch dough ball and place it in the pan. Cut an X into the top.
Bake for 50 minutes or until golden brown and the X has widened. Cool completely before slicing.
Notes
Recipe from Baking with Julia.
*If you do not have buttermilk on hand, you can easily make your own by mixing 1 tablespoon of vinegar or lemon juice with 1 cup of milk (less the one tablespoon). Let rest for a few minutes to let thicken and curdle.
May add raisins, currants, dried cherries, or other chopped dried fruit to the bread dough.
Best eaten on the day it's baked.
Nutrition Information:
Yield:
6
Serving Size:
1
Amount Per Serving:
Calories: 441
Total Fat: 2g
Saturated Fat: 1g
Trans Fat: 0g
Unsaturated Fat: 1g
Cholesterol: 3mg
Sodium: 899mg
Carbohydrates: 93g
Fiber: 3g
Sugar: 26g
Protein: 12g
Note: This post may contain affiliate links; view
my Disclosure Policy
for details. I earn a small percentage from any purchase you make by clicking on these links at no extra cost to you.