Apple Cinnamon Rolls will have your family wanting them for breakfast, lunch and dinner! Put a taste of Autumn in your day!
An Autumn Breakfast Treat
I made a batch of butter laden brioche dough for some dinner rolls. Half was left in the fridge and I had up to 5 days to use it up. My family adores cinnamon rolls…they were truly in mourning when we could no longer get Sara Lee frozen cinnamon rolls at our supermarket. I knew I'd have to step up my baking game. So, with it being autumn and all, I decided to add some diced apples, sauteed with butter and cinnamon, to this batch of buns. No raisins for this bunch. No-sirree-bob. Adding apples to the mix was already pushing it, but the hubby ate 2 1/2 the first morning. A fine testimonial that these apple cinnamon rolls were A-OK.

Stock Up on Baking Apples
I peeled, cored and diced up two baking apples…a Jonamac and some sort of Golden delicious hybrid. If you can find some local apples, this is your chance to let them shine. I sauteed them with some sugar and butter, then added cinnamon and a few grates of fresh nutmeg before letting them cool to room temperature. I rolled out the dough into a large rectangle and spread the apples and their thickened juices over the surface. I utilized my big silicone Roul'Pat dusted with flour to roll out my dough. And it also can be used to help assist with rolling…by allowing me to lift up and roll the long edge in one movement.
So I rolled this Apple Cinnamon Rolls dough up like in a classic cinnamon roll recipe, but the slicing is a bit more difficult due to the chunkier filling.
You may not get perfect spirals, but you will love the aroma coming from your oven as these are baking and the tender, cinnamon spiced apple buns that don your plate.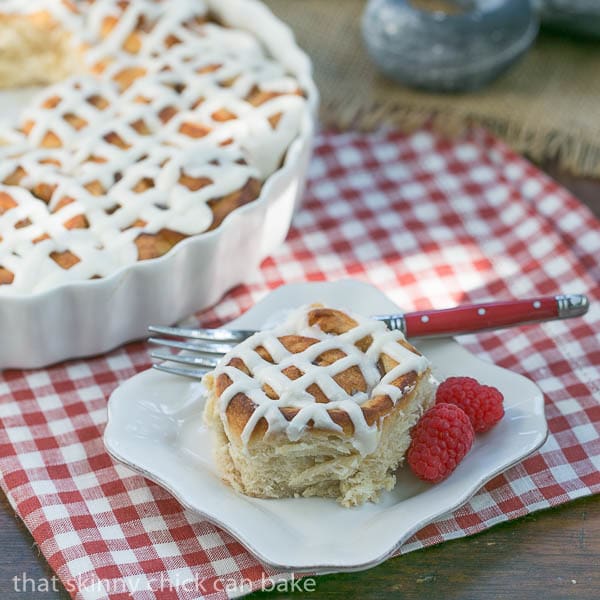 Things you may need for this recipe:
Print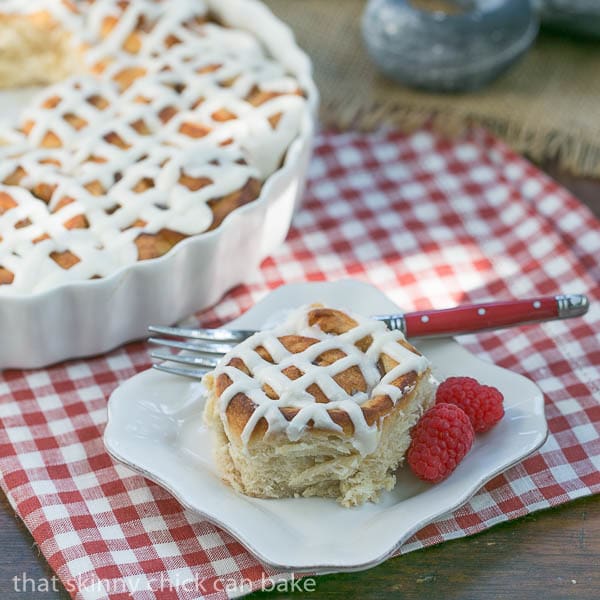 Apple Cinnamon Rolls
Apple Cinnamon Rolls – bits of apples rolled into this breakfast treat make them irresistible!!!
Author:
Prep Time: 30 minutes
Cook Time: 25 minutes
Total Time: 55 minutes
Yield: 12 1x
Category: Breakfast, Brunch, Bread
Ingredients
1/2 batch brioche dough, chilled (recipe linked below)
2 baking apples, peeled, cored and diced
3/4 cup sugar
1/4 cup butter (Kerrygold prefered)
1 teaspoon cinnamon
A few gratings of fresh nutmeg (or to taste)
Icing:
2 cups powdered sugar
5 tablespoons half and half
1/2 teaspoon vanilla
2 tablespoons melted butter
Instructions
Put diced apples, sugar and butter into a saute pan. Cook till apples are tender and liquid reduced slightly, about 10 minutes. Remove from heat and add cinnamon and nutmeg. Let cool to room temperature.
Roll out dough on well floured surface into an 18 x 24 inch rectangle. Spread apples evenly across surface, leaving about an inch around perimeter clear. Roll up from long side to long side and press seam to seal. Cut 12 even slices.
Place in greased 9 x 9 baking pan. Cover with plastic wrap coated with non-stick cooking spray and let rise till dough doubles, about 1 hour.
Preheat oven to 400º.
Bake for 20-25 minutes till puffed and golden brown. Cool on wire rack.
Mix icing ingredients and drizzle over cooled rolls.
Yield: 12 rolls
Total time: 8+ hours
Notes
Total time does not include proofing time.
I used Dorie Greenspan's brioche recipe for these Apple Cinnamon Rolls.
Twelve Loaves October Theme: Apples!
#TwelveLoaves is a monthly bread baking party created by Lora from Cake Duchess and run with the help of Heather of girlichef, which runs smoothly with the help of our bakers.
Our host this month is Heather from girlichef, and our theme is Apples. For more bread recipes, visit the #TwelveLoaves Pinterest board, or check out last month's mouthwatering selection of #TwelveLoaves Pear Breads!
#TwelveLoaves: Apples
If you'd like to add your bread to this month's #TwelveLoaves collection, here's what you need to do:
Post your Twelve Loaves bread on your blog, making sure to mention the Twelve Loaves challenge in your blog post (this helps us to get more members as well as share everyone's posts).
Please link your post to the linky tool at the bottom of this blog. The bread MUST meet the Twelve Loaves theme (October = Apples).
Share your Twelve Loaves bread (must be baked and post this month) on your blog by October 31, 2014.
When you're baking with a boat load of butter, it's important to use a top notch product. As I've mentioned before, I'm a huge fan of Kerrygold butter.  Made from the milk of grassfed dairy cows in Ireland, the quality is unsurpassed. You'll love the taste of your baked goods when using Kerrygold.
Note: This post may contain affiliate links; view
my Disclosure Policy
for details. I earn a small percentage from any purchase you make by clicking on these links at no extra cost to you.