Chocolate Whopper Cookies
Malted milk ball lovers will go nuts for these soft, chewy chocolate Whopper Cookies! Plus, they're super easy and irresistible!
These Chocolate Malt Cookies are rich, delicious and a change of pace from ordinary chocolate chip cookies. If you're a fan of Whoppers, these are a must-make treat!
Whopper Cookies
They say women are hard to figure out. I could say the same about my hubby. For years, I knew he adored milkshakes but malts were another story. So was I wrong to assume that malted milk balls, AKA Whoppers, and cookies with both Whoppers and malted milk powder would be persona non grata (or cookie non grata to be precise)??? Nope, I was totally mistaken.
He was thrilled with these Whopper cookies and the stash of candy. I guess I should have figured. This is the guy who drinks Cherry Koolaid nearly every day but will not eat a cherry pie, fresh cherries or any other fabulous cherry treat. Go figure. We both filled up on these gems and handfuls of malted milk balls before Lent starts on Wednesday!

Chocolate Malt Cookies
Thanks again to my lovely friend, Danielle, for another magnificent recipe! She is my go-to blogger for decadent treats. I promise you will love whatever you try from her blog!!! We share a recipe from each other's sites every second Monday of the month. Tom took part of this batch to one of his weekend gatherings, and Bill, Katie, and I noshed on the rest as I tried my hardest (and failed!) to forget about that open box of malted milk balls in the pantry! These Chocolate Malt Cookies AKA Whopper Cookies were marvelous!
Check out Danielle's take on this recipe as well as her social media sites! Make sure to check out which of my recipes she made this month, too. (Danielle will get hers posted later today).
Hugs & Cookies XOXO – Facebook – Pinterest – Twitter – Instagram
Tips for Shaping Perfect Whopper Candy Cookies:
This whopper cookies batter was too wet to roll into balls. Use a medium cookie scoop to place equal-sized mounds of dough on the prepared baking sheets. Then use a damp finger to press down any spikes of dough, but they still may not come out of the oven looking perfectly round.
To reshape imperfect baked cookies, use a spatula to press in any bulges as soon as they come out of the oven. Use caution so you don't burn yourself!
More Chocolate Cookies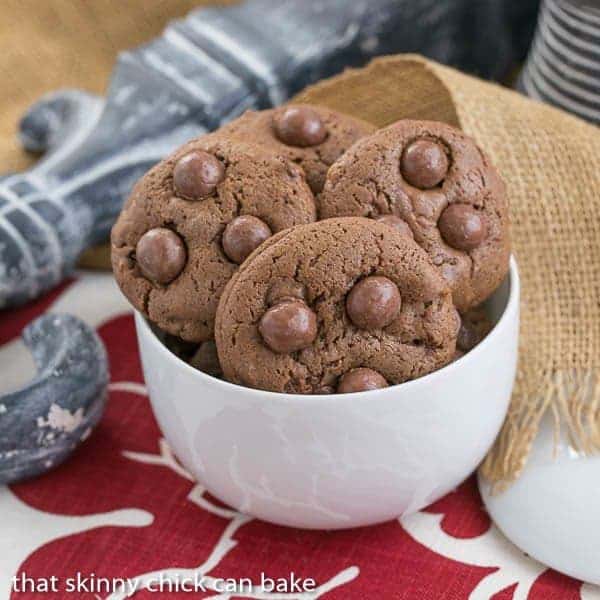 The Recipe:
Whopper Cookies
Prep Time 20 minutes
Cook Time 13 minutes
Total Time 33 minutes
Yield 3 dozen
Fabulous chocolate cookies flavored with malt powder and cocoa and studded with malted milk balls!
Ingredients
1¾ cups flour
1 cup malted milk powder
¼ cup unsweetened cocoa powder
1½ teaspoons baking powder
¼ teaspoon salt
11 tablespoons unsalted butter, at room temperature
⅔ cup sugar
2 eggs
1 teaspoon vanilla extract
¼ cup whole milk
2 cups whoppers candies, coarsely chopped (plus more to garnish)
1 cup semi-sweet chocolate chips
Instructions
Preheat oven to 350º. Line two baking sheets with parchment paper.
In a medium bowl, whisk together the flour, malted milk powder, cocoa, baking powder and salt. Set aside.
In the bowl of a stand mixer, beat the butter and sugar together on medium speed until very smooth.
Add the eggs, one at a time. Beat in the vanilla. The mixture may appear curdled.
Reduce the mixer speed to low, add half the dry ingredients, mixing until they just disappear into the batter.
Mix in the milk, then the remaining dry ingredients, mixing only until they are incorporated.
Fold in the malted milk balls and chocolate chips.
Drop the cookie dough onto the prepared baking sheets, one rounded tablespoon per cookie, leaving about 2 inches between each.
Bake for 11 to 13 minutes. Press a few whole whoppers into hot cookies to garnish, if desired. Let cool.
Notes
I use a spatula to reshape the cookies into rounds once they come out of the oven.
Nutrition Information:
Yield:
18
Serving Size:
2 cookies
Amount Per Serving:
Calories: 334
Total Fat: 15g
Saturated Fat: 8g
Trans Fat: 0g
Unsaturated Fat: 6g
Cholesterol: 47mg
Sodium: 196mg
Carbohydrates: 45g
Fiber: 2g
Sugar: 27g
Protein: 6g
Note: This post may contain affiliate links; view
my Disclosure Policy
for details. I earn a small percentage from any purchase you make by clicking on these links at no extra cost to you.