Milky Way Chocolate Chip Cookies
Chewy, decadent Milky Way Chocolate Chip Cookies have just enough gooey caramel pockets and mini chocolate chips to hook you with your first bite! These cookies are even tastier than the mini Milky Ways used to make them!!!
These kicked-up Homemade Chocolate Chip Cookies are a delicious change of pace and the perfect way to use up leftover candy bars.
Why You Should Bake These
I first made these as a post-Halloween Treat using extra candy from trick or treating. I took my friend, Danielle's chocolate chip laden cookies with Snickers chunks, and made a Milky Way version for my nut avoiding family. They were thrilled with these, then annoyed that I let Tom take half the batch to feed his friends.
Seven years later, it was time to bake these candy bar cookies once again. My daughter remembered how much she loved the last batch. I can't remember what I had for breakfast! Once again, they were a major hit.
They are darn tasty!
Perfect for using up leftover Halloween candy. Both Milky Ways and Snickers work well.
Leftovers freeze well for a future indulgence.
Tips for Making these Homemade Chocolate Chip Cookies
I've been making standard chocolate chip cookies for decades. A few simple guidelines will help you make a perfect batch every time. The addition of Milky Way chunks requires a couple of extra tips, all listed below.
Use real butter, large eggs, and real vanilla extract. Margarine and artificially flavored vanilla will not give the best results.
Have your butter and eggs at room temperature for easier and better incorporation into the dough.
Freezing the chopped candy bar pieces before mixing them in helps minimize the oozing. But they will still leak a bit of caramel. No worries, though, as they'll taste amazing whether they ooze a little or a lot!
Note that this recipe calls for both baking soda and baking powder. PRO-Tip: Most bakers use much less baking powder than baking soda and it often expires while sitting in the pantry. Check the expiration date, and if in doubt, just replace it.
Use a cookie disher (affiliate link) to make even sized cookies.
PRO-Tip: Occasionally, the caramel in these cookies oozes out while baking. When the pan of baked cookies comes out of the oven, use a knife to cut and move the excess caramel away from the cookie. This will help make removal from the cookie sheet easier.
Because of the gooey, oozing caramel, some of the cookies baked into more amoeba-like shapes than circles! PRO-Tip: One of my favorite tricks is to use a spatula sprayed with Pam to tap the hot, fresh out of the oven, cookies into more spherical shapes. Normally, the Pam isn't needed, but with caramel involved, it sure helps!
Lining the baking sheets with parchment helps the cookies release from the pan after they're baked. It also makes for easy cleanup.
These will keep well at room temperature in a sealed container for 3-4 days. After that, freeze for up to 3 months.

Welcome to Progressive Eats, our virtual version of a Progressive Dinner Party. This month's theme is Food Truck Foods, and our host is Ansh who blogs at Spiceroots.
If you're unfamiliar with the concept, a progressive dinner involves going from house to house, enjoying a different course at each location. With Progressive Eats it's a virtual party. A theme is chosen each month, members share recipes suitable for a delicious meal or party, and you can hop from blog to blog to check them out. Come along and see all of the delicious Food Truck inspired dishes!
Food Truck Food
Savory
Sweet
More Desserts You'll Love:
Check out the other goodies I've made from Danielle's Blog:
This recipe was first shared in July 2013. Photos and text were updated in 2020.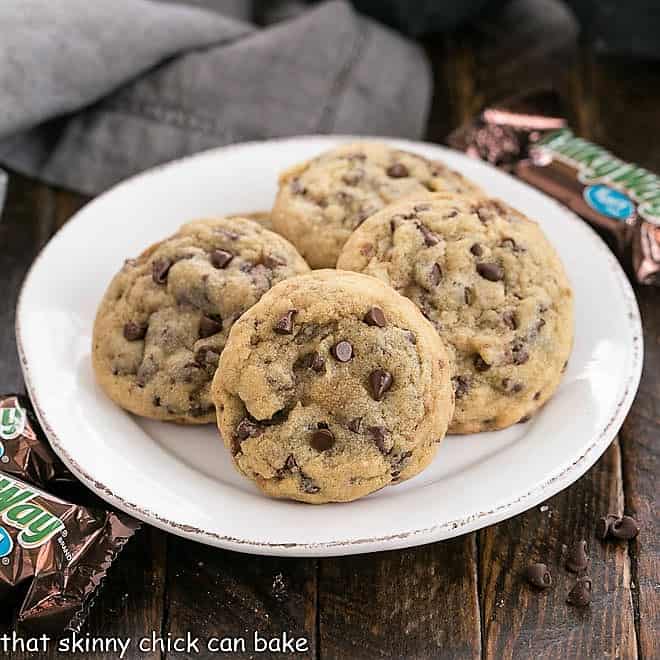 The Recipe:
Milky Way Chocolate Chip Cookies
Prep Time 20 minutes
Cook Time 10 minutes
Total Time 30 minutes
Yield 2 dozen cookies
Chewy chocolate chip cookies with chunks of Milky Way candy bars!
Ingredients
1 cup butter, at room temperature
3/4 cup light brown sugar
1/4 cup dark brown sugar
1/2 cup sugar
2 eggs
1 tablespoon vanilla
2 3/4 cups flour
1/2 teaspoon baking soda
1/2 teaspoon baking powder
1/2 teaspoon salt
12 ounces mini semi-sweet chocolate chips or regular chips
8 Fun-size Milky Way candy bars, chopped, then frozen
Instructions
Preheat oven to 350º. Line baking sheets with parchment paper.
Cream butter and sugars. Mix in eggs and vanilla.
Add in flour, baking powder, baking soda, and salt. Mix till combined. Fold in all chocolate chips and Milky Ways.
For a rounded tablespoon-sized cookie bake 8-10 minutes. If some of the caramel has oozed out of the cookie, use a sharp knife to scrape the excess away from the cookie before they cool.
Notes
Total time does not include freezing or cooling times.
If you don't have dark brown sugar, you can make your own by combining 1 cup of light brown sugar and 1 tablespoon molasses. Reserve the leftovers for another recipe.
To fix any misshaped cookies, use a greased spatula to tap them into rounds while they're still hot.
Adapted from Hugs & Cookies XOXO
Nutrition Information:
Yield:
24
Serving Size:
1 cookie
Amount Per Serving:
Calories: 284
Total Fat: 14g
Saturated Fat: 8g
Trans Fat: 0g
Unsaturated Fat: 5g
Cholesterol: 37mg
Sodium: 217mg
Carbohydrates: 38g
Fiber: 1g
Sugar: 24g
Protein: 3g
Note: This post may contain affiliate links; view
my Disclosure Policy
for details. I earn a small percentage from any purchase you make by clicking on these links at no extra cost to you.