Green Bean and Bacon Bundles
An impressive side dish that will please even vegetable avoiders, these Green Bean and Bacon Bundles are both elegant and delicious!
Assemble these Bacon Wrapped Green Beans ahead of time and just pop them into the oven before dinner. You will look like a seasoned host or hostess!

Why You Must Make
Fresh green beans are one of the blessings of summer. A few of my favorite tried and true green bean recipes are these Asian Green Beans from my mom's recipe box, Haricots Verts with Grape Tomatoes, and Garlic Parmesan Roasted Green Beans. Sometimes it's nice to make them fancy, even on a weeknight. Bundling a few green beans in bacon, drizzling with a jazzed-up garlic butter sauce, and baking makes an elegant presentation, not to mention a delicious little package.
This fresh green bean recipe is elegant and delicious!
Simple, easy-to-find ingredients make a company-worthy side dish. Call them Haricots Vert Enrobés de bacon, the French term, to make them sound extra fancy!
You can assemble these green bean bundles ahead of time to make it easy to toss in the oven when the dinner hour draws near.
They make such a fun, impressive presentation! 
Ingredient Notes
Kitchen Staples – Butter (melted), Brown Sugar, Garlic Salt, Freshly Ground Black Pepper
Haricots Verts AKA Thin Green Beans – Blanch briefly in boiling water, then shock in ice water to stop the cooking process. They must be thin green beans or they may not be fully cooked after baking. (may cook first for about 3-4 minutes, then cool in ice water).
Thin Slices of Bacon – Parcooked to ensure it's fully cooked after baking the bacon bundles. You'll need a half slice for each bundle.
Grated Parmesan Cheese – Use real Parmesano Reggianno. Never use the stuff that comes in a green can.
Expert Tips
This is one of those Fresh Green Bean Recipes that can be served for a special weeknight dinner or for dinner guests! Versatile, impressive, and delicious!
PRO-Tip: You may precook the beans and bacon so the beans keep their green color and to shorten the time in the oven. When I have a busy day, I do a lot of prep work in the morning, so dinner comes together quickly.
For this recipe, you can prepare the beans and bacon while sipping on your breakfast coffee. I place a few paper towels on a microwave-safe plate, arrange the bacon in a single layer, top with more paper towels, and zap till some of the fat is rendered and it is partially cooked.
The beans can be precooked for about 3-5 minutes, drained, and placed in ice water. This makes for simple assembly during the busy dinner hour and shortens the time in the oven.
PRO-Tip: Using thin green beans or haricots verts works best. You can often find whole thin green beans in the frozen food section of your grocery store, just defrost before assembling. Cooking time will vary depending on both the thickness of your beans and your bacon.
Frequently Asked Questions
How do you select fresh green beans?
The color should be bright green without bruises or discoloration. They should feel firm and crisp and snap when bent. The skin should be smooth and tight without signs of dehydration.

Avoid beans with large swollen pods as this is a sign of old, tough green beans.
How do you blanch green beans?
Blanching is a cooking process that brightens and sets the color. It also starts the cooking process.

To blanch green beans, drop them into boiling water briefly (about 2-3 minutes) until the color brightens. Next, remove them with a slotted spoon and plunge them into ice water to stop the cooking process.
How do you precook bacon?
Precooking the bacon helps ensure the bacon will be safe to eat when the shorter cooking time for the beans is done. Fry or microwave the bacon until much of the fat is rendered, the bacon looks nearly cooked, though not crisp, but pliable. This way it can be wrapped around the beans.
You May Also Like:
Stay in touch through social media @ Instagram, Facebook, and Pinterest. Don't forget to tag me when you try one of my recipes! And if you love the results, please give it a 5-star rating in the recipe card. Note: As an Amazon Associate, I earn from qualifying purchases. Visit my Amazon Store for my favorite products.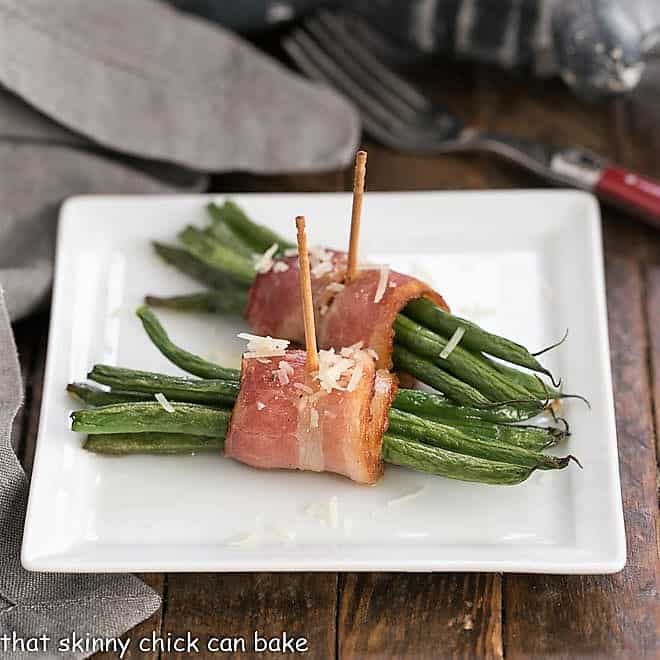 The Recipe:
Green Bean and Bacon Bundles
Prep Time 10 minutes
Cook Time 30 minutes
Total Time 40 minutes
Yield 6 servings
An easy, elegant side dish that's impressive enough to serve company.
Ingredients
¾ pound haricots verts or thin green beans (may cook first for about 3-4 minutes, then cool in ice water)
6 slices of bacon, ½ slice for every 5 green beans (may par-cook)
4 tablespoons butter, melted
2 teaspoons brown sugar
¼ teaspoon garlic salt
A pinch of freshly ground black pepper
Grated Parmesan cheese
Instructions
Preheat oven to 350º.
Clean and snip the ends of the green beans. Bundle beans in bunches of 5-7 and wrap with ½ of a bacon slice. Skewer with a toothpick if desired. Place on a baking sheet.
Mix together melted butter, brown sugar, garlic salt, and black pepper. Drizzle over each bundle, and then sprinkle a little Parmesan on each bundle as well.
Bake for 30 minutes. Then broil for a minute or two to brown if desired.
Notes
Note: if you precooked the beans and bacon, you may want to decrease the cooking time to 15-20 minutes.
Precooking the bacon helps assure it's fully done when the beans are cooked.
Nutrition Information:
Yield:
6
Serving Size:
2 bundles
Amount Per Serving:
Calories: 158
Total Fat: 12g
Saturated Fat: 6g
Trans Fat: 0g
Unsaturated Fat: 5g
Cholesterol: 32mg
Sodium: 337mg
Carbohydrates: 8g
Fiber: 3g
Sugar: 4g
Protein: 6g
Note: This post may contain affiliate links; view
my Disclosure Policy
for details. I earn a small percentage from any purchase you make by clicking on these links at no extra cost to you.