Chocolate Syrup Brownies
These Chocolate Syrup Brownies are a family favorite. Incredibly tender and absolutely irresistible, they'll become your family's favorite brownie recipe!
Years ago, I shared these rich, moist gems with a group of neighbors and set my reputation as a baker from that day forward. But don't worry, this Easy Brownie Recipe is simple to make!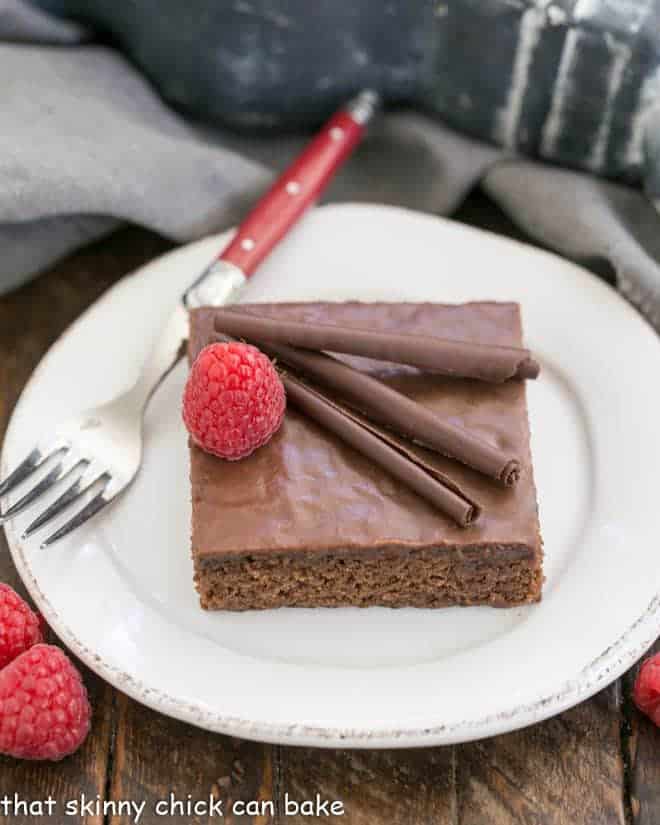 Why You Must Make
I have been making these Chocolate Syrup Brownies for decades. As did my mom.
They're super moist and tender and each bite immediately melts in your mouth.
In fact, this Hershey brownie recipe is so rich and gooey, that it's best just to place the jelly roll pan on the counter or picnic table, and let everyone scoop out their own serving.
Cutting perfect slices can be a major challenge. Check out my post on How to Cut Perfect Bar Cookies for my best tips—though these brownies are finicky when it comes to slicing perfect squares. But they're delicious!!! These brownies are perfect for a picnic or pitch-in. They will be the first dessert to disappear!!!
Recipe Tips
This Best Brownie Recipe has been around for decades. I use the recipe card in my mom's handwriting and the details are minimal. It's just not that difficult of a recipe.
I'd been able to purchase cans of Hershey's chocolate syrup that contained the exact amount needed for this recipe on occasion. Other times, I needed to buy a larger container and measure out 1½ cups. So either size is a good option. Note: Hershey's no longer offers chocolate syrup in a can.
My husband likes to use the extra syrup to make chocolate milk. He's a big kid at heart!
Baking powder often expires before you use it all. Check the expiration date before you start this recipe so you're not stuck with a halfway-made batch of brownies and outdated leavener.
PRO-Tip: To check the potency of your baking powder, just put a spoonful in a cup of very hot or even boiling water. If it's still good, the mixture will bubble vigorously.
When making the frosting, let the mixture boil for a full 30 seconds to ensure that the sugar is fully dissolved.
Chocolate chips don't melt as easily as chocolate bars. Make sure to whisk in the chocolate chips until the mixture is smooth, so your icing will be silky smooth. Chopping them first will help.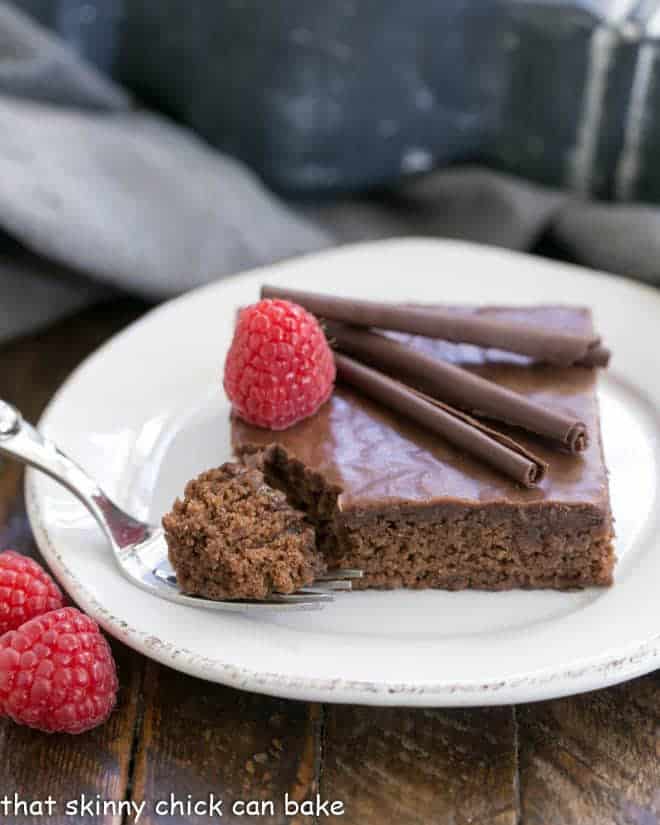 Ingredient Notes
Kitchen Staples – Sugar, Eggs, Flour, Salt, Milk, Large Eggs
Butter – At room temperature for easy incorporation.
Vanilla – Use real vanilla extract, never imitation or artificially flavored.
Chocolate Syrup – 1½ cups Hershey's Chocolate Syrup
Baking Powder – Make sure it hasn't expired. See tips above on how to test its freshness.
Semisweet Chocolate Chips – Chop to help them melt more easily.
When my oldest, Tom, was a toddler, I took a pan of these frosted brownies to a cookout with a bunch of Bill's coworkers and their families. I was hugely pregnant with Katie and totally exhausted by the time we left the gathering. Driving home, I leaned back and closed my eyes.
But before too long, Bill and I both noticed that it was strangely silent in the car. Our usually chattering boy must have fallen asleep. I turned around only to find him covered in chocolate. Unfortunately, we had placed the pan of leftover brownies on the seat next to him and he decided to dig in with his hands. So tasty, he just couldn't resist. Do you blame him? Is there any wonder he's a chocoholic now at age 27? If that isn't an endorsement for these brownies, I don't know what is!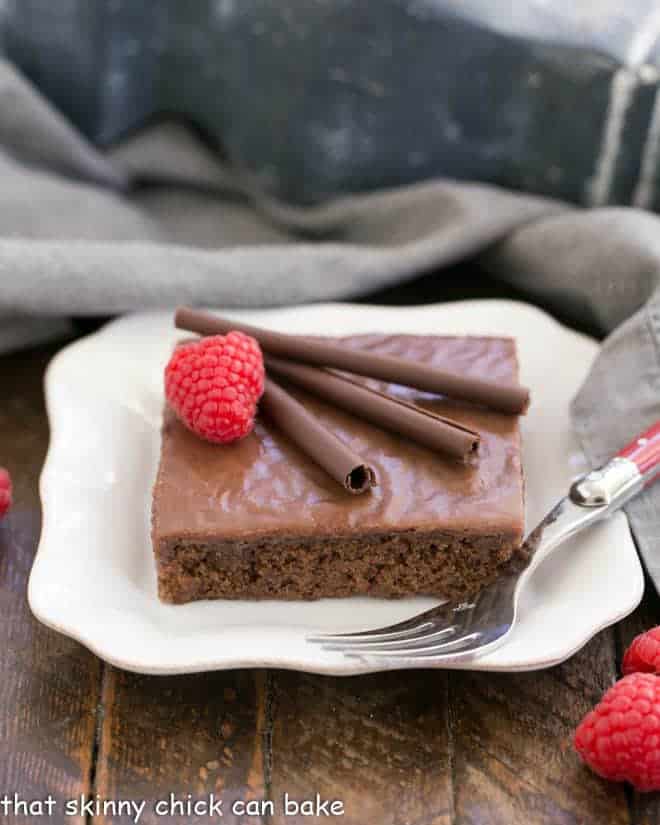 Frequently Asked Questions
How Much Chocolate Syrup is in a can of Hershey's Chocolate Syrup?
Since many retro recipes for these brownies call for a can of Hershey's syrup, it's good to know that those cans used to contain 1½ cups of syrup. This product has been discontinued, but you can still find a squeezable 24-ounce container and measure out the amount needed.
How Can You Tell When These Brownies Are Done?
When Chocolate Syrup Brownies are done, the edges will pull away from the side of the pan, and the middle will look set. You can carefully tap the center with your finger and if it pops back up, the brownies are fully cooked. A toothpick inserted in the center may come out with a few moist crumbs, but as long as there's no batter on it, the brownies should be fully cooked.
How Do You Store These Brownies?
They will keep well at room temperature for 3-4 days. Cover any exposed brownie edges with plastic wrap so they don't dry out. These will also freeze well for up to 2 months. Freeze for a few hours uncovered, then when the frosting is frozen, cover with plastic wrap or foil to prevent freezer burn.
What Else Can You Make with Hershey's Syrup?
Use your chocolate syrup as a topping for your ice cream sundaes, to make chocolate milk, chocolate milkshakes, or hot chocolate.
Can Hershey's Syrup Be Used Instead of Chocolate or Cocoa Powder in Other Recipes?
No, since the syrup is liquid it will mess with the consistency of the dough or batter when used instead of chocolate or cocoa in other recipes.
You May Also Like:
Stay in touch through social media @ Instagram, Facebook, and Pinterest. Don't forget to tag me when you try one of my recipes! And if you love the results, please give it a 5-star rating in the recipe card. Note: As an Amazon Associate, I earn from qualifying purchases. Visit my Amazon Store for my favorite products.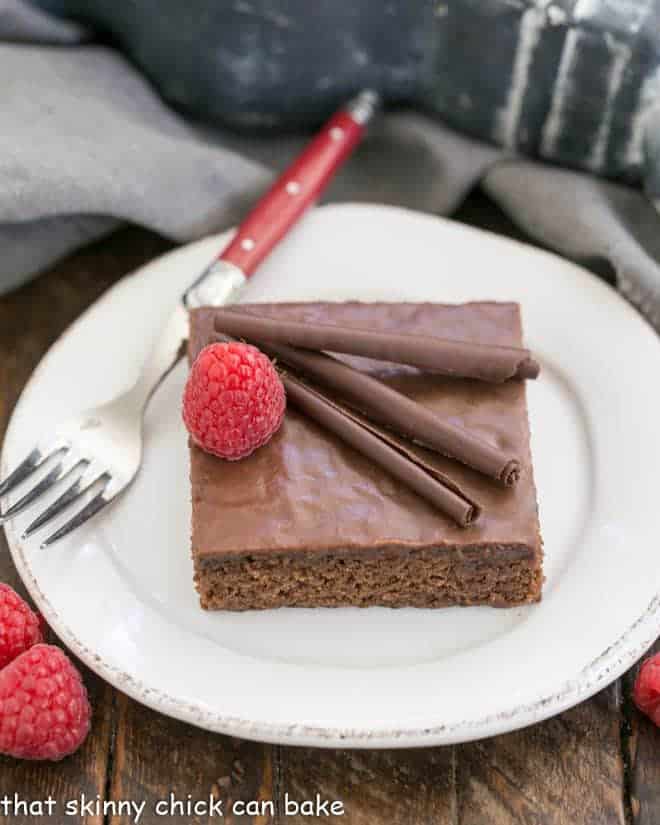 The Recipe:
Chocolate Syrup Brownies
Prep Time 30 minutes
Cook Time 30 minutes
Total Time 1 hour
Yield 24 servings
A retro recipe from my mom for super moist, frosted brownies flavored with Hershey's chocolate syrup!
Ingredients
½ cup (1 stick) butter, at room temperature
1 cup sugar
4 eggs
1 teaspoon vanilla
1½ cups chocolate syrup (I used 1 can Hershey's Chocolate Syrup)
1 cup plus 1 tablespoon flour
½ teaspoon baking powder
1/4 teaspoon salt
Icing:
6 tablespoons butter
6 tablespoons milk
1 cup sugar
½ cup semi-sweet chocolate chips (chop to help them melt more easily!)
1 teaspoon vanilla
Instructions
Grease 10 x 15-inch pan (jelly roll pan) and set aside. Preheat the oven to 350º.
Beat butter and sugar till creamy and light in color. Beat in eggs one at a time. Stir in vanilla and syrup. Mix well.
In a separate bowl, whisk together flour, baking powder, and salt. Whisk into syrup mixture.
Pour into prepared pan. Spread evenly in the pan with the back of a spoon or offset spatula.
Bake for 22-30 minutes or till a slight imprint remains when the center of the brownies is touched. Do not overbake. My pan is one of those old insulated pans so it takes 30 minutes to bake. Most likely yours will cook in much less time.
Make the icing by putting butter, milk, and sugar in a saucepan. Heat until butter and sugar are melted. Bring to a boil, and boil for 30 seconds. Remove from heat and add chocolate chips.
Stir until the chocolate chips are melted and the mixture is slightly thickened. Mix in the vanilla extract.
Cool slightly before pouring over the cool or just slightly warm brownies.
Let frosted brownies sit till the frosting is firm. Cut into squares to serve.
Notes
The cans of Hershey's syrup have been discontinued. You can buy jugs of the same product with the ice cream toppings, so just measure out 1 1/2 cups.
Nutrition Information:
Yield:
24
Serving Size:
1
Amount Per Serving:
Calories: 176
Total Fat: 5g
Saturated Fat: 3g
Trans Fat: 0g
Unsaturated Fat: 2g
Cholesterol: 39mg
Sodium: 83mg
Carbohydrates: 32g
Fiber: 1g
Sugar: 28g
Protein: 2g
Note: This post may contain affiliate links; view
my Disclosure Policy
for details. I earn a small percentage from any purchase you make by clicking on these links at no extra cost to you.