Fried Apple Pies
Mini Fried Apple Pies are the ideal picnic treat with their flaky crust and delectable filling. They're easier than making a traditional pie, but just as satisfying!
These Apple Hand Pies provide instant portion control, can be taken on picnics or added to a lunch box, and are delicious!!!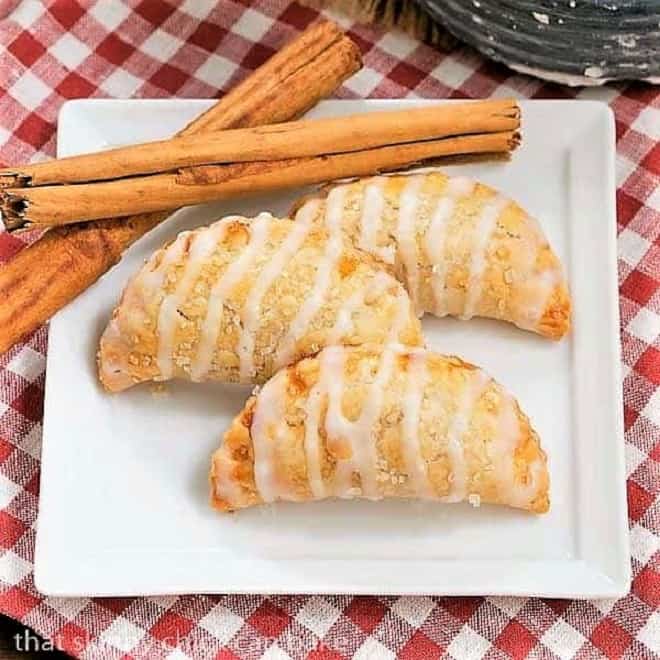 Why You Must Make
Don't these Apple Turnovers just scream the 4th of July? I love making pie for a picnic, and there's nothing more American than apple pie. Perfect for your Independence Day menu, and no silverware is required.
These mini pies were super simple to make. Feel free to use a premade pie crust, then all you have to do is cook up the apple filling and fry or bake.
I attempted to fry up these babies, but it was obvious that pan-frying was not my forte. For the next batch, I brushed with an egg wash and let the oven do the work. Feel free to use whatever technique you prefer.
After a drizzle or brushing of an easy powdered sugar glaze, the family was dying to dig in. We were not disappointed as the flaky crust filled with cinnamon-spiced apples made for a terrific three-bite dessert! I have a feeling Bill will be eating a few for breakfast—he can rationalize almost anything!
Ingredient Notes
Kitchen Staples – Sugar, Ground Cinnamon, Egg, Milk, Water
Pie Crust – Use a homemade recipe for a double crust or Pillsbury (or any brand of) premade crusts
Apples – Use your favorite baking apples. Two varieties will give the best depth of flavor.
Butter – Let it soften at room temperature before using.
Vanilla – Make sure it's real vanilla extract, not artificially flavored. I like the Nielson-Massey brand.
Powdered Sugar – Sifting before using makes for a smoother glaze/icing.

Recipe Tips
I love these portion-controlled, single-serving apple pies, tarts, turnovers or whatever you prefer to call them. They're super simple to prepare, just follow these tips to make them perfect every single time.
Pick the right apples. My mother-in-law always used Granny Smith apples for her applesauce, so those are always a great, easily available choice. I also like the combination of Granny Smith and Golden Delicious. One sweet and one tart and one crisp and one softer works well.
Use your favorite crust recipe or packaged crust. If your homemade crust tends to be difficult to work with, a packaged version will make the process much easier.
Use brown sugar instead of white sugar for more caramel flavor in your filling.
PRO-Tip: Do not overfill your pies. Doing so will prevent you from sealing around the perimeter properly and then the filling will most likely leak when the pies are cooked.
Seal the edges of these mini pies well. Cold water assists the surfaces with adhering and crimping with a fork encourages the edges to stay sealed.
There are two options for cooking these hand pies, frying or baking. Either works well, but I preferred the less messy baking option.
Finish these off with a simple powdered sugar glaze. I drizzled mine back and forth over the exposed surface, but you can thin the icing and paint it on as a glaze if desired.
Frequently Asked Questions
What Is a Turnover?
According to the Food Lover's Companion, turnovers are pastry squares or circles that are filled with a sweet or savory mixture, then folded to make a triangle or semicircle. The edges are sealed before baking or frying. Turnovers can be appetizers, entrees or desserts.
How Do You Store Apple Turnovers?
Turnovers can be stored in an airtight container at room temperature for about 2 days. After that, it's best to move them to the refrigerator for another day or two. Bring them to room temperature or gently reheat before serving.
Can You Freeze Apple Turnovers?
Yes, they can also be frozen in an airtight container after baking and cooling. First, place your baked turnovers on a sheet pan and freeze. When frozen, move them to a freezer-safe Ziploc bag and freeze for up to 2 months. Defrost then gently reheat in the oven before serving.
You May Also Like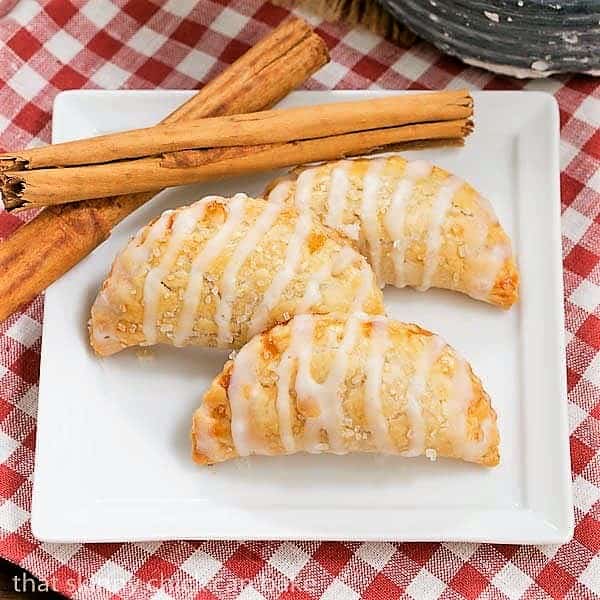 The Recipe:
Fried Apple Pies
Prep Time 25 minutes
Cook Time 20 minutes
Total Time 45 minutes
Yield 16 mini pies
Three bite mini apple pies are perfect for picnics, snacking or dessert! Recipe courtesy of Kelli's Kitchen.
Ingredients
2 Pillsbury Pie Crusts, or a homemade double crust
2 apples
¼ cup sugar
¼ teaspoon cinnamon
Icing
1 teaspoon softened butter
1 cup powdered sugar
½ teaspoon vanilla
1-3 tablespoons milk
Egg wash
Instructions
Peel and core apples, then chop. Place in a saucepan with sugar and cook on low till apples are tender. Add cinnamon and mash till chunky. Cool to room temperature.
Roll out the pie crust on a lightly floured board. Using a 3 inch cookie cutter, cut out 7-8 circles out of each crust.
Place a scant teaspoon of the cooked apples in the middle of the round.
Using very cold water and your fingers, wet all the way around the pie, fold it over and crimp edges with the fork. Make a slit in tops to release steam if desired.
Put a little oil in a skillet and let it get hot first, then place the little pies in the skillet and cook for 2-3 minutes on each side. Or glaze with egg wash (mix together egg and water with a fork) and bake at 375 degrees for 20 minutes or till browned.
Take them out of the oil when they are cooked and place on a wire rack with paper towels on them so that will take off the excess oil.
Combine icing ingredients with a fork and then put the glaze over the warm pies.
Notes
Use your favorite baking apples. I like the combination of 1 Granny Smith and 1 Golden Delicious.
Recommended Products
As an Amazon Associate and member of other affiliate programs, I earn from qualifying purchases.
Nutrition Information:
Yield:
16
Serving Size:
1
Amount Per Serving:
Calories: 157
Total Fat: 6g
Saturated Fat: 2g
Trans Fat: 0g
Unsaturated Fat: 4g
Cholesterol: 13mg
Sodium: 98mg
Carbohydrates: 24g
Fiber: 1g
Sugar: 13g
Protein: 2g

Note: This post may contain affiliate links; view
my Disclosure Policy
for details. I earn a small percentage from any purchase you make by clicking on these links at no extra cost to you.