Chocolate Truffle Mousse
Mousse au Chocolat was often on our holiday menu, so the season is perfect for a batch of this exquisite Chocolate Truffle Mousse.
With all our relatives living hundreds of miles away when I was growing up, we rotated holiday meals between our house and another family in the same boat. It was turkey for Thanksgiving, Christmas, and Easter, but the desserts varied. Mrs. Verhoven's Dark Chocolate Mousse was one of my favorites!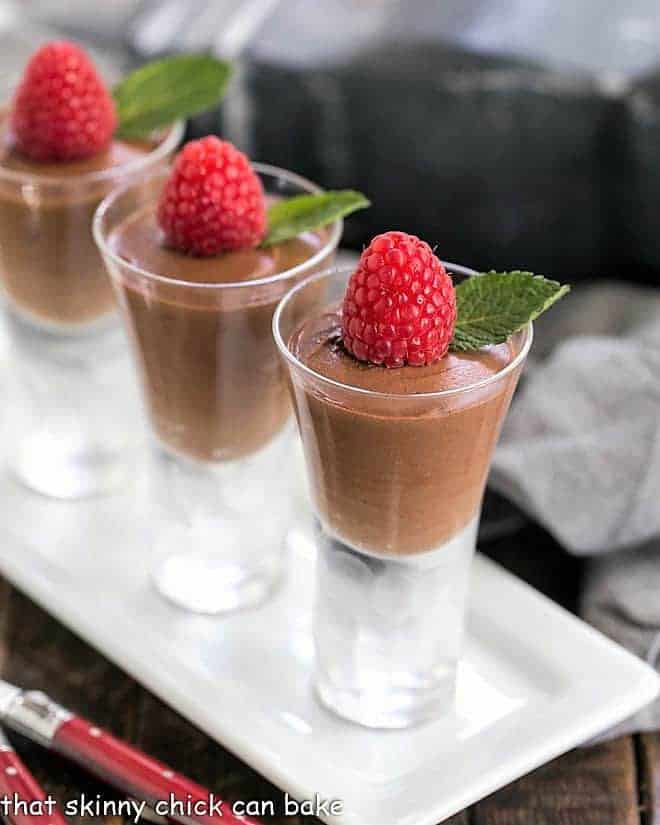 Why You Must Make
I'm almost embarrassed to admit how many chocolate mousse recipes I've already shared on this blog. A blender version, one with cream cheese and many classic mousses with whipped cream and raw eggs. With a family of chocoholics, this is not a huge surprise!
This incredible chocolate truffle mousse differs as there are eggs, but they are tempered, then heated to 160º alleviating the chance of salmonella that comes from eating raw eggs.
It's super rich and creamy.
This homemade chocolate mousse is made from easy-to-find ingredients.
Ingredient Notes
Kitchen Staples – Butter, Powdered Sugar, Large Eggs
Semi-Sweet Chocolate – Chopped. You may substitute bittersweet chocolate for a more intense chocolate flavor.
Corn Syrup – Adds sweetness and sheen, plus there are no sugar crystals that need to dissolve.
Heavy Cream – Used to lighten the mousse instead of whipped egg whites
Vanilla Extract – Use real vanilla extract, never artificially flavored.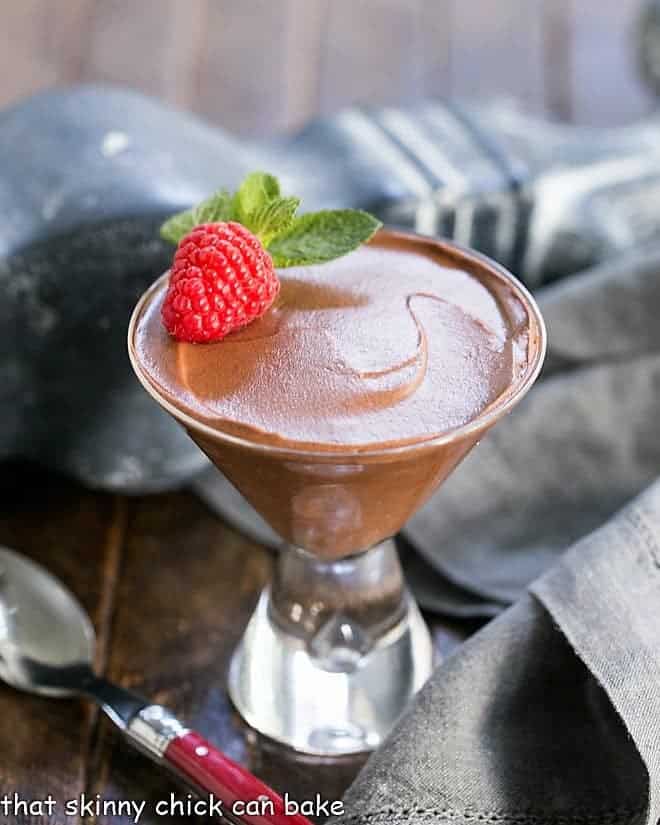 How to Make Chocolate Mousse
Melt the chocolate with the corn syrup and butter over low heat on your cooktop.
Whisk the yolks with part of the cream and then whisk in part of the warm chocolate mixture.
While whisking, add the yolk mixture back into the pan and continue whisking while heating to 160° (this will kill any potential bacteria).
Beat the ¾ cup of the cream with powdered sugar and vanilla until soft peaks form.
Fold ½ cup of the whipped cream into the chocolate mixture to lighten, then add the rest of the cream and fold gently until incorporated.
Divide among serving dishes.
Garnish if making for a special occasion.
Recipe Tips
There are numerous recipes for a "classic" chocolate mousse, each with its own variations. The traditional French Mousse au Chocolat uses both egg yolks and whites. The whites are whipped and folded into the chocolate giving a light and airy texture to the mousse. In my recipe, the yolks are gently heated after adding to the melted chocolate and the whites are discarded. Whipped cream gives this chocolate truffle mousse its ethereal consistency.
PRO-Tip: Use good quality chocolate as the better the chocolate, the tastier the mousse. I used semi-sweet chocolate, but bitter-sweet is nice for dark chocolate lovers. I use Ghirardelli bars as the quality is better than chocolate chips. Lindt is another nice brand you can find at many supermarkets.
Flavored with just vanilla is lovely, but adding some orange or coffee liqueur would also complement the chocolate flavor.
PRO-Tip: "Folding" is a culinary term for mixing a lighter ingredient like whipped cream or whipped egg whites, into a heavier ingredient, like the melted chocolate mixture.
First, you add a bit of the lighter ingredient to the heavier ingredient. At this point, you can whisk them together.
Then to fold, use a rubber spatula and in a circular motion, scrape a spoonful of the mixture from the bottom of the bowl and bring it to the top, then turn the spatula over, before beginning again.
Repeat over and over until all white streaks disappear without compacting the mixture.
PRO-Tip: "Tempering" is the culinary term that refers to mixing together 2 ingredients with different temperatures. In this case, you want to add the yolks to the warm chocolate without the eggs scrambling. It takes an extra step or two to slowly warm up the yolks.
Plan ahead as this chocolate truffle mousse needs some chilling time.
Garnish with whipped cream, berries, grated chocolate, and/or chocolate curls if serving to company.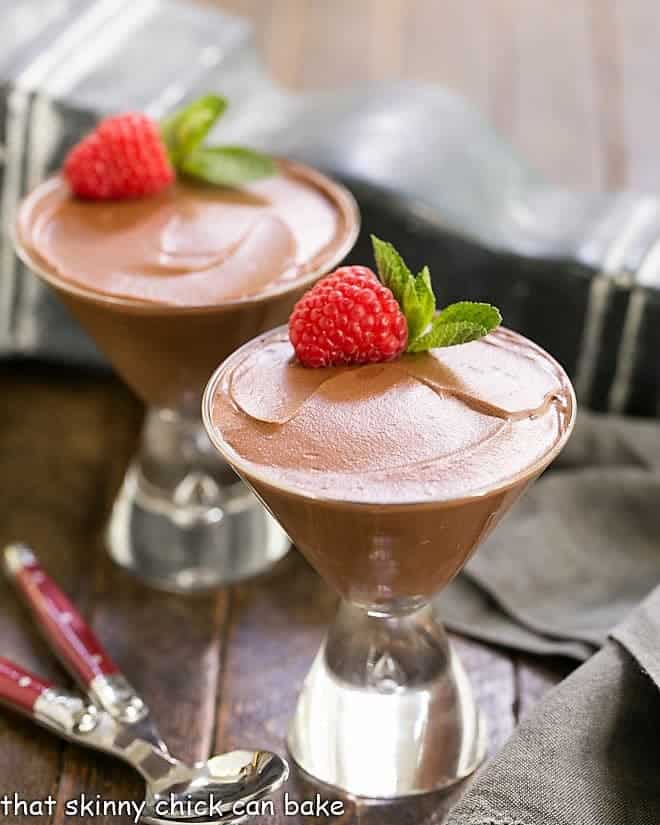 Frequently Asked Questions
What is a Mousse?
Mousse is a French term meaning froth or foam. It's a rich, light, and airy dish that can be sweet or savory and served hot or cold. The frothy nature of a mousse is due to the addition of whipped egg whites or whipped cream.
What's the Difference Between Mousse and Pudding?
Both mousse and pudding are no-bake dessert recipes. But Mousse uses egg whites or whipped cream and Pudding uses milk and cornstarch for their unique textures.
Why Do Eggs Need to Be Cooked to 160°?
Eggs and poultry may harbor salmonella bacteria which is a common cause of food poisoning. This bacteria can be found on the shells as well as inside the eggs. So be extra cautious and don't serve dishes with uncooked eggs to the very young, elderly, or the immune-compromised as they're more at risk of a severe reaction.
You May Also Like
Stay in touch through social media @ Instagram, Facebook, and Pinterest. Don't forget to tag me when you try one of my recipes! And if you love the results, please give it a 5-star rating in the recipe card. Note: As an Amazon Associate, I earn from qualifying purchases. Visit my Amazon Store for my favorite products.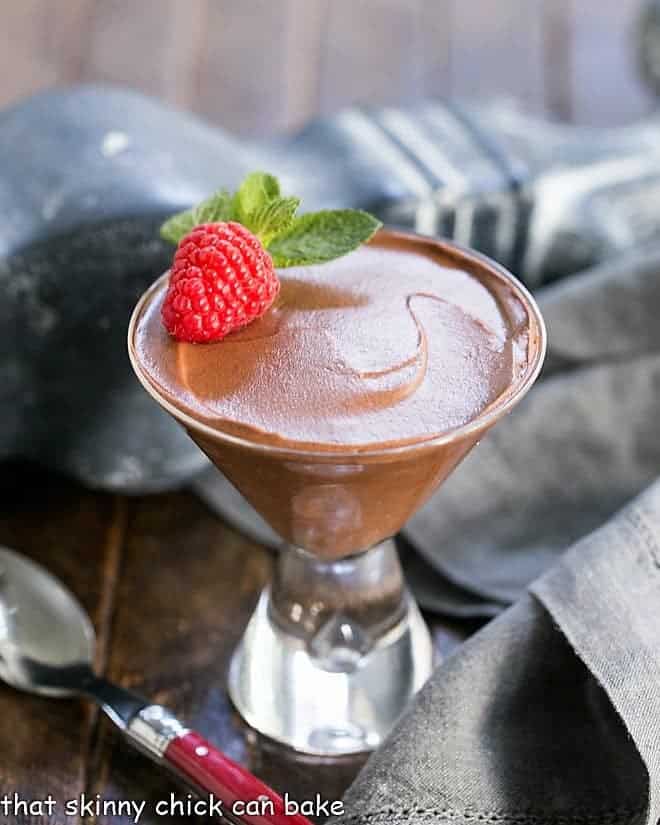 The Recipe:
Chocolate Truffle Mousse
Prep Time 20 minutes
Cook Time 10 minutes
Total Time 30 minutes
Yield 4 servings
A dreamy chocolate mousse that's perfect for any special occasion!
Ingredients
8 ounces semi-sweet chocolate, chopped
¼ cup corn syrup
¼ cup butter
2 egg yolks, whisked
1 cup heavy cream, divided
2 tablespoons powdered sugar
½ teaspoon vanilla
Whipped cream chocolate shavings, berries and/or mint to garnish, optional
Instructions
Place the chocolate, corn syrup, and butter in a saucepan and cook over low heat, stirring until the chocolate is melted and the mixture is smooth.
In a medium bowl, whisk together the egg yolks and ¼ cup of the heavy cream. Carefully add ½ cup of the chocolate mixture into the yolks while whisking until combined.
While whisking, pour the yolk mixture back into the saucepan and cook, while whisking, until the mixture reaches 160 degrees. Let cool to room temperature.
Beat the remaining ¾ cup of cream with powdered sugar and vanilla until soft peaks form.
Fold ½ cup of the whipped cream into the chocolate mixture to lighten, then add the rest of the cream and fold gently until incorporated.
Divide among serving dishes. Will make four ⅓-cup servings.
Notes
Adapted from Southern Living.
Nutrition Information:
Yield:
4
Serving Size:
1
Amount Per Serving:
Calories: 711
Total Fat: 53g
Saturated Fat: 32g
Trans Fat: 1g
Unsaturated Fat: 18g
Cholesterol: 192mg
Sodium: 133mg
Carbohydrates: 64g
Fiber: 5g
Sugar: 56g
Protein: 6g
Note: This post may contain affiliate links; view
my Disclosure Policy
for details. I earn a small percentage from any purchase you make by clicking on these links at no extra cost to you.