Easy Strawberry Mousse
This sublime, yet Easy Strawberry Mousse recipe is the perfect way to celebrate strawberry season! It's light, luscious and to die for!
My loyal readers know I have this little love affair with berries, and who doesn't love a no-bake dessert?? Using fragrant, ripe berries will make this a dish you'll want to serve when berry season is at its peak!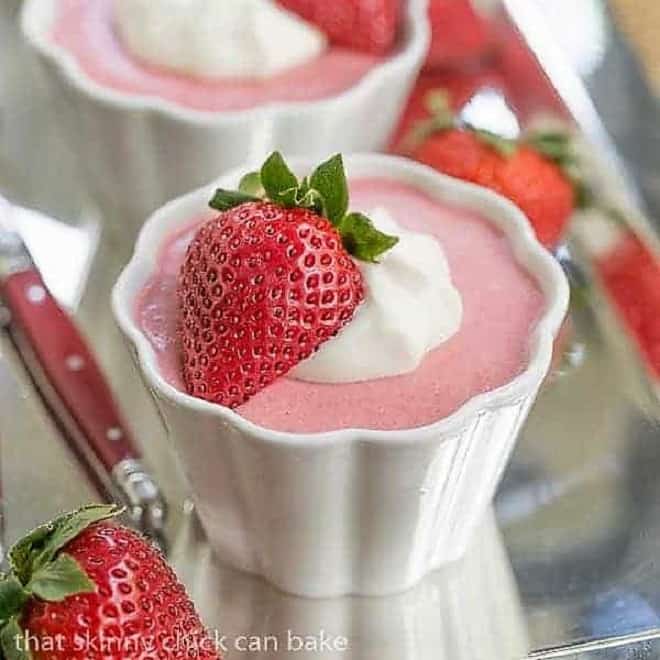 Why You Must Make
May is when we finally see strawberries at our farmers' market. Though many grocery store berries are lovely, nothing compares to the ultra-sweet, local spring berries. It's still a bit too early for harvest around here, but I was able to find some fragrant strawberries for this picture-perfect strawberry mousse.
TWO pounds of strawberries were utilized to create an intense berry flavor—and strawberry mousse is the perfect way to celebrate the arrival of spring.
Cool mousse desserts are perfect for warm spring and summer days. There's no need to heat up the kitchen by turning on the oven and who doesn't love a luscious, creamy dessert? I've had my eye on this No-Bake Raspberry Cheesecake Mousse, as well as these Chocolate Cheesecake Mousse Cups, plus I'm loving the idea of topping my mousse with this dreamy Lemon Whipped Cream.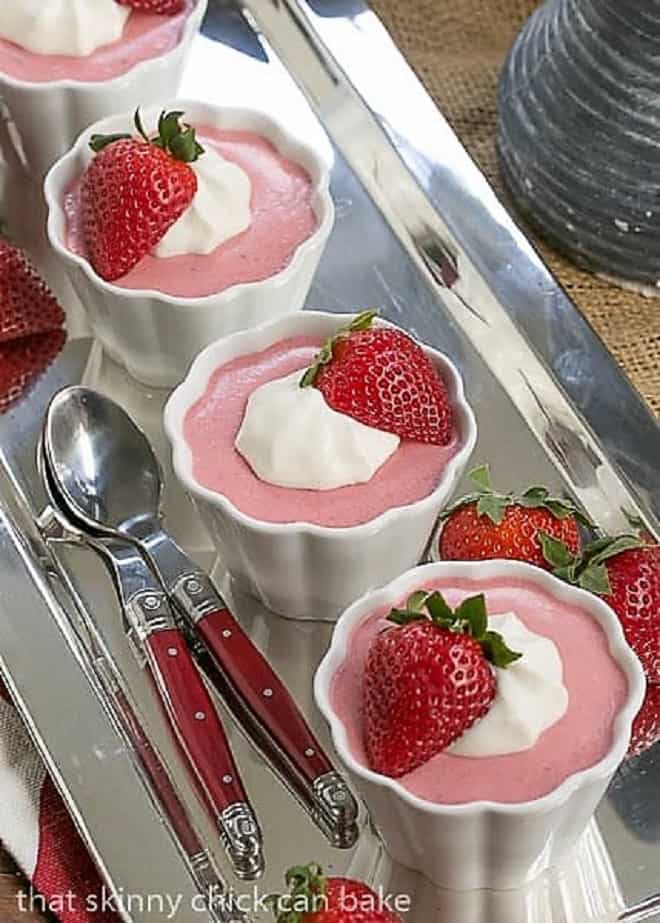 Expert Tips
You may wonder, how do you make a mousse? There are many variations, some with just whipped cream, others utilize cream cheese to thicken, and still, others require gelatin or raw eggs. This homemade strawberry mousse uses whipped cream, cream cheese, and gelatin.
This Fresh Strawberry Mousse is made with 2 pounds of berries. The taste will depend on the quality of your strawberries. Use your senses of smell and sight to pick out fragrant, unmarred berries. Local summer berries work well, but in-season imports from out of state can be delicious, too.
PRO-Tip: Did you know alcohol is a flavor enhancer just like salt? The Chambord liqueur can be left out, but it will add an additional depth of flavor.
Plain gelatin (affiliate link) is used to stabilize this mousse. There are some tricks if you haven't worked with plain gelatin before. First, it must soften in some liquid, in this case, Chambord. Then since it gels, it must be melted before mixing into the other ingredients. In this recipe, it's scraped into some hot syrup to liquify. The recipe gives all the details.
Since gelatin is involved, this mousse will need at least 4 hours in the refrigerator to set.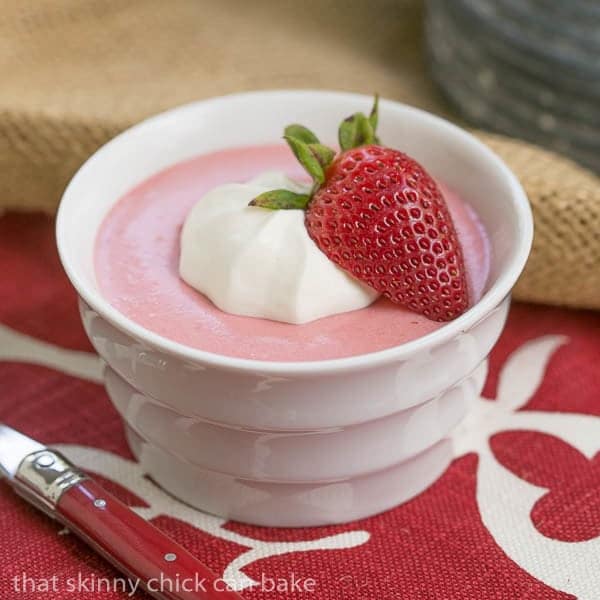 Frequently Asked Questions
How do you thicken strawberry mousse?
This mousse recipe uses plain gelatin as a thickener. The whipped cream and cream cheese also add to the structure of the mousse. Other mousse recipes rely on whipped egg whites, and getting oil or fat into the whites won't allow them to whip and thicken properly. Also, make sure you give your mousse enough time to chill thoroughly as this is imperative to the thickening process.
How do you select the best strawberries?
Use your eyes and nose to pick the best, ripest strawberries. There should be no green or white areas near the stem. They should be fragrant with a lovely strawberry aroma. The exteriors should be glossy and the seeds should not be brown and dehydrated. Look for blemishes and avoid bruised berries. Out-of-season berries are not nearly as flavorful, so check with your produce manager about when seasonal strawberries are available in your area.
How should you garnish mousse?
It's best to repeat the flavors of the mousse in the garnish. I like a piped star of whipped cream and half a strawberry for this mousse. Chocolate mousse looks wonderful with whipped cream and chocolate shavings or curls. Raspberry mousse is lovely with fresh raspberries and a sprig of mint, etc.
You May Also Like:
Stay in touch through social media @ Instagram, Facebook, and Pinterest. Don't forget to tag me when you try one of my recipes! And if you love the results, please give it a 5-star rating in the recipe card. Note: As an Amazon Associate, I earn from qualifying purchases. Visit my Amazon Store for my favorite products.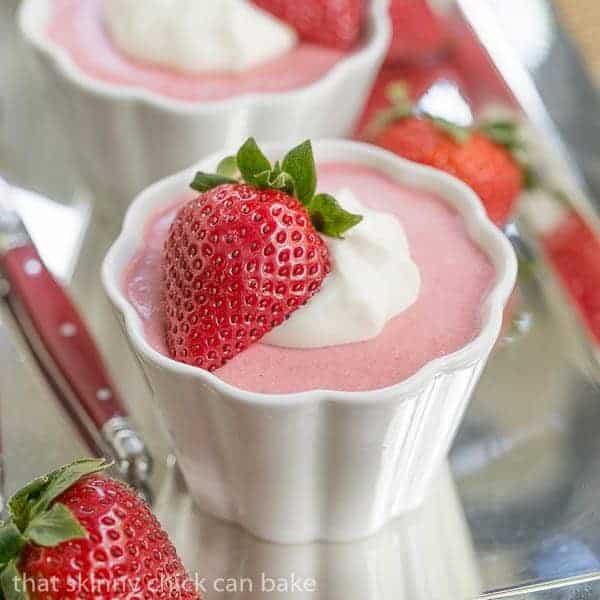 The Recipe:
Easy Strawberry Mousse
Prep Time 30 minutes
Cook Time 10 minutes
Total Time 40 minutes
Yield 6 servings
Fresh Strawberry Mousse, an elegant berry dessert! Recipe courtesy of Cook's Illustrated via Confessions of a Culinary Diva (slightly adapted)
Ingredients
2 pounds strawberries, hulled (6½ cups total)
½ cup sugar, divided
pinch salt
½ cup heavy cream
1 tablespoon raspberry liqueur (Chambord is preferred)
1¾ teaspoons unflavored gelatin
½ cup cream (4 ounces) cream cheese, at room temperature, cut into 8 pieces
Berries and whipped cream to garnish, if desired
Instructions
Reserve 3 strawberries to use as garnish.
Pulse remaining strawberries in a food processor in two batches until most pieces are between ½ to ¼ inch thick (approximately 6-10 pulses).
Transfer the berries to a bowl and toss with ¼ cup sugar and salt. Cover and let stand for 45 minutes, stirring occasionally. Do not wash the food processor.
Place heavy cream in the bowl of the stand mixer and refrigerate cream and bowl until ready to use.
Strain strawberries through a fine-mess strainer set in a small saucepan, rendering a minimum of ⅔ cup juice. Reserve juice, and do not wash the bowl.
Return strained strawberries to the food processor and process until smooth 15-20 seconds. Strain puree through a fine-mesh strainer into the now empty bowl, pressing on solids to remove seeds and pulp until you have 1⅔ cup of puree.
Place Chambord or raspberry liqueur in a small bowl and sprinkle gelatin over liqueur and let sit until gelatin softens about 5 minutes.
Meanwhile, cook reserved juice over medium-high heat, stirring occasionally, until reduced to 3 tablespoons, about 10 minutes (syrup will be thick). Remove from heat.
Pour the gelatin mixture over the hot syrup and whisk to dissolve. Add softened cream cheese and whisk vigorously until smooth. Whisk in the 1 2/3 cups strawberry puree until combined.
Using the stand mixer fitted with the whisk, whip chilled cream and the remaining ¼ cup of sugar until the cream holds peaks. Add berry mixture and mix on low until no white streaks remain, 10-15 seconds. Portion into dessert dishes and chill for at least 4 hours.
Garnish with whipped cream and strawberry halves.
Mousse will keep up to 48 hours.
Notes
Total time does not reflect chilling time
Nutrition Information:
Yield:
6
Serving Size:
1
Amount Per Serving:
Calories: 243
Total Fat: 11g
Saturated Fat: 7g
Trans Fat: 0g
Unsaturated Fat: 4g
Cholesterol: 33mg
Sodium: 97mg
Carbohydrates: 33g
Fiber: 4g
Sugar: 27g
Protein: 5g
Note: This post may contain affiliate links; view
my Disclosure Policy
for details. I earn a small percentage from any purchase you make by clicking on these links at no extra cost to you.