My loyal readers know I have this little love affair with berries, and who doesn't love a no-bake dessert?? When I spied this sublime Easy Strawberry Mousse on Christy's blog, I knew I had to treat my family.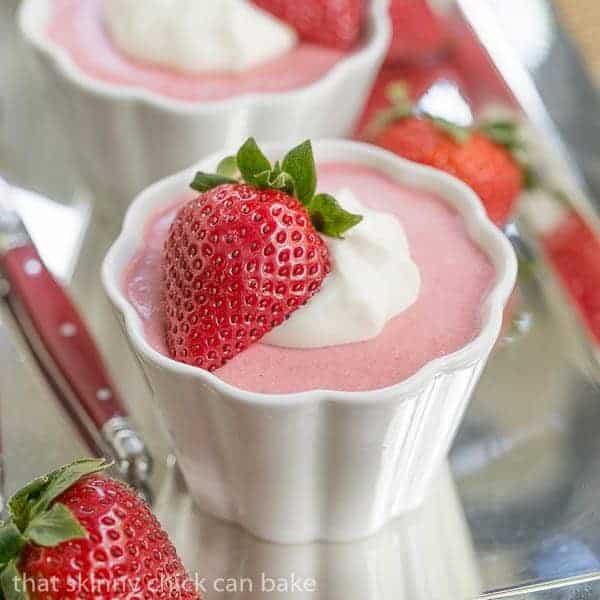 Easy Strawberry Mousse
May is when we finally see strawberries at our farmers' market. Though many grocery store berries are lovely, nothing compares to the ultra sweet, local spring berries. It's still a bit too early for harvest around here, but I was able to find some fragrant strawberries for this picture perfect strawberry mousse.
My Blogger CLUE Assignment
I was the lucky recipient of the blog of my sweet friend, Christy, Confessions of a Culinary Diva.  Her Strawberry Mousse Forever enticed me with the cute title, then reeled me in with the list of ingredients.
TWO pounds of strawberries were utilized to create an intense berry flavor—and strawberry mousse is the perfect way to celebrate the arrival of spring. Christy and I both participate in the French Fridays with Dorie group and I finally got to meet her in person last fall in Seattle.
Besides being a terrific writer and a successful banker, she is kind and lovely—we had so many laughs especially when we met some over served Canadians. Thanks for this terrific recipe, Christy.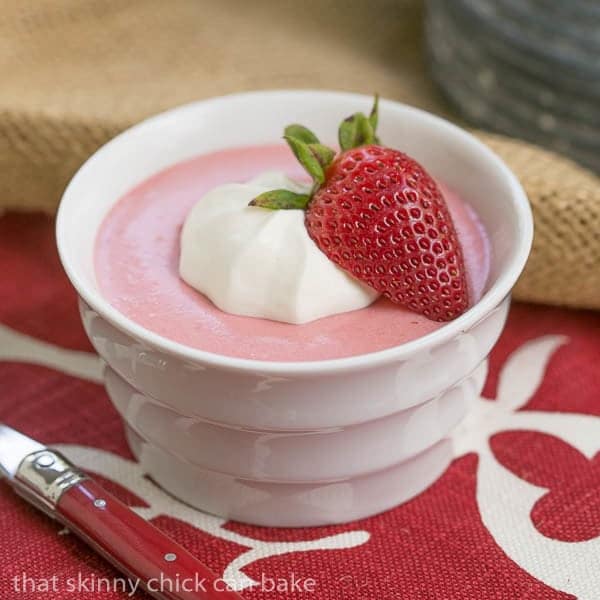 More Beautiful Berry Recipes from the Blogger CLUE Crew
Make sure to visit the participating blogs for more delicious, berry inspiration.
Print
Easy Strawberry Mousse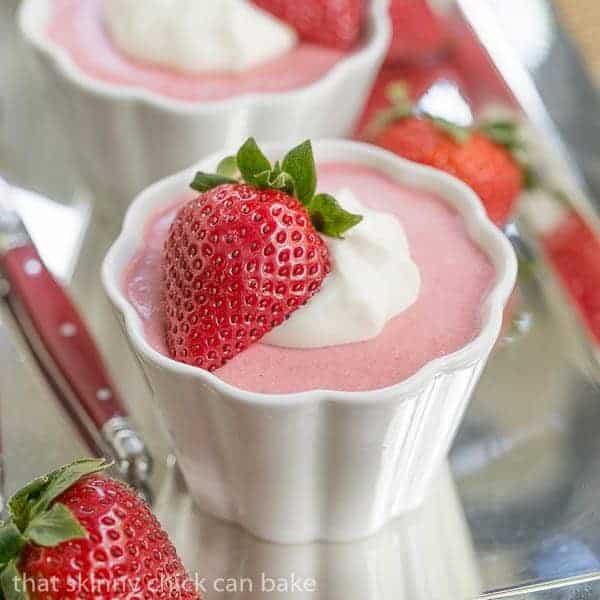 Fresh Strawberry Mousse, an elegant berry dessert!
Recipe courtesy of Cook's Illustrated via Confessions of a Culinary Diva (slightly adapted)
Author:
Prep Time:

30 minutes

Cook Time:

10 minutes

Total Time:

40 minutes

Yield:

4-6 servings

Category:

Dessert
Ingredients
2 pounds strawberries, hulled (6½ cups total)
½ cup sugar
pinch salt
½ cup heavy cream
1 tablespoon raspberry liqueur (Chambord is preferred)
1¾ teaspoons unflavored gelatin
½ cup cream (4 ounces) cream cheese, at room temperature, cut into 8 pieces
Berries and whipped cream to garnish, if desired
Instructions
Reserve 3 strawberries to use as garnish.
Pulse remaining strawberries in food processor in two batches until most pieces are between ½ to ¼ inch thick (approximately 6-10 pulses). Transfer the berries to a bowl and toss with ¼ cup sugar and salt. Cover and let stand for 45 minutes, stirring occasionally. Do not wash food processor.
Place heavy cream in the bowl of the stand mixer and refrigerate cream and bowl until ready to use.
Strain strawberries through fine-mess strainer set in small saucepan, rendering a minimum of ⅔ cup juice. Reserve juice, and do not wash bowl. Return strained strawberries to the food processor and process until smooth 15-20 seconds. Strain puree through fine-mesh strainer into now empty bowl, pressing on solids to remove seeds and pulp until you have 1⅔ cup of puree.
Place Chambord or raspberry liqueur in a small bowl and sprinkle gelatin over liqueur and let sit until gelatin softens about 5 minutes.
Meanwhile, cook reserved juice over medium-high heat, stirring occasionally, until reduced to 3 tablespoons, about 10 minutes (syrup will be thick). Remove from heat. Pour gelatin mixture over hot syrup and whisk to dissolve. Add softened cream cheese and whisk vigorously until smooth. Whisk in the 1 2/3 cups strawberry puree until combined.
Using the stand mixer fitted with the whisk, whip chilled cream and remaining ¼ cup till the cream holds peaks. Add berry mixture and mix on low until no white streaks remain, 10-15 seconds. Portion into dessert dishes and chill for at least 4 hours.
Garnish with whipped cream and strawberry halves.
Mousse will keep up to 48 hours.
Notes
Total time does not reflect chilling time