Ding Dong Cake
Ding Dong Cake is a rich chocolate layer cake with vanilla bean cream filling & decadent chocolate caramel ganache. A trifecta of delicious! It's a dessert twist on the Hostess Ding Dong snack cakes, and WOW is it delicious!
It was my son Tom's birthday. Two days after Christmas and I was just about desserted-out! He kindly let me have free rein over his birthday dessert, so I picked this Chocolate Ding Dong Cake Recipe. Who wouldn't love that????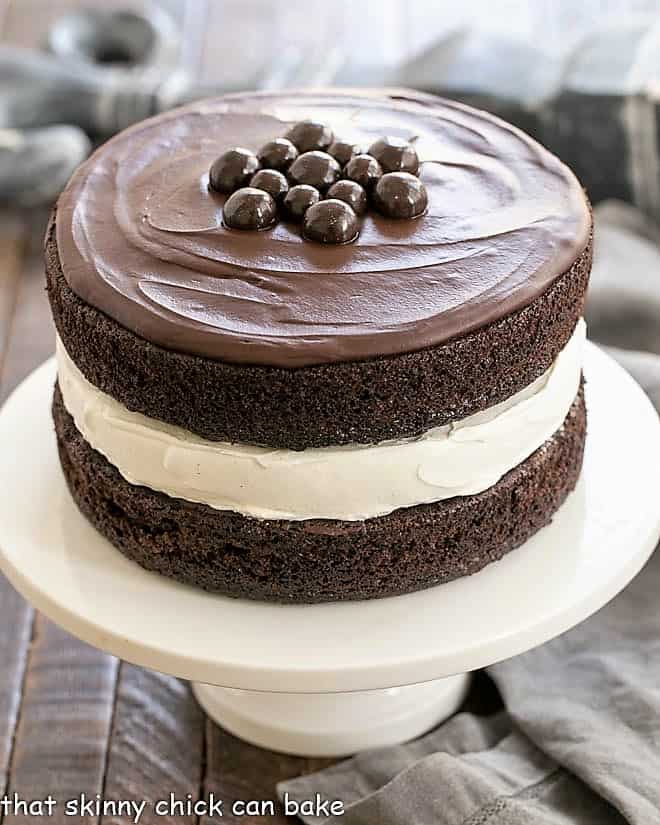 Why You Should Make
If you like Ding Dongs, this fresh from scratch cake will knock your socks off!
It's the perfect cake for celebrations.
It will thrill the chocolate lovers in your life.
Our oldest was due the first week of January many moons ago. The week of Christmas before his ETA, I spent many evenings working at the University Hospital where I was an oncology nurse. One night, I was pulled to another unit and waddled around taking care of my charges, not knowing little Thomas would arrive in less than 24 hours.
He was our bonus tax deduction, born before January first. But he was also born two days after Christmas. That's a short straw! So I always need to make sure I have a super-duper, decadent dessert to celebrate. The delicious Ding Dong Cake was a diet breaker for his birthday this year!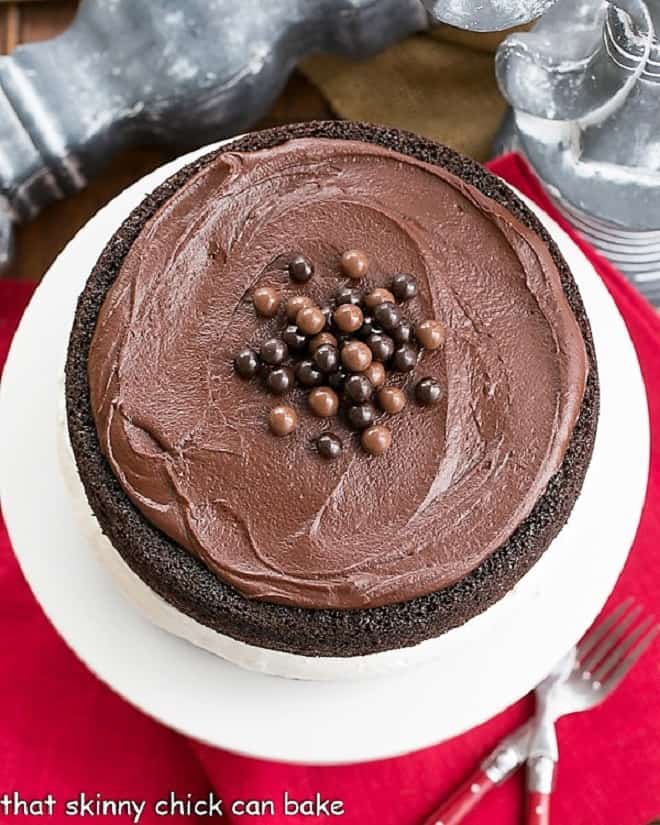 Frequently Asked Questions
What Is A Ding Dong?
A Ding Dong is a small chocolate snack cake with a cream filling that's been distributed by Hostess since 1967. This Ding Dong Cake was inspired by the two major components of the packaged snack food: chocolate cake and creamy vanilla filling.
How Do You Store a Ding Dong Cake?
It's best to store your cake in the refrigerator due to the cream filling. Cover where slices have been removed with plastic wrap to keep it fresh. The cake will be good for 3-4 days.
Can You Freeze a Ding Dong Cake?
Yes, but refrigerate it first so the topping and filling is cold and firm. Then wrap well in plastic to make it airtight. Freeze up to 3 months. Defrost in the refrigerator overnight to serve.
Tips for Making This Homemade Chocolate Cake
Grease your pans well, and line with parchment rounds for easy removal.
For even layers, use a kitchen scale to make sure each cake has approximately the same amount of batter.
The ganache is very hard to cut through when cold due to the addition of caramel. It's delicious, but be prepared to smush your slices a bit while cutting. Leave out the caramel sauce if picture-perfect slices are a concern. My family definitely doesn't care!
PRO-Tip: Carefully heat your knife to help get through the ganache. Run it under hot water or pour boiling water from a teapot over it, then dry your knife. Repeat as needed.
Setting the cake out at room temperature for about an hour before serving will help warm the ganache. I use a sawing motion with a serrated knife to slice and try not to exert too much pressure, letting the knife do the work instead.
I decreased the amount of heavy cream in the filling by 1/4 cup from Danielle's version. I found the ratio made a firmer filling. If you look at the photo above, notice that the weight of the top layer made the filling bulge just a bit. This is with the higher cream to gelatin ratio.
Make sure to keep this cake refrigerated when you're not indulging!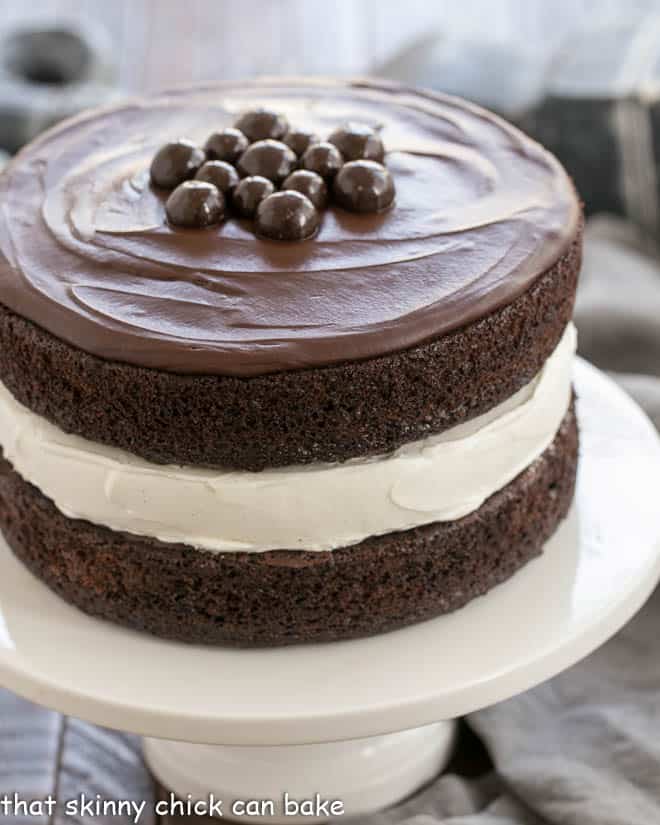 More Copy Cat Dessert Recipes You'll Love:
Plus try more of my Best Chocolate Cake Recipes:
I popped over to my friend, Danielle's blog, Hugs and Cookies XOXO, to check out her fabulous desserts, and immediately fell for her Ding Dong chocolate cake recipe. Danielle's cake is decked out in chocolate-dipped Twinkies, truly an extravagant dessert! Even without the Hostess garnishes, it is still fancy enough to celebrate a family birthday. I know Tom was thrilled!
Tools Needed to Make a Hostess Ding Dong Cake (affiliate links):
This recipe was first shared in January 2016. Text and photos were updated in 2020, 2021.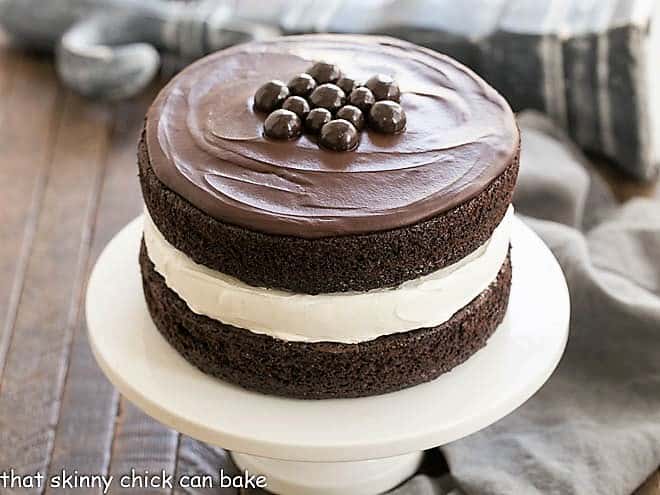 The Recipe:
Ding Dong Cake
Prep Time 30 minutes
Cook Time 40 minutes
Total Time 1 hour 10 minutes
Yield 16 servings
A decadent cake reminiscent of the famous Hostess Ding Dong snack cake!
Ingredients
Cake:
2 cups sugar
1 3/4 cups flour
3/4 cups cocoa powder
2 teaspoons baking soda
1 teaspoon baking powder
1 teaspoon salt
1 cup buttermilk
1 cup hot coffee
1/2 cup canola oil
2 large eggs
2 teaspoon vanilla
Caramel Ganache:
10 ounces dark chocolate chips or semisweet chocolate, chopped
8 ounces homemade caramel sauce or best-quality store-bought caramel sauce
Cream Filling:
2 tablespoons cold water
1 1/4 teaspoons unflavored gelatin
1 1/4 cups chilled heavy whipping cream
3/4 cup powdered sugar
1 vanilla bean, split lengthwise, and seeds scraped from inside the bean
Instructions
Adjust oven rack to the middle position. Preheat oven to 350 degrees F. Butter and line 2, 8-inch baking pans with parchment paper. Set aside.
In the bowl of a stand mixer fitted with the paddle attachment, add the dry ingredients & mix.
Add the buttermilk, hot coffee, oil, eggs, and vanilla. Mix on medium speed until well combined 1-2 minutes.
Divide batter among cake pans and bake until a toothpick inserted comes out almost clean, about 35 to 40 minutes.
Let cake cool in pans for about 10 minutes then remove from pans and cool on a cooling rack until completely cooled. I froze mine at this point, overnight.
Make caramel ganache by melting 10 ounces of semi-sweet chocolate or chocolate chips in the microwave till melted.
Stir in 8 ounces of caramel sauce and whisk till smooth. Set aside to let thicken.
Add the cold water to a small bowl, then sprinkle the gelatin over it. Allow to sit for about 10 minutes, until it has set.
In a small skillet, add about 1/2-inch of water, and heat over medium-high heat. Place the small bowl with the gelatin directly inside the skillet. Stir the gelatin until it is melted, about 2 minutes. Remove the bowl from the skillet.
In the mixer, use whisk attachment and beat the heavy cream, powdered sugar, and vanilla bean seeds. Beat on high to soft peaks.
Add the melted gelatin mixture and continue to beat until stiff peaks have formed.
Take the first cake layer and place it on a cake plate. Spread with half the ganache. Top with vanilla bean whipped cream.
Chill for about a half hour to make sure the whipped cream can support the second layer.
Add the second layer of cake and the rest of the ganache. Chill cake.
Notes
The cake is very difficult to slice when cold, as the ganache will firm up. Remove cake from the refrigerator at least an hour before serving to let the ganache soften up a bit. The slices may not be perfect, but they'll be delicious!
Nutrition Information:
Yield:
16
Serving Size:
1 slice
Amount Per Serving:
Calories: 495
Total Fat: 22g
Saturated Fat: 10g
Trans Fat: 0g
Unsaturated Fat: 11g
Cholesterol: 50mg
Sodium: 427mg
Carbohydrates: 69g
Fiber: 3g
Sugar: 51g
Protein: 6g
Note: This post may contain affiliate links; view
my Disclosure Policy
for details. I earn a small percentage from any purchase you make by clicking on these links at no extra cost to you.