Chocolate Chip Cookie Bars
Chocolate Chip Cookie Bars made with pantry ingredients are an effortless way for a chocolate chip cookie fix. Simple enough for a beginning baker!
No scooping, one bowl, one pan all make these Cookie Bars the perfect solution when time is short or kids are underfoot! Add your favorite chips, nuts, dried fruit (though my kids would revolt!) or even toffee chips to shake things up.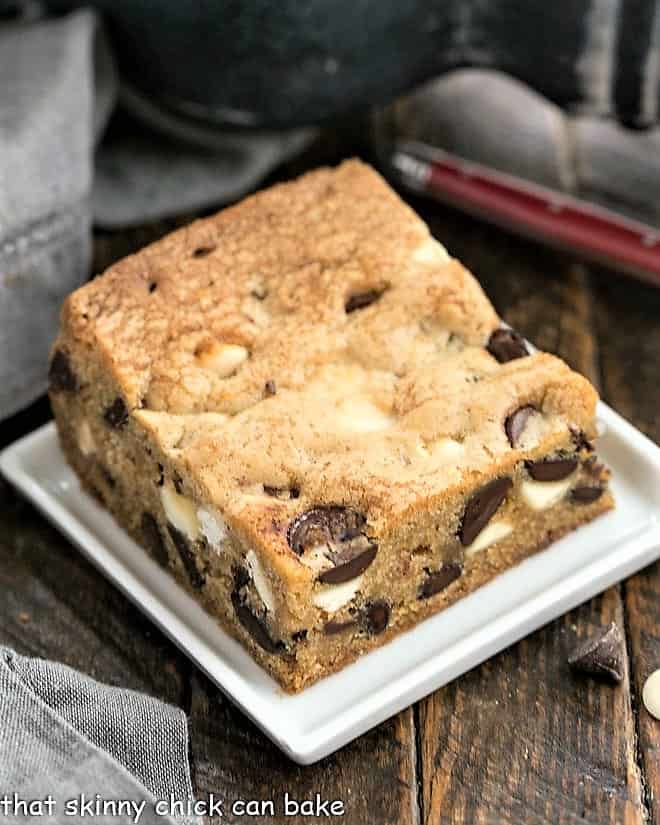 Why You Must Make
They're perfect for the times you don't have time to make individual cookies.
Chocolate chip cookie bars have the exact flavors of your favorite chocolate chip cookies!
They became a family favorite from the first time I made them. They dubbed them "chippy bars."
This pan cookie recipe came from pure laziness. My family (husband being the band leader) adores chocolate chip cookies. But when our 3 children were young, I didn't always have time to make cookies. Scooping, baking, cooling, repeating. A bit of a pain with little ones underfoot. So spreading the cookie dough into a cake pan was the perfect solution for an easy dessert recipe.
Ingredient Notes
Kitchen Staples – Sugar, Flour, Baking Soda, Salt
Butter – at room temperature
Brown Sugar – Regular or dark brown. See how to make your own dark brown sugar in the frequently asked questions below. Adds moisture to the bars. Dark brown sugar adds even more caramel undertones than regular brown sugar, but both work well.
Eggs – at room temperature for easier incorporation.
Vanilla Extract – Should be real vanilla, not artificially flavored.
Semisweet Chocolate Chips – Or you can use 1 cup semisweet chocolate chips plus 3/4 cup white chocolate chips and 3/4 cup milk chocolate chips. If you have some extra chocolate chips, carefully press them into the fresh out of the oven bars. This will give a bakery-worthy appearance to your bars.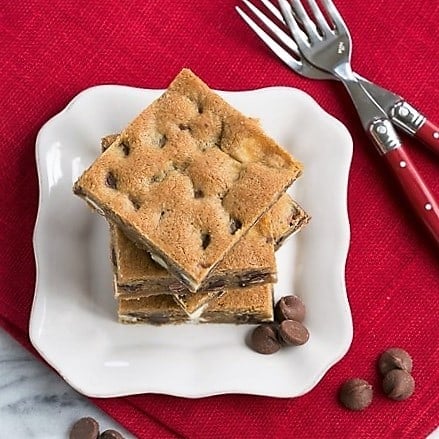 Expert Tips
I have made this dessert more than any other. From bowl to plate it takes only about an hour. Much quicker than cookies, and so well-loved. My family is willing to eat these chocolate chip cookie bars fresh from the oven while they're warm and gooey. Wouldn't you? I hope these cookie bars will become a favorite of your family, too. I'm sharing a couple of tips for making bar cookies the best they can be.
PRO-Tip: An hour or so before baking, set the eggs and butter on the counter to come to room temperature. Both will incorporate more easily if not ice cold.
If you're making these for guests or to give away, consider lining your pan with non-stick foil. Besides preventing the bars from sticking, the foil can be used as a sling to remove the cooled bar cookies from the pan onto a cutting board. This will help you slice them into nice even bars.
Add whatever kind of chocolate chips you enjoy. Semisweet is a classic choice, but try my combination of milk chocolate, semisweet chocolate, and white chocolate or even butterscotch or peanut butter chips. You can also shake things up by using half M&Ms and half chocolate chips.
I typically use light brown sugar, but for chewier blondies, try dark brown sugar.
PRO-Tip: Did you know you can make your own dark brown sugar if you don't have any in your pantry? Simply mix 1 tablespoon of molasses into 1 cup of light brown sugar for each cup needed.
Slightly underbaking makes these bars moist and chewy. But you don't want them to be raw in the middle. The timing of anything you bake depends on your oven. I suggest baking them for the time listed in the recipe first, then adjusting the next time if you want them chewier. Because I know you'll want to make them again.
To bake like a pro, reserve some chocolate chips to carefully press into the warm bars after they come out of the oven. It will make a prettier presentation. Of course, my family just cares about the taste, but it's something you might like to do for company.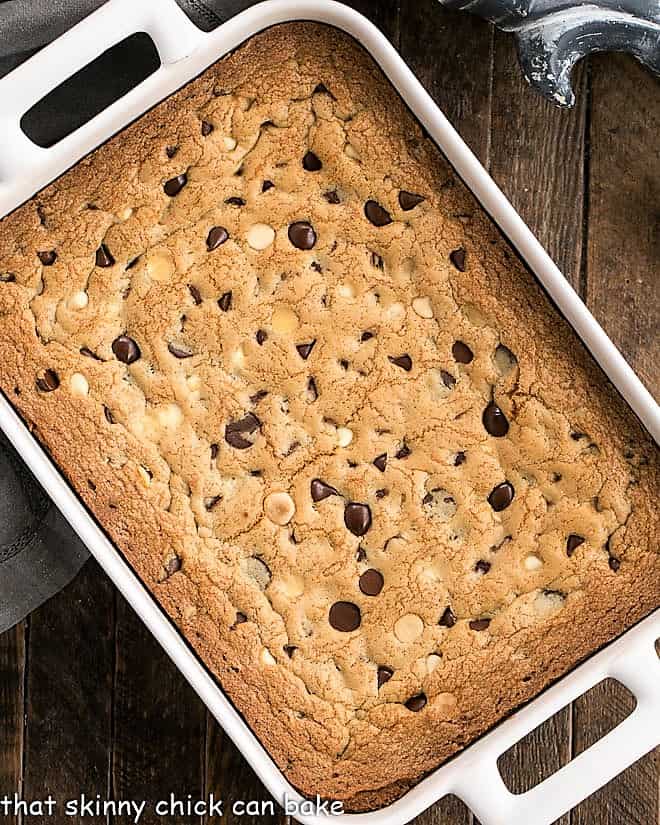 Frequently Asked Questions
How Do I Prep My Baking Pan?
First, prepare your pan. PRO-Tip: You can grease with a cooking spray like Pam, but I prefer to line my 9×13-inch baking pan with foil, specifically non-stick foil. The foil doubles as a sling to help remove the bars to a cutting board after they are cool.
Regular foil works for a sling, but the non-stick peels off the bars easily. Superslick, especially if you're making these for company as it's much easier to neatly cut these into bars if they're out of the pan. Check out my post on How to Cut Perfect Cookie Bars if you'd like some more tips.
How Long Do You Cook Chocolate Chip Bars?
Usually, cookie bars can be baked at the same temperature as cookies, but they need a longer baking time. Baking time is typically 10 minutes for simple chocolate chip cookies and about 25 minutes for these bar cookies.
All ovens work differently and if your pan is a bit smaller, your bars will be thicker and take a few minutes longer. Typically, I make these in a 9 x 13-inch pan, but the thicker bars in this post were baked in an 8 1/2 x 12-inch pan and took an extra 10 minutes in the oven. 
How Can You Tell if Your Blondies Are Done?
You can use a toothpick to see if the center is cooked, but that works better with cakey bars. These chocolate chip cookie bars are dense and not cakey. The first batch is often a test batch, though they should be lightly browned across the top. Note that your kitchen will fill with a delicious aroma just before they are fully cooked.
Make sure to mark your recipe with the time it took for your oven to bake the bars properly. All ovens cook a little differently, so it's terrific to have this information for your next batch.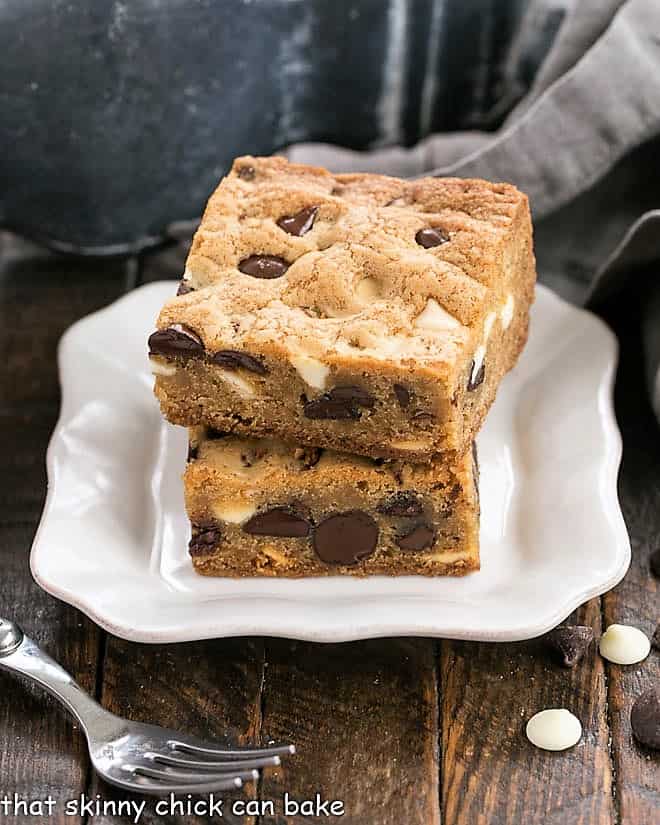 You May Also Like: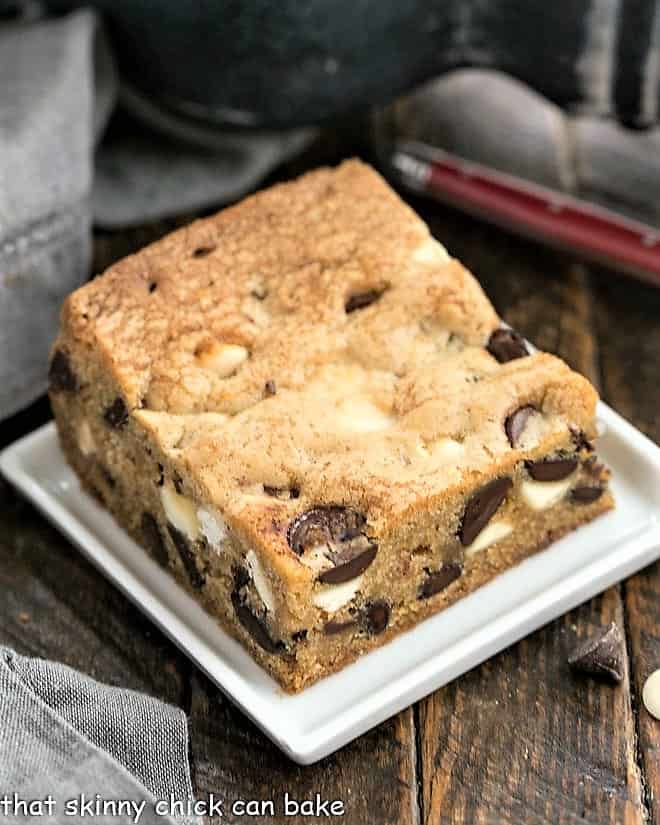 The Recipe:
Chocolate Chip Cookie Bars
Prep Time 10 minutes
Cook Time 24 minutes
Total Time 34 minutes
Yield 24 bars
An easy way to get the flavors of chocolate chip cookies without all the work!
Ingredients
1 cup butter (2 sticks), at room temperature
3/4 cup brown sugar (I used dark brown sugar)
3/4 cup sugar
2 eggs
1 1/2 teaspoon real vanilla extract
1 teaspoon baking soda
1/2 teaspoon salt
2 1/4 cups flour
2 cups semisweet chocolate chips or 1 cup semisweet chocolate chips plus 3/4 cup white chocolate chips and 3/4 cup milk chocolate chips
Instructions
Preheat oven to 375º.
Cream butter and sugars. Mix in eggs. Add vanilla, then dry ingredients. Mix well. Add chocolate chips.
Spread in greased 9 x 13 pan. Bake about 24 minutes. Use an 8 1/2 x 12 pan for thicker blondies.
Notes
Mix with a wooden spoon to prevent over-mixing and encouraging gluten formation.
Use a variety of chocolate chips or even M&Ms instead of all semisweet chips. Recipe adapted from Nestles.
Recommended Products
As an Amazon Associate and member of other affiliate programs, I earn from qualifying purchases.
Nutrition Information:
Yield:
24
Serving Size:
1 bar
Amount Per Serving:
Calories: 324
Total Fat: 18g
Saturated Fat: 11g
Trans Fat: 0g
Unsaturated Fat: 6g
Cholesterol: 38mg
Sodium: 176mg
Carbohydrates: 41g
Fiber: 2g
Sugar: 30g
Protein: 3g
Note: This post may contain affiliate links; view
my Disclosure Policy
for details. I earn a small percentage from any purchase you make by clicking on these links at no extra cost to you.