Dark Chocolate Mousse Bars
These scrumptious Dark Chocolate Mousse Bars have a graham cracker crust, an egg-free Chocolate Mousse Recipe then luscious chocolate ganache! Three tempting layers of deliciousness.
Dark Chocolate Mousse Bars
Many of my friends have seen my baking cupboard. It's that spot where I keep extracts, baking soda, baking powder, cocoa powder and stacks of Ghirardelli chocolate bars. We go through A LOT of those chocolate bars. Bittersweet chocolate is used less than semisweet around here, but it was the perfect way to obtain a deep, rich chocolate flavor in the mousse.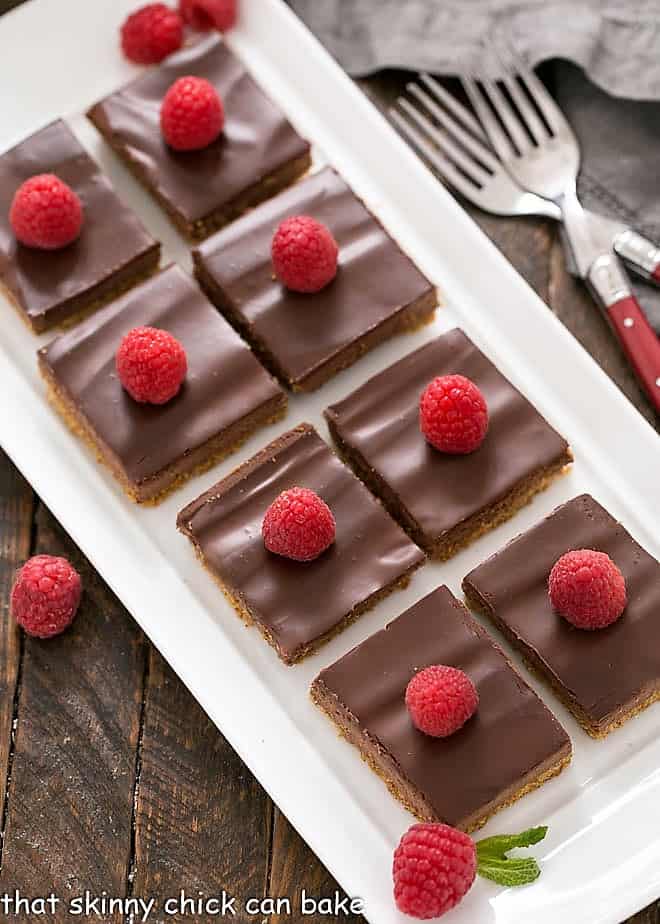 How to Make Chocolate Mousse Bars
This recipe was a cinch to whip up with a phenomenal payoff. To start, mix, spread and tamp an easy graham cracker crust into the pan. Bake and cool while prepping the filling.
Whip room temperature cream cheese until light, then mix in a cup of melted bittersweet chocolate. Note that for a silky smooth filling the cream cheese must not be cold.
PRO-Tip: If you forget to set your cream cheese out on the counter 1-2 hours before baking, you can place the brick of cream cheese, still in its foil wrapping, in a bowl of warm (not boiling) water to speed up the process. If you use cold cream cheese, you'll find specks of white in the mousse.
Next, whip some heavy cream and gently fold it into the chocolate mixture to lighten the mousse. Using a cold bowl helps stablize the whipped cream. Pop your bowl in the freezer 15-30 minutes before whipping. Once the whipped cream and chocolate are combined, spread this mousse layer over the crust.
Finally, melt the remaining baking chips with a bit more cream to make the ganache topping. And last, pop the pan in the fridge to chill, and wait patiently. Yes, I wanted to dive right into this layered chocolate wonder and you will, too.
Chocolate Desserts
The hubby got the first taste and gave this chocolate mousse recipe exuberant praise. And one of our dinner guests last month declared them "better than Reese's!" It's hard to beat chocolate desserts!
I was thrilled that these dark chocolate mousse bars can be made with ingredients that are almost always found in my kitchen. And you can bet I'll be adding a stash of these 60% Cacao Bittersweet Chocolate Baking Chips to my baking supplies. These sinfully rich bars are perfect for your Valentine next month!
More Chocolate Mousse Recipes You'll Love:
Add to Your Shopping List:
Graham Cracker Crumbs
Granulated (white) Sugar
Butter (I use salted)
Bittersweet Chocolate Chips (60% Cacao), though you may substitute Semisweet Chocolate Chips if desired
Cream Cheese
Powdered Sugar (also known as Confectioner's Sugar)
Vanilla (always check the label for real not imitation vanilla)
The Recipe:
Dark Chocolate Mousse Bars
Prep Time 40 minutes
Cook Time 10 minutes
Total Time 50 minutes
Yield 24 bars
3 layers of deliciousness including a middle layer of egg-free chocolate mousse.
Ingredients
1 1/2 cups graham cracker crumbs
1/3 cup sugar
6 tablespoons butter, melted
10 ounces Bittersweet Chocolate Chips (60% Cacao)
8 ounces cream cheese, at room temperature
1 1/2 cups whipping cream, divided
1/4 cup powdered sugar
1 teaspoon vanilla
Instructions
Preheat oven to 350º. Line a 9 x 13 pan with non-stick foil or use regular foil and spray with cooking spray. Set aside.
Mix graham cracker crumbs, melted butter and sugar and mix well. Pat into bottom of prepared pan and bake 10 minutes. Let cool before making mousse.
Melt 1 cup of chocolate chips in microwave, starting, stopping and stirring at 30 second intervals till chocolate melted and smooth. Set aside.
Place cream cheese in a large bowl and using electric mixer, whip till light and fluffy. Add chocolate and mix till combined.
Beat 1 cup of the whipping cream with powdered sugar and vanilla till soft peaks form. Add to chocolate mixture and whip till combined. Spread over cooled crust and refrigerate while making topping.
Melt remaining chocolate chips with remaining 1/2 cup cream in microwave, stopping and stirring and 30 second intervals till melted and smooth. Spoon over mousse and spread with offset spatula. Refrigerate till firm, then cut and serve.
Notes
Total time does not reflect cooling/chilling times.
Recommended Products
As an Amazon Associate and member of other affiliate programs, I earn from qualifying purchases.
Nutrition Information:
Yield:
24
Serving Size:
1 bar
Amount Per Serving:
Calories: 229
Total Fat: 19g
Saturated Fat: 11g
Trans Fat: 0g
Unsaturated Fat: 6g
Cholesterol: 34mg
Sodium: 90mg
Carbohydrates: 13g
Fiber: 2g
Sugar: 6g
Protein: 3g
Note: This post may contain affiliate links; view
my Disclosure Policy
for details. I earn a small percentage from any purchase you make by clicking on these links at no extra cost to you.