Buttermilk Biscuits Recipe
Looking for an Easy Biscuits Recipe that tastes amazing? This Buttermilk Biscuits Recipe laminates the dough like puff pastry making them extremely flaky!
If you've never been able to make biscuits that taste like they were made by a Southern grandma, I've got you covered with a homemade biscuit recipe and loads of tips! Simple ingredients and detailed directions will make for tasty biscuits right from your oven.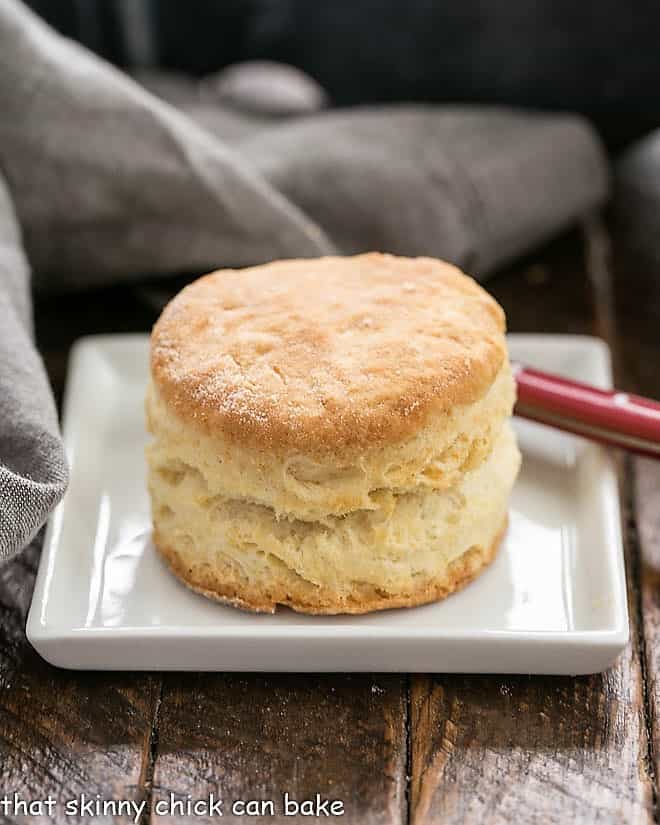 Why This Buttermilk Biscuits Recipe Works
I have a couple of go-to recipes when I have leftover buttermilk. One is Ina's corn muffins and the other a recipe for tender buttermilk biscuits. Cook's Illustrated goes beyond the typical method of cutting in cold butter and shortening to create their homemade biscuits recipe.
You actually generate thin sheets of butter by flattening out pieces of cold butter with your fingers. These sheets of butter are dispersed throughout the dough and, when baked, will melt and steam and created those incredible air pockets like in puff pastry and flaky pie crusts. Then the mixture is popped in the freezer before shaping, so that both the butter and shortening are extra cold
You also fold the dough into thirds to give more opportunities for that flakiness we all covet in homemade buttermilk biscuits. This technique is used when making puff pastry and is called lamination. But instead of the lengthy process when making pâte feuilletée, there is only one "turn" and no additional chilling.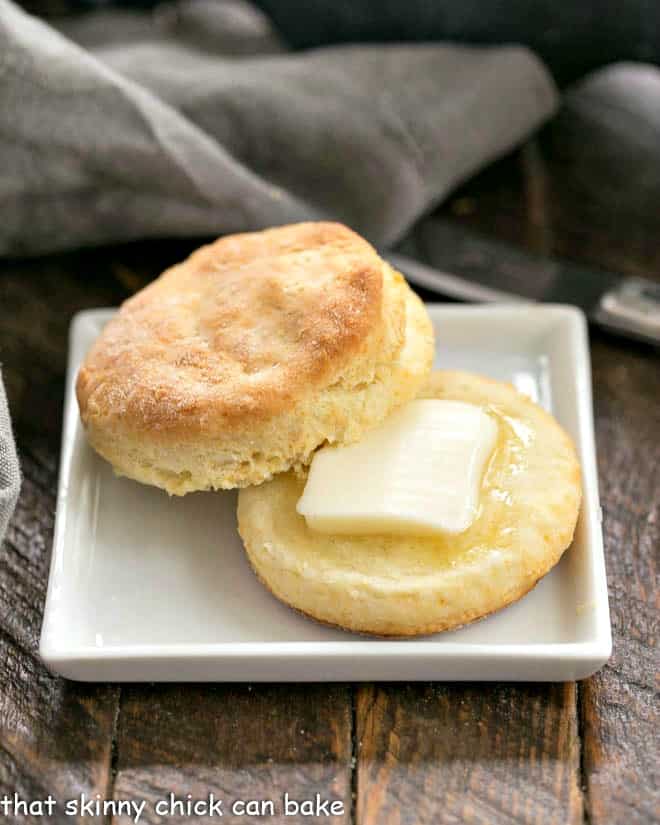 Expert Tips
PRO-Tip: The key to flaky biscuits is having very cold butter, shortening, and buttermilk. Start with very cold butter and cut it into tablespoons. After you cut in the shortening and rub in the cold butter, the bowl is popped into the freezer to rechill the fats. Keep the buttermilk in the fridge until you're ready to add it to the rest of the ingredients.
I've added a tablespoon of sugar to this recipe as it balances out the salt and leaveners with a little sweetness. If you'd like to use these homemade biscuits for strawberry shortcakes, feel free to add another tablespoon or so.
PRO-Tip: Do not overmix the ingredients. You want to preserve the thin flakes of butter and minimize gluten formation.
PRO-Tip: Make sure your baking powder and baking soda are fresh. Baking powder is not used as frequently as baking soda, and often loses it's potency while in the pantry. Check the date on the can, and when in doubt, buy some fresh baking powder.
The folding of the dough is a novel idea for most home cooks. It's not difficult, but make sure you have a lightly floured surface on which to roll out the biscuit dough. Roll it into a large rectangle. Fold the dough into thirds by folding one-third over the middle third, then from the other side, fold the remaining one-third over the double layer of biscuit dough. Gently roll this rectangle until it's about 1-inch thick. Working quickly will help keep the dough cold.
Cut into biscuits with a sharp round cutter with a diameter of  3 inches or less.
PRO-Tip: Cut straight down without twisting so as not to seal together any of the layers.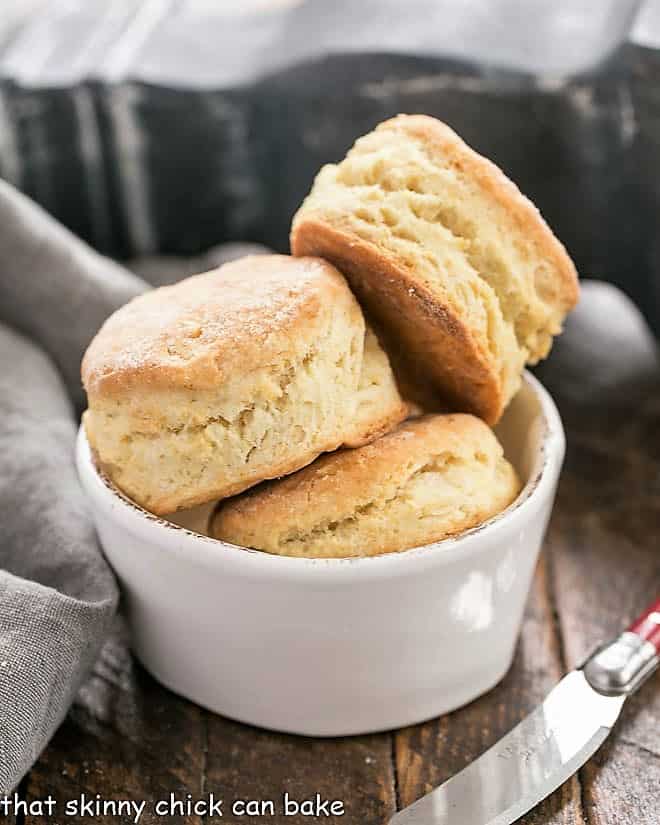 Helpful Tools:
Try these biscuits on top of my Homemade Chicken Pot Pie!
More Quick Bread You'll Love:
This recipe was first posted in February 2011. Text and photos were updated in 2020.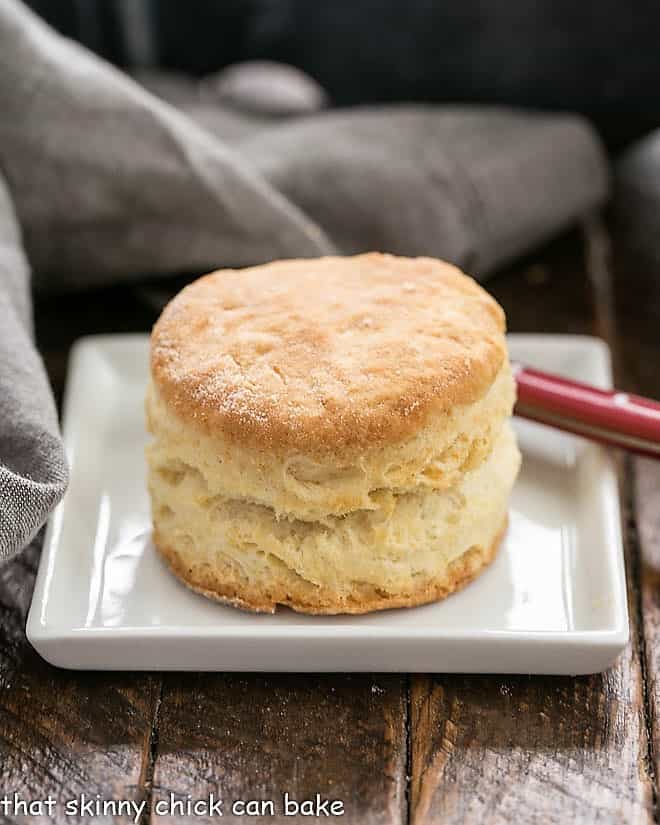 The Recipe:
Flaky Buttermilk Biscuits
Prep Time 15 minutes
Cook Time 15 minutes
Total Time 30 minutes
Yield 9 biscuits
The flakiest buttermilk biscuits. Recipe adapted from Cook's Illustrated
Ingredients
2 ½ cups flour plus more for rolling dough
1 tablespoon baking powder
½ teaspoon baking soda
½ teaspoon salt
1 tablespoon sugar
2 tablespoons shortening
½ cup very cold butter
1 ¼ cups very cold buttermilk
Instructions
Preheat oven to 450º. Line a baking sheet with a Silpat or parchment paper.
In a bowl, whisk together the dry ingredients.
Cut in shortening in with a pastry blender or a couple of knives till the size of peas.
Cut butter into 8 pieces and, one at a time, rub them into the flour with your fingers till they are flattened into thin sheets (they will break apart). You'll want all the butter separated into these pieces so that when they melt in the oven, they produce steam and make the biscuits flaky.
Put the bowl in the freezer for 15 minutes to help the butter rechill.
Add all the buttermilk except for the last two tablespoons. Mix gently with a spatula. If the dough is too dry, you may add the remaining buttermilk.
Lightly flour another Silpat and roll the dough out to cover the surface (11 x 16). Fold the dough into thirds, then roll to an inch thick.
Cut into biscuits using a sharp round cutter, 3-inch diameter or less. Press straight down without twisting. Dip the cutter into flour if it sticks to the dough.
Pat together scraps to make the last few biscuits. Place biscuits on the lined baking sheet, and bake for about 15 minutes or till lightly browned.
Notes
Total time does not reflect freezing time.
Yield will vary depending on the size of your biscuit cutter.
Nutrition Information:
Yield:
9
Serving Size:
1 biscuit
Amount Per Serving:
Calories: 375
Total Fat: 20g
Saturated Fat: 10g
Trans Fat: 0g
Unsaturated Fat: 8g
Cholesterol: 30mg
Sodium: 600mg
Carbohydrates: 43g
Fiber: 1g
Sugar: 3g
Protein: 6g
Note: This post may contain affiliate links; view
my Disclosure Policy
for details. I earn a small percentage from any purchase you make by clicking on these links at no extra cost to you.