These exquisite Pastry Wrapped Caramel Apples are an elegant, delectable dessert! They're a little fiddly to make but worth the effort for a stunning autumn dessert!
A Baked Apple Recipe can be made in so many different ways, but none are as pretty as these inside-out Caramel Apples!!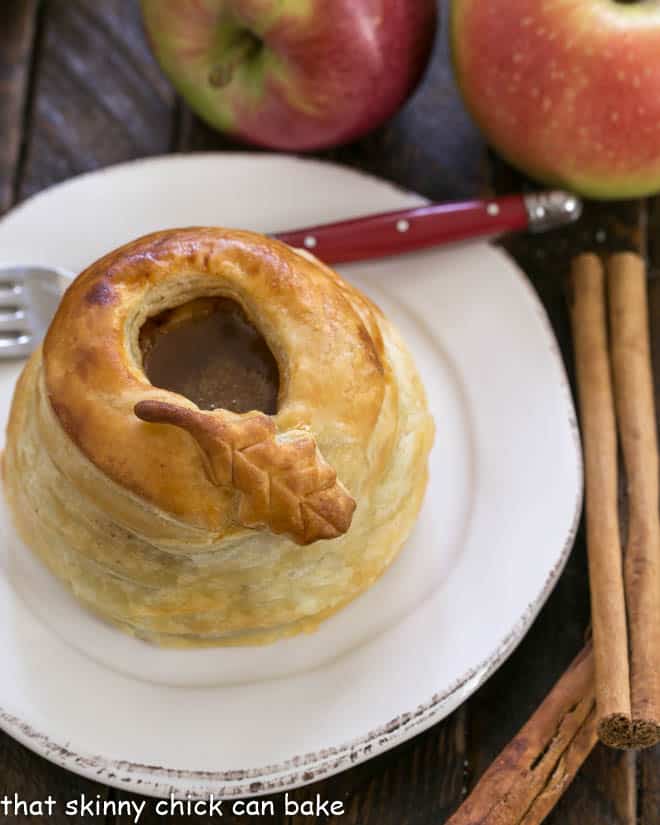 Pastry Wrapped Caramel Apples
Don't baked apples sound like the perfect fall dessert? And what about one filled with caramel? Even better. I'd eaten a sub-par baked apple recently with more crust than apple. I knew I could do better.
I found a video of these stunning gems: peeled baking apples were dipped in cinnamon sugar, wrapped in strips of grocery store puff pastry, then filled with caramel sauce from a jar. Simple and beautiful. Of course, these Pastry Wrapped Caramel Apples would be out of this world with homemade puff pastry and homemade caramel sauce, but still pretty spectacular with store-bought versions of each. The French would call these Caramel Apples en Croute or apples wrapped in pastry!
How to Make this Baked Apple Recipe
The first time I made this dessert, my apples were probably a smidge bigger than the medium-sized apples called for in the recipe. And after tweaking the recipe to include a bit of chilling time to firm up the puff pastry, my apples were still a bit underdone at the end of the baking time.
I'd recommend turning down the oven temp at about the 20-minute mark and extending the baking time if your apples are large or they don't seem done when you insert a knife into the apple.
Once the apples are peeled, use a melon baller or another tool to remove the core from the top without cutting through the bottom of the apple. This space is going to hold caramel sauce, so it cannot leak.
Make sure your well is large enough to hold 2 tablespoons of caramel sauce. If there's not enough space, just use less.
Start wrapping the puff pastry strips at the bottom of the apple, working your way up to the top. When the strip reaches the top, you can trim if needed, then add the leaves to cover the end of the strip.
I use a dab of water or the egg wash to help seal together the 4 strips of dough needed to wrap each apple.
Brush the apples with an egg wash before baking. This mixture of egg and water will add a nice sheen to the baked puff pastry.
I also use either a drop of water or of the egg water glaze to seal together the 4 strips needed to wrap each apple.
Check apples for tenderness with a sharp knife a couple of times as they transform into a lovely golden brown. It should slide in easily when the apples are cooked and tender.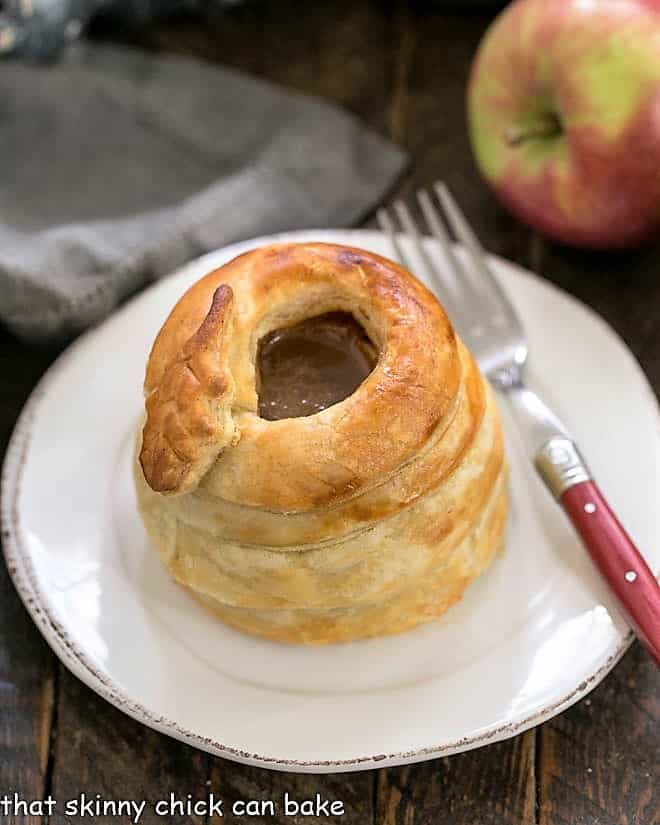 Tips for Working with Puff Pastry
PRO-Tip: Puff pastry will puff best when chilled, then baked in a hot oven.
So most likely your puff pastry will warm up as you work with it, so a little time in the fridge before baking is helpful to firm it up again.
When the cold puff pastry enters a hot oven, the tiny pockets of water throughout the dough will turn to steam, puff up the layer and make a perfect flaky covering for these caramel apples.
PRO-Tip: Make these caramel apples in the fall or winter. It's tough to work with puff pastry when your kitchen is warm, like it can be in the middle of summer.
This recipe was inspired by the Pepperidge Farm website. I prefer an all-butter puff pastry, but Pepperidge Farm's version will do in a pinch.
More Apple Recipes You'll Love: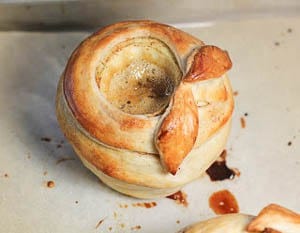 This recipe was first shared in October 2011. Photos and text were updated in 2020.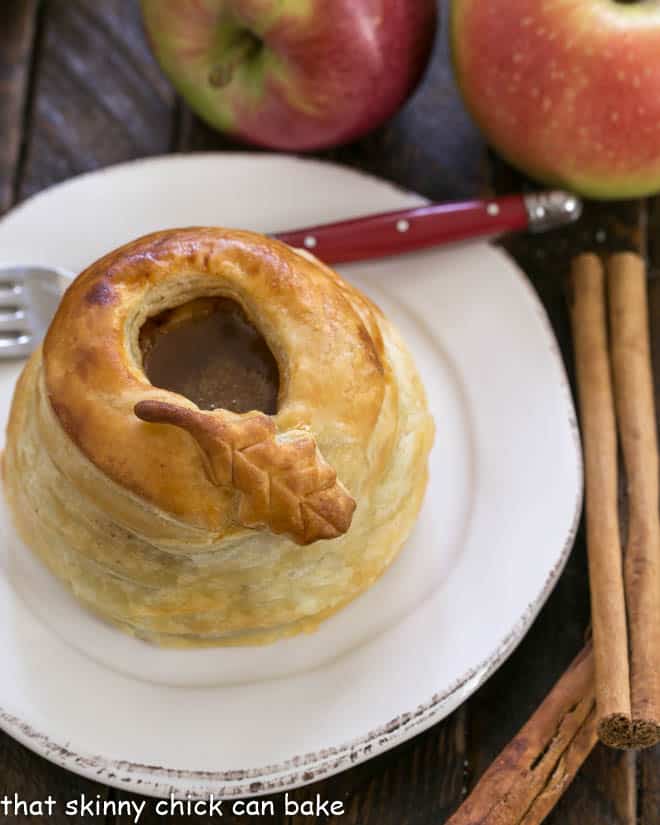 The Recipe: Pastry Wrapped Caramel Apples
An elegant baked apple recipe filled with caramel sauce and wrapped in puff pastry.
Prep Time 30 minutes
Cook Time 40 minutes
Total Time 1 hour 10 minutes
Yield 4 servings
Ingredients
1/2 teaspoon ground cinnamon
2 tablespoons sugar
1 egg
1 tablespoon water
4 medium Granny Smith apples, peeled
1/2 cup caramel sauce
10-ounce package of Trader Joe's puff pastry (or another brand of puff pastry may be substituted)
Vanilla ice cream
Instructions
Preheat oven to 400º.
Stir the cinnamon and sugar together in a small bowl. Beat the egg and water in a small bowl with a fork or whisk. Using a melon baller, scoop the cores out of the apples from the top, making sure to leave the bottoms intact.
Coat the apples with the cinnamon mixture.
Place the pastry sheets on a lightly floured surface. Roll each pastry sheet into a 10 x 9-inch rectangle. Cut each into 9 1-inch strips Moisten ends with water and then press 4 pastry strips together to make 1 strip. Repeat to make 4 long strips total. Cut 4-8 leaf shapes from the leftover pastry.
Starting at the bottom, wind 1 pastry strip around 1 apple, slightly overlapping the edges of the pastry. Repeat with the remaining pastry strips and apples. Top each with 1-2 pastry leaves. Spoon 2 tablespoons caramel sauce into each apple. Brush the apples with the egg wash. Place the pastries onto a baking sheet covered with parchment or a Silpat. Chill briefly, 20-25 minutes.
Bake for 25 minutes or until the pastries are golden brown. Serve the pastries with the ice cream.
Notes
Adapted from Pepperidge Farm.
Mine were dark enough, but not fully cooked at 25 minutes. You may want to lower the temp and bake another 10-15 minutes, depending on your oven and the size of your apples.
Recommended Products
As an Amazon Associate and member of other affiliate programs, I earn from qualifying purchases.
Note: This post may contain affiliate links; view
my Disclosure Policy
for details. I earn a small percentage from any purchase you make by clicking on these links at no extra cost to you.