Easy Marshmallow Popcorn Balls
Easy Marshmallow Popcorn Balls are a tasty, irresistible way to celebrate life's big and small events. So let's have a party!
This is my mom's Popcorn Ball Recipe. Simple to make without a candy thermometer and so addictive! It's a fun, beloved recipe that's been around for decades! Learn How to Make Popcorn Balls with this super easy recipe.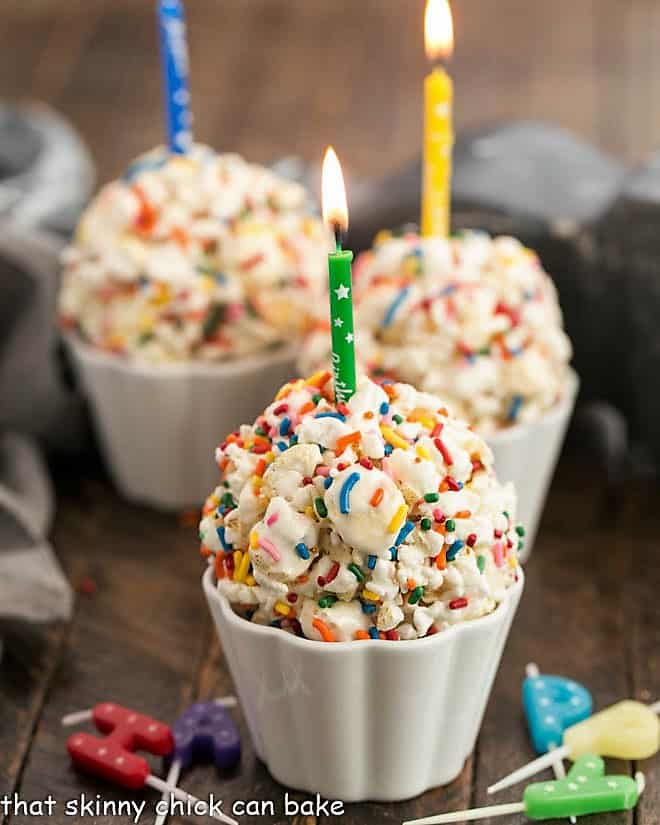 Why You Must Make
These are super easy! They're like making Rice Krispie Treats except with popcorn.
No special equipment is needed!
They can be jazzed up with different colored sprinkles, M & Ms, or even add colored Jello powder to the melted marshmallows for different holidays.
They're extremely tasty.
When I was growing up, we didn't fiddle with candy thermometers when it came to making sweets. My mom wasn't one to mess with homemade toffee or divinity. But she had no trouble letting us melt marshmallows and butter to make Rice Krispie treats or these irresistible, super-easy marshmallow popcorn balls.
Ingredient Notes
Popcorn – You'll need about 10 cups of popped popcorn. You may use 2 bags of microwave popcorn with a neutral flavor or use your favorite popcorn maker.
Marshmallows – Large marshmallows
Butter – Salted is OK
Vanilla – Real vanilla extract, never artificially flavored. Make sure to read the label if you're unsure.
Sprinkles – They stick best if added immediately after shaping the popcorn balls. If you wait too long the surface will not be tacky enough for the sprinkles to adhere. Change up the colors depending on the occasion.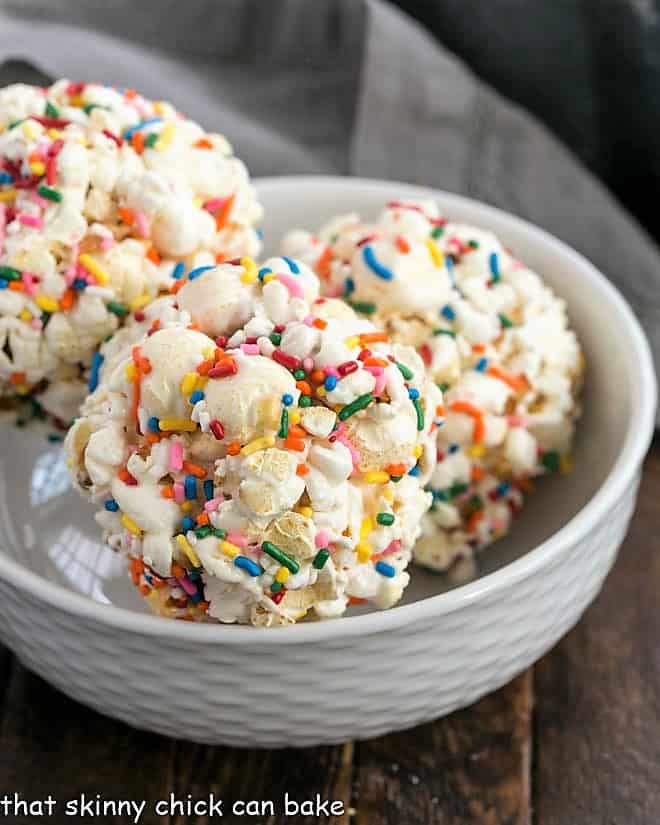 Expert Tips
I have fond memories of the sweet, chewy popcorn balls of my childhood. This is a super easy recipe since marshmallows and butter can be quickly melted in the microwave, which wasn't an option when I was a teen (yikes, I'm OLD). Here are a few tips if this is your first time making popcorn balls:
Pop your popcorn however you prefer, but don't add extra seasonings, though a bit of salt is OK. PRO-Tip: Salt is a flavor enhancer, and even sweets benefit from the addition of salt.
If you use microwave popcorn, don't use a butter-flavored variety as it can taste artificial and overwhelm the vanilla flavor of the popcorn balls.
If that is all you have on hand and that butter flavor doesn't bother you, feel free to give it a try. I prefer natural-flavored microwave popcorn.
Make sure to remove any unpopped kernels from your bowl of popcorn.
The marshmallows and butter can quickly and easily be melted in the microwave. But it's also simple to do in a pot on the stovetop.
PRO-Tip: Butter your palms when you shape the popcorn balls so they don't stick to your hands.
Dip your popcorn balls in sprinkles while the balls are still tacky from the marshmallows if desired.
Add colored M&Ms to the popcorn before adding the marshmallow and butter mixture to make seasonal or holiday-themed popcorn balls. Using Orange and Brown for Halloween, Red and Green for Christmas, or Pastel Colors for Spring and Easter are a few suggestions.
PRO-Tip: You can also mix flavored gelatin into the melted marshmallow mixture to both color and flavor your popcorn balls.
Frequently Asked Questions
How Do You Store Popcorn Balls?
Keep your popcorn balls in an airtight container for up to 3 days. You can also individually wrap them in plastic wrap.
How to Wrap Popcorn Balls?
If you're giving out popcorn balls for a party favor or Halloween treats,  put them in cellophane bags or plastic wrap tied with festive ribbons. These can be packaged a day ahead of time.
Why Are My Popcorn Balls Dry?
If your popcorn balls are dry, you may have too much popcorn for the amount of marshmallows and butter used as the "glue" to make the popcorn into balls. If you're using an alternative recipe with butter, corn syrup, and sugar, the mixture may not have been cooked properly or was not cooled as directed before using.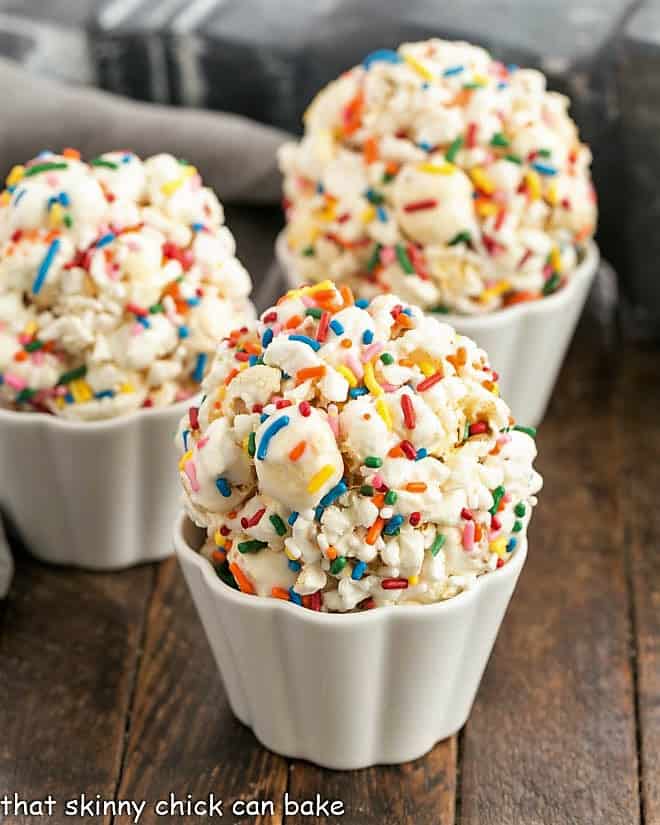 You May Also Like: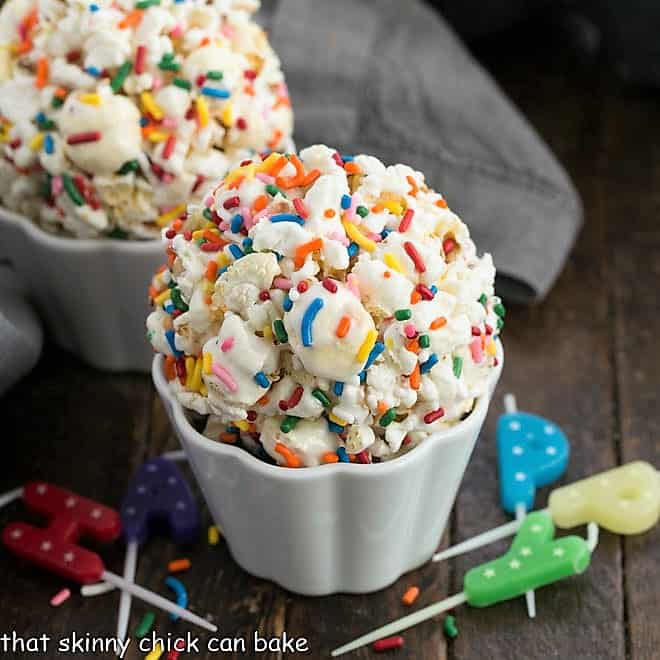 The Recipe:
Marshmallow Popcorn Balls Recipe
Prep Time 20 minutes
Cook Time 10 minutes
Total Time 30 minutes
Yield 8
A simple popcorn treat that's great for all ages!
Ingredients
10 cups popcorn (may use 2 bags of microwave popcorn with a neutral flavor)
30 large marshmallows
3 tablespoons butter
½ teaspoon vanilla
Sprinkles, to decorate, optional
Instructions
Pop popcorn according to instructions on the bag if using microwave popcorn.
Pour popped corn into a large bowl, removing any unpopped kernels.
In another large microwave-safe bowl, melt marshmallows and butter by heating for 30-second increments, stopping and stirring till melted.
Stir until the butter is mixed with the marshmallows. Add vanilla and mix. Add popcorn and gently stir till all the popcorn is well coated.
With buttered hands, press popcorn into well-packed balls. Dip in sprinkles if desired and press gently until the sprinkles adhere.
Notes
Yield: varies depending on size of popcorn balls
Recommended Products
As an Amazon Associate and member of other affiliate programs, I earn from qualifying purchases.
Nutrition Information:
Yield:
8
Serving Size:
1 popcorn ball
Amount Per Serving:
Calories: 122
Total Fat: 5g
Saturated Fat: 2g
Trans Fat: 1g
Unsaturated Fat: 3g
Cholesterol: 8mg
Sodium: 88mg
Carbohydrates: 19g
Fiber: 1g
Sugar: 11g
Protein: 1g
In a matter of minutes, I had popped two bags of popcorn and was tossing and coating the kernels in marshmallow goodness. I shaped the balls with buttered hands and dipped them in sprinkles. It was for a celebration after all. Did you know that it's Jolly Time's 100th anniversary? So get with the program, everyone, and pop up a batch of corn.
Whether sweet or salty or both, please enjoy a treat that's been around for more than a century! And if you're so inclined a batch of these festive popcorn balls is also a wonderful way to celebrate!
Note: This post may contain affiliate links; view
my Disclosure Policy
for details. I earn a small percentage from any purchase you make by clicking on these links at no extra cost to you.