Holiday White Chocolate Popcorn
I adore popcorn. When I was in college, I considered a big batch of popcorn a perfectly acceptable meal. Even when we were dating, Bill would roll his eyes when my funds were tight and I'd choose buying a chic sweater over groceries. Popcorn always came to my rescue if I was hungry. So it's no surprise that I wanted to make a huge batch of this Holiday White Chocolate Popcorn. I could have eaten every last crumb myself!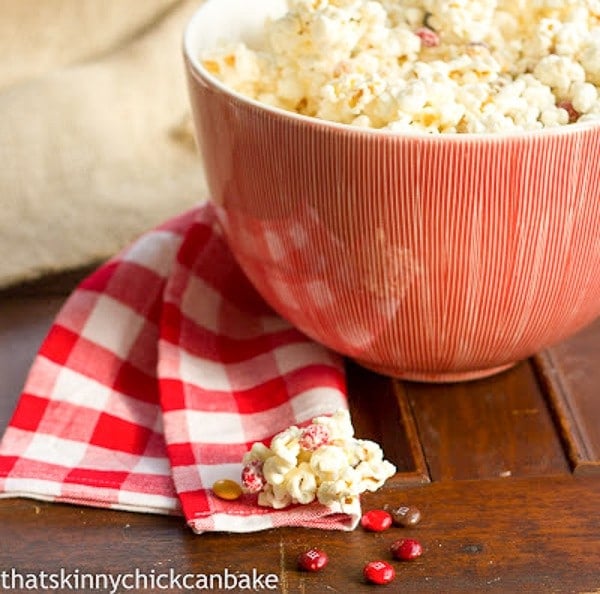 Easy and Irresistible
This is a snack I made for my book club gathering. I think my friends were expecting an exotic, complicated recipe when they asked about this white chocolate popcorn. It couldn't be simpler. I popped a couple bags of microwave popcorn. I prefer those labeled "natural" to avoid any artificial butter flavorings. Then I tossed it with a bag of melted white chocolate chips with a touch of vegetable oil.
Easy as pie, and equally as delicious as pie. I added in some autumnal hued M&M's for some color…the red and green ones that appear around Christmas would transform this into a fun holiday treat. Other additions such as nuts, dried fruit and other candies would taste incredible, too. Just toss in your favorites. And check out my caramel corn recipe if you're a popcorn addict like me!
Print
Look who crashed the party:
Book Club Selections:
For those of you who love to read, here is a list of the books my book club has read and discussed over the past 16 years.