Strawberry Salsa Topped Salmon
Shake up your seafood recipes with this succulent Strawberry Salsa Topped Salmon. Perfect for Lent or anytime you need a healthy, delicious entree!
A Heart Healthy Recipe featuring Salmon provides Omega 3 Fatty Acids, plus vitamins and fiber from the refreshing fruit salsa.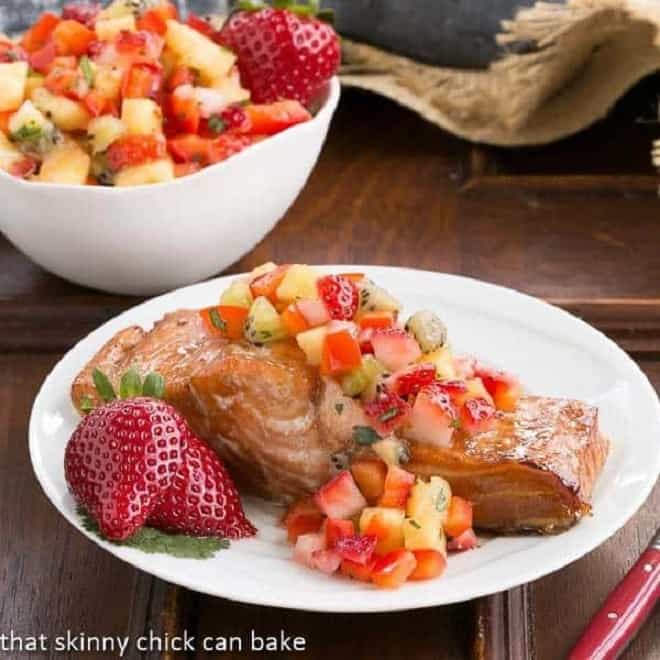 Strawberry Salsa Topped Salmon
It was the last Friday in Lent. Nick was home from college for Easter weekend, and we needed a meatless meal for dinner. I was all pizza-ed out. He's allergic to shrimp. That left salmon. But no ordinary salmon.
My Strawberry Salsa Topped Salmon would be a treat for the kid whose culinary repertoire was limited whatever can be cooked on his George Foreman grill. I'll share his secret recipe: take meat, smother with seasoning salt, insert in grill and hope it's not raw in the center when it's charred on the outside. Does this sound familiar to you all with college-aged boys?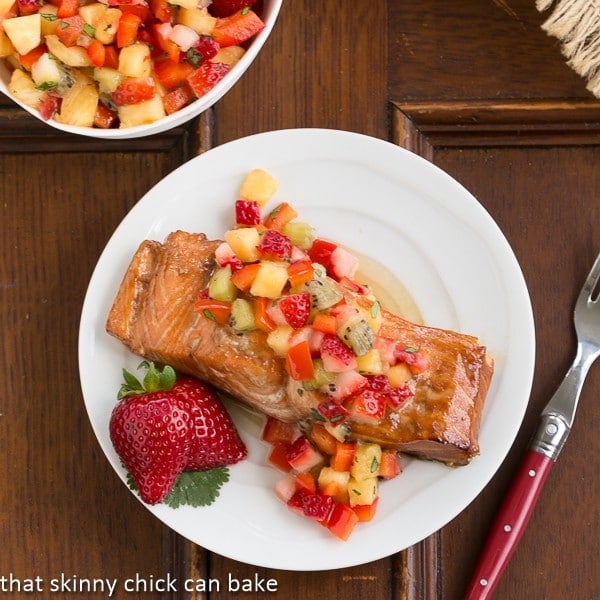 Heart-Healthy Salmon Recipe
Nick may grill salmon on occasion, but I have a feeling there is no special garnish. Fruit salsas are marvelous toppings for seafood. They balance the savory, dense salmon with a sweet blend of refreshing fruit.
I've used mango and peach versions, but in the spring, I tend to gravitate towards those fragrant, ripe strawberries.
To make the salsa, dice up the berries with pineapple, kiwi, red bell pepper, toss with champagne vinegar, a few crushed red pepper flakes for some heat and a bit of fresh cilantro. Such a heavenly combination. I'd be happy with a double batch and a bag of tortilla chips, but it's also magnificent over this Asian inspired roasted salmon.
Cook your salmon to medium or medium-rare. The center can still be slightly translucent. Cooking it to well done is an option, of course, if that's your preference. But the salmon can easily dry out if cooked too long. Use an instant read thermometer for the best results.
More Salmon Recipes You'll Love: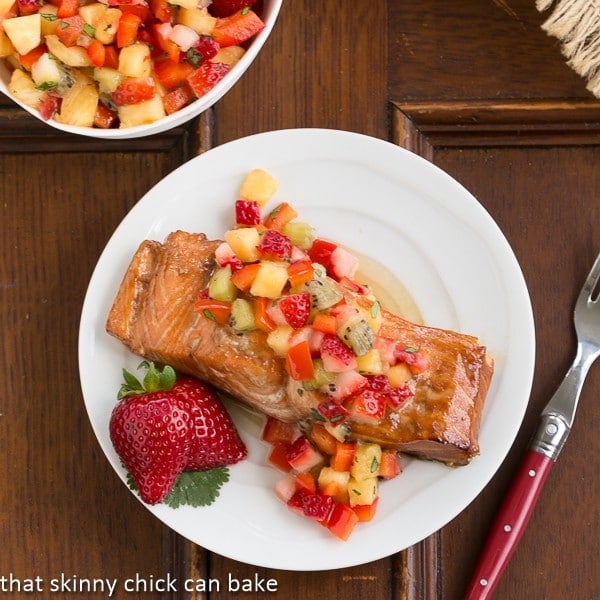 The Recipe:
Strawberry Salsa Topped Salmon
Prep Time 20 minutes
Cook Time 15 minutes
Total Time 35 minutes
Yield 4 servings
Asian inspired salmon topped with a fruit salsa featuring strawberries!
Ingredients
For the marinade:
1/2 cup canola/vegetable oil
1/4 cup soy sauce
1/4 cup balsamic vinegar
1/4 cup sliced scallions
2 tablespoons honey
3 tablespoons brown sugar
2 cloves garlic, minced
1 teaspoons minced fresh ginger
1/2-1 teaspoon crushed red pepper flakes
1 teaspoon sesame oil
For the salsa:
1/2 cup finely diced pineapple
1/2 cup finely diced strawberries
1 finely diced kiwi
1/4 teaspoon crushed red pepper flakes
1/2 red bell pepper finely diced
1 1/4 teaspoon champagne vinegar
1-2 teaspoons minced cilantro
2 teaspoons sugar
Instructions
Whisk together marinade ingredients and pour over salmon. Marinate 4-6 hours, flipping once.
To make salsa, mix ingredients and chill for at least an hour.
Preheat oven to 450º. Place marinated salmon on a grill pan or other baking dish.
Cook for about 14 minutes or till cooked to your desired doneness.
Serve with salsa.
Notes
Total time does not include marinating time.
Nutrition Information:
Yield:
4
Serving Size:
1
Amount Per Serving:
Calories: 851
Total Fat: 57g
Saturated Fat: 8g
Trans Fat: 1g
Unsaturated Fat: 45g
Cholesterol: 143mg
Sodium: 1023mg
Carbohydrates: 32g
Fiber: 2g
Sugar: 27g
Protein: 52g
All of the marinade is included in the calorie count. Only a small portion will be absorbed into the salmon.
Skinny Tip
I'm starting a new series of Skinny Tips. How I keep slim is one of my most frequent inquiries. I'll feature tips on some of my upcoming blog posts.
Tip #6: Eat slowly. Savor every bite. This allows your brain some time to get the "I'm full" message from your digestive system.
Note: This post may contain affiliate links; view
my Disclosure Policy
for details. I earn a small percentage from any purchase you make by clicking on these links at no extra cost to you.