Cheesy Vegetable Tian
You know this Cheesy Vegetable Tian is extremely tasty when the picky hubby didn't even complain about the zucchini! It's beautiful and delicious!
This combination of summer squash, tomatoes, and potatoes makes a stunning presentation and the sprinkle of cheeses assists in creating an unforgettable side dish!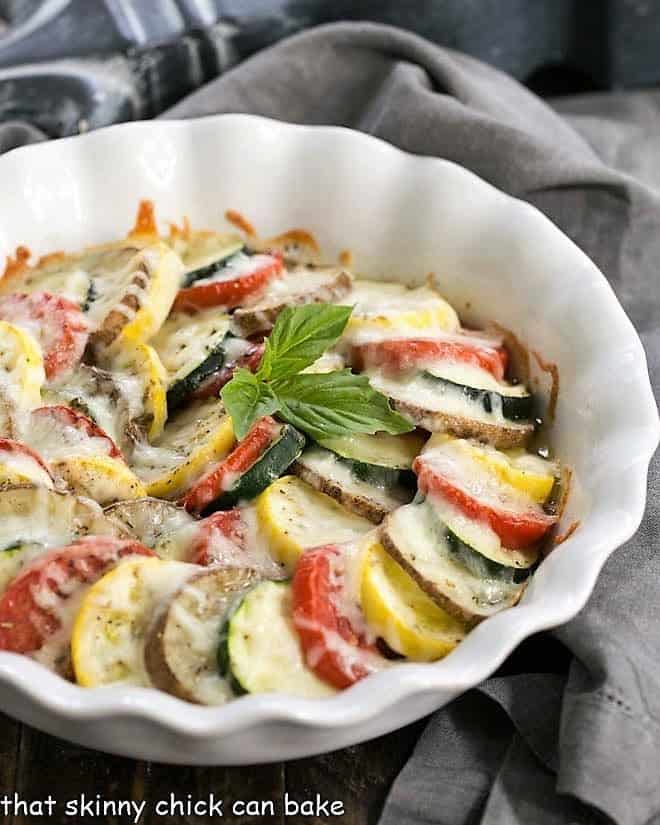 Cheesy Vegetable Tian
Our Progressive Eats theme for this month was winter squash recipes, but I sort of missed the ball. I used summer squash, zucchini, and yellow squash, to make this Cheesy Vegetable Tian. No butternut or acorn squash, pumpkin or hubbard squash in sight.
This tian did make a terrific side dish, one which would be wonderful on your Thanksgiving table. Of course, if you're dying for a winter squash recipe, I have this arugula salad with roasted butternut squash and these roasted autumn vegetables that are both incredibly delicious!
Tips for Making a Tian
Before I give you a few tips, you may be wondering what the word "tian" means. It's a French term for an earthenware dish, that's usually glazed on the inside only. I obviously used a pie plate which works fine in a pinch as most folks don't own a real-life tian. The real deal flares out from the base, like a "truncated cone," according to Wikipedia.
The culinary dish "tian" was named after the vessel in which one cooks chopped vegetables in oil, then sprinkles them with cheese. Here's where I went rogue again! The onions are chopped and sauteed in olive oil a la traditional tian. But the vegetables (and fruit if you want to categorize the tomatoes properly) are sliced, then drizzled with oil, topped with cheese and baked.
Find any baking dish you'd like to make this tian. Depending on its size, you may need more or fewer ingredients.
I planned on having all my veggies standing upright, but I did not have enough, so I layered them in concentric circles, overlapping as needed.
Aim to purchase vegetables of a similar diameter so they look nice when sliced and arranged. It was impossible to find small enough potatoes, so I did have to cut a few slices in half. Using new potatoes instead of russets is another option.
Slice your vegetables into consistent thicknesses. I did slice the potatoes a bit thinner as they take longer to cook. When the potatoes are tender, the vegetable tian is finished cooking.
Covering the tian with foil will help the veggies cook without drying out the cheese. If you'd like the cheese to brown, just pull off the foil for the last 5 minutes or so of cooking time.
Alternatively, turn on the broiler very briefly before pulling out of the oven. Always watch carefully when broiling.

If you're unfamiliar with the concept, a progressive dinner involves going from house to house, enjoying a different course at each location. With Progressive Eats it's a virtual party. A theme is chosen each month, members share recipes suitable for a delicious meal or party, and you can hop from blog to blog to check them out. Come along and see all of the delicious summer dishes!
Welcome to Progressive Eats, our virtual version of a Progressive Dinner Party. This month features a bunch of recipes for winter squash, and one for a perennial favorite of summer squash that's good to have in your back pocket all year long. Our host this month is Susan who blogs at The Wimpy Vegetarian.
Comforting Squash Dishes
Cocktails
Appetizers
Cheesy Vegetable Tian from That Skinny Chick Can Bake
Plus, if you have extra zucchini, try these Zucchini Fritters!
Soup
Instant Pot Spicy Butternut Squash Soup from The Heritage Cook
Mains
Sides
Desserts
The Recipe:
Cheesy Vegetable Tian
Prep Time 15 minutes
Cook Time 40 minutes
Total Time 55 minutes
Yield 4 servings
A stunning side dish with slices of tomatoes, two kinds of summer squash and potatoes baked with cheese and onions.
Ingredients
2 tablespoons olive oil, divided
1 large yellow onion, cut in half and thinly sliced
1-2 cloves of garlic, minced
1-2 zucchinis, sliced about 1/4-inch thick
1-2 yellow squash, sliced about 1/4-inch thick
1 medium russet potato, sliced about 1/8-inch thick (aim for a narrow diameter potato)
2-3 plum tomatoes, sliced about 1/4-inch thick
Fresh thyme or dried Italian seasoning
1/4 cup grated cheese, Gruyere or Mozzarella
Shredded Parmesan
Kosher salt and freshly ground black pepper to taste (at least 1/2 teaspoon salt)
Instructions
Add 1 tablespoon of olive oil to a large saute pan. Heat on medium and add onions, then garlic. Add a couple pinches of salt. Cook, stirring occasionally, until onions are tender.
Spray a large pie plate or oven safe dish with non-stick cooking spray. Add onion mixture to bottom of pan. Set aside.
Start arranging sliced vegetables over the onions in a spiral from the outside working towards the middle. Alternate one of each vegetable and repeat. Try to match similar sized slices as you layer.
Make adjustments after all vegetables are in the pan so they're dispersed evenly, then sprinkle with Italian seasoning, salt and pepper. Top with cheese and cover with foil. Bake for 40 minutes or until a knife can easily pierce the potato slices.
If you'd like your cheese to brown slightly, broil for a minute or two, watching carefully.
Nutrition Information:
Yield:
4
Serving Size:
1
Amount Per Serving:
Calories: 240
Total Fat: 12g
Saturated Fat: 4g
Trans Fat: 0g
Unsaturated Fat: 8g
Cholesterol: 15mg
Sodium: 211mg
Carbohydrates: 27g
Fiber: 6g
Sugar: 10g
Protein: 9g
Note: This post may contain affiliate links; view
my Disclosure Policy
for details. I earn a small percentage from any purchase you make by clicking on these links at no extra cost to you.