Ciabatta Cubano Sandwich Recipe
Instead of a traditional Cuban Sandwich, I swapped out the bread and created this flavorful, cheesy Ciabatta Cubano Sandwich.
This Cubano Sandwich has the same delicious filling as the classic version, but with an easier bread to locate far, far from the Caribbean.
Why You Must Make
Ever since we ate at Columbia Restaurant in Ybor City, Florida, years ago, I was dying to make a Cubano sandwich at home. But not having access to the proper bread held me back.
But I decided to make do with what I could find, and wing it with a loaf of ciabatta!
It may not have been authentic, but it was exceptionally tasty!!! So give it a try!!
Ingredient Notes:
Purists will certainly gasp, but short of baking my own loaf, I was resigned to not finding "exotic" ingredients in my Midwest hometown. So a ciabatta Cubano sandwich recipe was born.
Kitchen Staples – Olive Oil, Salt, Black Pepper, Garlic Cloves, Ground Cumin
Pork Shoulder Roast – About 3 pounds. Don't be concerned about the fat, much of it melts away as it cooks, plus it keeps the meat moist and flavorful.
Fresh Oregano
Fresh Orange Juice
Fresh Lime Juice
Ciabatta Bread – Slice in half horizontally. May also use focaccia or a baguette.
Mayonnaise – I use Hellmann's or Duke's brands
Dijon Mustard – I use Grey Poupon
Sliced Deli Ham – about ¾ pound
Sliced Garlic Pickles
Sliced Swiss Cheese – ¼-½ pound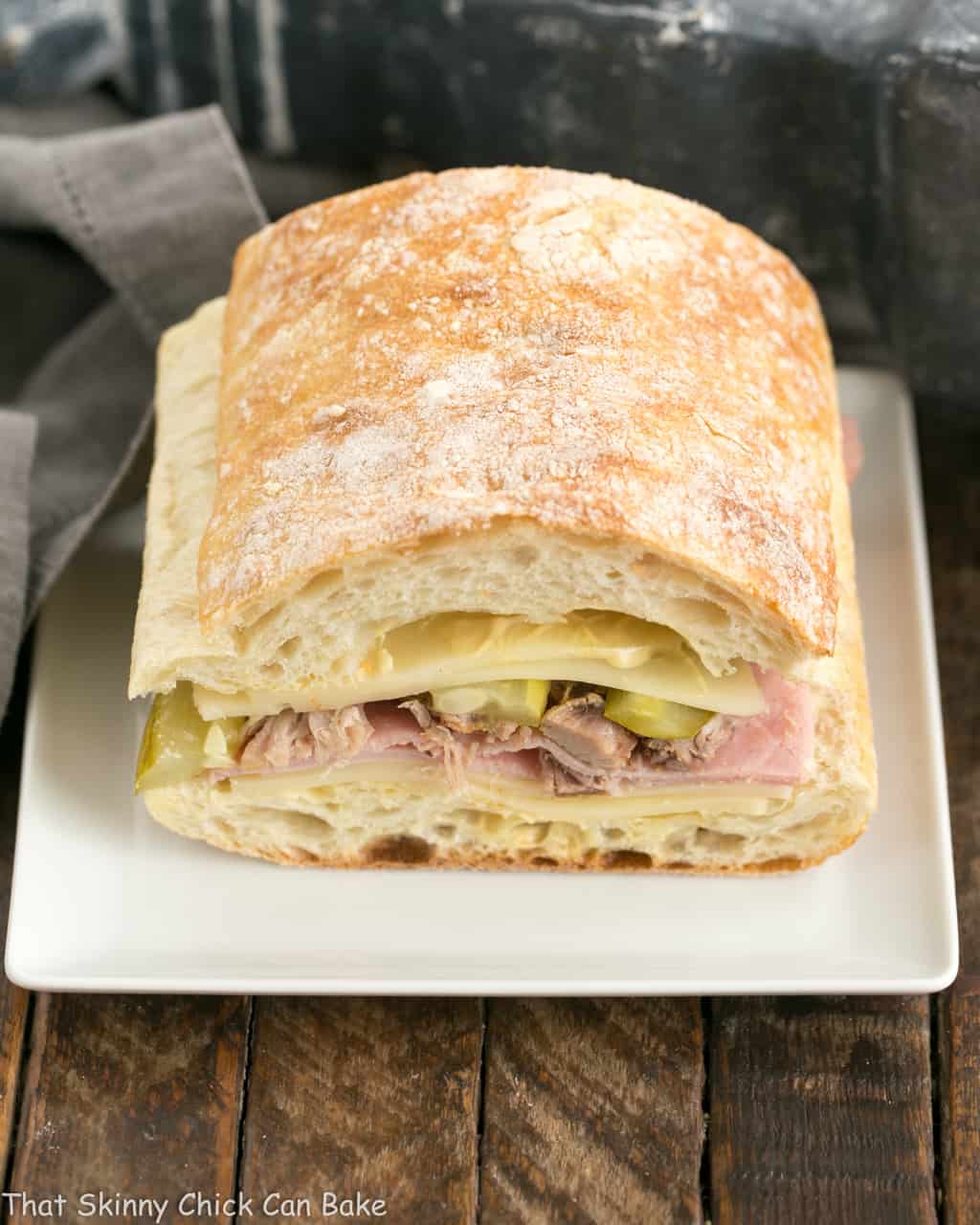 How to Make
An authentic Cuban sandwich is made on a specialized bread with a crisp exterior and soft interior, which is then coated with mustard, layered with cheese, pickles, ham, roast pork, then another layer of cheese. This sandwich is then pressed and grilled to perfection!
After marinating a pork shoulder with orange and lime juices, garlic, cumin, and oregano, it was roasted until it was fork tender. After it cooled, I pulled out my panini press and gathered the Cubano sandwich ingredients.
Piping hot, with cheese oozing out the sides, I couldn't wait to take a bite. I was not disappointed. All the delicious flavors danced together beautifully. I was still smitten. So was the hubby, though I saw him pull out the garlic dill pickle slices. Those sweet midgets he's so fond of just wouldn't work in these sandwiches….or maybe I should try them next time???
Recipe Tips
Roast your pork the day before to make simple work of assembling the sandwiches when you're ready to eat them.
You won't need all the roast pork unless you're making a lot of Cuban sandwiches. Freeze the excess and save for another meal.
If you want to make a Tampa-style Cubano, add a layer of salami to your sandwich.
If you don't want to invest in a panini press, just fry your sandwiches in a skillet and place a second, heavy skillet (cast iron works well) on top of the Cubano for pressure. You can even put a brick in the top skillet for more weight.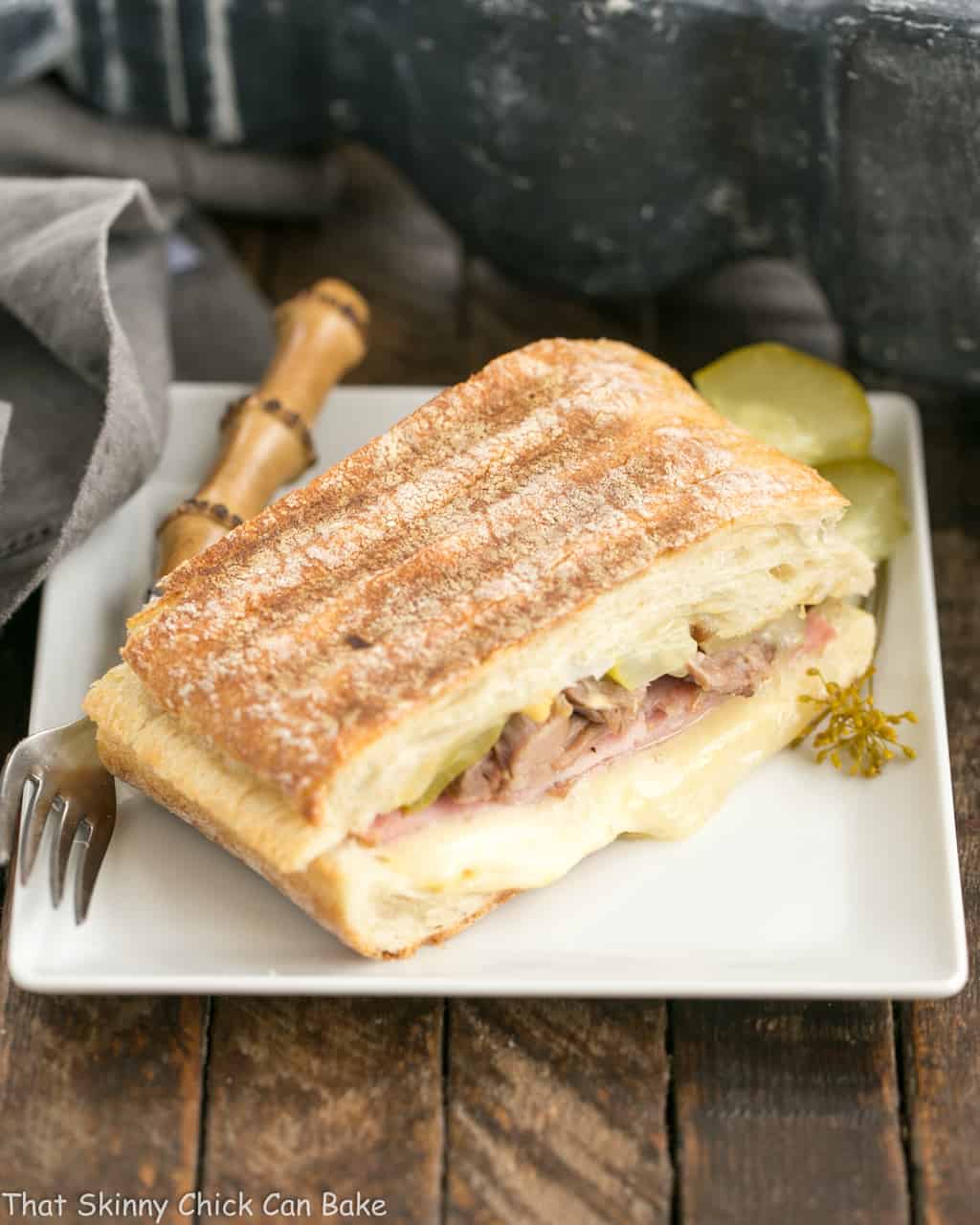 Frequently Asked Questions
What Are Some Other Names for the Cuban Sandwich?
A Cuban sandwich can also be called a Cubano, Mixto, Cuban Pressed Sandwich or Cuban Mix.
Who Invented the Cubano Sandwich?
The Cubano can be traced back to southern Florida. They are a type of ham and cheese sandwich that cafes fed the Cuban workers employed by cigar factories.
What is in a Cuban Sandwich Recipe?
First is the special Cuban bread that's made with lard. The lard contributes flavor plus makes for a soft, fluffy interior when baked. The traditional fillings include ham, roasted pork, Swiss cheese, pickles, and mustard.
What Bread Can Be Used if Cuban Bread Isn't Available?
Good substitutes for Cuban bread include a baguette, focaccia, or ciabatta. For a traditional Cuban sandwich, look for or bake up true Cuban bread.
What Can You Serve with a Cuban Sandwich?
Some simple sides like black beans, red beans and rice, corn on the cob, coleslaw, or chips with mango salsa would all be delicious. Serve with a Mojito, a Cuba Libre, or beer.
You May Also Like:
Stay in touch through social media @ Instagram, Facebook, and Pinterest. Don't forget to tag me when you try one of my recipes! And if you love the results, please give it a 5-star rating in the recipe card. Note: As an Amazon Associate, I earn from qualifying purchases. Visit my Amazon Store for my favorite products.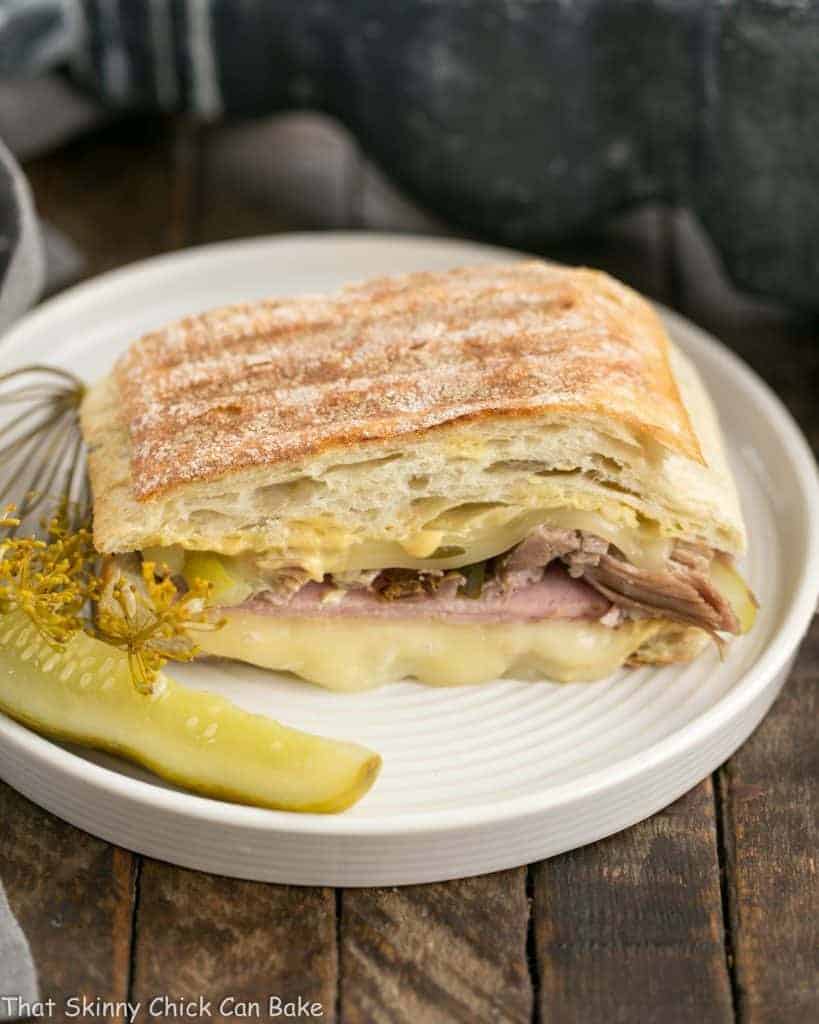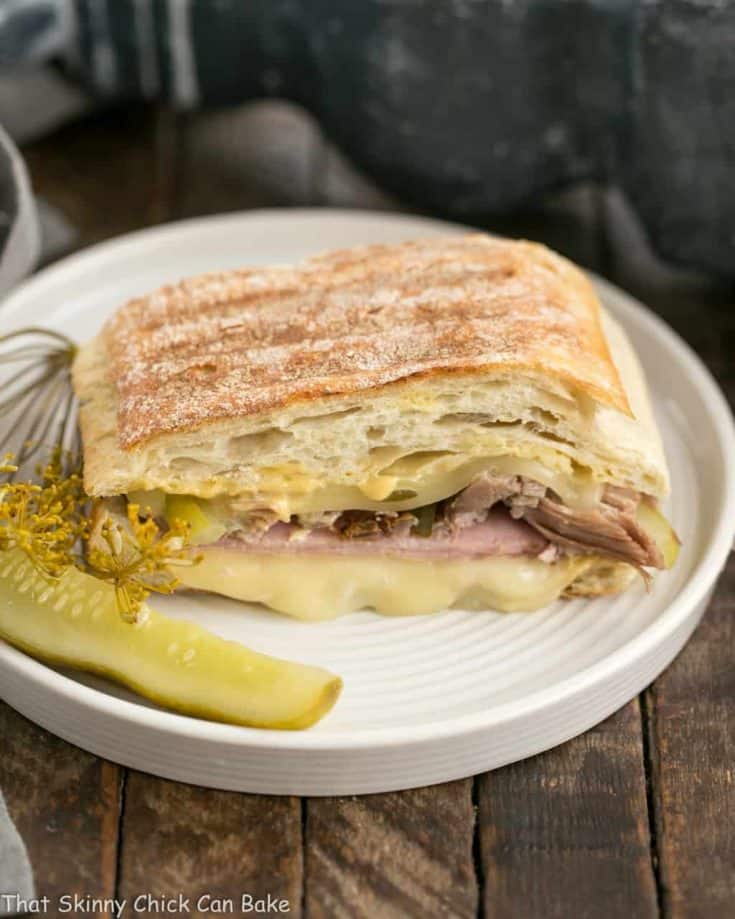 The Recipe:
Ciabatta Cubano Sandwich Recipe
Prep Time 20 minutes
Cook Time 6 hours
Total Time 6 hours 20 minutes
Yield 6
I would love to make a traditional Cuban sandwich, but swapped out the bread and created this Ciabatta Cubano Sandwich Recipe. Same flavorful filling, but with an easier bread to locate far, far from the Caribbean.
Ingredients
Cuban Roast Pork:
3 pound pork shoulder roast
4 cloves garlic, minced
1 teaspoon cumin
1 teaspoon freshly ground black pepper
2 tablespoons minced fresh oregano
¼ cup fresh orange juice
2 tablespoons fresh lime juice
2 tablespoons olive oil
1 teaspoon kosher salt
For sandwich:
1 loaf ciabatta bread
2-3 tablespoons mayonnaise
2-3 tablespoons Dijon mustard
¾ pound sliced deli ham
Sliced garlic pickles
¼-½ pound sliced Swiss cheese (I used ¼ pound)
Instructions
Combine the garlic, cumin, pepper, oregano, orange juice, lime juice, olive oil, and salt in a bowl and whisk to combine.
Place the pork and marinade in a large Ziploc bag and refrigerate for at least two hours or overnight, flipping a few times.

To roast, preheat oven to 275°. Line a rimmed baking sheet with two layers of heavy-duty aluminum foil. Place pork plus some of the marinade on the pan and fold up the top layer of foil, crimping the edges together while leaving an air pocket inside the foil.
Place in oven and roast for 3 hours.
At the 3-hour mark, open the foil, and set the oven to 325°.
Roast for 2-3 more hours, basting on occasion until the meat is fall-apart tender. Remove pork from the oven and let the pork rest until it's cool enough to shred into bite-sized pieces, discarding excess fat.
To make sandwiches, cut the ciabatta in half lengthwise.
Mix together equal amounts of the mayonnaise and Dijon and spread on one half of the loaf.
Top with a layer of cheese, then sliced ham, shredded pork, pickles, and then more cheese. Top with the other half of the bread.
Cut into slices and grill on your panini maker or cook in a skillet weighing down the top of the sandwich with a cast iron pan or another weight.
Sandwiches are ready when the cheese is melted and the meat is warm.
Notes
Roast pork recipe adapted from Serious Eats.
Save any excess pork for quesadillas, tacos, etc.
Recommended Products
As an Amazon Associate and member of other affiliate programs, I earn from qualifying purchases.
Nutrition Information:
Yield:
6
Serving Size:
1 sandwich
Amount Per Serving:
Calories: 897
Total Fat: 52g
Saturated Fat: 18g
Trans Fat: 0g
Cholesterol: 201mg
Sodium: 1237mg
Carbohydrates: 40g
Fiber: 5g
Sugar: 5g
Protein: 64g
Note: This post may contain affiliate links; view
my Disclosure Policy
for details. I earn a small percentage from any purchase you make by clicking on these links at no extra cost to you.